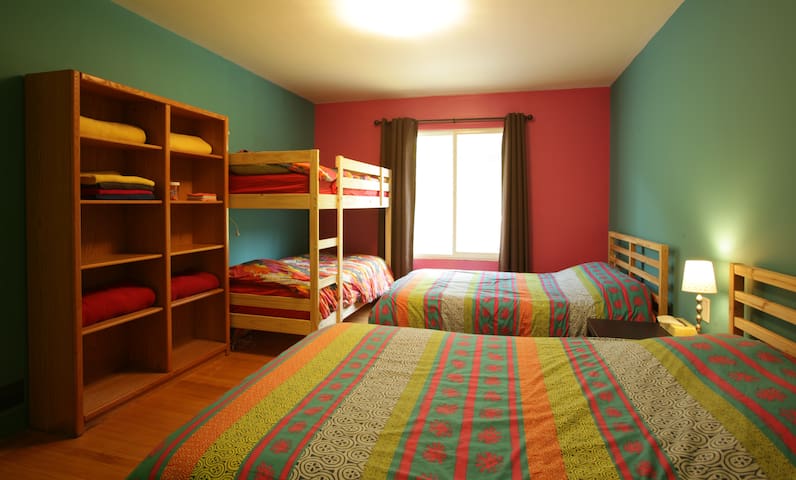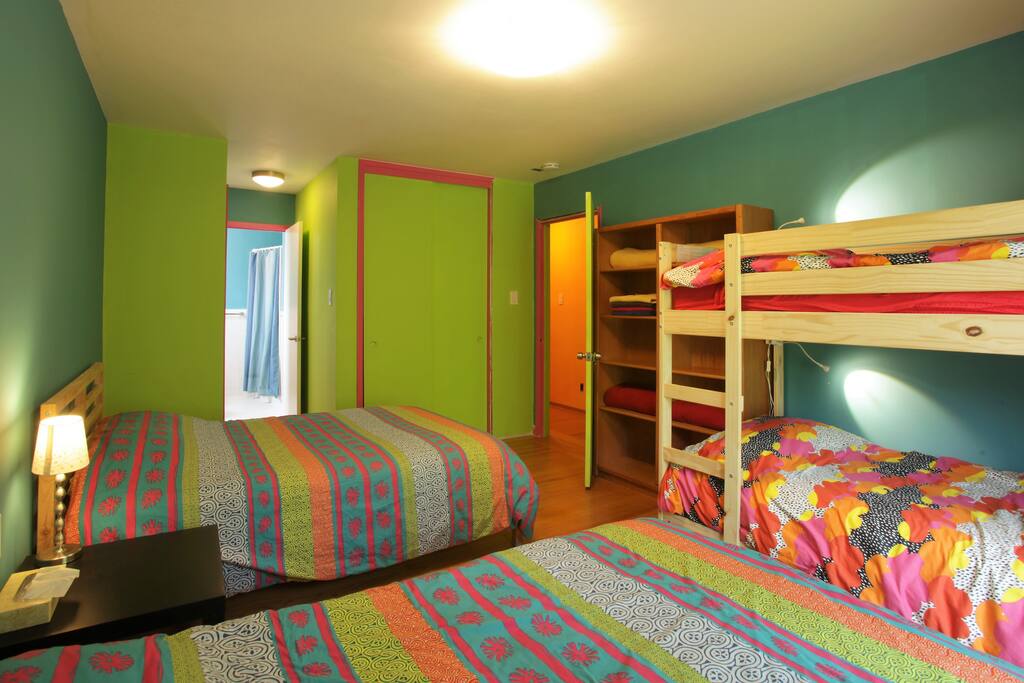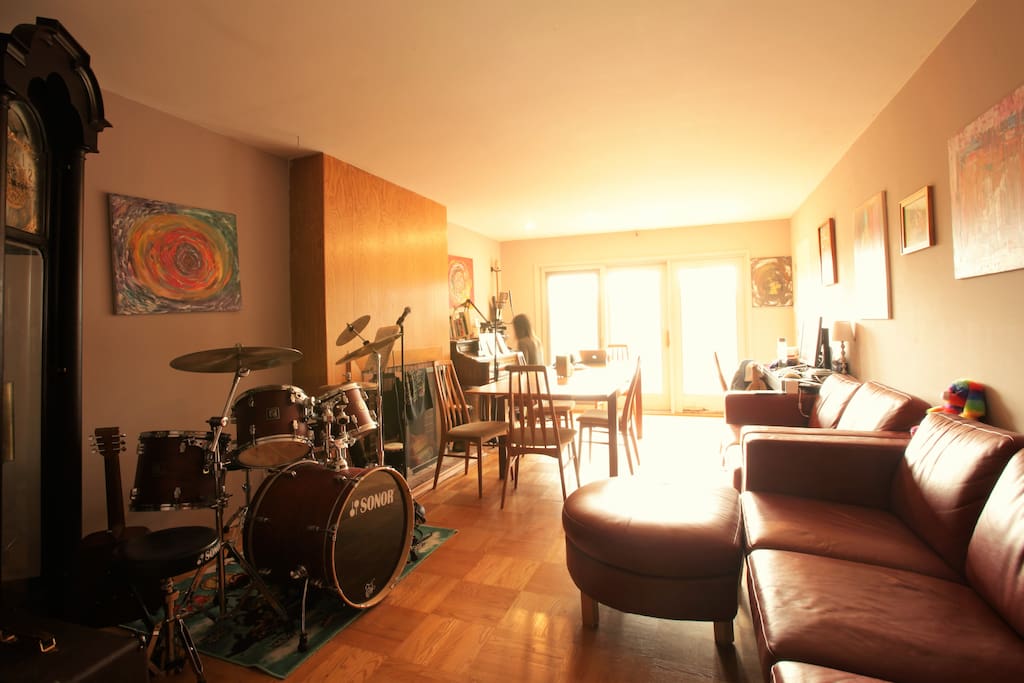 これは私の一番大きな部屋です。最大6人が参加できます。専用バスルームがあります。この部屋を予約すると、それはあなたのためだけです。他の誰もあなたのグループの人々以外でここで寝ることはありません。
This is my largest room. Up to six people can fit. There is a private bathroom. When you book this room, it's just for you -- nobody else will sleep here other than the people in your group.
スペース
これは、ゴールデンゲートパークとツインピークスの近くの独立5ベッドルームの家です。私が家を詳しく説明する前に、私が言及したいと思う特別な点があります: 私に連絡する前に、このフレーズのインターネット検索を実行してください:「カリフォルニア州サンフランシスコは何時ですか?」サンフランシスコの時間が深夜12時から午前8時までの場合は、私にメッセージを送ったり、予約要求を送信したり、既存の予約を変更しようとしないでください。そのような行為によって電話が鳴り、あなたにすぐに対応してください。遅くなっているかもしれないが、私の助けが必要な私の現在のゲストのために、いつでも利用できるようにしなければならないので、私は電話を切ることができません。私はまた、私の連絡にあなたの試みを無視することはできません。私が一晩中メッセージを無視すると、私の応答率の平均が損なわれます。あなたが夜中から午前8時まで私を目覚めると、私はあなたがここに留まることを許さないでしょう。もちろん、あなたが私の家の現在のゲストであり、緊急時には私が目を覚ます必要がある場合は、それは大丈夫です。また、予約を取り消す必要があり、部分払い戻しのためのカットオフウィンドウから8時間以内の場合は、それが目を覚ますにもかかわらずキャンセルすることがあります。私はあなたが私を目覚めさせないためにあなたのお金をすべて失うことを望んでいません。 今、私の家についての私の説明に。 マインは、ゴールデンゲートパークとツインピークスの近くの中心部にある5つ星の寝室になっています。私は今年の毎晩ではありませんが、エアブンブで私の寝室の4つをここに提供します。これはホステルで、ピーク時には一泊12人以上のゲストがここでとても忙しくなります。 あなたの滞在中に他のゲストがいるかもしれませんが、潜在的には数十人以上ですが、通常は少ないです。私はあなたのハネムーンにここに滞在しているが、これはおそらくあなたの重要な他の人と静かなプライベートの時間をしたい場合は、場所ではありません。 私のパートナーと私は2017年10月4日に赤ちゃんを迎えています。子供の到着を待つ病院にいると、私はあなたの部屋を準備することができないかもしれませんが、もしそうなら、私はあなたにドアを提供しますコード、クリーンなリネンと指示書のスタック、それであなたは自給自足できます。自分の部屋をきれいにする必要があることを補うために、50ドルも返されます。私の誕生日は10月6日であり、その日はゲストがいないので、エアバンブが開いているように見えても、その日は予約しないでください。 私に連絡する前に私のリストと私のプロフィールをお読みください。 通りにある私の家の前には、無制限の駐車スペースがたくさんあります。注意:無料駐車場がある場所の検索に私の場所が表示されるように、私は敷地内の無料駐車場を記載したボックスにチェックを入れました。私は私の家の中に駐車場がないことを明確にしたいが、私の家の前に通りの向こう側に駐車場がある。これは明らかになった路上駐車です。自転車に着いたら、あなたの自転車をあなたの部屋に駐車することができます。 あなたはキッチンを利用することを歓迎します。あなたが食べたり仕事をすることができる大きなダイニングルームのテーブルを備えた大きなリビングルームがあります。木の茂った丘の素晴らしい景色を眺めるデッキがあります。一番近い家は一戸離れているので、森に住んでいるような気分です。 あなたはそれぞれが本当のマットレスを持っている2つのフルサイズベッドで自分の寝室を取得します。私はタオル、シーツ、毛布も提供しています。 2つのシングルマットレス付きの二段ベッドもありますので、最大6名様用です。 2つの5フィートのワイドクローゼットがあります.1つはハンガー付きです。大きなパーティーがあれば部屋にはスペースが限られていますので、部屋の周りにあなたのバッグを置くのに十分なスペースが必要な場合は、ここにいないでください。私はこの部屋で6人のパーティーを成功裏に開催しましたが、部屋が巨大ではないことをご存じですか?6人が少し窮屈に感じます。 この部屋は「マスターベッドルーム」なので、他の誰とも共有する必要のない専用バスルームが備わっています。あなたは自分のバスルームだけを使用することができます、他のバスルームは家にいないので、他のバスルームは無料であるように見えますが、あなたは5人の友人を連れて1つのバスルームを共有する必要があります。それらは私の他のゲストのためのものです。 あなたがここにいる間に料理をしたいのであれば、冷蔵庫に食べ物を保管することができますが、それを袋に入れておいてその上にあなたの名前をつけて、私の他のゲストが誤って自分の食べ物だと思わないようにしてください。私の使用のためのちょうど1つの大きい冷蔵庫、私のガールフレンドの使用、および私のエアバッグのすべてのゲストがあります。冷蔵庫は通常梱包されていますので、買い物をしたり、自分の食べ物を冷蔵庫にたくさん保管したりすることはありません。 最も近い地下鉄のMunicipal Railway(MUNI)駅はフォレストヒルです。 15分でそこに歩くことができます。 36のMUNIバスがそこに停車し、 家。バス停は家の正面にあります。このバスは軽く使われ、30分ごとにしか来ないので、多くの人が駅まで歩いて行くことを好みます。 家はサンフランシスコの地理的中心の近くに集中していますが、バー、ショップ、観光スポット、ナイトライフ、または個人住宅以外のものには近くません。つまり、サンフランシスコのような賑やかな都市では、静かで静かな場所です。一部はそれを静かに呼びます。 ここに滞在する場合は、後で、その邸宅がアトラクションの近くにないことや、スター以外の場所を幻想的な場所以外に評価しないでください。あなたは予約する前に地図上の位置を見ることができ、ストリートビューを使用して通りをさまよい、近所がどれほど素晴らしいかを見ることができます。ゲストが5つ星以外の場所を評価する理由はありません。もしあなたがここに滞在して5つ星の星を評価したくないと感じたら、それはあなたのニーズに合わせて間違った場所を予約したことを意味し、それはあなただけの過失です。 この場所が素晴らしい場所ではないと感じたら、ここにいないでください。星は宿題に非常に関係しており、2016年6月1日現在、私は5つ星を持っています。私は場所を変更するために何もできませんが、私はここに滞在するためにゲストに話すことができます。彼らはこれが素晴らしい場所だとは思わない。場所を賞賛する私の多くのレビューを読んでください。 場所は市内の地理的中心部にあるので、私はそれを素晴らしい場所と考えていますが、私の正面玄関からエキサイティングな場所に歩いて行くことを期待しないでください。 ジュース、パン、パンケーキ、卵、紅茶、コーヒーなどの朝食用の食材を提供しています。コーヒー豆は冷凍庫にあり、私はコーヒーグラインダーを用意しています。時々、ヨーグルトやフルーツのような特別なものがありますが、訪問したときにこれらの商品が見つからない場合は、失望したり、不平を言ったりしないでください。エアブロブのホストが食べ物を提供している人はほとんどいません。私はたくさんの食べ物を提供します。私はあなたが毎朝無料で用意している朝食用の食べ物を提供しています。あなたが私の価格を評価するとき、この利点を秤量してください。 私が提供する食べ物は、私が自分の食べ物を買う同じ食料雑貨店に行くことに注意してください。私はバターまたはクリームチーズの一回分の容器を提供しません。むしろ、フルサイズのバターのスティックと、誰もが共有するクリームチーズのフルサイズのボウルがあります。パンは通常の小売袋に入っています。これには半分以上のサービングが含まれています。ジュースは大きな瓶に入っていて、個々の瓶には入っていません。コーヒー豆は大きな袋の中にあり、モーテルやホテルのような個々のパッケージではありません。私が食べ物を扱う方法が不適切または安全でないと信じるならば、私が言うことは、ホスティングを始めた2008年以来、ゲストに食べ物を提供しているということです。このようにして私が提供する食べ物があなたを不快にさせるなら、それを食べないでください。 私はシャワーであなたのためのシャンプーとバー石けんと、バニティシンクとキッチンシンクでポンプディスペンサーの液体ハンドソープを持っています。新鮮なバーが必要な場合は、バーの石鹸を持参してください。私はあなたがホテルで見つける個々に包まれたバーを提供していませんが、民間の家庭で使用されていた従来の大きなバーは、使い切ったまで同じバーを使用します。これは、毎年使用する個々の数百のバーよりも無駄が少なくなりますが、混乱する場合は、自分のバーソープを持参してください。 ご注意私は、ここに予約するには、「確認済みの身分証明書」を持っている必要があります。これは私の他のゲストの安全のためです。予約リクエストを送信する前にIDを確認してください。さもなければ、ここに滞在することはできません。 静かな時間は午後10時から午前7時までです。午後10時以降、静かにささやくようにして、イヤフォンなしの映画は見ないようにしてください。私はリビングルーム、ダイニングエリア、またはキッチンを静かな時間帯に使用することを許可していないため、あなたは午後10時までにあなたの部屋に引退する必要があります。午前7時までに起床する予定はありません。これは、早期のフライトやその他の乗り継ぎの場合、他の場所に滞在する必要があることを意味します。私が上で述べたように、私は家の中に最大4つの部屋を用意して、ゲストを呼び寄せることができます。つまり、12人以上のゲストがいる可能性があります。午前5時に起きて部屋や周辺を歩き回っていると、これらのゲストの少なくとも一部が目を覚ます可能性があります。これは公平ではなく、私がここに住んでいて人々を聴くこともできます堅い床の上を歩いている。さらに、私は5つの星ランクを達成するように努力するので、私のレビューについて心配する必要があります。早朝に出なければならないために他に十数人のゲストを目覚めさせても、その人の少なくとも一部は、彼らが穏やかに眠ったかのようにここにとどまる経験を評価する傾向がありません。 もしあなたがここに滞在するならば、午前7時過ぎに健全に眠ることも計画してはいけません。 1ダースp
This is a detached 5 bedroom house near Golden Gate Park and Twin Peaks. Before I further describe the house, there is a special point I want to mention:
Before you contact me please run an Internet search for this phrase: "What time is it in San Francisco, California USA?" If the time in San Francisco is between 12 midnight and 8am please do not message me, send a booking request or attempt to alter an existing reservation with me, because those actions will cause my phone to beep which will wake me up and I will have to correspond with you immediately. I can't turn off my phone to avoid being woken up, because I have to be available at all times for my current guests, who may be out late but need my help. I also can't ignore your attempt to contact me, because airbnb is timing my replies. If I ignore a message all night long that will damage my response rate average. I will not let you stay here if you wake me up from midnight to 8am my time. Of course, if you are a current guest here in my home and some emergency requires you to wake me up, that is OK and welcome. Also, if you need to cancel a reservation and you are within 8 hours of the cutoff window for getting a partial refund, you may cancel even though that will wake me up. I don't want you to lose all your money just to not wake me up.
Now, on to my description of my home.
Mine is a detached 5 bedroom house in a central location near Golden Gate Park and Twin Peaks. I offer four of my bedrooms here on airbnb, though not every night of the year. This is a hostel and it gets very busy here with over a dozen guests per night, during peak times.
There will be other guests here during your stay, potentially a dozen or more, though usually fewer. This is perhaps not the place if you want quiet private time with your significant other, though I have had couples stay here on their honeymoons.
My partner and I are expecting a baby on October 4th, 2017. I may not be able to prepare your room or greet you if I am at the hospital awaiting the arrival of our child, but if this happens, I will provide you the door code, a stack of clean linens and instructions so you can be self sufficient. I will also return $50 to you to compensate you for having to clean and make up your own room. Note my birthday is October 6th and I don't have guests that day, so do not book that day, even if airbnb shows it open, since they have trouble blocking days reliably.
Please read my listing and my profile before contacting me.
There is plenty of free unlimited time parking in front of my house on the street. Note I checked the box that says free parking on premises so that my place would show up in searches for places with free parking. I want to be clear that there is no parking inside my house, but there is parking across the street in front of my house. This is street parking that is uncovered. If you arrive with bikes, you may park your bikes in your room.
You are welcome to make use of the kitchen. There is a large living room with a large dining room table you can eat or work at. There is a deck out back that has a fabulous view of wooded hills. The nearest house out back is a block away, so you feel like you are living in a forest.
You get your own bedroom with two full size beds that each have real mattresses. I also provide towels, sheets and blankets. There is also a bunk bed with two single mattresses, so the room is suitable for up to six people. There are two five foot wide closets, one with with hangers. There is limited space in the room to maneuver if you have a large party, so please do not stay here if you require plenty of space to set your bags around the room. I have successfully hosted parties of six in this room, but please recognize the room is not huge and six people will feel a bit cramped.
This room is the 'master bedroom' so it features its own private bathroom you won't have to share with anyone else. You may use only your own bathroom, not any of the other bathrooms in the house, so keep in mind if you bring five friends with you that you all have to share just one bathroom, even if other bathrooms appear to be free. Those are for my other guests.
If you want to cook while you're here, you can store food in the fridge, but you should keep it in a bag and put your name on it so my other guests don't accidentally think it's food provided by me for them. There is just one large refrigerator for my use, the use of my girlfriend and all of my airbnb guests. The fridge is usually packed, so don't expect to go shopping and store a lot of your own food in the fridge.
The closest underground Municipal Railway (MUNI) station is Forest Hill. You can walk there in 15 minutes. The 36 MUNI bus stops there and will take you to and from the house. The bus stop is right in front of the house. This bus is lightly used and only comes every 30 minutes, so many prefer to walk to the station.
The house is centrally located near the geographic center of San Francisco, but it is not close to bars, shops, tourist spots, nightlife or anything other than private residences. That means this location is unusually quiet and even peaceful for a busy city like San Francisco. Some call it serene.
If you stay here, please don't later write in a review that the house is not near attractions or rate the location other than fantastic on a star basis. You can see the location on the map before you book, and you can use street view to wander down the streets to see how awesome the neighborhood is. There is no reason any guest should rate the location other than five stars. If you stay here and feel inclined to not rate the location five stars, that means you booked the wrong place for your needs, and it is your fault alone, because I am warning you so plainly here there is nothing to do nearby my house.
Please do not stay here if you feel this location is not a great location. The stars matter to hosts very much, and I have five stars across the board as of June 1, 2016. I can't do anything to change the location, but I can talk guests out of staying here by asking them to stay elsewhere if they don't feel this is a great location. Read my many reviews that praise the location.
The location is in the geographic center of the city, so I consider it a great location, but please don't expect to walk to the exciting places from my front door.
I provide breakfast ingredients, including juice, bread, pancakes, eggs, tea and coffee. The coffee beans are in the freezer, and I provide a coffee grinder. Sometimes there are special extras like yogurt and fruit, but please don't be disappointed or complain if you don't find these items when you visit. I understand few airbnb hosts provide any food. I provide plenty of food. I provide breakfast food you prepare every morning without charge, and this will save you a lot of money versus eating out. Please weigh this benefit when you evaluate my prices.
Note that the food I provide I get at the same grocery stores I shop for my own food. I do not provide single serving containers of butter or cream cheese. Rather, there is a full size stick of butter and a full size bowl of cream cheese that everyone shares. The bread is in normal retail bags that contain half a dozen or more servings. The juice is in a large jug, not in individual bottles. The coffee beans are in a large bag, not in individual packages like at a motel or hotel. If you believe the way I handle food is improper or not safe, all I can say is I have been providing food to guests since 2008 when I began hosting, and nobody has ever complained that they became ill. If my providing food in this manner makes you uncomfortable, then please do not eat it.
I have shampoo and bar soap for you in the shower, and liquid hand soap in pump dispensers at the vanity sink and by the kitchen sink. Please bring your own bar soap if you require a fresh bar. I don't provide the individually wrapped bars you find in hotels, but the conventional large bars used in private homes, and multiple guests use the same bar until depleted. This is much less wasteful than hundreds of individual bars I would otherwise use per year, but if it upsets you, please bring your own bar soap.
Note I require my airbnb guests to have 'verified ID' to book here. This is for the safety of my other guests. Please verify your ID before you send me a reservation request, or you won't be allowed to stay here.
Quiet hours are between 10pm and 7am. I ask that you whisper quietly after 10pm, and not watch any movies without earbuds. You'll have to retire to your room by 10pm, as I don't allow use of the living room, dining area or kitchen during quiet hours. Please do not plan to wake up prior to 7am. This means if you have an early flight or other transit trip, you should stay somewhere else. As I mentioned above, I offer up to four rooms in my house to airbnb guests which means there could be a dozen or more guests. If you wake up at 5am and start walking around your room or the common areas, it's likely you'll wake up at least some of these guests, which is not fair to them, and hurts me too because I live here and can hear people walking around on the hardwood floors. Additionally, I have to be concerned about my reviews, as I strive to achieve a five star ranking. If you wake up a dozen other guests because you have to leave early, at least some of those guests will not be inclined to rate the experience staying here as highly as if they slept soundly.
You should also not plan to sleep soundly past 7am if you stay here. When a dozen people start walking around, cooking breakfast, showering and talking with each other, the house is full of energy. It can be a quite noisy depending on the mix of guests that morning.
This mix of guests starting their day is one of the most compelling reasons to stay here, however. I have guests from dozens of countries stay here each year. You will meet fascinating and lovely guests during breakfast. It's nothing like the breakfast room at a hotel, where people silently eat and never talk to anyone not in their party. If breakfast as I describe sounds unappealing to you, there are many other less busy places to stay in San Francisco.
I write this explanation to help make your stay delightful and charming, not to scare you. Staying here is an experience most of my guests really, really like, as you can see in my over 600 reviews. I don't have any reviews I consider to be bad, and I want to keep it that way. I want you to enjoy the experience as well, and if you think you'll not enjoy such a social experience, I encourage you to stay with one of the many other kind hosts in San Francisco.
For guests that book after July 26, 2016, I no longer offer pick up or drop off service. Ride sharing companies such as Uber and Lyft now operate legally at area airports, and their prices are lower than taxicabs. I used to offer pick up and drop off, and you will see mention of this in some of my reviews. It's quicker for you to hop in a ride share car than for you to wait for me to arrive in my car. The San Francisco airport is four cities away from San Francisco, so it takes 30 minutes to drive there. The ride share companies charge about $30 for this trip. Please do not ask me to pick you up or drive you anywhere during your stay. You must have a smart phone to use these services. There is free WiFi at the San Francisco airport. The network name is: San Francisco Free WiFi and there is no password required. Please load the app before you leave home and enter your credit card details then, so the app is ready for when you arrive. I offered rides at any hour for years... most recently at 4:30am. I am exhausted and am happy Uber and Lyft exist.
ゲストの立入り範囲
午前7時から午後10時まで:キッチン、リビングルーム、ダイニングルーム、デッキ外。 あなたがこのルールを理解し、それを慎重に反映することが重要です。静かな時間にここに着くと、たとえあなたが飢えていて、一昼夜飛行機にいたとしても、静かな時間が切れるまであなたの部屋に引退する必要があります。静かな時間に食べ物を注文することはできませんし、あなたの部屋で食べることはできません。あなたがこれでOKでないなら、ここにはいないでください。 つまり、リビングルームやダイニングルームに静かに座ったり、コンピュータで作業したり、本を読んだりすることはありません。私が助けになりたいと思って例外を許可したいので、私に例外を求めないでください。他の多くのゲストの利益のために、私はすべきではありません。 この部屋には机や作業領域はありません。
From 7am to 10pm: Kitchen, living room, dining room, outside deck.
It is very important you understand this rule and thoughtfully reflect on it before you book. If you get here during quiet hours, you have to retire to your room until quiet hours expire, even if you are starving and have been on a plane all day and night. You can't order food to be delivered during quiet hours, and you can't eat in your room. Please do not stay here if you are not OK with this.
This means you may not sit quietly in the living room or dining room, even to work on your computer or read a book. Please do not ask me for an exception, because I want to be helpful and grant you an exception, but I should not, for the benefit of my many other guests.
This room has no desk or area to work.
その他の特記事項
私のサンフランシスコ短期レンタル登録番号はSTR-(PHONE NUMBER HIDDEN)です。 私のパートナーは妊娠しており、ここに住んでいます。彼女は9月下旬~2017年10月初旬に予定されています。この期間中は引き続きゲストを迎えますが、この忙しい時間に予約したゲストは、私が家に入るためのドアコードあなたが私のように個人的に挨拶します。また、病院で長時間労働している場合、私はあなたの部屋を準備することができないかもしれません。この場合、私は新鮮なリネンとタオルをあなたのために用意しておきます。私は50ドルの払い戻しを行います。私はこれが起こることを期待していないが、これは私の最初の子供ですので、私はこれらの日を予約誰の事前に完全に準備したい。私は2017年6月24日にこの告知を掲載しました。いつものように食べ物をたくさん入れたキッチンを用意し、いつものように清潔にします。 私のプライベートエリアには子犬が住んでいます。 2017年4月30日より前に予約した場合、2017年6月29日から家の共有エリアに出向くことができます.2017年4月30日以降に予約した場合、他のゲストがご利用の場合は、 4月30日以降にも予約されています。 2017年4月30日、7週ぶりのSweet Border Collieを採用した翌日、私は「ここの犬の命はここ」の価値を「点検」に変更しました。 私は家を午前7時から午後11時まで約68°Fまたは20°Cに保ちます。午後11時から午前7時まで、私は家を60階に保ちます。あなたが暖かい部屋で寝る必要がある場合は、私はあなたがそれを求めるならあなたの部屋に追加することができます寝ているセラミックヒーターの間に私は安全を持っています。 ゴールデンゲートブリッジは、サンフランシスコへの運転中に旅に出かけるお金がかかります。残念ながら、橋は現金や橋での支払いを受け付けていません。運転する前に、または運転してから48時間以内に、オンラインで支払う必要があります。あなたが好む検索エンジンで「ゴールデンゲートブリッジ通行料を支払う」を検索してください。米国以外の一部のクレジットカードやデビットカードは、支払いウェブサイトでは機能しません。あなたのカードがうまくいかない場合は、私に往復あたり7.50ドルの橋を渡してください。私はあなたの通行料を私のクレジットカードに支払うでしょう。レシートをメールでお送りします。レシートは最低2ヶ月間保管してください。あなたが何もしないと、あなたのレンタカー会社は実際に通行料の10倍に達することができる非常に膨らんだ料金をほぼ確実に請求します。ガウジングは非常に悪く、2017年3月のサンフランシスコは、あまりにも多くの料金を請求するためにヘルツ、ドル、スリフティなどを提訴しました。 私はまた、短期賃貸活動のために有効なサンフランシスコビジネスライセンスを保有しています。さらに、私は隣の隣人から明示的な許可と祝福を受けています。私は近くの人や私が住んでいる市に良い市民になるために大切にしています。あなたは、いくつかのエアバンクのリストのようにここにとどまるために周りを回る必要はありません。私はあなたが私の隣人に自分自身を紹介し、私がホストであることから受ける喜びを感謝するのに役立つので、こんにちはとお伝えすることをお勧めします。 私はすべての年齢のゲストがここに留まることを示すボックスをチェックしました。あなたは幼児と子供を監督する必要があるので、家は '児童の校正'ではないことに注意してください。子供たちが手に入れることができるキャビネットには清掃用品があります。私は8週齢の幼児を含め、多くの幼児と子供が問題なくここにとどまっています。お子様が二段ベッド付きの部屋に滞在している場合は、上部の二階にある安全シールを必ずお読みください。メーカーには知りたい情報があります。 多くの人々は、サンフランシスコの地元住民が、あなたがサンフランシスコの正式名称で市に電話することを好むことを知りません。市のSFを省略して呼び出すことができます。サンフランシスコの街に電話すると、人々はまたあなたが何を意味しているのかを知り、怒られません。しかし、サンフランシスコを「フリスコ」や「サンフラン」と呼んではいけない人もいます。サンフランシスコとして私の街を参照することをお勧めします。
My San Francisco Short Term Rental Registration Number is STR-0000346.
My partner is pregnant and lives here. She is due in late September - early October, 2017. I will continue to host guests during this period, but guests that book during this hectic time should understand that I may have to give you the door code to get in the house, rather than greeting you personally like I normally do. Also, in the event of a long labor during which I will be at the hospital, I may not be able to prepare your room for you. If this happens, I will leave fresh linens and towels for you to prepare your own room, and I will refund $50 to you for the inconvenience to you. I don't expect this will happen, but this is my first child, so I want to fully prepare in advance of anyone booking these days. I posted this notice June 24, 2017. I will have the kitchen stocked with lots of food as always, and the house will be clean as always.
There is a puppy living in my private area. She may venture into the shared areas of the house beginning June 29, 2017 if you booked prior to April 30, 2017. If you book after April 30, 2017, the puppy may venture into the public areas during your visit if the other guests living here also booked after April 30th. I changed the 'dog lives here' value to 'checked' on April 30, 2017, the day after we adopted our seven week old sweet Border Collie.
I keep the house at about 68F or 20C from 7am to 11pm. From 11pm to 7am I keep the house at 60F. I do have a safe while sleeping ceramic heater I can add to your room if you ask for it, if you require a warmer room to sleep in.
The Golden Gate Bridge costs money to travel over when driving into San Francisco. Sadly, the bridge does not accept cash or any other payment at the bridge. You must pay online either before you drive across it, or within 48 hours of driving across it. Search for 'pay Golden Gate Bridge toll' on the search engine you prefer. Note that some non United States credit and debit cards don't work on the payment website. If your card doesn't work, bring me the bridge toll of $7.50 per inbound crossing, and I will pay your toll on my credit card. I will email you the receipt, which you should save for at least two months. If you do nothing, your car rental company will almost certainly charge you a wildly inflated rate that can reach ten times the actual toll. The gouging is so bad that San Francisco in March 2017 sued Hertz, Dollar, Thrifty and others for charging far too much.
I also hold a valid San Francisco Business License for my short term rental activities. Furthermore, I have from my next door neighbors the explicit permission and blessing to host. I take great care to be a good citizen to those nearby and to the City in which I live. You do not need to sneak around to stay here like at some airbnb listings. I encourage you to introduce yourself to my neighbors and say hello because it helps them to appreciate the joy I receive from being a host.
I checked the boxes that indicate that I allow guests of all ages to stay here. Note the house is not 'child proofed' so you will have to supervise your infants and kids. There are cleaning products in cabinets that children can reach. I have had many infants and children stay here without a problem, including infants as young as 8 weeks old. If you have kids stay in a room with a bunk bed, be certain to read the safety sticker on the upper bunk, as the manufacturer has information that they want you to know.
Many people don't know that local residents of San Francisco prefer you call the city by its full name of San Francisco. You may abbreviate and call the city 'SF.' People will also know what you mean, and won't be offended, if you call San Francisco 'the City.' But please do not refer to San Francisco as 'Frisco' or 'San Fran' as some people strongly dislike those terms. I prefer you refer to my city as San Francisco in any review you may leave.
---
---
---
Please read these house rules carefully prior to booking, since there are fees for violating some of them. Please don't be intimidated by all these rules. They are here to assure you that this is a well-run short term rental that people enjoy.
1. I charge $50 extra (paid after review period expires) if any member of your party first arrives or checks in after 9:00pm (21:00) or checks out before 7:00am.
2. Check in hours are from 6:00pm to 9:00pm (18:00 to 21:00) by appointment for an exact time, such as 7:00pm. If you miss your appointment, I will wait for you for $10 an hour. You must give me an exact arrival time, not a range or a limit such as 'before 21:00' as that ties me at the house for hours. Also, please don't be early, as it's stressful if you are here and I am still cleaning your room. If you write 'around' by the time you state, the late fee begins 1 hour from the time you write, so, if you write 'around 7:30pm' then the late fee begins at 8:30pm if you have not checked in by then. Wording similar to 'around' works the same way. You must give me your precise arrival time no later than 24 hours in advance, or I will set your arrival time to 18:00 for you, and asses late charges starting at 19:00. This is to discourage guests who tell me 'I'll let you know my arrival time when I know it' generally the day of arrival. That type of message ruins my day as I cannot make any plans to live my life, so I no longer allow vague or last minute arrival time notifications.
3. Early arrival is allowed for an extra charge of $20, with the same stipulation you must set an exact time and arrive at the precise time, not early or late. I will wait for you if you are late for $10 an hour. If you write 'around' by the time you state, the late fee begins 1 hour from the time you write, so, if you write 'around 10am' then the late fee begins at 11am if you have not checked in by then. Wording similar to 'around' works the same way. You must tell me your precise arrival time at least 24 hours in advance or your arrival time will be 18:00 exactly. For you to arrive early, I have to alter my day substantially, thus the charge.
4. Check out time is from 7:00am to 12:00pm noon.
5. Never open the house entrance door for anyone not in your group
6. Please do not wake up before 7am unless you will stay in your bed. You may use the toilet anytime.
7. Showering allowed from 7am to 12 midnight (24:00).
8. Quiet hours are from 10:00pm to 7:00am (22:00 to 7:00). Plan to be silent after 10pm except for a few brief sentences such as 'should I turn out the light' or 'did you see where I put my toothpaste?' No conversations or packing your luggage.
9. I live here with my partner and we live our lives and sometimes make noise, except during quiet hours.
10. Curfew is at 3:00 am.
11. Parking is free right across the street in front of my house and only in front of my house.
12. All guests must be accounted for on your Airbnb reservation before you arrive, even newborns. If you try to sneak anyone in, if I let them stay, you will have to pay a $50 penalty per unaccounted for person per night, paid via the Resolutions Tool after the review period expires, in addition to adding them to the reservation via an Alteration Request at the then current price if possible. If not possible then you pay via the Resolutions Tool.
13. You may not have guests of your own visit you at the house unless you add them to the reservation before they arrive, and rule #12 applies if you fail to add them to the reservation before they arrive.
14. Announce your arrival by Airbnb message. The wifi signal works outdoors and I disclose the network name and password once you book.
15. Check in takes 10-15 minutes and is mandatory for all in your group that can understand English.
16. Smoking is allowed only on the back upper deck, not out front or indoors.
17. No third-party bookings, which means you must sleep here each night. If you make such a booking, it will have to be unwound... in other words, the reservation is not valid.
18. You alone must correspond with me so don't turn your account over to anyone.
19. No drunkenness or other drug intoxication allowed, unless you are consuming prescribed medication, including cannabis, in quantities directed by your physician. Once recreational cannabis is allowed by law in San Francisco, then you may consume it outdoors on the back deck in moderation.
20. Eating is permitted only in the dining room, kitchen and on the upper back outdoor deck.
21. Food deliveries allowed only from 9am to 9pm.
22. I do not offer discounts or provide refunds so be careful booking.
23. No parties, events, screaming, fighting, photo shoots or video productions.
24. Use only the Airbnb calendar to communicate dates as I will ignore other communications about dates.
25. You may store your bags here in the public living room until 21:00 on the last day of your reservation.
26. If you book here and then alter the days, you will pay the same price for the new days, unless the new days cost more.
27. No illegal drug use, possession, storage or distribution.
28. You may not store your luggage here on days before or after your reserved days.
29. No pets, but Service Animals are allowed with English language government issued documentation.
30. If you telephone or SMS Text me, send the same message via airbnb at once as a message to be sure it's in our airbnb message thread.
31. Please do not play amplified sounds here unless you listen via ear phones.
32. Use the garbage can not the sink garbage disposal to dispose of food.
33. Do not spit, urinate, defecate or regurgitate other than in the toilet assigned to your room.
34. No burning of candles, incense, wood, paper, sparklers, fireworks, matches, lighters, oil lamps or other solids, liquids or gases.
35. Do not walk around public areas of the house topless, in the nude or in your underwear. This rule applies to all genders.
36. There are no back up bathrooms no matter how dire the circumstances... you'll have to travel to a public restroom in such an emergency.
37. No firearms or weapons allowed unless a government law gives you an exception, and even then, lock them up and keep them unloaded.
38. Do not leave people in your group under 18 without an adult from your group present as well.
39. You must be comfortable using Airbnb and have the equipment with you to readily do so.
40. Starting a week before your arrival, I restrict date alterations to earlier dates and I don't allow you to shorten your overall stay.
41. Your party must arrive together at one time unless you coordinate with me in advance.
42. Everyone in your party able to read should read these house rules the day before check in.
43. Tell me before you book if you are an airbnb 'Business Traveler.'
44. Do not photograph or capture video of anyone not in your party without their explicit permission.
45. My cancellation policy is set to Strict. You may not reduce your penalty for cancelling by first reducing the number of days in your stay and then cancelling, and if you do you agree to pay the additional amount I would collect before the reduction in days, paid via the Resolutions Tool.
46. Don't leave any house exit door unlocked if you are not present at the door.
47. Please clean up after yourself in the public areas of the house.
48. Follow California law regarding alcohol.
49. You forfeit your reservation if you do not check in on the first day, which concludes at 23:59.
50. If you borrow something from me, you promise to hand it back to me.
51. Be careful when booking since I have a Strict cancellation policy.
52. If you Instant Book for a same day stay, check with me first to be sure I am home.
53. Please don't leave your room a mess when you check out.
54. You my primary registered guest must receive the house tour for your group to be considered 'checked in.' Nobody else can check in for you.
55. Please lock your bedroom door when away and if you want to be certain nobody walks in on you, many Airbnb guests stay here at once, including young children and infants. My partner and I have an infant child.
56. If you complain in a review about something I disclose in my listing, you can't stay here again.
57. If airbnb cancels your reservation, you may not stay again without my advance written permission you obtain after you remind me that airbnb had previously cancelled your reservation.
58. I correspond only with my primary registered guest.
59. My cancellation policy is called Strict by airbnb. If you book from a jurisdiction that has a law or laws that override and weaken the Strict policy, there will be a surcharge you must agree to when booking, by having me issue you a Special Offer at a higher price, probably about 10% higher, to account for the higher risk I will lose money if you cancel under a weaker policy. If for any reason, even software error or my error, you don't pay as you book, you will still have to pay the surcharge before you arrive or cancel your reservation at your expense. The burden is on you not me to be sure you pay this fee, no matter what unforeseen circumstance may arise. As of September 23rd, 2017, South Korean airbnb accounts are subject to surcharge. There may be other jurisdictions I am not yet aware of.
60. Sorry, but I do not accept Alteration Requests to reduce the number of guests. It's better to book for fewer guests and add more later than to book too many and feel bad about paying for your guests that decide not to travel.
61. You must have an airbnb 'Verified ID' before you make any contact with me and before you try to book a stay here. If you Instant Book a reservation without already being Verified, you must pay the full amount of the booking whether or not the booking is completed. In other words, if your ID is never verified and you can't stay here, you still have to pay the full cost of staying here by whatever means airbnb provides for, perhaps as outlandish as making a phantom booking for a non existent room simply to use the airbnb payment facility, since the Resolutions Tool is not available in this instance.
62. Place only human waste and toilet paper in the toilet. No dental floss, baby wipes, tampons, sanitary napkins and other such items.
下記事項もご了承ください
階段を登らないとたどり着けません - One flight of stairs to the second floor of the house, where the guest rooms are located.
騒音の可能性あり - This is a busy shared house with lots of guests here at once. There are squeaky old hardwood floors. The plumbing makes noise.
ペットがいます - One female Boder Collie dog born March, 2017
共用スペースあり - Dining room, Kitchen, Living room, outside deck, hallway
一部アメニティは最低限のものです (例: ネットが遅い) - There is one 80 gallon hot water tank shared among all the occupants. Since I can have a dozen or more guests at once, the hot water can run out.
---
---
---
It was very nice to stay at the place, peaceful and quiet. The room and public space are clean and organized, and Kevin is very helpful. When I had a trouble to go to Sacramento by Amtrak at night, Kevin helped me to check the schedule of a train and even drove me to the station. It may be a little confusing to get there by public transportation at first. I took a bus that went to the opposite direction and got off at the wrong place. In this area, many bus stops do not have a sign. When you use public transportation, it would be important to ask the bus driver the address of the place. All in all, it is a very good place to stay in San Francisco. I will recommend this place to anybody.
---
We had a good time in San Francisco and the stay in Kevin's place was part of it. Kevin was a great host. He gave us an introduction about his place when we checked in, and you could find everything you need for a short stay there. The place is located in a quiet neighbourhood, so we slept well at night. And thanks to the house rules he made, everything was clear and we got along with other guests very well. Kevin apparently knows and loves his city. You will get a lot of suggestions from him which you won't find in any travel guide. 我和朋友在旧金山度过了愉快的时光,在Kevin家的经历也是其中的一部分。Kevin是一个很热情的主人。 在我们到达的时候他向我们介绍了他的公寓。你可以在那里找到你短住期间需要的一切。公寓在一个很安静的居民区里,我们晚上都睡得很好。Kevin定下的那些规则也让我们和其他客人相处得不错。 Kevin很了解也很爱他的城市。你可以从他那儿得到许多在一般旅游攻略上找不到的建议。
---
私は私のゲストと話したい。私は時にはゲストと夕食を取ったり、観光をしたりします。私は自分の寝室の家に住んでいます。家から仕事をするので、私は質問に答えて、あなたの訪問を最大限に活用するのを助けます。 あなたが到着したら、私はあなたにサンフランシスコの無料地図を提供します。私はまた、ダイニングルームのテーブルに座って、あなたがシティで何をしたいのかを話し合うことを提案します。あなたが言及した場所を地図上で指摘します。あなたが聞いたことのない、または考えていないかもしれない他の場所も提案します。 私のゲストの多くは、後に、この会話からどれくらいの価値が得られたかをレビューに書いています。エアブラブのホストの多くは、ゲストが訪問を最大限に活用できるように時間を費やしません。私は私のゲストを助けることが大好きで、私たちが会う時、あなたは私の熱意を感じるでしょう。私はサンフランシスコが大好きで、サンフランシスコも愛しています。 私は上品なホテルでコンシェルジュが好きではない。私は推薦する場所から手数料を徴収しません。
I like to talk with my guests. I sometimes even have dinner with my guests and/or take them sightseeing. I live at the house in my own bedroom, and I work from home, so I am around to answer questions and help you make the most of your visit.
When you arrive, I will offer you a free map of San Francisco. I will also suggest we sit at the dining room table to discuss what you want to do while in the City. I will point out on the map the places you mention. I will also suggest other places you may not have heard of or considered.
Many of my guests later write in their reviews how much value they obtained from this conversation. Lots of hosts on airbnb don't spend the time to help their guests make the most of their visit. I love helping out my guests, and you'll sense my enthusiasm when we meet. I love San Francisco and I'll help you love San Francisco too.
I am not like the concierge at a fancy hotel. I don't collect commissions from any of the places I recommend.
I love being a host. I have been happily inviting guests into my home since the dawn of airbnb, way back in 2008. It was so early that airbnb had no employees yet, and one of the three co-founders had to come to my house to take the 'professional pictures' that come with membership. Since I am a photographer, he didn't take the pictures because he thought mine were better than he could take. Instead, we spent 20 minutes talking about airbnb. I knew it was going to be huge even back then.

I hosted the first airbnb employee, Nick. The founders required potential employees to use the service, and Nick chose my house. He later got hired, stayed until he vested all his stock, and last I heard is now an investor, using the windfall he accumulated by being the first employee at what is now a company reportedly worth more than USD twenty five billion. You can find the review Nick left for me in the reviews section.

I have been to France, Germany, Austria, Jamaica, China, Japan, Thailand, Switzerland, England, Greece, Belgium, Netherlands, Czech Republic, Hungary and Italy, among others.

It's easy to get here. You can fly into either the San Francisco or Oakland International airports. From there you can take BART, the regional train that serves the San Francisco Bay Area. BART will get you into San Francisco itself, since the airports are not actually in the City. Once you exit the BART station, you hop on a MUNI bus #36, which you catch right at the exit of the BART station... no walking. Then, you get off the #36 and you are right at my front door, again, no walking.

There is plenty of free unlimited time parking in front of my house.

Prior to becoming a bed and breakfast host, I was a software entrepreneur and computer programmer. I have been in the tech field through two boom/bust cycles.

I am also an accomplished photographer and if you ask, I'll take your picture.

If you arrive on Friday or Saturday, I prefer you don't arrive after 7pm, so that I don't have to stay home waiting for you. I have a live in girlfriend and I like to take her out on dates.

Final thoughts: You can learn a lot from my profile here and from my hundreds of reviews. I strive to provide my guests with an incredible San Francisco experience. Almost every guest is happy, which shines through in my reviews I think.

But a rare few are unhappy.

If you think you'll be unhappy as well, perhaps because this is a traditional old house built in 1958 with oak wood floors that squeak, small original bathrooms with worn tile, original noisy plumbing, thin walls, and often a dozen or more guests per night... then please book somewhere else.

There are plenty of newer homes on airbnb. I have almost 100% occupancy, so I won't be offended or financially harmed if you book somewhere else.

Rather, I will be happy, because it pains me to read the rare review where someone complains about something that is entirely normal for most San Francisco houses.

What you get when staying here is a richly fascinating window into real San Francisco life, high on a magnificent hill with a stunning view onto acres of untouched forested land, a rarity in bustling and congested San Francisco.

You also get to meet me, one of the most experienced hosts on this platform. I signed up just four months after airbnb was founded, and I host over one thousand guests per year when I am hosting. Some years I take a break.

I will help you out more than most hosts, and the 'special features' of my six bedroom home should be viewed as perks not quirks... perks that will help you soak up the uncommon feeling of living in what many say is the best city in the United States.

In conclusion, I want to mention price. This is essentially a hostel in an old house with free food and a very attentive host to help you make the most of your visit.

So, the price should be affordable. Usually it is, but not always.

If you book during a special event, like the Super Bowl (held here in 2016) or the Outside Lands concert or Oracle World, the price could be double or quadruple the normal price. Remember, hotels in San Francisco that cost $200 a night can jump to $1,000 or $2,000 a night during one of the big events. While I don't ever charge $1,000, I do charge more when special events are in the area. Please don't pay my asking price, stay here and then complain when you leave a review that the price is not a good value.

I sell out nearly every night of the year, so that means I am pricing my rooms below market. Hotels strive to only have about a 70 to 80 percent occupancy, I have read, because that level of occupancy optimizes profit. I strive to optimize for 100 percent occupancy, even though it means lower profit per room. I like 100 percent occupancy because that way I get to meet the most people, which I enjoy. I also want to help my guests meet the most people from around the world as well. If I optimize for profit, my guests meet fewer people. So that's why I optimize prices to fill every room every night.

When you stay here, you can be certain you are paying a fair and market rate price that is lower than it could be if I tried to make the most profit.

In this profile I have disclosed clearly significant negatives to my listings - that this is a hostel with many guests per night, that the house is old and tired, etc.... But despite these negatives, I run a tight ship and my guests are very happy almost all the time, as you can read in my 400+ reviews.

I strive to achieve five stars across all the rating categories, and I am close to getting there, with a 92% five star ranking as of February 18th, 2016.

I am also an airbnb Superhost, which you can see by the yellow and red badge in various locations including just below this profile text. This status means the following: 1) I have never cancelled a reservation in the last year; 2) I reply to at least 90% of messages from prospective guests within 24 hours; 3) that I have had at least ten bookings in the last year; 4) that at least 80% of guests in the last three months prior to evaluation have rated their overall stay here with five stars out of a possible five stars. If you don't see the badge, that means I have temporarily lost my status and forgot to update this text. It is very difficult to achieve Superhost status in a shared house with so many guests, which I mention so you will appreciate why I have the house rules you see in my listings. If you are difficult to please in general, or find that you frequently leave tough reviews on review sites such as Yelp, please stay somewhere else. I work very hard to get and keep Superhost status, and for almost all guests, that work results in the sweet and heartfelt reviews you see. Note I exceed the Superhost minimum requirements because I reply to every guest message, I have hundreds of bookings per year and I have never cancelled on a guest ever.

Again, I urge you to stay somewhere else if you find yourself to be picky and/or think you'll penalize me for the qualities I have disclosed to you in this profile.

I will be grateful if you refrain from leaving a review where you repeat the negatives I have plainly disclosed here.

I really enjoy being a host. I want to meet you. I have wonderful guests, and I have made many friends over the years. People from over 44 countries have stayed with me. You'll meet people from other places... interesting people. If something goes wrong, I will go out of my way to help you. If you forget your toothbrush, I'll give you a new one. If you flight is delayed and you get to my door at 3am, I'll still greet you with a smile and show you around. If you get sick, I'll drive you to a clinic for healthcare. If you need to print something you can use my free printer I have for guests.

I will take care of you even more than the concierge at a five star hotel.

Here are two examples:

1) The father of my guest packed their prescription eye medicine in their checked luggage, and that luggage was delayed. The guest's father had to have the medication, and his doctor was overseas, so my guest could not easily get a new prescription to buy the same medicine locally. My guest also spoke English only at a basic level. He asked me to call the airline. I called them, and the next day I drove my guest and his father to an obscure business park in another city to pick up his bag in an unmarked office building. The medicine was in the bag and my guest and my guest's father were thrilled.

2) A family from the Netherlands visited to go tent camping for a few weeks. They had their gear shipped to my house before their arrival. I stored the boxes in my garage at no cost. Then when they tried to rent a van their credit card did not have enough available credit for the mandatory deposit they had not been informed about when they reserved the van. They called their bank in Holland and learned it would take five days to boost their credit limit, which would have ruined their vacation. I went with them to the car rental company and charged their rental to my credit card. When they returned the van, they used their newly capable card to settle the bill and I did not lose any money. I can't promise to do this for every guest, of course, but they were doctors with teenage kids. I evaluated the credit risk and felt comfortable helping them out. Of course, this family was extremely grateful, because otherwise they would have had to find a place to stay while they waited for their bank to raise their credit line. I was booked solid, so I could not have extended their visit with me.

I've been helping my guests like this for years now, and I have so much fun in the process. Hope to see you soon!

I reply very, very quickly to all inquiries and requests, usually within 5 minutes, 16 hours a day from 8am to midnight my time, 365 days a year. I don't allow Instant Book because I like to manually review everyone that stays here. This is a shared house and I take care to provide a great experience for my other guests. If I am uncomfortable with a potential guest I will not let them stay here. But just because I don't allow Instant Book, you may confirm your plans very quickly because I will reply quickly from 8am to midnight my time. Since I joined airbnb in 2008 my average response time according to airbnb is just five minutes. Note when I say 'uncomfortable with a potential guest' I am talking about qualities such as not following my 'house rules.' I am not suggesting I discriminate because I welcome guests from every country on Earth.

I am registered as a host with department of short term rentals San Francisco, and I have a San Francisco business license as required. I also pay Property Tax to San Francisco on all my airbnb household furnishings. And of course, I pay State and Federal income taxes on my airbnb earnings.
言語:
English