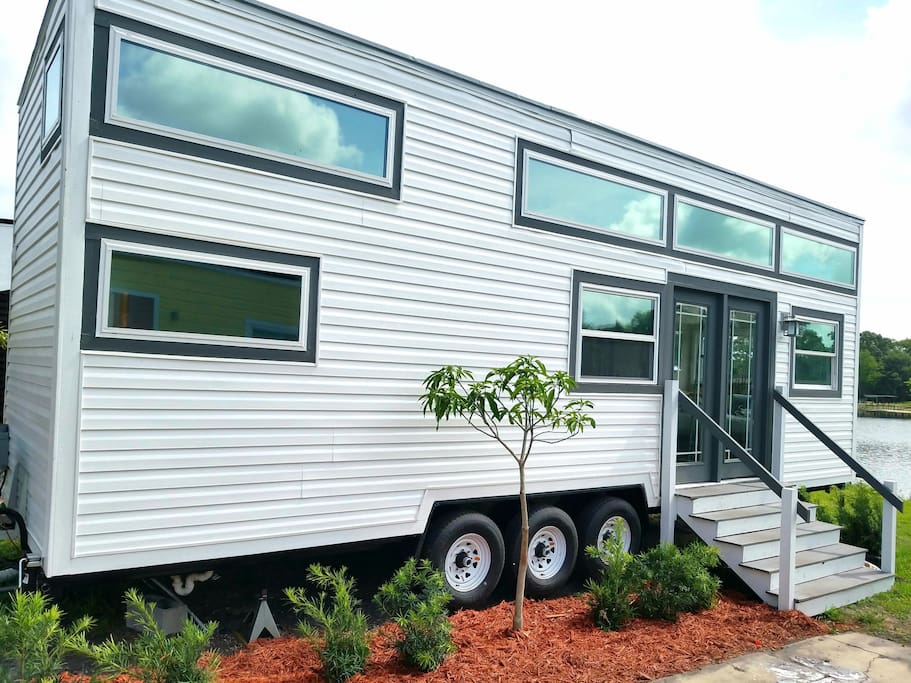 それはちょうどそれが小さな家だからといって、あなたがスタイルを軽視しなければならないというわけではありません!オープンフロアプランと高い天井を持つこの小さな家は、光と空気で満たされています。リッツにはフルサイズのステンレス製冷蔵庫、ガラス製ストーブのクッキングトップ、イタリアンタイルなどのハイエンドの仕上げが施されています。 3つのメモリーフォームベッド、それは大人5人を眠る。美しいフェアレイク・フェアビューからわずか20フィートのところにあるこの居心地の良い小さな家は、あなたの小さな家の経験の上に贅沢をもたらします。写真はすべてそれを言う!
Just because it's a tiny house doesn't mean you have to skimp on style! With an open floor plan and high ceilings, this tiny home is filled with light and air. The Ritz has high-end finishes, including a full-size, stainless steel fridge, glass stove cooktop and Italian tile throughout. With 3 memory foam beds, it sleeps 5 adults. Only 20 feet from beautiful Lake Fairview, this ritzy tiny home puts luxury at the top of your tiny house experience. The pictures say it all!
スペース
あなたがこの小さな家に入るときに最初に気づくのは、それがどのくらい広がっているかです。湖の美しい景色は、絵の窓によって囲まれています。ソファはあなたの悩みを解消させる「窓箱」にはめ込まれています。あなたのチーク材の椅子の外でリラックスして、湖から歩いてください。カウンタースペースがたくさんあるため、この小さな家は料理に最適で、快適な短期滞在や長期滞在が可能です。 家の中で何かを自由に使用してください。もちろん、すべてを尊重してください。それは小さいかもしれないが、それはまだ家だ! :) 注:Ritzはオーランドコンベンションセンターの建築&デザイン、タイル、家電製品の2017 Covering Showに展示されました。このスタイルの小さな家が湖畔に向かい、17番目の小さな家になりました!
The first thing you notice when you walk into this tiny house is how spacious it is. A beautiful view of the lake is framed by a picture window. The couch is inset into a "window-box" where you can let your troubles melt away. Relax outside on your teak chairs only steps from the lake. Lots of counter space makes this tiny house perfect for cooking, making for a comfortable short, or long stay.
Feel free to use anything in the house, and of course, please treat everything with respect. It may be tiny, but it's still a home! :)
Note: The Ritz was displayed at the 2017 Covering Show for architecture & design, tile, and appliances at the Orlando Convention Center. This style-ish tiny house made its way to the Lakefront, becoming our 17th tiny house!
ゲストの立入り範囲
家へのアクセス:各小さな家には安全なコンビネーションのドアロックがあります。楽しいもの:パドルボードと二人のタンデムカヤック(一人に変換)で湖をお楽しみください。 2つの釣り場(2つの釣り竿が利用可能)でリラックスしてください。また、オンサイトゲスト/居住者のコインランドリーもあります。
Home access: Each tiny house has a secure combination door lock. Fun stuff to access: Enjoy the lake with a paddleboard and a two-person in tandem kayak (converts to a one-person). Relax on our two fishing docks (2 fishing poles available). There is also an on-site guest/resident coin laundry.
ゲストとの交流
あなたの便宜のために、ドックの隣のオレンジハウスに住んでいる現場管理者がいます。彼は何か問題や疑問を持ってお手伝いします。彼が利用できない場合は、質問や問題を私にメールでお送りください。 -アダム
For your convenience, there is an on site manager that lives in the orange house next to the dock. He will be more than happy to help you with any problems or questions you may have. If he is unavailable, feel free to email me with any questions, or problems. -Adam
その他の特記事項
あなたの小さな家に何か問題や問題がある場合は、すぐに私たちに連絡して、できるだけ早く対応できるようにしてください。私たちは成長している小さな家庭のコミュニティにあなたの滞在が楽しくてユニークな体験であることを願っています! 免責事項:ほとんどの小さな家は階段とはしごを持っています。私たちも例外ではありません! :)オーランド湖畔にあるすべてのエアブッブの小さな家屋にははしごや階段があります。ゲストが車に乗っている小さな家の1つに宿泊している場合、ゲストは怪我をした場合のすべての責任を放棄することに同意します。
If there are any issues or problems with your tiny house, please contact us immediately, so that we can address them as soon as possible. We want your stay in our growing tiny house community to be a fun and unique experience!
DISCLAIMER: Most tiny houses have stairs and ladders. Ours are no exception! :) All of the Airbnb tiny houses at Orlando Lakefront contain ladders and stairs. When a guest(s) book(s) their stay at one of our tiny houses on wheels, the guest(s) agree to waive all liability in case of personal injury.
---
---
寝室1
クイーンベッド1、ダブルベッド1、シングルベッド1
---
Please no parties or events. You will be staying in a community please be respectful of your neighbor.Please don't put anything down the drain including food. There's no garbage disposal. Also only toilet paper in the toilet. Please treat the house like it's your own and tidy up after yourself :)
---
Hi, I'm Adam! I'm the founder and owner of Orlando Lakefront Tiny Home & RV community. I've been owner of the park since 2009, and it's my hope for people to experience tiny living through our community's Airbnb. I'm happy to answer any questions you may have. Feel free to contac…
言語:
English