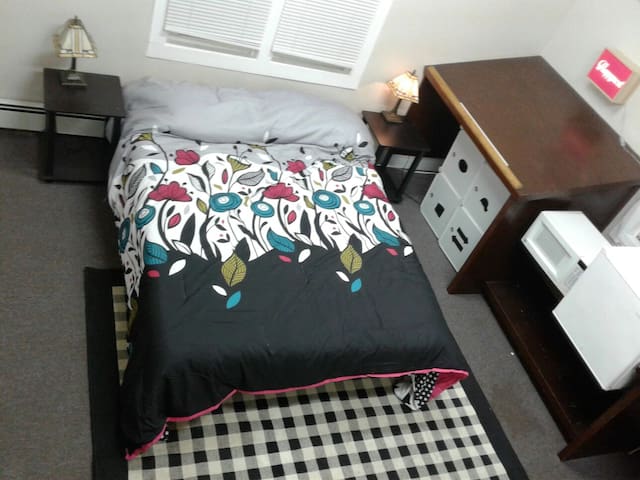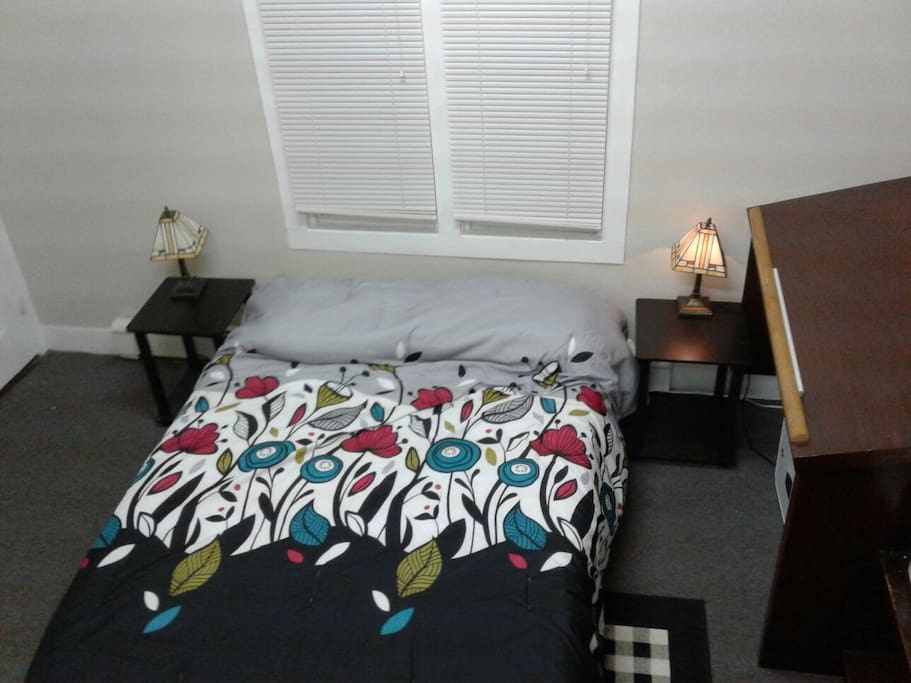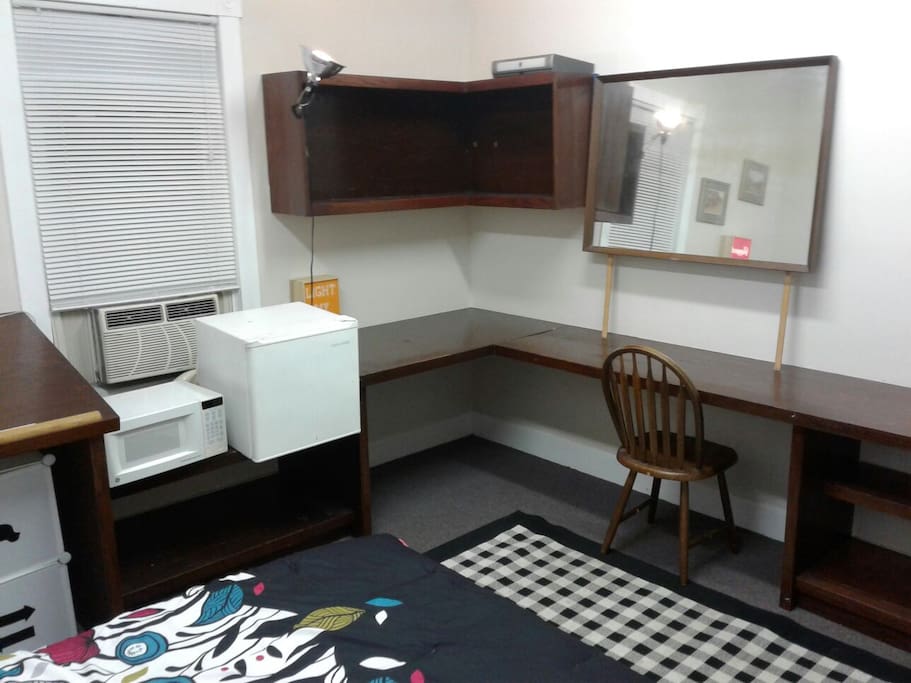 In Laws room 100% private. 420. Just share bath.
Private isolated room. On first floor. Full bed fridge ac heat microwave. Lovable and completely private. No roommates at all. Upstairs is a full kitchen and living-room as well as bathroom. All accessible. 420 friendly. Not for parties though. Super cozy bed. Includes work and office area as well as drafting table. Includes mini kitchen and 100% secure and lockable door. Cat lives upstairs. Never been in room... Upstairs apt is smoking property. U can smoke too. Great value. Street can be loud.
スペース
Really just a private bedroom or studio with access to whole apt above minus rooms. Locked door. Completely private. No one bugging ya. Includes fridge and microwave. Your own personal studio. Minus the bathroom. We smoke you can too. If upgraded can bring fridge and microwave to that room.
ゲストの立入り範囲
Apt kitchen living room and bath. Up the stairs.
その他の特記事項
Smoking and 420 friendly. Just keep noise down. Room is my perfect but for the price and location and privacy it's perfect.
---
Pros: location is 8 minute walk to Dublin donuts and convention center; 2 minute walk to lots of bars, restaurants and Hookah bars; mini fridge and microwave in one of the rooms that he has Neutral: as it is near where lots of action it is very noisy - I stayed from a Tuesday to a Friday morning and each night were loud cars, sirens and people walking to nearby bars - a pro for some a con for others; is more like a hostel experience- you do have to enter his apartment to use the shared restroom; towels aren't the best - that's being not picky but would suggest bring your own Cons: the whole place smells like stale cigarette smoke everywhere and all the time; the place is tidy but I wouldn't call it clean - there were cigarette burns in the provided bed sheets and the bathroom has a good bit of mold in the grout; for me the host was not a great communicator - I assume he just had an off experience given his other reviews - but his instructions were unclear and not timely; the wifi did not work the entire time I was there Overall - approach it as you would a hostel of a comparable price - fantastic location if you want to barhop and feel you'd rather just walk home - hard to be too disappointed given both price and location - I assume for me it was just an off hosting experience for Morgan given the other glowing reviews.
---
Good place to explore providence. Walking distance to a lot of different bars, restaurants, quick eats, and hookah bars. Read description carefully. You have to walk through Morgan's apartment to get to the bathroom. Didn't have a problem doing that, he's a really cool guy, but just be aware that the bathroom is not also private like your room is.
---
Im a musician from Boston. ALL my rooms listed have COMPLETELY separate entrances. So nearly private other than kitchen and bath. 2 doors in room the larger room and one in the room that is completely private. However no crazy noise in that room. Very large spaces. 30 second walk to The Pineapple starting Federal Hill. I have karaoke or pa equipment if u are a singer of player too. Haha. U can ALWAYS use. My wife is from Milan and we offer reservation assistance at 5 local gems within STEPS of us. Also 420bnb options. =). We speak Italian. She does at least. Haha
言語:
English、Italiano