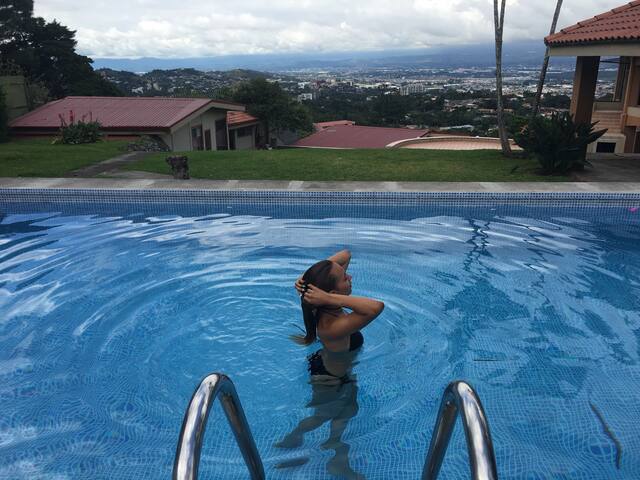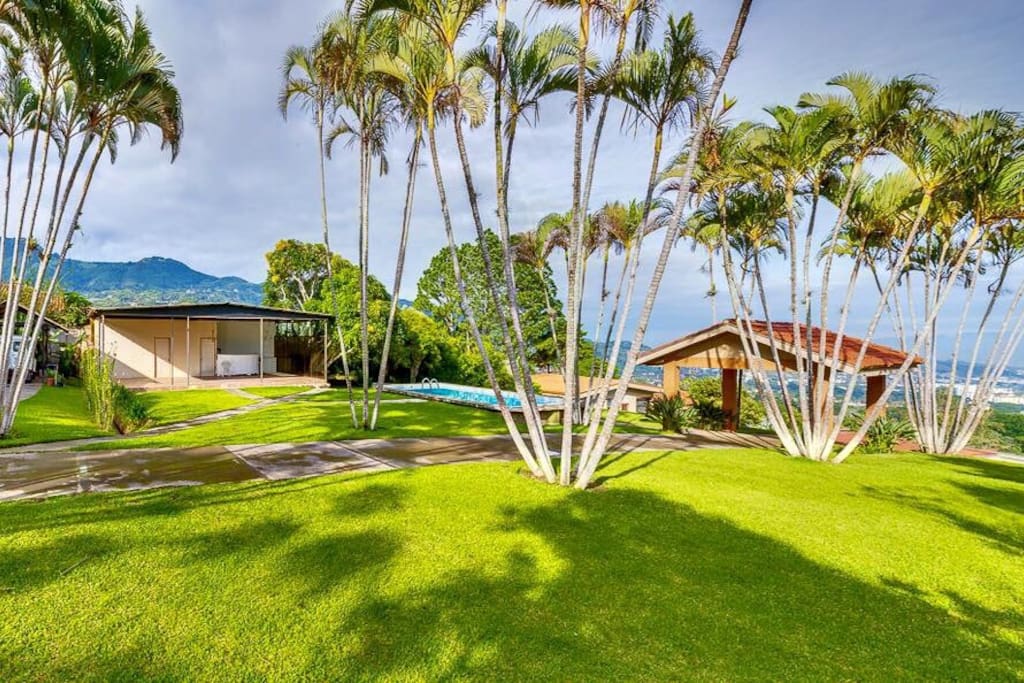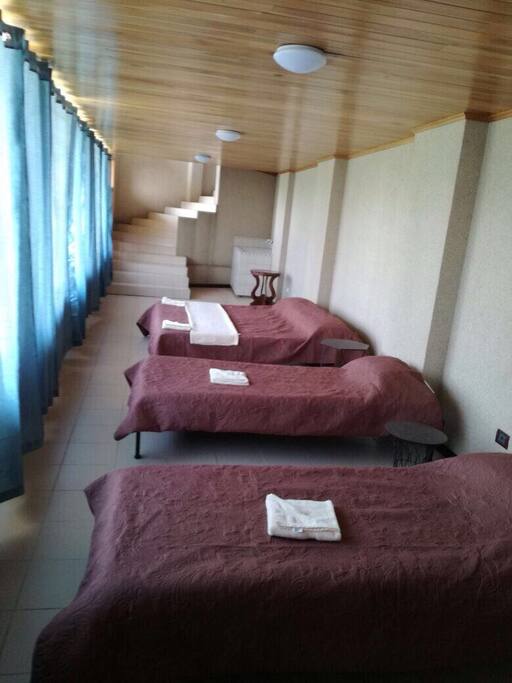 Great big room on the first floor of a mansion in Escazu.
スペース
It's a gated community complex of four houses. Two huge houses, one guard house, and one in law unit. The pool is shared but it's rarely used. It's a gated community. It is rare for us to have the 3 houses rented at one given time. Each of the big houses sleeps up to 10-16 people. So for example if there were 20 people in your group I would give you both houses. If there is 16 people in your group i would only give you one house. If in your group there were more than 32+ people I would give you the two big houses and the Inlaw unit. Each house has four or more rooms. Each house can be seen in the pictures with the exception of the in law unit.
The views and proximity to everything is what most people love about this property. The property is a private estate in the mountains of Escazu. Great views. Private and gated. Only minutes from town.
The art mansión is in a prívate gated community. It is extremely safe. There are large walls all around the large football field size lot. The properties alarm system was just recently updated with new state of the art monitors for movement in and around perimeters. There is a long term guard who has been living on site for several years. He lives in a separate home along with his wife and two other family members.
The area is very exclusive. Many people consider it the Beverly Hills of Costa Rica.
San Jose and Escazu center are a short drive away.
ゲストとの交流
Things to See and Do
San Jose is the business and residential center of Costa Rica and there are plenty of things to see and do during the day and throughout the night.
Barrio Bird Walking Tour – This ain't your average tour! Barrio Bird walking tours of San Jose are informative, personal, fun, and designed to show you a San Jose that you won't get from a guide book. You can even combine your tour with a massage and/or yoga to relax and recharge after your travels.
Museums – There are tons of museums in San Jose, it would be difficult to visit them all in one trip. A good place to start might be the Costa Rican Art Museum located in the architecturally interesting building that once served as Costa Rica's first international airport. It's free!
Eat on top of the Holiday Inn – This sounds strange, but the best view of downtown San Jose can be seen from atop this building. There is a dress code and lunch is about $8 USD.
Mercado Bourbón – This is where you should go if you want to see a more authentic gritty Costa Rican market than Mercado Central, which is geared a bit towards tourists. DO NOT take any valuables, Mercado Bourbón and the streets that surround it are quite sketchy.
Teatro Nacional – Costa Rica's National Theater is a fantastic neoclassical building and you must attend a performance to get a peek at the inside, which is still in its original state. Performances can be attended at lunch or in the evening and getting tickets is usually as easy as showing up right before the show. Ticket costs are low, under $10.
Outside of the City
Volcanoes – Poas and Irazu Volcano are both about an hour's ride outside of San Jose. Poas is to the North, Irazu is to the Northeast. The best time to view the craters is bright and early in the morning because clouds roll in to cover the view in the afternoon. Take a jacket – it gets cold up there!
Jaco Beach – Jaco is under an hour's drive from San Jose. Enjoy the beach and stay into the night for a wild party scene. If you want something more tranquilo, just venture slightly south to find pristine beaches void of crowds.
Coffee Tour – Some of the country's best coffee tours are located right outside of downtown San Jose.
---
---
---
チェックイン時間は、15:00から21:00です。
The kitchen is to be left in the same condition that you found it. Please no dirty dishes bottles or garbage in and around the pool area or throughout the property.
1. Check-in 3:00 PM earlier if available
Please present your ID card, Passport or Temporary Residence Card upon Check-in. By Law visitors must present personal documents for hotel/ property records.
2. Departure
Check out time is 12:00 noon. please inform the reception if you wish to retain your room beyond this time. Extension will be given depending on the availability . If the room is available, normal tariff will be charged. On failure of the guest to vacate the room on expiry or period the management shall have the right to remove the guest and his/her belongings from the room occupied by the Guest.
3. Luggage Storage
Subject to availability of the storage space, the guest can store luggage in the luggage room, at the guest's sole risk as to loss or damage from any cause, Luggage may not be stored for period of over 30 days.
4. Guest's Belongings
Guests are particularly requested to lock the door of their rooms when going out going to bed. For the convenience of the Guest, electronic safety lockers are provided in the room to store any valuables.
The Management will not in any way whatsoever be responsible for any loss / or damage to the Guest's belongings or any other property from either the hotel room or the locker or any other part of the hotel for any cause whatsoever including theft of pilferage.
5. Pets
No pets
6. Hazardous Goods
Bringing goods and / or storing of raw or exposed cinema films, or any other article of a combustible or hazardous nature and / or prohibited goods and / or goods of objectionable nature is prohibited.
The Guest shall be solely liable and responsible to the management , its other guests , invitees visitors, agents and servants for all loss financial or otherwise and damage that may be caused by such articles or as a result of the guests's own negligence and non-observance of any / instructions.
Gambling, contraband, prostitution, weapons, explosives, flammable objects, poisons, drugs, animals and pungent food are strictly prohibited on hotel premises.
7. Damage to Property
The guest will be held responsible for any loss or damage to the property caused by themselves, their guests or any person for whom they are responsible.
8. Management's Rights
It is agreed that the guest will conduct him/ herself in a respectable manner and will not cause any nuisance or annoyance within the hotel premise .
The Management has the right to request any guest to vacate his/her room or other areas of the hotel forthwith , Without previous notice and without assigning any reason whatsoever, and the guest shall be bound to vacate when requested to do so. In case of the default the Management has the right to remove the Guest luggage and belongings from the room occupied by him / her.
9. Relation between Management and Guest
Nothing herein above shall continue or be deemed to constitute, or create any tenancy or sub-tenancy , or any other right to interact in the hotel premises or any part of portion thereof, in favour of any Guest or resident or visitor, and the Management shall always be deemed to be in full and absolute possession of the whole of the hotel premises .
10. Government rules and regulations and application of laws
Guest are requested to observe , abide by confirm to and be bound by all applicable acts and laws and Government rules and regulations in force from time to time.
---
---