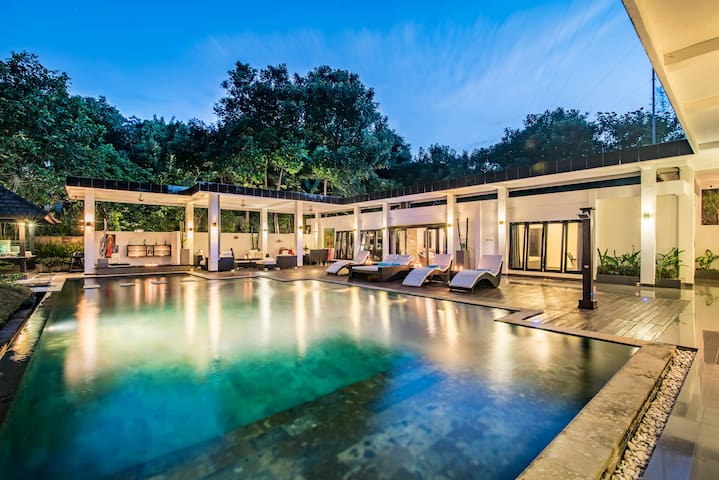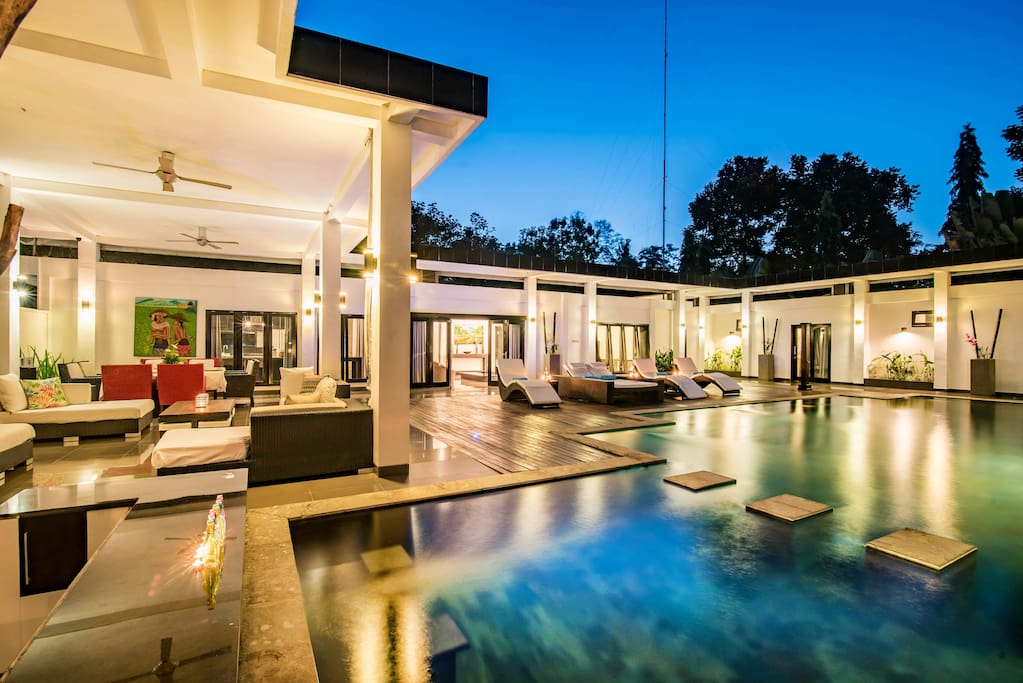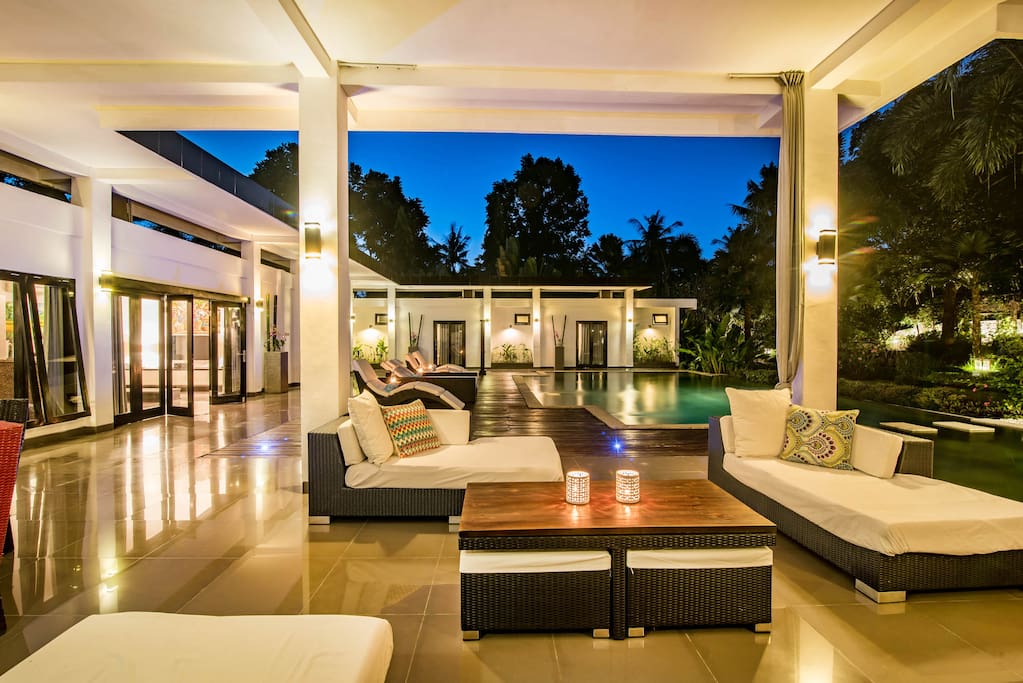 Villa Lily is a hidden gem in North Bali, surrounded by a tropical garden you will experience the meaning of real relax. Our staff will take care of you and of all your needs.
スペース
ヴィラは静かでプライベートな谷にあり、北バリの沈黙を楽しむことができ、街の喧騒から離れています。 あなたが朝起きたら、あなたは大きな仏像を見ている無限のプールで泳ぐことができる最も甘いメロディーを歌う鳥を聞くでしょう。 ヴィラリリーは、新鮮な竹のスティックやランの花のようなバリの影響を受けた、本質的でモダンなデザインです。 家は完全にマンゴー3、ヤシ、竹、ジャワ3つと信じられないほどの色の花と信じられないほどの熱帯庭園によって降伏する。 プールの近くには伝統的なバリのガゼボ(ベールと呼ばれる)があり、一日の最も暑い時間に寝ることができます。太陽が好きな人は、プールの前にある快適なデッキチェアで楽しめます。 接続されたプールには、禁止される準備ができているバーステーションがあり、フル雰囲気を作るためにプールのエリアは強力なサウンドシステムによってサービスされます。 ヴィラには3つのベッドルーム2室と緑の景色を望む専用バスルーム付きの全室があります。 すべての客室には次のものが備わっています: - エアコン - ファン - ボディウォッシュの礼儀のライン;シャンプー;コンディショナー:ボディローション:ハンドソープ - ベッドシートとカバー;バスルームのタオル;プール用タオル - ダブルミラー - ビッグワードローブ ヴィラには大きな冷蔵庫と製氷機を完備した大きなキッチンもあります キッチンは以下によって構成されます: - 冷蔵庫 - 電子レンジ - ガスオーブン - クッカー - ブレンダー - トースター - ウォーターボイラー - すべての台所用品 - 皿とカトラリー キッチンのエリアは、次のように構成されたリビングルームに従います。 - Tv HDMI 48インチ - 衛星テレビ(すべてのスポーツはMotogp / F1 /チャンピオンズリーグ含む) - 巨大なソファー - エアコン - ファン プールのエリアは、あなたの素敵なランチとディナーのために、より多くのソファと大きな木製テーブルでサービスされます。 我々はまたあなたに与える: - すべてのヴィラで無料のフードカバーwi-fi - 駐車場 - アイロンとアイロン台 - ヘアドライヤー ご要望に応じてサービスを提供しています(追加料金): - ランドリー - マッサージとボディケアサービス - すべてのバリ島のツアー - 献身的なシェフとの特別なディナー - ダイバーとレンタカー - オートバイレンタル - プライベートヨガと瞑想クラス 私たちの目標は、あなたが王と女王のように倒れるようにすることです。もしあなたがいくつかのリクエストをお持ちであれば、私たちにお尋ねください。お手伝いをさせていただきます。
The Villa is located in a silent and private valley where you will enjoy the silence of North Bali and rest from the city noise.
When you wake up in the morning you will listen the bird singing the sweetest melody you could hear swimming in a infinite pool looking the big Buddha statue.
Villa Lily has essential and modern design with Balinese influence, like the fresh bamboo stick and orchid flowers.
The house is completely surrendered by incredible tropical garden with mango three, palm, bamboo, Javanese three and incredible colored flowers.
Near the pool you will find a traditional Balinese gazebo (called bale`) where you will lay down during the hottest hours of the day.. or if you like the sun you will enjoy it in the comfortable deckchair in front of the pool.
Connected the Pool there is a bar station ready to be enjoined, and to make a full atmosphere the pool`s area is serviced by a powerful sound system.
The Villas has three bedroom 2 all with private bathroom with extra bath with green view.
All the rooms are furnished with:
- Conditioned air
- Fan
- Courtesy line of Body Wash; Shampoo; Conditioner: Body Lotion: Hand Soap
- Bed Sheet and Cover; towel for bathroom; towel for pool
- Double mirror
- Big Wardrobe
The Villa has also a big kitchen full furnished with big fridge and ice maker
Kitchen is composed by:
- Fridge
- Microwave
- Gas Oven
- Cookers
- Blender
- Toaster
- Water Boiler
- All kitchen utensils
- Dishes gasses and cutlery
The area of the kitchen follow with the living room composed by:
- Tv HDMI 48 inches
- Satellite Tv (with all sport included Motogp/F1/Champions league)
- Huge sofa
- Conditioned air
- Fan
The pool`s area is serviced by more sofa and big wooden table for your lovely lunch and dinner.
We also give to you:
- Free and fulled cover wi-fi in all the Villa
- Car parking
- Iron and Ironing board
- Hair dryer
On request we services with (additional cost) :
- Laundry
- Massage and Body care services
- Tours in all Bali
- Special dinner with dedicated chef
- Diver and car rental
- Motorbike rental
- Private Yoga and Meditation Class
Our goals is to make you fell like a king and a queen, so if you have some request more ask us and we will be happy to help you.
ゲストとの交流
Lovinaでのご滞在のお手伝いをさせていただきます。
I will be always aviable to help you in your stay in Lovina
We work to give the best experiences in north Bali