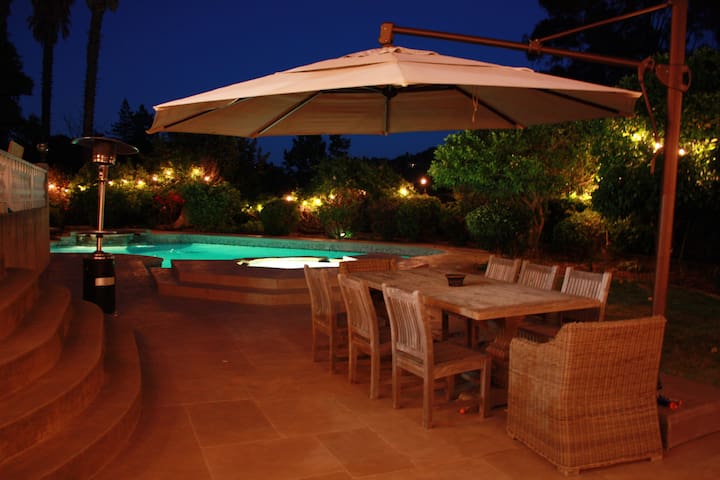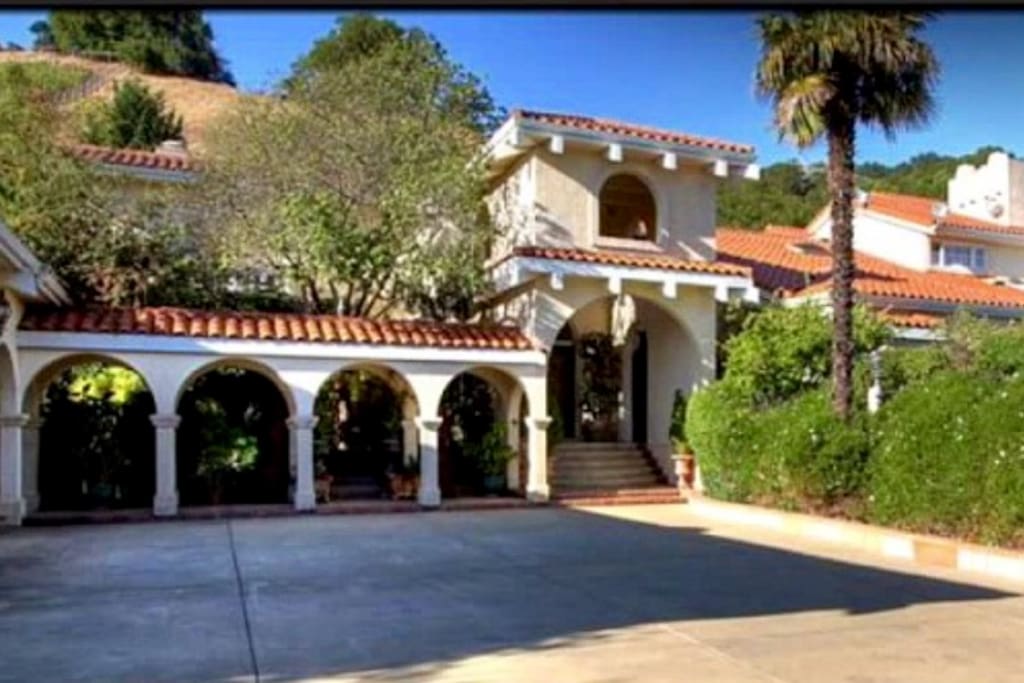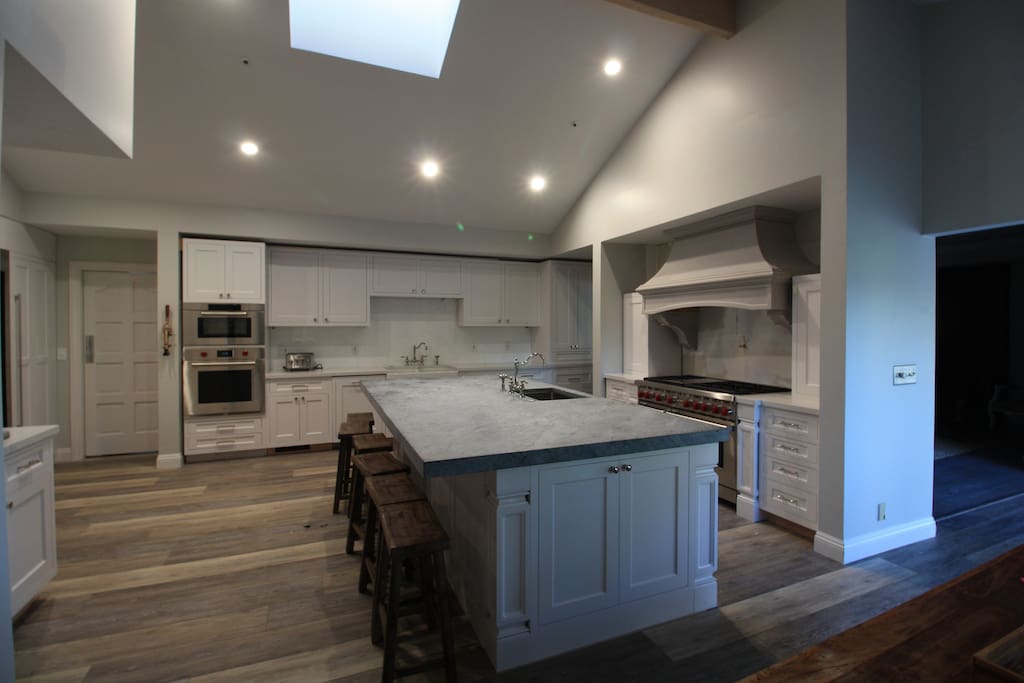 Private and secluded luxury retreat in your own private resort with several acres of beautiful landscaped gardens, salt water pool/spa, rolling hills and creeks.
The tree-lined private driveway of this true gem of a property will set the exclusive tone of your stay.
The property offers discrete seclusion in a rural setting; it's 20°F warmer and 20 miles from San Francisco and just 17 miles from Oakland Arena.
It's 3 miles to nearest transport link (BART); although you may never want to leave : )
スペース
Orinda was once the destination vacation for the rich and famous San Francisco residents due to its unique micro-climate (20°F warmer than San Francisco) and yet close proximity to the city.
The house sits within its own hillside and and is far enough from neighbors to offer absolute privacy, but close enough to not feel isolated.
The 6,000+ sq ft house boasts a 700 sqft chef's kitchen with Wolf/Sub zero appliances.
This extraordinary residence opens to a great hall with grand piano. There are an additional 3 sittings rooms, 2 dining areas, a games room (with pool table) and sauna.
The main house has 5 bedrooms and pullout couch in one of sitting rooms.
The 6th bedroom (separate studio apartment) is used by the owners but can be made available for groups of 14-16 people.
Two bedrooms share a bathroom in the East Wing; the remaining bedrooms all have own ensuite bathrooms.
Outdoors, just a few steps away from the house, is a beautifully landscaped salt water pool (heated to minimum 80°F from Feb to Nov only) and hot tub (year round) as well as large Weber gas grill there for your disposal.
Lose yourself in over 3 acres of landscaped gardens, meandering pathways, stepped terraces and kitchen gardens and a further 4 acres of scenic hillside.
The grounds also boasts a bocce ball court and permanent basket ball hoop. Other features in the house include pool table, ping pong and multiple entertaining spaces.
The landscaped and maintained gardens are for your enjoyment and truly offer a magical escape from city life, yet only 20 miles from San Francisco.
Note on "PETS ON PROPERTY"
Please note that this property has had many animals within the estate including cats, dog, chickens, sheep, rabbits, alpacas as well as much wild life. The dog has been limited to one room (not shown in listing) of the house and all others are outside animals. Together, they form an important part of a balanced micro eco-system.
ゲストの立入り範囲
You should make yourself at home during your stay. The house has its own private pool, hot tub and sauna which are all for your exclusive use.
The property includes a small detached apartment (6th bedroom) that the owners retain for their use but can be made available for 14+ guests.
The garage is not accessible for guests or guest parking. Do not attempt to park in the garage (even if there appears to be space) as this is used by landscaping machinery. The private driveway provides ample parking for at least 10 cars.
ゲストとの交流
The property of this nature and size needs to be managed on a regular basis, therefore you may see occasional yet discrete gardeners, cleaning and maintenance staff during your stay. Note that they will not interact with you or your guests, but are also not part of the service/hospitality during your stay.
The owners retain a small detached apartment on the property, where they occasionally stay. The apartment is across the courtyard and away from view from the main house.
その他の特記事項
The property boasts an abundance of fruit trees, plants and flowers which in turn attract some beautiful and wonderful wildlife.
Guests may handpick fruit for their consumption, but please respect nature and its surroundings.
The property is also home to chickens that can provide fresh eggs on a daily basis (not always guaranteed). Within the grounds are also pastures (grazing land) for sheep and alpacas which may occasional approach you if you choose to go for a hike across the property. The hillside is uneven terrain and not designed for regular foot traffic. Loose soil and long grass may be slippery underfoot and falling is possible/likely.
Please do not feed the livestock as these organic farm animals must be pasture-fed only.
The Weather:
Orinda has a very unique climate. While close to San Francisco, it does not suffer from the notorious cold summers. From April through October, you can expect temperatures to range from 70 to 95 degrees Fahrenheit (20°C to 35°C) during the day. At dusk, the cooler nights may sometimes require a sweater, but you'll awake to a beautiful crisp blue sky almost every single day.
---
---
---
In order for this property to be the dream destination for all guests that arrive, we ask that you treat our family home as your own and leave it as you hope to find it.
Guest policy
The house can comfortably sleep 16 people, but in order to be cost effective for smaller groups, we start the pricing lower for 10 people.
We rely on your honesty for numbers. Do not make us the bad guys if you turn up with more people or have extra people to stay. It is an abuse of our trust and will be charged.
Only the reserved numbers of guests (including children) are permitted on property.
Abuse from understating guest numbers will result in immediate termination of agreement.
Bedroom Use
Beds will be made up in line with guest numbers and assumes double occupancy (i.e. two people in a double/king bed)
Mattresses will be made up upon request ($negotiable) or for larger bookings.
6th bedroom/studio is only available for bookings of 14 or more.
Smoking Policy
There is no smoking in the house. Smoking should be away from the deck areas (at least 15 ft from any doors or windows). Do not discard ash or butts in lawn/gardens or inside property. No ash trays are provided.
Security Cameras
Do not interfere with any security cameras or motion detectors.
They are here for your security as well as protection of livestock.
Camera locations will be shared with booked guests and privacy is preserved.
Pool/Hot tub Policy
No glass or china to be used by pool side. Plastic or paper cups and plates only please.
When wet, the pool deck may become slippery. Do not run on pool deck.
Do not interfere with pool equipment.
No unsupervised Children.
Do not leave soaking wet towels/clothing on the floor. Wring dry or leave to dry in the sun.
Owner/Landlord is not liable for any incidents in or around the pool or hot tub.
Renter is responsible for ensuring all rules are adhered to by their guests.
Renter is responsible for any incidents in or around the pool or hot tub.
Check In Policy
Check In is 4pm. Earlier check-in "might" be possible, subject to owner approval.
Check out is 11am. If later check-out is required, please ask.
Pet Policy
No pets are allowed (of any kind).
Souvenir policy
There are no souvenirs at this property. If it was there when you arrived, it should stay there when you leave. This includes items you might find while outside, in the woods, in the fields or around the garden.
Inside (of house) rules
Please remove any soiled footwear before entering the house.
Do not touch any artwork.
Do not touch the heat controller
Do not rest drinks on the piano.
Do not use any of the open fireplaces. The log burning stove is available as the only heat source.
Do not attempt to open locked interior doors. This may trigger an alarm that will make the remainder of your stay unenjoyable.
The Gardens
Only pick fruit from trees for immediate consumption.
If collecting eggs from the coop, do not handle the animals or allow them to leave the coop.
Ensure the coop door is closed and latched immediately after entering and exiting.
Do not feed or touch any livestock on the property.
Do not leave food scraps or waste out over night.
Do not allow children to walk around the gardens unaccompanied.
There are typical risks and dangers associated with a property of this size, including numerous steps, uneven terrain, wild life (all types), natural creeks and waterways, walls, trees, hills, rocks and dense foliage in places. While the property is fenced and gated, common sense must prevail.
Gates must be kept closed at all times. Ensure all gates are latched and bolted (as you found them).
We would love your stay here to be as close to a perfect dream experience as possible. We know that when it comes to the time to leave, we do not want you to worry about doing the laundry and making the beds. This will be taken care of as part of the Cleaning Fee. We will also vacuum, clean floors, bathrooms & kitchen (subject to normal and reasonable use). We will also empty the clean dishwashers if you get them started.
Please note though that the cleaning fee does NOT cover:
Repairs, stain removal, damage, excessive trash disposal (excess trash should be placed in marked containers), clearing away unwanted items or garbage, washing dirty dishes or glassware. We may need to deduct from the deposit to cover these reparations.
下記事項もご了承ください
階段を登らないとたどり着けません - The property is not wheelchair accessible.
---
Our trip was absolutely phenomenal and Richard and Louise's hospitality and beautiful home was a huge part of that. Their home exceeded every expectation and was an oasis of its own. We picked fresh fruits from many trees which was spectacular especially for city girls!!! The animals on site were absolutely wonderful also. The pool and hot tub made for the perfect getaway. I could rave on and on about this (URL HIDDEN) must see it to believe it!
---
We loved every bit of our time relaxing in Richard's beautiful home. Was so nice to share this time with friends and family, disconnect from media, and focus on togetherness in this special place. Between picking fresh fruit to eat from the property trees, feeding the alpacas, and floating in the pool, we couldn't pick a favorite moment. Thank you so much!
---
Our team of 8 sales and company executives stayed at Richard's house for a 3-day seminar. We thoroughly enjoyed our stay in this gorgeous house, working hard but also spending quality time developing our team, whether it be while cooking, having conversations or spending some time in the pool and hot tub. After I asked him if the house had a TV we could plug into for our work session presentations, Richard went the extra mile by buying a 75-in. TV which we greatly appreciated and made our sessions more comfortable. Communications with Richard were also very easy. Thank you Richard for everything!
---
Hi, we are a young family with 2 athletic boys. we are always seeking adventure. and lucky enough to have travelled around the world, enjoying the great outdoors. We'd love for you to enjoy our dream house... the place we call home... while we continue to explore as much as the …
言語:
English、Français