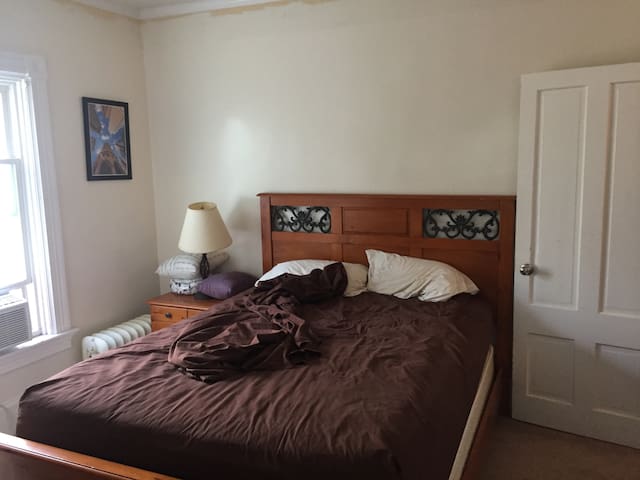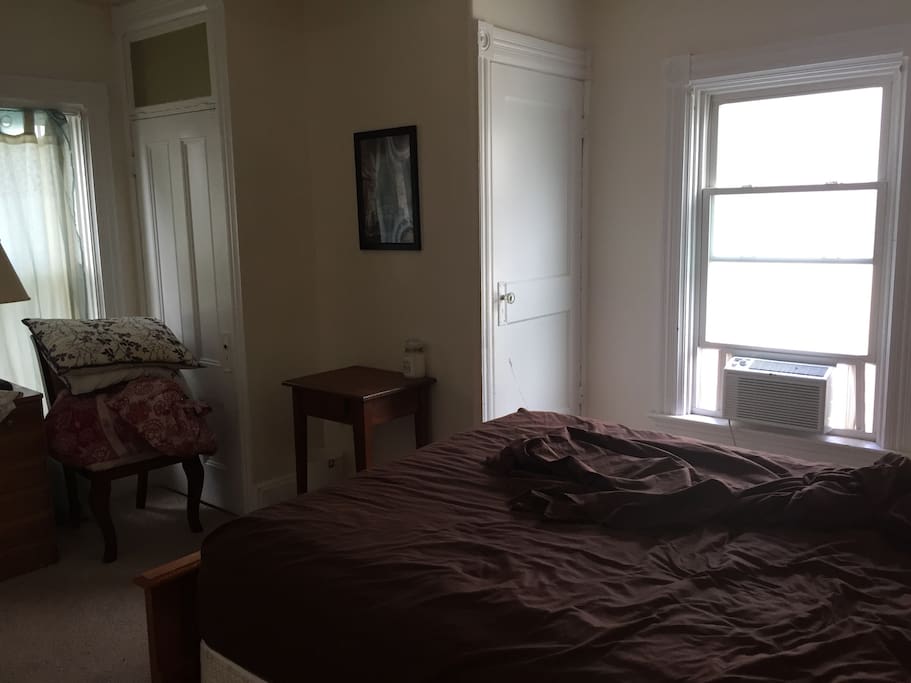 The nicest of my 3 rooms. 2nd floor, next to the bathroom. See my other 2 listings for the house info. I snapped these 2 quick between guests, and nicer ones will go up after the room is reset.
Queen bed, a/c, closet, bureau, immediately next to the shared bathroom, carpeted.
Not a house for cat allergies or partying. Bring drugs or illegal activity in the house and I'm friends with local cops.
Other than that, we're a super laid back family of artists, entrepreneurs, and parents.
スペース
Technically only the room and bathroom. There is a fridge and microwave on the 3rd floor.
Outside of that the rest of the home is available but keep in mind lives and artists make messes and the first floor might have clutter from the project du Jeur.
ゲストの立入り範囲
Laundry. Kitchen. Yard. Basically the rest of the house although we cannot guarantee a lack of clutter or life in the rest of our house. If you're going to write a scathing review because the room was nice, clean, and everything promised, but the house wasn't immaculate, please stay somewhere else.
And if anything is not to your liking, I'd much rather spoke to us vs contributing toward one of the things that helps us pay our bills.
ゲストとの交流
Entirely up to the day. Always available for chats about recommendations, etc, but some days are busier than others, so if I'm quick I'm just busy.
その他の特記事項
No cat allergies.
While we are open to everyone, French guests have universally taken issue, as have military. If you're a Trump supporter, kindly don't talk politics on your visit.
We're very laid back folks, but some people don't work well with laid back folks.