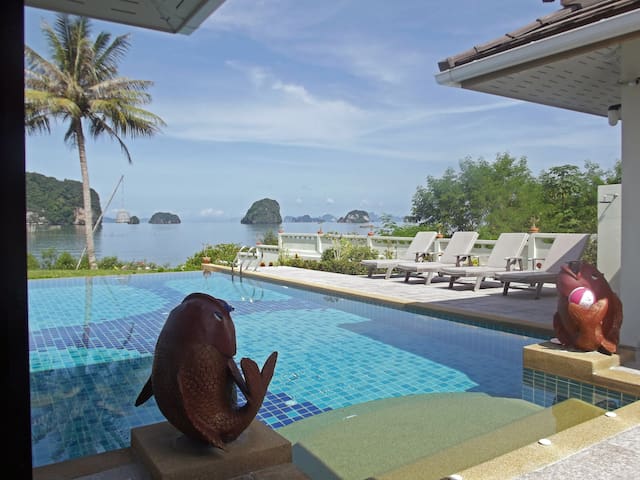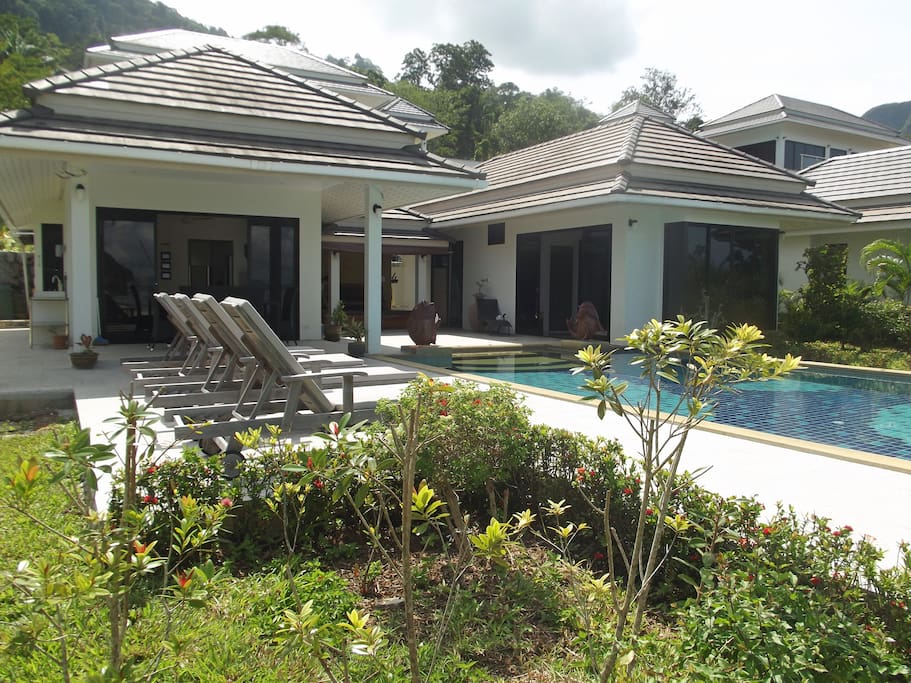 ヴィラサンセットは、クラビの静かな環境の中で、アンダマン海の静かな環境の中にある素敵な新築のヴィラです。パンナナ湾を見下ろすプライベートインフィニティプールと、海からスカイラインへと立ち上がる石灰石のスカートです。
Villa Sunset is a lovely new build villa in a quiet environment in Krabi province by the Andamann Sea with a private infinity pool over looking Phang Na Bay and the lime stone Karts that tower out of the ocean into the sky line.

スペース
別荘は2010年に設立され、バスルーム、機能的なヨーロッパスタイルのキッチン、サンデッキに隣接した屋外ダイニングエリアと50平方メートルの塩水プールを備えたリビングルーム付きの2つの寝室を備えています。 プールの終わりにはタイスタイルのSalaがあり、リラックスして素晴らしい景色を楽しむことができます。 庭の端には、海のそばにあり、すばらしい日没の間にカクテルを楽しめる別のテラスがあります。 リビングルームとベッドルームにはすべてA / Cとファンがあります。 水辺には3つのヴィラがあります。各ヴィラはそれぞれのプライベートガーデン内にあり、それぞれのプライベートな空間に花を咲かせます。
The villa was established in 2010 and holds two bedrooms with bathrooms, a functional European style kitchen, living room with an outside dining area adjacent to a sun deck and a 50 sqm salt water pool.
At the end of the pool is a Thai style Sala where you can relax and enjoy the amazing view.
At the end of the garden, directly by the sea, is another terrace where you can enjoy a cocktail during the amazing sunset.
The living room and bedrooms all have A/C and fans.
There are three villas on the water's edge. Each villa is set in its own private garden with a floral divide to give each property privacy.

ゲストの立入り範囲
50 m2塩水プール•3つのバスルーム•洗濯機•タンブルドライヤー•食器洗い機•高速ワイヤレスインターネット•全室に液晶テレビとDVD•CDとiPodドック•屋外シャワー•屋内と屋外のキッチン•57 cmウェーバーパフォーマーバーベキューグリルガスイグニッション•セーフティボックス•幼児ベッド
50 m2 saltwater pool • 3 bathrooms • washing machine • tumble dryer • dishwasher • High speed wireless internet • LCD TV and DVD in all rooms • CD and iPod dock • outdoor shower • indoor and outdoor kitchen • 57 cm Weber Performer BBQ grill with gas ignition • Safety box • Infant bed
ゲストとの交流
私は周りにいませんが、私たちのハウスマネージャーはあなたの滞在の間24/7利用可能になります。
I will not be around, but our house manager will be available 24/7 during your stay.
---
We just got back from our holiday and Michael's villa was fantastic. The pictures do a great job of depicting the place and the views and ambience were tremendous. We relaxed most of the time and took advantage of the scooter rental to get around...which I highly recommend as it gives you a wonderful way to experience Krabi. Chap was waiting for us at the airport with a smile and he proved to be extraordinarily helpful with shopping by showing us the best values and with overall help with the villa (we needed help with starting the grill and he came within a few minutes to start it for us). The restaurant up the street was perfect and they even sent us recipes for some of the dishes we loved. Overall a great experience and I highly recommend Michael's villa.
---
Villa it self is 5 stars,the view,rooms,amenities and so on...but problen is Chab the guy who looking after Villa,he will tell you that he will get anything you need and you will be ripped off,im always happy to leave good tips for good service but this person offers you to buy alll food you need and comes back with half of it and says need more money for example lemos both on supermaker for 30 baths saying 50,seabass 150 and says 500,tiger prawns 750 and says 1450,some products have labels with prices on them 200 or 300 and he tells you he paid 1000,so that not fare at all,after I told him what Im not happy with him and showed him that for item he bought me 4000 I bought my self same things 2100,he just gone! Never came back and asked did we need change duvets or new towels or take rubbish he just ignored us,so owner should really talk with this guy! About owner always answers all questions and gives all info you need also 5 stars,just house keeper must be raplace im my opinion
Hi Aivaras. I'm sorry you are under the impression that you have been cheated by our house manager. I have talked to him. You wanted him to buy food, wine etc. for you and afterwards you did not accept the prices he paid. He has been to the food market and taken pictures for me of the price signs. I think you have misinterpreted the weight/piece price of the fish and prawns you had. Chap has been our house manager for many years and non of our AirBnB reviews has had ANY negative response about him. We trust Chap 100% and we are not going to replace him.
---
Our family of four (2 children aged 10 and 13) spent 6 days in July 2017 at the Karsts. The view is absolutely gorgeous and we all loved the warm, large saltwater pool. We had beautiful weather during or entire stay and Chap, the House Manager, booked a splendid private longtail boat trip for us, gave us good advice for other excursions to undertake with our rental car, bought fruit for us and organised a massage at the house. He will be there for any need or question you may have. The Seaview Villa is very well equipped. There is even a dryer, the dishwasher tabs are provided as well as free drinking water! The outside kitchen is also very handy to cut watermelon or pineapple. We would love to return to spend more time exploring the Krabi area and enjoy some quiet time at the Seaview Villa.
---
Fantastic villa and unbeatable view and location. Have just spent 10 nights here with my wife and 16 yr old daughter who also both absolutely loved the place. Michael was quick at responding to my questions I had before we arrived and then the fabulous Chap was on hand to our every need. I pre-arranged with Michael, the owner, for us to be collected and also dropped off at the airport by Chap at a competitive price which included stopping off at a large Supermarket to pick up essentials ( food and drink ). The villa is as the pictures suggest - stunning and the pool was used every day. The view is unbeatable, especially when you sit and watch the storms roll in from the distance. Chap was on hand to help us plan our 10 days and came up with suggestions based on our ideas and also ideas we had not thought of. One day he arranged for a long boat to pick us up from the end of the garden and took us to some stunning island beaches, which included the MUST SEE Hong Island. We used Chap most days as our private driver and visited the weekly market at Krabi Town, and also went to Ao Nang. Another great trip was to the Khao Phanom Bencha National Park with many fantastic waterfalls and pools to swim. (Chaps fees are very competitive and he is always prompt) Opposite the villa is a fantastic restaurant called Khaothong Terrace Restaurant which we went to on many days and the food and staff are excellent ( I recommend the Chicken Pad Thai - Gorgeous ). All in all this was a great, relaxing holiday with my family, in an excellent location, a great host and the superb Chap.
---
We loved everything about Michael's place . We were welcomed by the house manager Mr. Chap who, during our entire stay was very attentive and committed. The place was perfect for me, my son and husband who wanted a serene place to stay. There was not a moment where our expectations was not met. Communication with Michael was never a problem as he always replies the soonest.
---
I love to travel and explore other cultures.
言語:
Dansk、Deutsch、English、Español