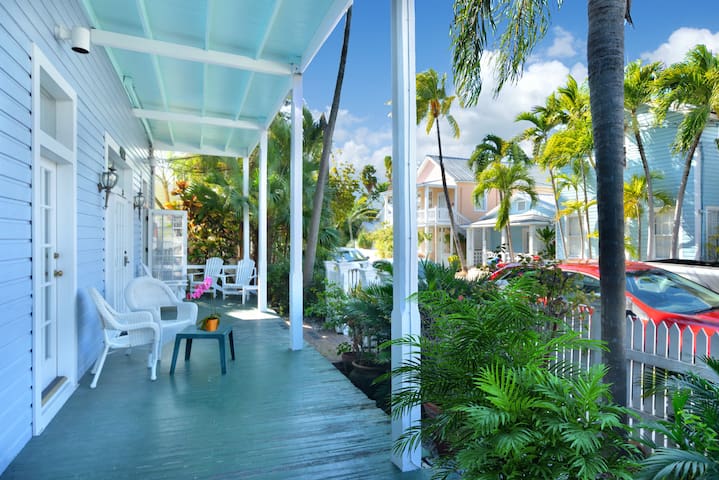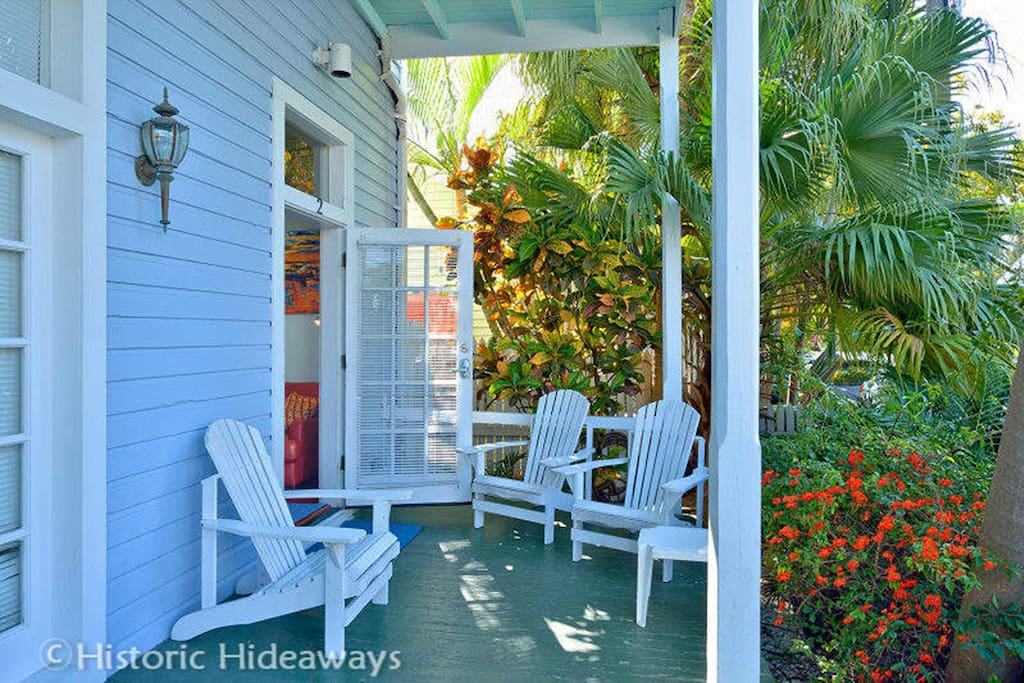 1B/1B condo located in Old Town less than a 1/2 block from Duval St. & just a few blocks from the Southernmost Point, Hemingway House & many other Key West attractions. Bella Vita features a wrap-around porch with chairs & table, living room with leather sofa, galley kitchen with bar seating, large bedroom with king-size bed, dresser & vanity area, bathroom with large walk-in shower, high-speed internet access, 2 flat-screen TVs, DVD players & a BlueTooth stereo system with CD player & radio.
ゲストとの交流
私たちはあなたを直接お迎えすることはできませんが、Bella Vitaのすぐ近くにある素晴らしい管理会社があなたの鍵を提供し、あなたの質問や助けを得ることができます。ベラヴィータでのご滞在をご予約されると、私たちの個人用携帯電話番号が提供され、質問や懸念がある場合は24時間いつでもアクセスできます。私たちのページ(@BellaVita_KeyW)と私たちのページ(@BellaVitaKeyWest)のように、キーウエストについての楽しい写真と情報があります。
Although we will not be able to greet you in person, we have a great management company located just a few steps from Bella Vita who will provide you with your keys and be available for your questions and/or assistance. Once you have booked your stay at Bella Vita, you will be provided with our personal cell phone number and we are accessible 24 hours a day for any questions or concerns you may have. Follow us (@BellaVita_KeyW) & like our page (@BellaVitaKeyWest) for fun pictures & info about Key West.
その他の特記事項
親、配偶者、法定保護者の同伴がない限り、滞在前に契約書を締結しなければなりません。25歳未満の乗客は許可されません。この契約は、予約が確定した後に提供されます。
We do require a contract to be signed prior to your stay, and no occupant under the age of 25 are allowed unless accompanied by a parent, spouse or legal guardian. This contract will be provided once your reservation is confirmed.
---
---
We do require a contract to be signed prior to your stay, and you must be at least 25 years old to make the reservation. This contract will be provided once your reservation is confirmed. Detailed information regarding check-in/check-out, rules and procedures is provided within this contract (additional details are provided in the House Manual accessible through Airbnb once your reservation is confirmed). A few important items from the contract are provided below.
CHECK-IN is accomplished at 1109 Duval St (Historic Hideaways office conveniently located just about a 1/2 block from Bella Vita) between 3:00p and 5:00p. If you will be arriving later than 5:00p or on a Sunday or Holiday when the office is closed, a "late" check-in will be arranged for you (you must contact the office no later than 48 hrs prior to arrival to make these late check-in arrangements; contact numbers are provided in the House Manual).
CHECK-OUT time is by 11:00a. You MUST drop the keys off to the office at 1109 Duval St. when checking out. If the office is not open, there is a mail/drop slot to the left side of the office front door where you can place your keys. We ask that you leave your rental in an "as found" condition. Please lock the front door and turn the A/C to 85 degrees when leaving.
---
Adorable apartment, clean, well designed, perfect for two people, close to attractions, hosts are quick to communicate and were generous in discounting the added fee for my kids (who stayed at my parents' house on the island). The rental process was straight forward (pick up and drop off keys at the friendly management company a block away). Parking will be challenging during the season, but we had no trouble with street parking in front of the unit this summer (inexpensive nearby garage parking otherwise). Your location is on a charming street in the front of a multi-unit building, with a shared front porch. You will sign a contract that is binding outside of Airbnb, where the consequences for noisy partying are stated emphatically. This is an historical and charming building, however, the walls are paper thin and you hear everything above you and around you (walking, kids stomping, people partying and ... other "personal" sounds). The other several units aren't managed by the same entity and clearly renters do not sign a similar contract. I strongly suggest buying ear plugs if you don't anticipate being charmed by said noises. Easy to do a search for the other units in this building also listed on Airbnb that will as well advise the same in reviews. This is the case in any historic building in Key West, so don't read this as a negative point - just come prepared. If you do, I believe you'll be very happy in this rental.
Thank you for your kind words regarding the charm, location and cleanliness of Bella Vita. We are sorry that you had some issues regarding noise during your stay and know that this can be an issue while staying in any multi-unit condo. We wish you would have contacted us regarding the noise, for we are in touch with the other unit managers and could have contacted them to resolve the noise issue for the remainder of your stay (we have forwarded your review to the other unit managers for their records since this is a rare occurrence and there is a strict noise ordinance in place for the complex). As we tell all of our guests when we call them prior to their stay, we can be contacted via our personal cell phone number at any time so that if any issues arise of any nature we can address their concerns promptly, which we would have been happy to do in this case if given the opportunity. We hope you visit Key West again soon.
---