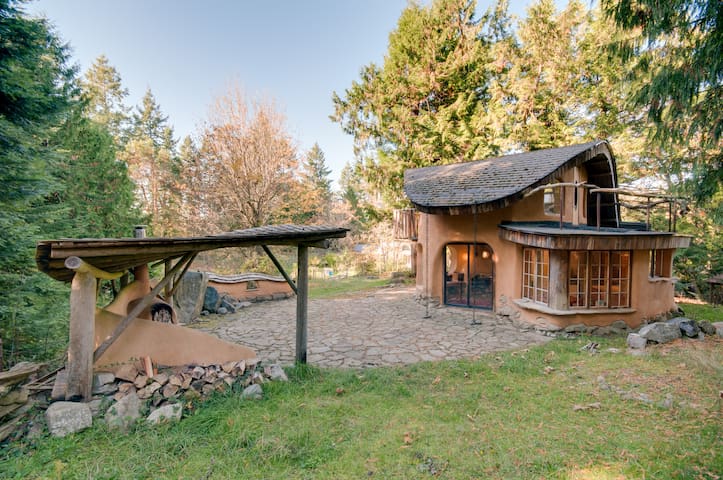 リスティングについて
Appearing in numerous books on natural building, our cottage is a welcoming and cozy retreat hand sculpted of local, sustainable natural materials located on a lovely acreage with sheep, gardens and orchards.
ゲストの立入り範囲
Guests have access to the entire cottage and surrounding property.
ゲストとの交流
We live in the neighbouring house, and are happy to give advice or answer questions to help you make the most of your stay.
その他の特記事項
We are happy to offer pickup and drop off at the ferry dock as a courtesy to encourage car-free travellers, on days when the community bus is not running. Please let us know ahead of time that you'll be coming without your own transportation, and we will make sure that either we or the community bus (which will drop you off at our driveway) are there to meet you when your ferry arrives. The BC Ferries terminals near Victoria and Vancouver are easily reachable via public transit from their respective airports and downtowns.
---
---
---
---
---
---
Rather than hard and fast rules, we like to conduct our lives with respect, compassion and consciousness of how our behaviour affects the world around us. Please contact us to chat about coming to the cottage with pets or children or if you would like to plan an event here. We have some safety concerns that we like to make sure you're aware of to make an informed decision. We're always happy to chat about your needs and want you to fall in love with cob building and Mayne island as we have.
---
普通
宿泊の5日前までにキャンセルすると、全額返金を受けることができます。5日を切ってキャンセルすると最初の1泊分は返金不可ですが、残りの宿泊料金は50%返金されます。
---
---
This is, of course, a famous and frequently-commented-upon property. It was slightly smaller than I expected, I think mostly because I had already seen so many photographs, but this was in no way a negative thing. The structure is built on such an eminently human scale that it "fits" perfectly no matter who you are. Immense charm in all the details: the bottle of "sheep treat" to make friends with, all the fixins for a nice breakfast so it's not essential that you go down the road for provisions right away, eggs from hens who become your temporary pets, the extremely enjoyable and diverse small selection of books, the very natural woodworking and minor acknowledgement that time marches on in the form of more than adequate places to charge things. A farmstand selling interesting jellies and jams, the ocean shore and a place selling fresh bread and big chunks of sockeye salmon are a short walk down a pretty road. Superb overall: tough, if not impossible to surpass in this Reporter's opinion.
---
Alexis' and Manny's cabin is one of the most wonderful places we've been to. Staying there was a pure delight and not only was everything as "advertised" but the little extras and Alexis' readiness to provide info and help whenever needed made it even better. Thanks for al that. It is the perfect place if you're looking for a quiet time to get rid of some of the ballast of daily life and we can definitely highly recommend it.
---
The cob cottage is truly amazing, it has everything you need and more. It is inspiring, private, comfortable and relaxing. Alexis had fresh eggs and a loaf of bread waiting for us on arrival, so good. It is inspiring to know that it is possible to build a home leaving a very small "footprint" on the environment. Alexis was a very friendly and helpful host, she provided a lot of useful information regarding the island and it's amenities such as stores, restaurants and trails etc. The cottage was clean and fresh.
---
The cob cottage was every bit as charming as it looks in the pictures, pristine and clearly so well-cared for. Alexis' hospitality was truly awe-inspiring; not only did she provide lovely fresh eggs, milk, butter, banana bread (!!!), and granola, but even every time I opened a drawer or a cabinet I was just amazed at the contents-- not an ounce of clutter, rather just exactly what one might need, tidy and thoughtfully arranged. The books on the shelf were precisely the sort that one would want to read in the setting (building with cob, wildlife of the area, homesteading) and she even provided a jar of treats for making friends with the sheep! We took all of Alexis' recommendations for what to do on the island and spent two perfect summer days!
---
My husband and I booked a 2-night stay at Alexis's place, a quick getaway from our everyday lives on Vancouver Island. We loved our stay! The setting was so comfortable, peaceful and private. Alexis provided everything we needed for a wonderful stay, and surprised us with a loaf of freshly baked seed/nut bread and fresh eggs! Alexis gave us some great tips for exploring Mayne Island, including a lovely bike route. I recommend booking with Alexis, to anyone looking for a quiet and relaxing vacation in a natural setting.
---
I am a rural mama of twin boys. I also have a serious knitting habit. (tktl on Ravelry). We have a heritage orchard, chickens and sheep. We manage to stay crazy busy on a quiet and relaxed island. My husband, Manny, is a software developer (borsboom on Github) and works from home. He is an avid cyclist and kayaker. He is also a Dutch citizen. We have a very low tech lifestyle outside of Manny's work.
言語:
English、Nederlands