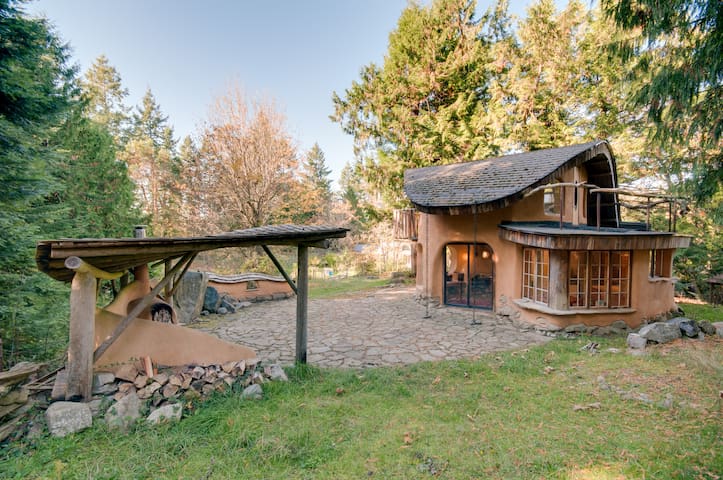 リスティングについて
Featured in numerous books on natural building, our cottage is a welcoming and cozy retreat hand sculpted of local, sustainable natural materials located on a lovely acreage with sheep, gardens and orchards.
---
---
---
Featured in numerous books on natural building, our cottage is a welcoming and cozy retreat hand sculpted of local, sustainable natural materials located on a lovely acreage with sheep, gardens and orchards.
Guests have access to the entire cottage and surrounding property.
We live in the neighbouring house, and are happy to give advice or answer questions to help you make the most of your stay.
Our neighborhood is quite rural and mostly agricultural with several farms and a small private vineyard. We are a ten minute walk from the beach and a twenty minute walk, in the other direction, to a family grocery and deli specializing in local organic produce, as well as galleries, a bookstore, and a spa.
Mayne Island has a small community bus. Times and routes are limited, particularly in the winter. It will stop at the driveway.
We also have an official hitch hiking system with signed Car Stops where you can wait for a ride. Usually you don't have to wait long.
We are happy to offer pickup and drop off at the ferry dock as a courtesy to encourage car-free travellers, on days when the community bus is not running. Please let us know ahead of time that you'll be coming without your own transportation, and we will make sure that either we or the community bus (which will drop you off at our driveway) are there to meet you when your ferry arrives. The BC Ferries terminals near Victoria and Vancouver are easily reachable via public transit from their respective airports and downtowns.
---
Rather than hard and fast rules, we like to conduct our lives with respect, compassion and consciousness of how our behaviour affects the world around us. Please contact us to chat about coming to the cottage with pets or children or if you would like to plan an event here. We have some safety concerns that we like to make sure you're aware of to make an informed decision. We're always happy to chat about your needs and want you to fall in love with cob building and Mayne island as we have.
---
普通
開始5日前までに解約すれば全額返金されます(サービス料も返金可)。
---
---
---
If for some reason you're on the fence--just book it. Hands down better than any other place you could end up staying on Mayne Island. Lots of opportunities to see whales coming through the pass, great hiking views, and a cozy space to relax at the end of your adventures. Say hi to the sheep while you're there!
---
We have rented the cob cottage as a surprise for my daughter an her family, Alexis was super esay to communicate before hand and really helpful. Here is a note from my daughter on her stay at the cob cottage : "We had the most resourcing and magical time at the cob cottage. Alexis and family are helpful, easy to communicate with and really welcoming. We spend some time together learning about the island, very interesting. Fresh eggs, milk, homemade banana loaf and granola were awaiting us, delicious and the best attention. Beautiful toys for our little boy has been brought to the cottage as well. The cottage is a home away from home, a space wher you fell good instantly. Would definitely recommend it and come back !". Catherine from france and her daughter'family, Alix, Adrien et Titouan from Vancouver.
---
This place is magical and Alexis and Manny are terrifically courteous, helpful, and generous hosts. It was so much fun to have the goats and chickens visit--they are adorable but not omnipresent or annoying. We loved our stay and would definitely come here again. A peaceful and serene retreat with lots of privacy--basically Alexis and Manny were available when we needed them but otherwise we felt pleasantly alone. Definitely recommend.
---
The cob cottage on Alexis and Manny's little corner of Mayne Island embodies romanticism of returning to nature. From the chickens that greet you in the morning to the symphony of frogs at night, from cooking fresh farm eggs in the morning to cozying up by the traditional fireplace at night brings you closer to feeling balance in your soul.
---
I am a rural mama of twin boys. I also have a serious knitting habit. (tktl on Ravelry). We have a heritage orchard, chickens and sheep. We manage to stay crazy busy on a quiet and relaxed island. My husband, Manny, is a software developer (borsboom on Github) and works from home. He is an avid cyclist and kayaker. He is also a Dutch citizen. We have a very low tech lifestyle outside of Manny's work.