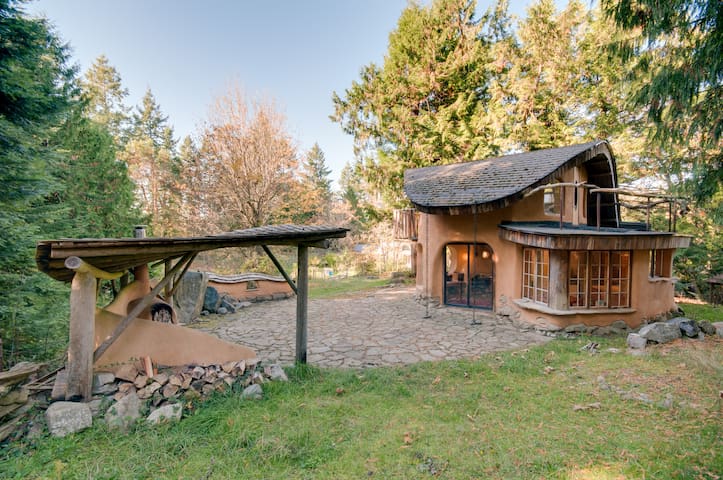 自然の建物に関する数多くの本に登場する私たちのコテージは、羊、庭園、果樹園に囲まれた美しい面積にある、地元の持続可能な天然素材で彫られた心地良い居心地の良い落ち着いた手です。
Appearing in numerous books on natural building, our cottage is a welcoming and cozy retreat hand sculpted of local, sustainable natural materials located on a lovely acreage with sheep, gardens and orchards.
ゲストの立入り範囲
滞在中はコテージとその周辺のプロパティを利用できます。
Guests have access to the entire cottage and surrounding property.
ゲストとの交流
私たちは近隣の家に住み、滞在を最大限に活用するためのアドバイスや質問にお答えします。
We live in the neighbouring house, and are happy to give advice or answer questions to help you make the most of your stay.
その他の特記事項
コミュニティバスが運行されていない日に、カーフリーの旅行者を奨励するために、フェリードックでピックアップを提供して喜んで提供しています。私たちはあなた自身の交通機関なしで来ることを事前にお知らせください。また、フェリーが到着したときに、私たちまたはコミュニティバス(私道に降りてくる)があなたに会うことを確認します。ビクトリアとバンクーバーの近くにあるBCフェリーターミナルは、それぞれの空港やダウンタウンから公共交通機関を介して簡単にアクセスできます。
We are happy to offer pickup and drop off at the ferry dock as a courtesy to encourage car-free travellers, on days when the community bus is not running. Please let us know ahead of time that you'll be coming without your own transportation, and we will make sure that either we or the community bus (which will drop you off at our driveway) are there to meet you when your ferry arrives. The BC Ferries terminals near Victoria and Vancouver are easily reachable via public transit from their respective airports and downtowns.
---
---
---
Rather than hard and fast rules, we like to conduct our lives with respect, compassion and consciousness of how our behaviour affects the world around us. Please contact us to chat about coming to the cottage with pets or children or if you would like to plan an event here. We have some safety concerns that we like to make sure you're aware of to make an informed decision. We're always happy to chat about your needs and want you to fall in love with cob building and Mayne island as we have.
---
My friend and I enjoyed staying at this pretty cottage. Manny and Alexis are greatly kind to us, Manny waited for us to pick us up at village bay, though the ferry we took was late. Also Alexis made a delicious cake for us. Everything we experienced is an unforgettable memory. We really appreciate everything that they've done for us.
---
Our stay took us back to those halcyon days in the 70's when we hand-built two of our own homes in the woods. Everywhere in the cob house was evidence of hard work successfully bent to a vision with skill and affection for the task. The warmth and satisfaction from feeding good dry firewood to the little Jotul wood stove was a fond reminder of the years we spent off the grid. Thanks for letting us go back to a time so well and fondly remembered.
---
The cob cottage is truly a magical place. The house itself is absolutely amazing, with no detail left untouched. We really enjoyed spending time relaxing in the cottage, playing with Mina (their adorable 4-month-old puppy) and exploring Mayne Island. Alexis had great recommendations for hiking and we loved hiking Edith's Point. It was certainly a highlight of our trip. I would recommend the cob cottage to anyone and we can't wait to return someday. Thank you Alexis & Manny!
---
Cob Cottage offers the experience of staying in a unique home. The custom features are amazing ... obviously created by a skilled craftsman. Although the furniture was quaint and interesting I would have appreciated more comfort. As well the shower was short on hot water. Overall, I guess we were not prepared for the rustic experience we had ... but we are glad we went.
---
I am a rural mama of twin boys. I also have a serious knitting habit. (tktl on Ravelry). We have a heritage orchard, chickens and sheep. We manage to stay crazy busy on a quiet and relaxed island. My husband, Manny, is a software developer (borsboom on Github) and works fro…
言語:
English、Nederlands