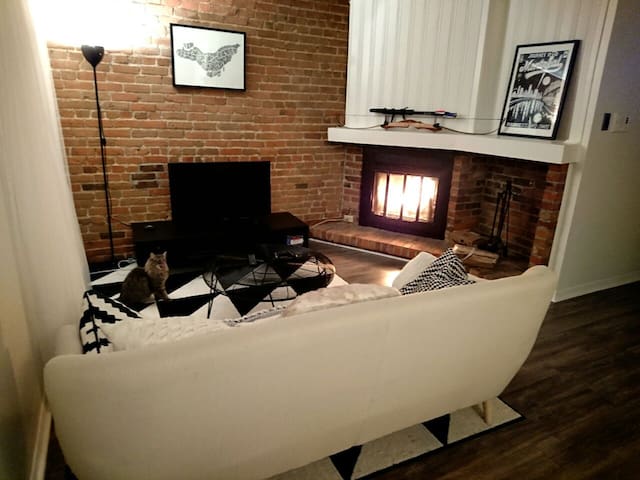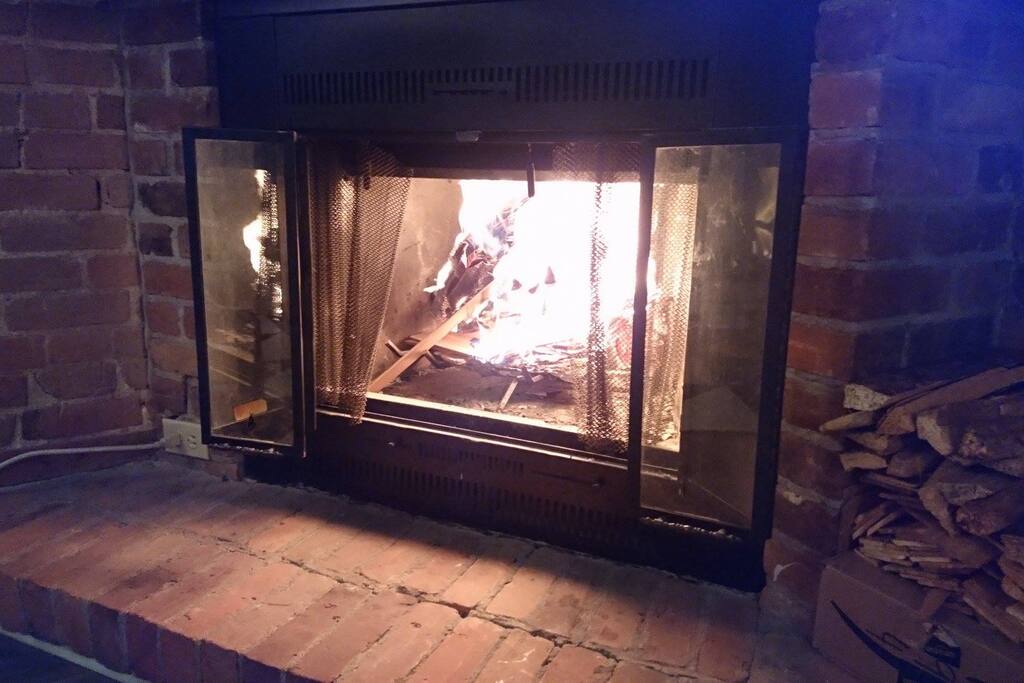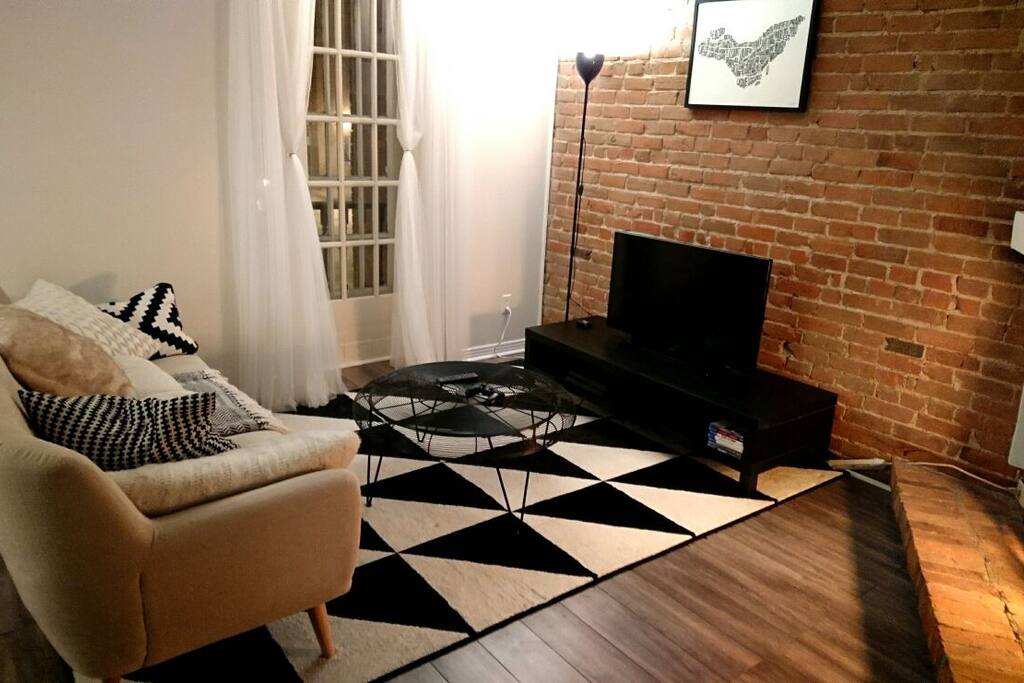 この部屋は、モントリオールの中心部の静かで暖かい場所を望む旅行者に最適です。 St-Laurent、St-Catherine、St-Denis、Mont-Royal、Old Portはすべて徒歩圏内にあります。
This room is perfect for travellers who want a quiet, warm place in the heart of Montreal. Everything is at a walkable distance : St-Laurent, St-Catherine, St-Denis, Mont-Royal and the Old Port.
スペース
フラットはエンターテインメント地区/高原のシャーブルック通りにある美しく安全な建物内にあります。 間違いなくモントリオールのダウンタウンでの生活を体験したい旅行者にとって最高の場所です。モントリオールの3つの大通り:Saint-Laurent(1分)、Sainte-Catherine(2分)、Saint-Denis(5分)まで徒歩圏内です。 緑色のラインにあるSaint-Laurent地下鉄駅(3分)にも非常に近い。
The flat is located in a beautiful and safe building on Sherbrooke street in the Entertainment district/Plateau.
It is definitely the best place to be for travellers who want to experience what life is like in downtown Montreal. The flat is at a walkable distance of the three biggest streets in Montreal : Saint-Laurent (1 min), Sainte-Catherine (2 min) and Saint-Denis (5 min).
It as also very close to Saint-Laurent metro station (3 min) on the green line.
ゲストの立入り範囲
私のゲストとして、あなたは美しい個室、リビングルーム、キッチン、トイレ、暖炉にアクセスできます。また、夏期には庭にアクセスできます。
As my guest, you'll have access to a beautiful private room, the living room, the kitchen, the restroom and the fireplace. You'll also have access to the yard during summer time.
ゲストとの交流
私はあなたの滞在中に存在する可能性が最も高いでしょう。ご質問や問題がある場合は、あなたの問題を解決するために最善を尽くします。私は新しい人を知ることが大好きで、私はあなたが私の場所の家で感じることを本当に望んでいます。私に道を尋ねることをためらっていない、私はあなたにも近所のツアーを与えることができる時間がある場合。
I'll most likely be present during your stay. If you have any question or issue, just tell me, I'll do my best to solve any of your problems. I love to get to know new people and I really want you to feel at home in my place. Don't hesitate to ask me for directions, if I have time I could even give you a tour of the neighbourhood.
その他の特記事項
猫が私の家に住んでいることを忘れないでください。彼の名前はモヒートです、彼はちょうど小さな子猫ですが、彼はエネルギーと非常に遊び心があり愛情がいっぱいです。彼は非常にきれいで夜にはいつも静かで、彼には完璧な仲間ができます。 サンフランシスコ出身のボーイフレンド、モーガンと部屋を共有しています。
Please, keep in mind that a cat lives with me on the premises. His name is Mojito, he's just a little kitten but he's full of energy and very playful and affectionnate. He's very clean and always quiet at night which makes him the perfect companion to have.
I also share my room with my boyfriend, Morgan, who is from San Francisco.
---
---
---
チェックイン時間: 19:00~01:00 (next day)
- IMPORTANT: As I invite you to have a pleasant stay in my home, and make yourselves at home, I respectfully request the following:
- Keep in mind that this is our home and we are two people living here with a cat. Please don't book our room if you're not comfortable with either, we've had too many people leave not so good reviews because they simply hadn't read the rules...
- - Smoking: NO SMOKING of any kind anywhere on premises. I take this very seriously. If this simple rule is broken, you and your guests will be asked to leave—forfeiting your entire fee. The terrace is accessible during the whole year so you can smoke there if needed.
- - Absolutely NO unauthorized visitors are permitted on the premises at any time. Friends & family other than registered guests are NOT permitted. If a violation of this rule occurs, you and your guests will be asked to leave—forfeiting your entire fee.
下記事項もご了承ください
階段を登らないとたどり着けません - We live on the second floor of a residential building.
ペットがいます - We have a cat. He's very curious, friendly and playful and always love to meet new people.
敷地内に駐車場なし - Parking spots on Saint-Dominique street for 10$/day. Indoor parkin spots on Saint-Urbain street for 20$/day. (Prices may not be exact).
共用スペースあり - We live here so the living/dining room, bathroom and kitchen are shared. You have your own sink in the bathroom.
---
---
---
Hello there !

My name's Margaux, I was born in 97 in Versailles, France. I moved to Montreal in August 2015 for my studies and have been living here ever since.
I came here to study video game design.

Obviously I love video games, but I also like literature, art and music a lot.
I'm also a cocktail addict and love to try new bars and restaurants!
Oh, I also love cats. My cat's name is Mojito and he's an adorable little fur ball, nobody can resist him...

I'm in love with Montreal, especially downtown Montreal which is where I live.
If you stay with me you'll know what it feels like to be a Montrealer in a heartbeat.

I started doing Airbnb in 2015 with my roommate. I enjoyed the experience as I got to meet a lot of different people in the comfort of my home.
When I moved in with my boyfriend, Morgan (who is my co-host), we found it natural to keep doing it in our own home.
We wish to meet lots of people, share stories and maybe a dinner or drinks!

Thanks for your interest and I hope to see you at my place ! :)

言語:
English、Français