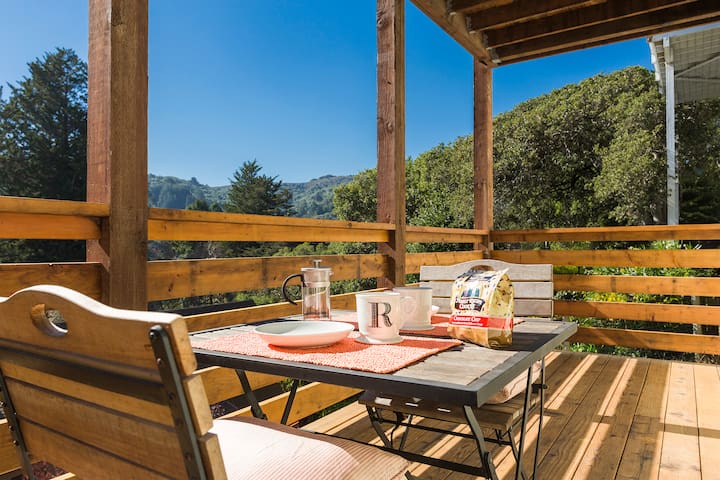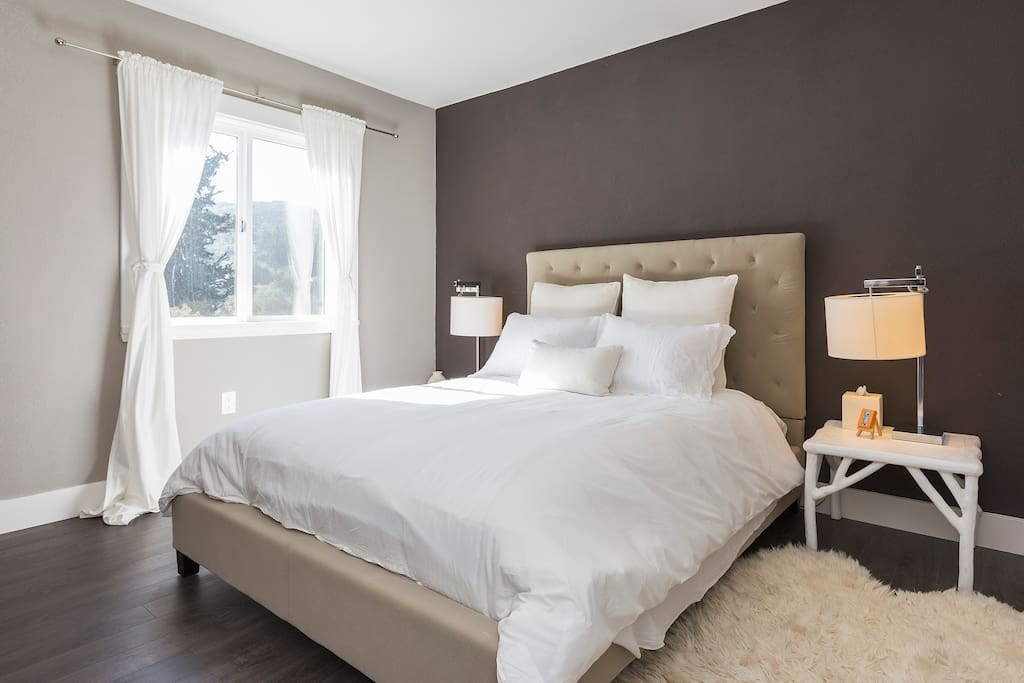 ご注意:現地の規定に準拠するには、夜間料金で12%の税金を徴収する必要があります。詳細はこのページのスペースの説明にあります。
Please note: a 12% tax has to be collected on the nightly rate to comply with local regulations. Details are in the space description on this page.
スペース
アパートは完全にプライベートで、入り口と階段が通りから降りる(28歩)。 非常に快適なクイーンベッド1台、ウォークインクローゼット、南向きの窓からの眺めがあります。 ユニットにはフルサイズの洗濯機/乾燥機、アイロン台、アイロンがあります。 リビングルーム/キッチンエリアには、7フィートx 27フィートのデッキに開口するフレンチドアがあり、南向きの眺めはベッドルームと同じです。 キッチンには、電子レンジ/フード、誘導式2バーナー、小型トースターオーブン、一体型食器洗い機、ステンレス製冷蔵庫/冷凍庫が完備されています。 トースター、サンドイッチプレス、炊飯器、ミキサーなどの他の小型家電も提供されています。 バスルームには大きなシャワー、トート(和風)ウォシュレット、ヘアドライヤーが付いています。 非常に居心地の良い快適な空間で、長期滞在にも対応できます。 私は緑色の生活のために努力し、良い選択肢があるときはいつも厳しい洗浄剤を避ける。 路上駐車。通りにいる人全員の人生を楽にするために、私は1台のゲストカーのみを許可します。あなたは2つを持っている場合は、私はあなたが予約する前に知らせてくださいと私はあなたを収容することができます場合は私にお知らせします。 家はホームステッドバレーの眺めがあり、Whole Foodsとミルバレーのダウンタウンに近接しています。公共の道とダウンタウンへの階段が近くにあります。 ワイヤレス高速インターネットが含まれています。 Netflix、PandoraなどのサービスにアクセスできるHDTVおよびBlu Ray / DVDプレーヤーが含まれています。また、無料で使用できるDVDのコレクションも含まれています(NetflixにもDVDをリクエストできます)。私たちはXfinityデジタルスターターパッケージを用意しています。リクエストに応じて、長期滞在には他のテレビサービスやチャンネルを追加できます。オンデマンドショーや映画は余分なものです。もしあなたが私たちに請求されるものを追加したら、私たちに知らせてください。また、Airbnbを通じて余分なサービスとして費用が請求されます。 家や地域に関する質問に答えることができるかどうか教えてください。 私は家から仕事をしているので、簡単に閲覧することができます。 追加の清掃は、長期滞在の場合は2週間ごとに手配され、予約時に追加されます。 滞在中に複数のベッドリネンを使用する場合は、追加セットにつき20ドルの料金がかかり、洗濯とアイロンがかかります。 地元の規制に準拠するため、30日未満の滞在の場合は夜間料金に12%の税金が加算されます。これはチェックイン時と現金で回収され、エアバンブの追加料金を避けます。 2人のゲストが同じベッドを共有していない場合、リクエストに応じてインフレータブルマットレスを利用できます。余分なシートを持たない限り、シートの20ドルの追加料金が適用されます。
The apartment is completely private, with its own entrance and staircase going downhill from the street (28 steps).
It has one bedroom with a very comfortable queen bed, a walk-in closet and views from the south-facing window.
There is a full-size washer/dryer in the unit, an ironing board and iron.
The living-room/kitchen area has french doors opening onto a 7ft x 27ft deck with similar south-facing views as the bedroom.
The kitchen is fully equipped with a microwave/hood, an induction two-burner, a small toaster oven, an integrated dishwasher and a stainless steel fridge/freezer.
Other small appliances, such as a toaster, a sandwich press, rice cooker, blender etc. are provided.
The bathroom has a large shower, a Toto (Japanese-style) washlet and a hairdryer.
It's a very welcoming and comfortable space and it can accommodate longer stays.
I strive for green living and avoid harsh cleaning agents whenever there is a good alternative.
Street parking. To make life easier for everyone in the street I only allow one guest car. If you have two, please let me know before you want to book and I will let you know if I can accommodate you.
The house has a view over Homestead Valley and is close to Whole Foods and downtown Mill Valley. Public paths and steps to downtown are nearby.
Wireless high speed internet is included. A HDTV and Blu Ray/DVD player with access to Netflix, Pandora and other services is included, as well as a collection of DVD's available for use at no charge (we can have Netflix deliver DVD's on request too). We have an Xfinity digital starter package and I am happy to add other TV services or channels for longer stays on request. On-demand shows and films are extra and if you add anything that will be billed to us you must let us know and the cost will be charged as an extra service through Airbnb.
Please let me know if I can answer any questions regarding the house or the area.
Viewing can be arranged easily, since I work from home.
Additional cleaning will be arranged every 2 weeks for longer stays and will be added to the total at time of reservation.
If more than one set of bed linens is used during the stay there will be a charge of $20 per additional set to cover the cost of laundry and ironing.
To comply with local regulations there will be an additional 12% tax applied to the nightly rate for stays under 30 days. This will be collected at check-in and in cash, to avoid additional Airbnb fees.
An inflatable mattress is available on request if two guests are not sharing the same bed. The additional $20 rate for the sheets applies, unless they bring an extra set of sheets.
ゲストの立入り範囲
アパートメント、それに続く階段、写真の下段に独占的にアクセスできます。
Guests have exclusive access to the apartment, the staircase leading to it and the lower deck in photo.
ゲストとの交流
どのくらいの交流が私と一緒にできるかを客に決めさせる。私は利用可能であり、幸せに交際することができますが、私は彼らが自分の上にいることを好むならば、プライバシーの必要性を尊重します。
I let guests decide how much interaction to have with me. I am available and happy to socialize but I respect the guests' need for privacy if they prefer to be on their own.
その他の特記事項
免責事項:2つのフロントドアの外にセキュリティカメラがあります。カメラを予約したくない場合は、事前にお知らせください。
Disclaimer: We have security cameras outside the two front doors. Please let us know if you don't want the cameras to be on (before you make a reservation).
---
---
---
チェックイン時間は、15:00から22:00です。
Strictly no smoking, no heavy drinking and no drugs.
We reserve the right to cancel reservations requests if reviews are not entirely positive.
I live on a narrow road in a quiet neighborhood. I am in close proximity to our neighbors and I expect low noise levels and absolutely no parties in the apartment.
It only accommodates two adults (one queen bed) and no children nor infants nor pets. Sleeping on the sofa is not allowed but an inflatable mattress will be provided with extra sheets (for an additional charge) for a second adult who will not share the same bed.
Extra cleaning charges apply for stays longer than one week (minimum cleaning is every two weeks). If more than one set of bed linens is used during the stay there will be a charge of $20 per additional set to cover the cost of laundry and ironing.
Please make sure you look through all the photos and that you saw that the gas cooking range has been replaced.
Since parking space is an issue on this street we can only allow one car and it will be parked in the street. No guarantee that the space will be right in front of the house.
Please read the note about the additional occupancy tax that needs to be paid in cash on arrival.
I am sorry it is not possible to set a consistent check-in time, since it depends on the cleaning lady's schedule and if a guest has stayed the night before. If you have specific requirements please let me know and we will try our best to accommodate your needs.
Long term rentals (30 days or more) are possible pending a credit report, residential references, proof of employment/steady income, background check and a written rental agreement.
No guests with a previous arrest or criminal record will be allowed, long or short term. Please provide the name of who is traveling with you.
No third-party bookings are allowed.
Quiet times are between 10pm and 7am.
For same-day arrival please contact me before booking to make sure that I can accommodate you.
Ladybugs come inside especially when it's cold or wet and you may find some in the apartment. They are harmless and traditionally seen as bringing good luck. If you want them to be vacuumed away please let us know prior to check in. We can't guarantee that there will not be more once you arrive, though.
下記事項もご了承ください
階段を登らないとたどり着けません - The apartment is two floors down from the street
敷地内に駐車場なし - Street parking only
---
To Alessandra, thabk you so kindly for being such a great host. Check in was smooth but the prior to checking in sssumted me that I can count on her if ever. Most comforta home the best host ever by far. She totally respected my privacy as I was going through lengthy divorce case ,Alessandra had even went out of her way to give me advice on many things. The best host ever at Airbnb! So quiet, Beaty of Mill Valley from the pario was also very relaxing. She even accommodated me on extending my stay in total of 22 days . What a lovely home & the lovely & kind host, is sweet and generous. I would recommend this place to anyone as such great host I vrry hard to find. I've been let down before by other hosts who just just could not be nice or make you feel at home. So this was the most refreshing stay in Mill Valley. Thank so kindly Alessandra and looking forward to coming back to your place again. Much sppreciated Best regards, Yuki
---
Alessandra's place is consistent with listing photos. It is clean and well equipped with a comfortable bed and nice bathroom. Though the apartment is small, there is a sizable walk in closet in the bedroom which makes it possible to stash clothing and suitcases. I realized that the access was via steep steps but somehow didn't connect that it was beneath the owners' house. It is definitely a residential area removed from the "happening" part of Mill Valley, but was quiet and parking proved not to be a problem. Alessandra was very gracious in communication, and responsive to questions. This stay worked well for us.
Thank you Lynne! To guests considering to stay: indeed, we are in a residential area (as most of Mill Valley is), but relatively close to restaurants and supermarkets: 0.5 miles from Miller Avenue (with restaurants and a Whole Foods) and about 1.2 miles from downtown Mill Valley.
---
I am originally from Milan, Italy and I lived for many years in London before moving to the US. I enjoy traveling whenever I can, meeting guests from other countries and learning more about other cultures. I look forward to meeting you!