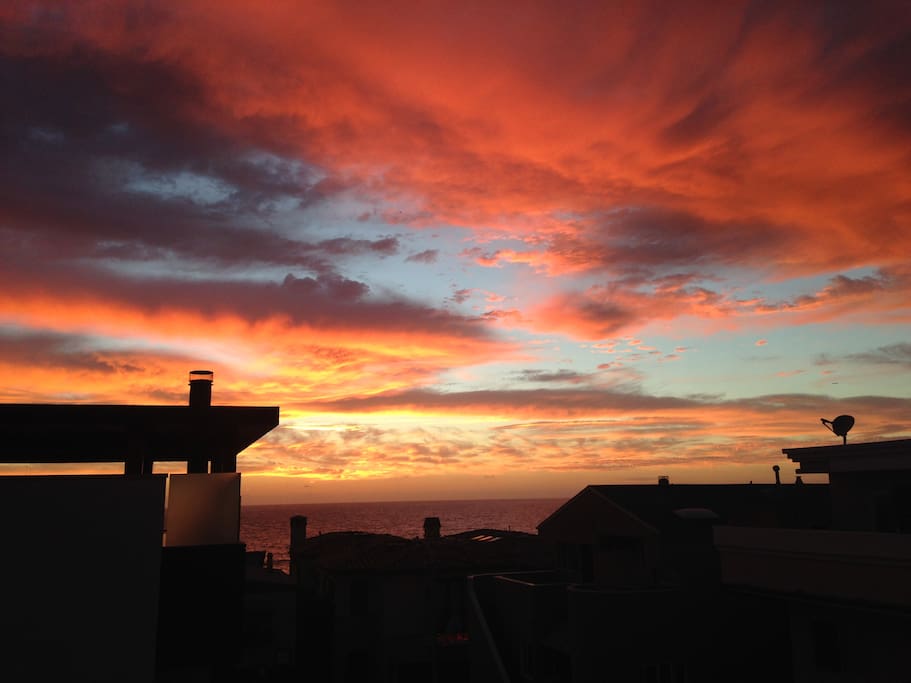 マンハッタンビーチの最も望ましい地域。オーシャンビュー。夜にサーフを聞く。日にそれを乗りなさい!砂からの4つの家。ダウンタウンを歩く。 **プライベートベッドルームとプライベートバスルームを新鮮でモダンでクリーンなオーシャンビューのフラットでお楽しみください。 LAXから25分。
Most desirable area of Manhattan Beach. Ocean view. Hear the surf by night. Ride it by day! Four houses from the sand. Walk downtown. Enjoy **PRIVATE BEDROOM and ADJOINING PRIVATE BATHROOM** in fresh, modern, clean, ocean-view flat. 25 mins from LAX.
スペース
プライベートベッドルームと隣接する専用バスルーム付きのアパートメントです。 マンハッタンビーチは、おそらくサンタモニカ湾の最も魅力的なビーチシティであり、ロサンゼルスの最も安全な地区のひとつです。 (私は以前サンタモニカとプレイデルレイに住んでいました。) 設定 LAXから数分、エルモサビーチへの徒歩数分、レドンドビーチ、マリーナデルレイ、プラヤデルレイ、ベネチア、サンタモニカ、トーランス、パロスベルデスへのドライブ(またはバイク)。 アパートから海の景色を眺めましょう。新鮮な太平洋の風をお楽しみください。ビーチと湾を見下ろす魅力的なウォーキングパス(ストランドと呼ばれる)まで歩いて(半ブロック以下)。 ステップをスキップし、人気のバイクの道を渡って、探検したマンハッタンビーチの暖かい柔らかい砂で足を報酬を与えましょう! ハイライト - この2BR 2BAアパートメントのプライベートベッドルームとバスルームスイート - リビングルーム、ダイニングエリア、パティオからのオーシャンビュー - ビーチへの半ブロック - ベイを囲む自転車道の半分のブロック - LAX空港まで6マイル(飛行経路外) - サンタモニカまで17マイル(私は自転車で通勤することが多い) - ダウンタウン、素晴らしいレストラン、パブ、カフェ、 ショッピング、マンハッタンビーチピアと水族館... - 素晴らしいサーフスポット(あなたが学習に興味があるなら、私はあなたを連れて行くでしょう) - ビーチ、ローカルアクティビティ、ナイトライフを楽しむための車の必要はありません! - ビーチシティ(レドンド、エルモサ、プラヤデルレイ、マリーナデルレイ、ベネチアからサンタモニカ)にアクセスするには、洗練されたキャノンデールの自転車をレンタルすることができます。 - ハイスピードワイヤレスFIOSインターネット(光ファイバーケーブル)をお楽しみください。 - モダンで上品なデザイナーの装飾が施されています。 - 客室内に47インチHD LEDテレビとBluRay DVDプレーヤー - フルキッチン、ガスコンロ、食器洗い機、寛大なスパイスキャビネット - ギター - アパート内の洗濯機/乾燥機 自然に触発された寝室 300スレッドカウントのデザイナーシーツと枕を使用したビーチでの厳しい一日の後、あなたのおいしいクイーンサイズのベッドにネスレを入れてください。 このオアシスはシンプルで豪華なアメニティを提供しています。ミッドセンチュリーモダンでチークな机;あなたが到着した後、あなたのエンターテインメントの飢えた脳を補充するための新しいLG 47インチHD LEDテレビ。温かみのあるファジーなバスローブがあなたを待っています。 パックライト、ライブラージ これらのアイテムを持って来る必要はありません...空港の安全保障によって取り組まなければなりません。あなたは:クッションタオル、ふわふわのバスローブ、あなたの服、サロン品質のドライヤー、Qチップ、シャンプー、コンディショナー、アイロン台とアイロン(あなたのビキニを折りたたむ場合)の4つの引き出し局とクローゼット、日焼け止め、紅茶、コーヒーとステープルの調理用品、トースター、新ガスバーベキューグリル、洗濯機/乾燥機が付いています。 地域のアメニティ 近隣は静かですが、近くにはたくさんの素晴らしい食べ物、バー、ナイトライフがあります。あなたの部屋は、パブ、クラブ、カフェなど、さまざまなナイトライフの桟橋まで短時間で素早く散歩することができます。 バイクの道は、いずれの方向にも数マイルの距離を空けています。 その他の旅行情報 私のゲストは、長い間、私を苦しめていた自転車を借りるために、ハーモサビーチに行く必要がありました。お客様の便宜のために、私は2つの新しい自転車をレンタルすることができます。あなたがそれらを予約したいのかどうか、いつのために私に教えてください。 私はまた、2つの新しいスタンドアップパドル(SUP)パドルボードを低コストで、ローカルで借りるよりも便利に持っています。 ビーチシティズトランジット ビーチシティズトランジットは、レドンドビーチ、ハモサビーチ、マンハッタンビーチ、エルセグンドーを結ぶ2つの固定ルートで構成されています。 Beach Cities Transitでは、Metro Bus&Rail、Torrance Transit、Gardena Bus Lines、Palos Verdes Peninsula Transit Authority、Lawndale Beatとのトランジット接続も提供しています。現金運賃は$ 1.00です。 バスライン102 102行目は、月曜日から金曜日の午前6時から午後8時まで、土曜日は午前8時から午後9時まで、日曜日は午前9時から午後7時までです。ライン102は、レドンドビーチピアとウォーターフロント、レドンドビーチシビックセンター、レドンドユニオンハイスクール、ビーチシティヘルス地区、サウスベイギャレリア、ノースレドンドビーチ、マリーンアベニューのグリーンラインレドンドビーチ駅へのサービスを提供しています。 バスライン109 ライン109ラインは平日と週末に午前6時から午後10時の間に作動し、レドンド・ビーチ・リビエラ・ビレッジ、レドンド・ビーチ・ウォーターフロント、ハモサ・ビーチ・ピア・アベニュー、 マンハッタンビーチ埠頭、ダウンタウンマンハッタンビーチ、マンハッタンビレッジモール、エルセグンドー、ダウンタウンエルセグンド、プラザエルセグンド、LAXシティバスセンターなどがあります。 市区町村エクスプレス(MAX) Municipal Area Expressは、El Segundo雇用センターで働くサウスベイ居住者の通勤ニーズに対応するために設計された通勤バスサービスです。 Municipal Area Expressには3つの異なる行があります。詳細については、Municipal Express Expressのホームページをご覧ください。 ロサンゼルス郡メトロポリタン交通局(MTA) ロサンゼルス郡メトロポリタン交通局は、ロサンゼルス郡の公共交通機関に200のメトロバスラインと4つのメトロレールラインを提供しています。あなたの出発地と目的の到着先を教えてくれれば、MTAはあなたに適したスケジュールを思いつきます。 これは典型的なカリフォルニアです。あなたがそれを選ぶならば、あなたの人生の大切な章。あなたの人生を豊かにし、あなたの精神を活気づけ、あなたの心とあなたの魂を満たしてください...
PRIVATE BEDROOM and adjoining PRIVATE BATHROOM SUITE IN BEACH APARTMENT.
A warm, friendly welcome to this little beach paradise... Manhattan Beach is arguably the most enchanting beach city in the Santa Monica Bay, and one of the very safest neighborhoods in all of Los Angeles. (I lived in Santa Monica and Play del Rey previously.)
THE SETTING
Minutes from LAX and a walk to Hermosa Beach... or drive (or bike) to Redondo Beach, Marina del Rey, Playa del Rey, Venice, Santa Monica, Torrance and Palos Verdes.
Take in views of the ocean from the apartment. Enjoy the fresh Pacific breezes. Stroll (less than half a block) down to the charming walking path (called The Strand) overlooking the beach and bay.
Skip down the steps and across a popular bike path to reward your feet with the warm soft sand of coveted Manhattan Beach!
HIGHLIGHTS
- Private bedroom and bathroom suite in this 2BR 2BA apartment
- Ocean views from the living room, dining area, and patio
- Half a block to the beach
- Half a block to a bike path that encircles the bay
- 6 short miles to LAX airport (but out of the flight path)
- 11 miles to Santa Monica (I often commute by bike)
- Short stroll to downtown, amazing restaurants, pubs, cafes,
shopping, and the Manhattan Beach Pier and aquarium...
- Great surf spot (I'll take you out if you're interested in learning)
- NO NEED FOR A CAR to enjoy beach, local activities, and nightlife!n
- You can rent my sleek Cannondale bike to access the beach cities (Redondo, Hermosa, Playa del Rey, Marina del Rey, Venice to Santa Monica)
- Enjoy HIGH SPEED wireless FIOS internet (fiber optic cable)
- Furnished with modern, tasteful designer touches throughout
- 47" HD LED TV and BluRay DVD player in your room
- Full kitchen, gas stove, dishwasher and generous spice cabinet
- Guitar
- Washer/Dryer in the apartment
Nature Inspired Bedroom
Nestle into your delicious queen-sized bed after a tough day at the beach – with 300 thread count designer sheets and pillows – and new, memory-foam topped mattress, to help you forget all worries as you drift off to sleep…
This oasis offers simple but luxurious amenities; a mid-century modern, teak desk; a brand new LG 47 inch HD LED TV to replenish your entertainment-starved brain after you arrive. A warm, fuzzy bathrobe awaits you.
Pack Light, Live Large
No need to bring these items… or be tackled by airport security. You get: Cushy towels, fluffy bathrobes, a four drawer bureau and closet for your clothes, salon quality blow dryer, Q-tips, shampoo, conditioner, an ironing board and iron (in case you crease your bikini), spray on sunscreen, moisturizing lotion, a full kitchen with quality knives, spices galore, tea, coffee and staple cooking items, a toaster, a new gas barbeque grill, and washer/dryer in the unit.
Local Amenities
The neighborhood is quiet, but there is plenty of great food, bars and nightlife nearby. Your room is a short, wonderful stroll to the pier and a wide variety of night life - pubs, clubs, and cafes.
A bike path skirts the beach for miles in either direction.
And Addition Travel Information
My guests have long had to go all the way over to Hermosa Beach to rent bikes, which pained me. For your convenience, I have two new bikes available to rent at below the cost of renting locally - so you enjoy higher quality at lower cost. Let me know if you'd like to reserve them and for when.
I also have two new Stand Up Paddle (SUP) paddleboards at lower cost and more convenient than renting locally.
Beach Cities Transit
Beach Cities Transit consists of two fixed-routes that connect Redondo Beach, Hermosa Beach, Manhattan Beach and El Segundo. Beach Cities Transit also provides transit connections with Metro Bus & Rail, Torrance Transit, Gardena Bus Lines and Palos Verdes Peninsula Transit Authority and Lawndale Beat. The cash fare is $1.00.
BUS LINE 102
Line 102 operates Monday through Friday from 6:00 AM to 8:00 PM, Saturday from 8:00 AM to 9:00 PM, and Sunday from 9:00 AM to 7:00 PM. Line 102 provides service to the following destinations: Redondo Beach Pier and Waterfront, Redondo Beach Civic Center, Redondo Union High School, Beach Cities Health District, South Bay Galleria, North Redondo Beach and the Green Line Redondo Beach Station at Marine Avenue.
BUS LINE 109
Line 109 line operates Weekdays and Weekends from 6:00 AM to 10:00 PM and provides service to the following locations: Redondo Beach-Riviera Village, Redondo Beach-Waterfront, Hermosa Beach-Pier Avenue, Manhattan Beach Pier and Downtown Manhattan Beach, Manhattan Village Mall, El Segundo and Downtown El Segundo, Plaza El Segundo and the LAX City Bus Center.
Municipal Area Express (MAX)
Municipal Area Express is a commuter bus service designed to address the commuting needs of South Bay residents who work in the El Segundo employment center. The Municipal Area Express has three different lines. For more information, please visit the Municipal Area Express homepage.
Los Angeles County Metropolitan Transportation Authority (MTA)
Los Angeles County Metropolitan Transportation Authority provides public transportation in Los Angeles County with 200 Metro Bus lines and four Metro Rail lines throughout the County. If you tell them your departure location and your desired arrival destination, MTA will come up with a schedule that works for you.
This is the quintessential California. A treasured chapter in your life if you choose it. Treat yourself, enrich your life, enliven your spirit, and fill your heart and your soul...
ゲストの立入り範囲
お寛ぎ下さい。 Rokuインターネットテレビ、Amazon Primeビデオなどがあります。キッチン、スパイス、洗濯乾燥機(アパート内)、バルコニーパティオ、ガスバリア、駐車場、wi-fi付きの光ファイバーブロードバンドインターネットをすべてご利用ください。
Make yourself at home. You have Roku internet television, Amazon Prime video, and more. Use all the amenities - kitchen, spices, washer dryer (in the apartment), balcony patio, gas bbq, parking on premises, fiber optic broadband internet with wi-fi...
ゲストとの交流
私は友好的で利用可能です。ほとんどの夜は計画が満ちているようですが、スケジュールが狂ったときにはいつもゲストと一緒にお出かけします。
I am friendly and available. Most evenings seem to get filled with plans, but I always enjoy going out with guests when our schedules mesh!
その他の特記事項
私は長い間、お客さんが自転車やパドルボードを手に入れたことがどれほど不都合なのか悪いと感じていたので、地元の料金よりも低い料金で2つのクールなバイクと2つのスタンドアップパドルボードを購入しました。あなたのために。 私はバレーボール(そしてたくさんの裁判所もビーチに設置されています)、バドミントンセット、ビーチチェア、フリスビー、サッカー、サーフボードなどをあなたの楽しみのために持っています。
I long felt bad about how inconvenient it has been for guests to get bikes and paddle boards - so I just purchased (July 2017) two cool bikes and two standup paddle boards available to rent for less than local rates - but much greater convenience and quality for you.
I also have a volleyball (and plenty of courts set up on the beach), a badminton set, beach chairs, a frisbee, a football, surf boards, and more for your enjoyment, gratis.
---
---
---
My hope is for you to have the time of your life here!
I don't think a lot of rules are needed other than common courtesy, but here are a few key items just in case:
** Please be mindful and courteous to never block the landlord's driveway (immediately next to our parking slot) or any other. ** (Thanks!)
As with all AirBnB places, if we don't make AirBnB a problem for neighbors, they won't make it a problem for us.
(Ignore this if you are car-free!) Please park to the RIGHT of the driveway - the building owners need free and continuous use of the driveway. The space is tight and you can ask me to "valet park" your car myself or guide you in.
The neighborhood is tranquil and safe. Sound travels so...
Peace and quiet for our neighbors is a top priority...
Check in is 4pm, but you can arrive earlier if no one is occupying your room. Let's coordinate about that.
Check out is noon, but again you can leave later if no one will be coming to occupy your room after you. We can coordinate...
There's a limit of 2 guests checking in total. Please no outside people without express permission - since this is my home I'm opening up. (Plenty of great places to go with friends nearby, but no parties here thanks.)
Please wash off sand before you come in so the apartment. (There is a hose conveniently outside the front door). The shower gets a little sandy, but that's expected!
Please leave shoes/sandals at door - it's much more sanitary in general, it keeps the apartment looking great, and prevents unwelcome grit from getting in bed with you.
Let me know if anything is missing or needed so I can put it right...
Thank you so much for your thoughtfulness and most importantly, please enjoy your stay!!
---
---
---
Friendly and outgoing! I love meeting new people and I want you to feel welcome and at home here in Manhattan Beach paradise.

Your holiday vacation time is precious and sacred. My ambition is for it to be delight-filled, rich, relaxing and memorable for you... and my intention in decorating and setting the space is that it bring peace of mind.

I enjoy connecting and sharing with guests. It's one of my favorite aspects of AirBnB.

You may also prefer just to keep to yourself and enjoy your vacation on your own. Please enjoy without obligation...

Life, work, friends, family, and surfing keep me busy and fulfilled.

Travel and being outdoors are a huge love of mine. Trading ideas, learning, helping friends succeed, reading biographies, playing, cooking, meeting new people who love what they do, enjoying wine bars and cafes, and doing meaningful work are all important to me.

I live in a charming beach town that I hope you'll love and return to again and again if you visit.

I love music and playing guitar (though not too well) and singing.

As a "professional guest" during my travels last year on AirBnB, I discovered that the details make all the difference. So I aspired to apply what I learned and create as wonderful and relaxing an experience as possible for you while you're my honored guest. Please tell me if there is anything I can do to make it better and I'll do my best to make it happen.

Reach out if you have any questions...

I look forward with anticipation to meeting you!