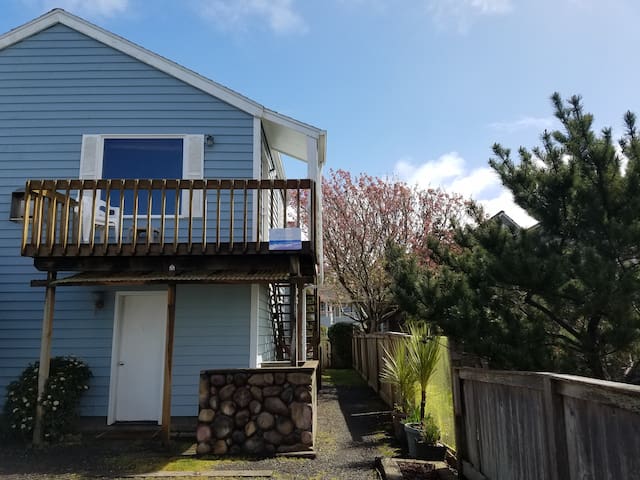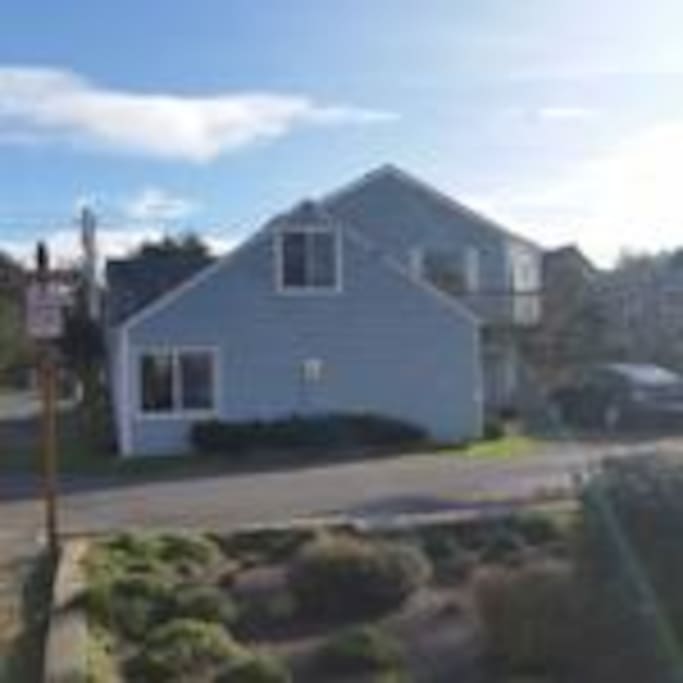 The Lighthouse is an upstairs unit- on the main photo it is on the right. Its a Studio with Electric Fireplace, In room Jacuzzi, Kitchen, Bathroom and Ocean View. It sleeps up to 4. One Queen bed and 2 floor mats that make a Queen Mattress. Pets are welcome at $10.00 per night, per pet. 8% Lodging tax will be charged separately after you reserve. Ideal location in Midtown and approx. 100 yards to the beach steps.
---
---
- no cancellations within 7 days. 9.8% lodging tax is due after booking.
---
My husband and I stayed at the Lighthouse for our first weekend away from our son and it was perfect! Just one block from the ocean, we made several trips (including an evening bonfire) with great ease. The location is just south of downtown, and it feels like a sweet little village with coffee shops, restaurants and little shops (Pelican Brewing is great for dinner and the Wayfarer is wonderful for breakfast!). Cindy has ensured that visitors have just about everything they could need (bed linens, extra pillows and sleeping mats, towels, toiletries, basic kitchen items), however, if you plan to cook be sure to bring a cutting board and anything you would need to bake in the oven. Cindy responded to questions quickly and kindly and was easy to work with. Highly recommended!
---
If you want an ocean view and privacy, this is your place! We especially enjoyed the living room Jacuzzi and private porch with ocean views. An easy walk to central Cannon Beach but far enough away to be quiet. Beach access less than a block away. I highly recommend the studio for couples or single adults looking to relax.
---
My husband, doggie and I had a great stay! It's super close to the beach and about a 5 min walk to downtown Cannon Beach. We cooked a bit and noticed the appliances are a bit old but still get the job done. The wine opener was tricky. The tv is about the size of a computer monitor but we fell asleep before we really got into a movie or show anyway. The jacuzzi tub was in an interesting location but we could move the tv and watch from inside the tub. There was this weird little suction thing inside the tub and when I got close to it my leg caught and I was left with a little bruise, it didn't hurt but just want to warn future occupants ;) It's definitely not a 5 star room but we loved the location. Would stay here again :)
---
We loved the proximity to the beach and the large window that allows you to lookout on the ocean. The hottub was a perfect "water" feature given that the water in Cannon Beach is just to cold to truly adventure in like a typical beach vacation. The only drawback was the bed was a bit noisy when we slept, but that is minor considering all the positives of the place. Also, before going to the beach, check the beach chairs provided to make sure none have a crack otherwise it will be hard to sit in on the beach and you will have to make a second trek back, though the property is so close to the beach it is really not a hassle. There were plenty of chairs to choose from.
---