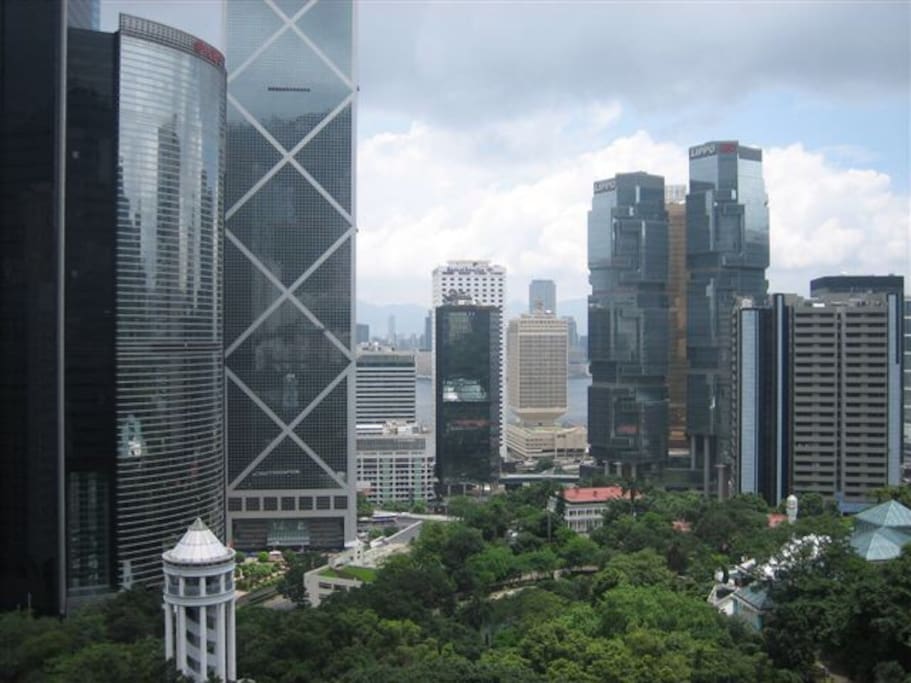 Private room in Heart of Central, art of living
セントラルの中心部に位置しています。 HKパークのモダンな建築と緑の見事な景色。 CBD、Admiralty、ピークトラム、Lan Kwai Fong、さらにはSoHoを越え、Wan ChaiのExhibition&Convention Centreまで歩いて行ける距離。また、コンチネンタルブレックファーストを毎日提供しています。
Nestled in the heart of Central. Stunning view of modern architecture & greenery of HK Park. Walking distance to CBD, Admiralty, Peak Tram, Lan Kwai Fong, further beyond SoHo, Exhibition & Convention Centre in Wan Chai. We also provide a full continental breakfast for you to start your day.
スペース
This is a colonial walk up building. There is no lift. We will help to carry your luggage upstairs and downstairs, if you need assistance.
The apartment is 1,400 s.f. with 3 bedrooms and a balcony. The balcony opens to an expansive view of the green park and the Victoria Harbour. Your breakfast will be served at the balcony with cockatoos chirping .
I offer one bedroom with a double bed. The room is about 100 s.f. with a separate bathroom. It is air-conditioned.
ゲストの立入り範囲
これはホーステイの宿泊施設です。私もここに住んでいます。この居心地の良い空間を共有します。私のゲストは、リビングルームとバルコニーにアクセスできます。あなたはリビングルームでテレビを見ることができます。冷蔵庫を使うことができます。私の家政婦による洗濯サービスの料金は、1回のご利用につき5ドルです。オフィス機器を使用することもできます。 5ページ以上の文書を印刷するための料金がかかります。 あなたが夕食のために外出するのにあまりにも疲れている場合は、おいしい食事をお選びください。選択肢:1.イタリア語または2.中国語(US $ 12)。午前中に注文する必要がありますので、食料品を買います。
This is a HOMESTAY accommodation. I live here too. We will share this cozy space together. My guest will have access to the living room, and the balcony. You can watch the TV in the living room. You can use the fridge. There is a charge for laundry service by my housekeeper at US$5 per load. You can also use the office equipment. There will be a charge for printing documents of more than 5 pages.
If you are too tired to go out for a dinner, we will cook you a delicious meal Choices: 1. Italian or 2. Chinese at a cost of US$12. You need to order in the morning so we will shop the grocery.
ゲストとの交流
I have a busy social life. I'll try my best to meet you and give you tips based on your own travel needs to enrich your local experience. However, it's best you plan ahead for your trip. We will provide you a healthy continental breakfast.
その他の特記事項
IMPORTANT: (If you can't read English, please translate into your own language)
DOG: I have a dog, Roxy, who barks like any other dog when a stranger is at the door. She is a friendly guard dog.
RELIGION/DRESS CODE: I respect religious freedom. However, my place does not cater for any religious worship or practice. Please conform to the consistent international dress code for this neighborhood.
DISCREET: The collections of artwork, antiques and rare books are here for you to enjoy. Please be careful with them. NO PICTURES.
BATTERY CHARGER: If you use China-made portable charger for your mobile devices, please DO NOT leave it on overnight, or unattended. They are susceptible to overheating and may cause fire.
TOILETRIES: Please pack your own disposable toiletries and personal care items including toothbrush, toothpaste, shaving kit, and body lotion etc. We provide ONLY shampoo and body wash.
SICKNESS: If you are sick before your arrival, please inform us in advance so that we can arrange precaution measures.
BREAKFAST: It is a continental breakfast, NOT a buffet.
---
---
---
NO un-registered person is allowed to stay overnight. Please strictly observe this Rule. I don't want to spoil your fun.
NO Smoking. If you are a leisure smoker, please use the balcony ONLY.
NO excessive drinking and definitely no illegal drugs.
NO durian, kimchi, curry, preserved food, or exotic food from your country that will leave a distinctive smell in the room to be brought to the apartment. Please understand It takes days for the odour to disappear.
NO walking around the apartment naked or half naked.
中國大陸旅客須知
1. 浴室使用法:
在浴缸淋浴時,請把浴簾放在缸内,不是放在缸外。否則,淋浴的水會沿著浴簾流在地上。把地氈完全弄濕。若此情況發生,請閣下自行打理乾淨。
2. 若使用中國製電池或外國冒牌貨充電,若你外出或休息時,請把電池關掉,避免因電池短路,或過熱而發生火警。
4. 禮貌對待我的管家
我的管家替我打點家中一切,及弄早餐給你。希望你禮貌對待,也可以打賞她的工作。
5. 請閱讀以上以英文寫的其他手則。
下記事項もご了承ください
階段を登らないとたどり着けません - 3 flights of stairs
ペットがいます - A 10-year old medium sized dog.
敷地内に駐車場なし - There is street parking for a short period, not overnight.
一部アメニティは最低限のものです (例: ネットが遅い) - Be environmentally friendly when shower (not more than 7 mins), and toilet roll (keep 2 rolls within 3 days)
---
---
---
I had such a wonderful time staying at her place. The place is quite and far from the crowd but it's 5minute walk from peak trum station, also you can see the stunning view from the room. The Hong Kong park near the place is also wonderful, I took a walk and went to pacific mall on Sunday, which was about 15-20 minute walk. She even gave me a very helpful advice on my short time stay which helped me save my time. I'm lucky that I stayed at your place and I like Hong Kong island. Will definitely come back. Thank you!i
---
Ka Kee's place is the best AirBnB place you can ever ask for. It was my second time staying with her - the last one was so great that I couldn't think of any other option, and as expected, I had a fantastic stay again :) Ka Kee allowed me to stay in her beautiful, artistic, spacious and cozy room where I always felt safe and relaxed. I loved the breakfast, conversations with her as well as being welcomed by her lovely dog, Roxy. She also recommended nice spots in Hong Kong to explore, which also contributed to my amazing stay there. I cannot thank her enough! Thank you Ka Kee :)
---
I stayed there for 3 nights. She welcomed me with a nice room, hot shower in the bathroom, great view & breakfast at the balcony and full of her art selection. It was so easy to get a taxi or a bus in front of her place. Her recommendation was so great and helpful, she is a really super host! I'll be back here at the next.
---
I stayed KaKee's house for two nights. This was the second time in her house and feel at home in Hong Kong.Her house is very artistic backed by her superb sense and knowlege of arts. I love every single paintings and color conbinations. The location is perfect for every travelers. The MTR staion is within 5mins walk. Relaxing atmoshpere in front of Hong Kong park. And my most recomandation thing is that you can walk to the foot of Victria Peak soon ,so you can comand very panoramatic view of whole city very easily. The road going down to the bottom will give you very refleshing moments for sure. KaKee is really awsome host . She corporated me to make a best plan regardless of her besy schedule . Everytime it helped me a lot. Thanks from my bottom of my heart . Definitely I'll come back here
---
I can't forget a wonderful experience in her house.Everything was so fabulous and totally surpassed my expectation such as great scenery from a window, well selected and perfectly organized interiors and artworks, very delicious breakfast and after all KaKee's kindness and excelent hospitality. Her house is very conveniently located within walking distance from the neaest MRT station and also from the central district. Next to her house, there is hongkong park and walking through the park is so refreshing and relaxing. I will definately come back to KaKee's house in the near future. Thank you so much
---
I had a wonderful time at Ka Kee's place in Hong Kong. Her apartment was perfectly situated that I could easily walk or taxi it around. She has created a beautiful calm enviromen R in her apartment. Breakfast was amazing, she had spent time and effort preparing lovely fresh fruit and breads. The instructions were perfect and the room was fabulous, everything set out with robe and slippers. It had a very personal feel. Ka Kee and I hung out, chatted and even went for lunch on my last day. She was so friendly and helpful, it was like hanging out with a girlfriend. I will definitely go back and stay with her again on my next trip to Hong Kong.
---
I'm a local Chinese, but I'm more a global person due to my extensive travel and years of living abroad. I am an art consultant and the owner of Gallery of Objects. I paint, write and enjoy reading. I am knowledgeable with both ancient Chinese and local colonial history. I chose to become a host to meet people from all over the world. Meeting different people, learning their cultures, and listening to their life stories humble and enrich me. Similarly, I wish all my guests will take home with them a memorable home-stay experience and a better understanding of my culture and my part of the world. My favourite cities are New York, Melbourne, Istanbul, and Hong Kong. I'm a spiritual person. Every person that comes into my life has a very special reason and meaning, and I cherish this universal truth.
言語:
English、ภาษาไทย、中文