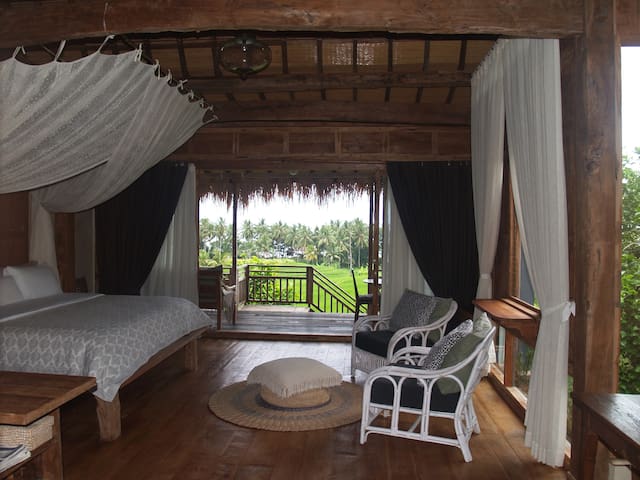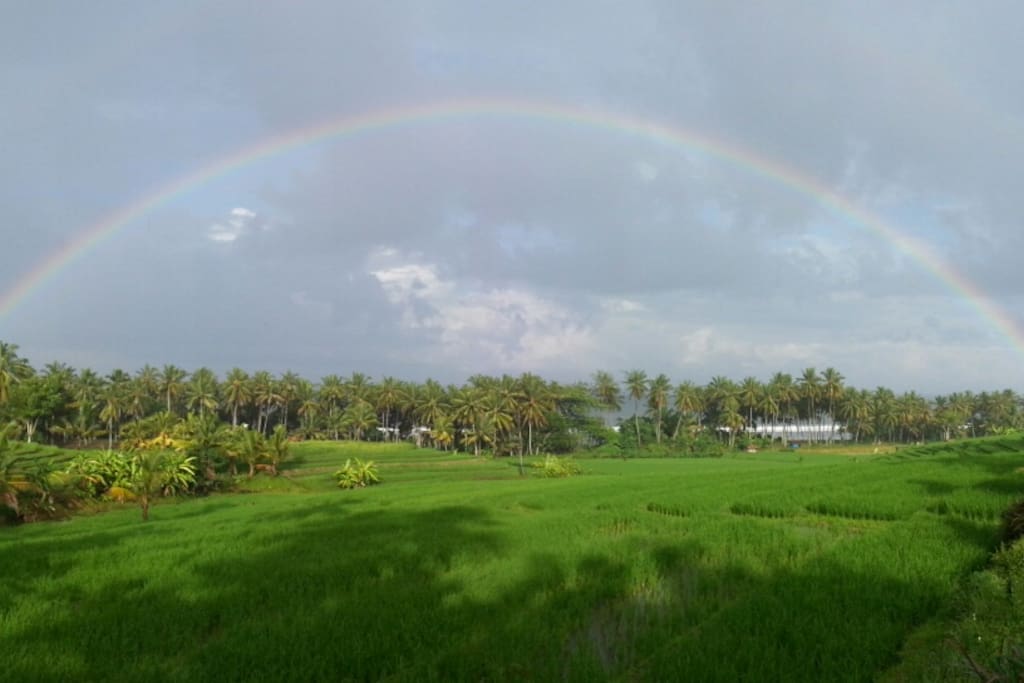 Matekap Lodge rice field / beach. Bali Old Bali!
バレンアインのサーフィンと漁村から車で5分(またはビーチ沿いを35分歩く)小さな村の1ベッドルームの田んぼ/浜辺の一軒家。 250mほどのビーチへの散歩を楽しんで、古代バリ島の昔の魔法の景色に賞賛します。途中で、海の田んぼや山々を一望できる、丘の庭園でリラックスしましょう。デッキからの素晴らしい鳥の眺め。ボディーボーディングはここで超楽しさです!
Experience this secluded and isolated one bedroom rice field/beach house part of a small hamlet 5 minutes drive from the surfing and fishing village of Balian (or walk along the beach 35 mins).
Enjoy the 250 meter walk to the beach and admire the magical scenery of an earlier time on ancient Bali. On the way take time to relax on our hill garden with far reaching views of the sea rice fields and mountains. Excellent bird watching right from the deck. Body boarding is super fun here!
スペース
マテカップロッジは、部分的にグレアクスタイルの木材家屋から造られた石造り/チーク材の木材住宅です。ドア、窓、床、キッチンなどの木材は100%リサイクルされ、現場の優秀な職人によって改装されました。素朴なロッジの魅力にもかかわらず、屋根は部分的に断熱されており、近代的な便利さと快適さを兼ね備えています。田んぼ、海、庭園、バナナのプランテーションを取っているすべての方向からの自然の景色があります。
Matekap Lodge is a masonry/teak timber dwelling built partially from a gladek style timber house. The timber used including doors, windows, floor and kitchen is 100% recycled, adapted and reinvented by our brilliant craftsmen on site. Despite the rustic charm of the lodge the roof is partially insulated and has all the modern conveniences and comfort one needs for long and short term stays. There are natural views from all directions taking in the rice fields, sea , garden and banana plantation.
ゲストの立入り範囲
フロントとリアデッキ、400m2の庭園(池を含む)にアクセスできます。ビーチに近い500m2の丘の庭園もお客様のお越しをお待ちしております。ここからの眺めは息を呑むほどです。田んぼやロッジの後ろの土地(500m2)を散策するのは大歓迎です。私たちの財産にアクセスするために私たちが使用するコンクリートトラックを公共の道でビーチに歩いたり、ドライブすることもできます。
Guests have access to a front and rear deck and a complete garden of 400m2 including a pond. Our 500m2 hill garden 120m closer to the beach is also to be enjoyed by our guests.The views from here are breathtaking. You are welcome to stroll through the rice fields and the land behind the lodge (500m2). You can also walk or drive to the beach on the public way concrete tracks that we use to access our property.
ゲストとの交流
私たちは隣に住んでいますので、お客様の滞在を楽しむのに役立ちます。私たちの素敵なスタッフLindaとSuciもあなたに会うのを楽しみにしています!あなたの完全な滞在に向けて努力できるように、私たちにあなたのプライバシー要件をお知らせください。
We live next door so are on hand to assist our guests to enjoy their stay. Our wonderful staff Linda and Suci look forward to meeting you too! Please notify us of your privacy requirements so we can strive towards your perfect stay.
その他の特記事項
私たちは事業の立ち上げに役立つレビューをする必要がありますので、お金のために無類の価値をお届けします。
We need reviews to help jump start our business so we hope you will take the plunge because you will be rewarded with a wonderful experience at unbeatable value for money.
---
---
-We welcome children of any age (extra charges may apply) but there is water all around.Take care.
- No loud music please (i.e. cannot be heard by your nearest neighbour).
- No music on hill garden please (breeding herons).
- Please be polite to our lovely staff.
下記事項もご了承ください
ペットがいます - Not on the property but we do take care of bali dogs next door
---
Our stay at Matekap Lodge was brilliant. Sadly (and stupidly) we only booked one night and wished we had stayed longer. The lodge is great, designed and built with thought to practicalities and attention to detail with a huge comfortable bed. For breakfast, Suchi and Linda came over and cooked a vegetable omelette which was delicious. My highlight was the 30min walk to a great restaurant - through rice fields and along the beautiful deserted beach, with owners dog in tow. It is definitely a place for people who appreciate wildlife as it's abundant (we saw a friendly large gecko, herons, whipsnake, loads of butterflies, dragonflies, to name a few). For me (and hate to sound cheesy!) it's the closest I've seen to paradise! A massive thanks to Spencer and family for being so welcoming and making our stay so enjoyable. Excellent value & lovely owners who really care about the important things in life. Highly recommend.
---
Very much recommend. Stunning pad! Stunning walk down to beach! And the bed! It's huge.. Clean quality smelling sheets not often come across traveling. Great English touch. Stunning teak floors! Wall plugs, bed and linen to the binoculars to check out the heaps of birds to the new helmets. 5 min scooter ride down to main surf beach Wish we could have stayed longer
---
Spencer's place is the epitome of relaxation and satisfying island living in Bali. I could spend an hour explaining why the home itself is incredible to stay in but what I found more important was the communication and honestly from the host. And Spencer scored a 10 in all areas! Two months before my trip, when I made the booking, he answered all my questions. He even helped secure travel arrangements to the airport and a scooter for the day. That helped reduce the amount of work I had to plan for and I was able to focus on, well, relaxing! I would highly recommend staying at this home if you're the type of person that likes solitude and quiet times on your island adventures. Thanks again Spencer!
---
This is an exceptionally special place. So beautifully executed and the surrounding vista is breathtaking. Spencer and Ira were so kind and welcoming- going well out of their way to ensure we had a great stay, which we totally did! We are missing this gem already.
---
Nous avons passé une nuit chez Spencer, et c'était trop court ! Son petit bungalow luxueux entre rizières et océan est une merveille. Tout ce dont je rêvais pour nos vacances à Bali. Une décoration magnifique, bonne literie, bon petit déjeuner, tout ça dans un cadre fabuleux. Très bon accueil de la part de Spencer et de sa gentille famille ! Notre hôte a tout fait pour faciliter notre arrivée et notre départ. Thank you again Spencer. Elise & Simon
---
Menemukan Matekap Lodge di list Airbnb bagaikan memenangkan undian lotre untuk kami. Saya dan suami langsung jatuh cinta pada foto-foto yang ditampilkan dan deskripsi yang dipaparkan. Bayangkan suasana Bali yang jauh dari kehirukpikukan. Memandang lepas hamparan sawah yang sedang menguning berujungkan pantai dan laut. Matekap tidak hanya pondok yang nyaman, bersih, berudara bersih lagi sejuk, setiap detil yang Spencer hadirkan begitu mengagumkan. Matekap adalah rumah bagi spirit kecintaan pada alam. Kami menghabiskan 3hari disana dan kami belum puas suatu saat kami akan kembali ke Matekap!
---