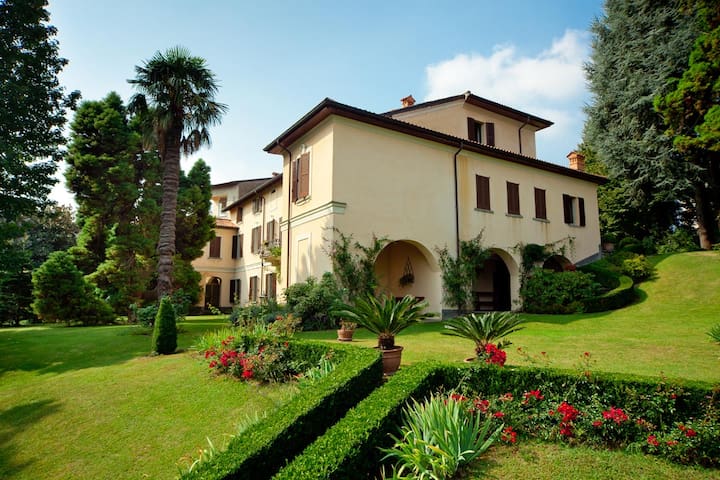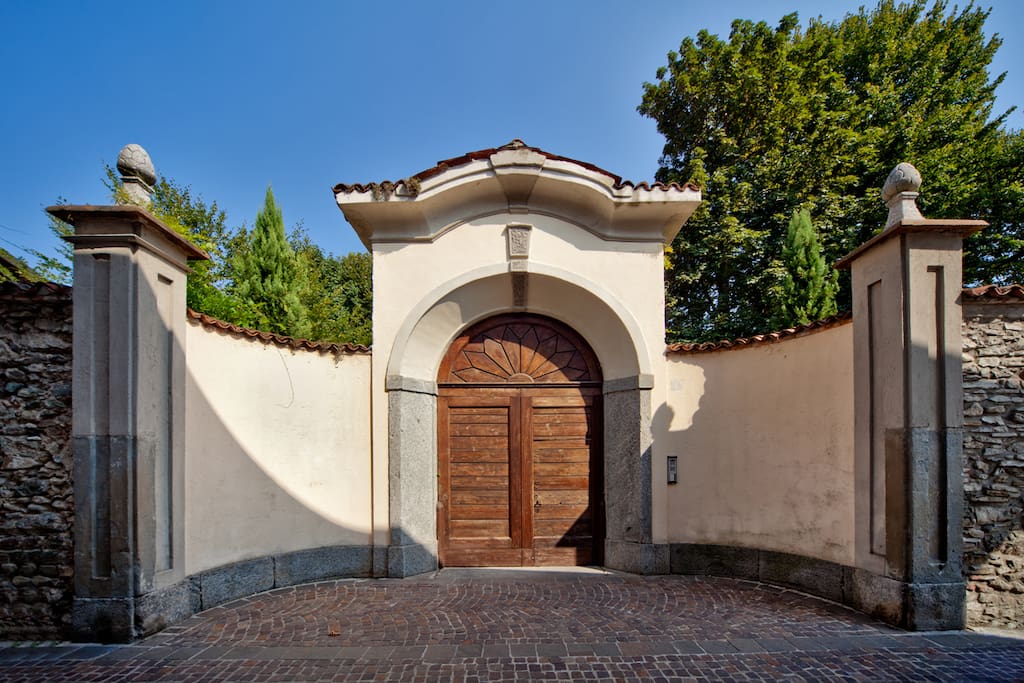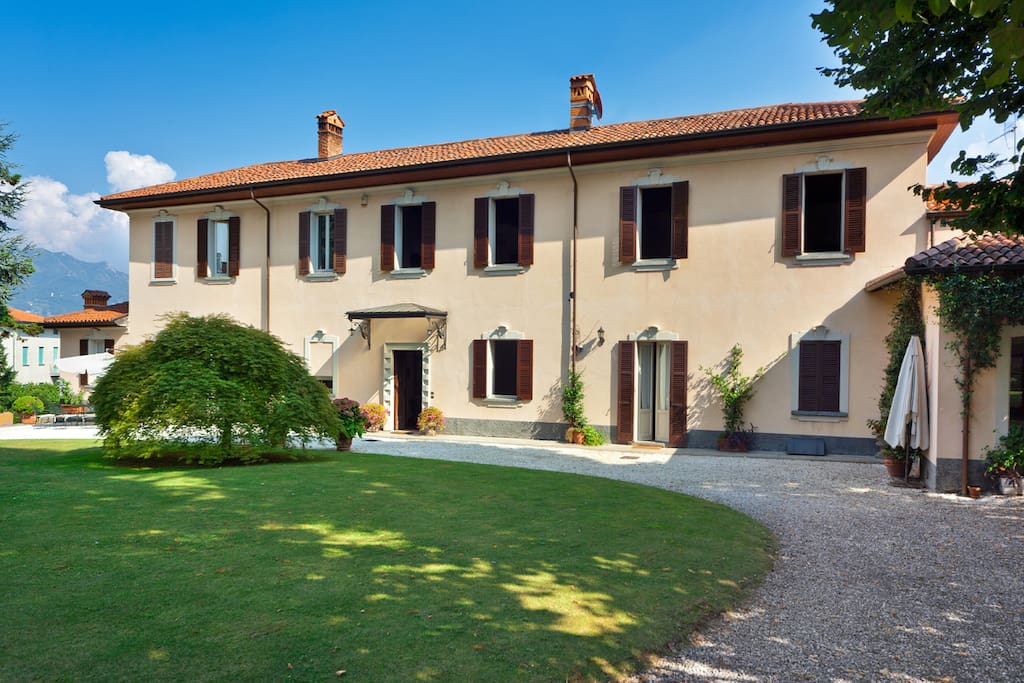 Villa Giani in Annone di Brianza is 10 km far from Lecco, 22 km from Como and 38 km from Milan. It is located in the places made famous by Manzoni with the view on Annone lake, the Resegone and the Grigna. The villa is a charming aristocratic country house built in the eighteenth century completely restored and surrounded by a 6000 sqm garden full of ancient trees. Inside you can admire frescoes of the '700, fine antique furniture, paintings and furnishings.
ゲストとの交流
You can text or call me at any time during your stay, if you have any questions or need information. I will be of course available.
その他の特記事項
At request, it is possible to have the service of a wedding planner to organize your event at a very reasonable price and during your stay you can have a personal cook (price on request and availability to verify).
---
---
チェックイン時間は、14:00から20:00です。
VILLA GIANI REGULATION

1) Before going out or going to bed, make sure that all entrances to the villa and the windows are closed and the lights are switched off
2) Secure the blinds with the hooks to prevent them from slamming. The area is quite windy
3) Guests are provided with open closets. Those one closed are personal and should not be open for any reason
4) It is possible to access the villa only for loading and unloading operations: cars can be parked in the large car park outside the villa
5) It is strictly forbidden to leave on the grass objects that may ruin it: candles, dumbbells, braziers
6) Do not turn on fires in the garden
7) Inside the villa it is strictly forbidden to smoke. Cigarette butts should not be thrown into the ground but collected in the appropriate containers
8) Avoid any kind of noise that can disturb the neighborhood. The villa is located in the center of the village
9) After 10PM, we ask guests to keep the noise down outside the villa (music and more). After this time you can move the music in the indoor premises with a moderate volume.
10) Observe strictly the rules of the recycling garbage (paper, plastic, food, undifferentiated, glass)
11) If the kitchen is used, the kind guests are asked to leave it tidy and clean (no dirty dishes, cups and pots in the sink)
12) Additional cleaning on request can be done at cost of 10 € per hour by our housekeeper
13) Rooms must be left in the same order as they were found
14) In autumn and winter time, heating is on consumption (around 100€ per day) to be paid the day of the check out
15) It is generally recommended to respect the villa. The villa must be left in the same conditions guests have found it (clean and tidy)
16) the owners reserve the right to charge a cost to the guests in case of damage
Thank you for your care and respect towards us and the villa
---
- Very good property for a party or a function, not as holiday stay with family or friends. - Very secluded place, no restaurants near by (except one that was closed for an event when we visited), no one speaks English - including the housekeeper (helpful neighbors trying though, but did not help much), had to travel to the town center, about 10 km, for water bottles and McD burgers, bathroom without lock and key. - Not apt for a family holiday, with kids. Very antique property, no lockers. However Luisa was reachable and very responsive..
Hello Govind Thank you for your review but I would like to point a few things. This is the first time that i receive this kind of unreal comments. It is really irrelevant to claim the villa is not suitable for family vacations as it is a villa with a huge garden where children can play and have fun. It doesn't depend on us if the weather for the all weekend was awful and the kids weren't able to play outside. The villa is usually booked by families and groups of friends for the numerous rooms provided and the outside garden. You say that the nearest center is located 10 km away: this is a comment of people who have not organized their stay at all. And i would have been always available for any requests you should have. In the village there are 2 restaurants at an easy walking distance and two grocery stores. the nearest center is Oggiono (10 minutes drive) where absolutely everything is located. I think it's the responsability of the guests to always be informed about the place they are staying to, in order to avoid inappropriate comments of this kind. Annone di Brianza is not a city center therefore guests cannot expect the same services as to a city like Como or Milan can guarantee. About locks: the villa is an old mansion not a HOTEL so it does not have any sense to me that there should be locks at all doors. in any case the bathrooms could be closed by a bolt if you need privacy. I conclude by saying that our villa is a fantastic place where groups relax and enjoy the exterior landscape. I'm sorry that you have not been able to perceive its peculiarity. Yours sincerely.
---
WOW WOW WOW WOW! This host for starters should get an Elite host rosette not just super... Went above and beyond to assure our stay was maximised to the full... really took the stress of 10+ guests requirements and made it all happen... absolute delight of a host. The villa is kept to such a high standard, even has a groundsman living on site, who as said keeps this place like a palace The villa itself was so much bigger than the photo's show, with such large spacious rooms and plenty of opulent space for large groups Beds super comfy, bedding super clean, we could not fault this villa and it is very reasonable compared to others we looked at, also in a great setting a beautiful quaint village, close enough to Como for boat trip and Luisa even arranged bus's to and from and boat trips around the lake Milan is only 45 minutes away too, and again Luisa arranged a bus for our group too and from Milano for a day of tours and night life... and return back to the villa at very reasonable rates This Villa is so grand and so beautiful and in such a great setting, was a like a dream holiday And so peaceful... would recommend anyone wanting to stay close enough yet far enough away from all the hustle and bustle, with beautiful far reaching views of the lake and just outstanding service, this is by far the best Airbnb we have had the pleasure of staying... Luisa, we thank you dearly, these memories of this stay will be with us for a life time
---
Myself & 9 others stayed in Villa Giani for 3 nights in July to celebrate my mums 50th birthday. We found the accommodation on Airbnb last minute as the hotel we were supposed to be staying in was having emergency maintenance works. I sent an enquiry & despite the late notice Luisa responded very quickly and was friendly & informative. She answered any questions we had & was happy to help. The villa looks very similar to the photographs & the gardens are particularly stunning. There is a small pond, a tree swing & plenty of outdoor seating. The views are beautiful. The interior decor is very traditional & old fashioned and the bedrooms are huge. A few points to bear in mind; - The housekeeper & his wife live in a small building directly attached to the villa (there is a door between their home & the entrance room). We could hear his son playing and they often sat outside in the front garden during our stay. Luisa also asked that we keep the noise down in the evenings as to not disturb them. They spoke no English so we couldn't communicate with them properly. We didn't find this particularly disruptive but it is worth knowing! - There is no aircon in the building, so it got quite hot in the bedrooms. Thankfully there were a few free standing fans but we still needed to leave the windows open for airflow. (And got bitten by mosquitos in the process!) - I highly recommend hiring a car to stay here. There is a free car park a 1 minute walk from the villa. The town is very quiet with hardly any shops / restaurants and even the closest supermarket is a 10 min drive away. Overall we had a lovely relaxing break, and I would recommend the villa for groups looking for a quiet getaway away from the city.
---
Luisa was an amazing host who was very responsive and reactive on every request. She even helped our group to organize a wonderful diner & breakfast at the house for 12 people with great local Italian food. The house looks exactly like on the pictures and the garden is spectacular and very well looked after. Overall, our stay was unforgettable and I would highly recommend Luisa and Annone di Brianza to everyone aiming to spend some time in a lovely italian village perfect to explore Como and its surroundings.
---
We stayed at the villa Giani for 3 days and 2 nights and it was unforgettable days! I expected that it would be very cool but it turned out much more magically! Views from the windows, a wonderful garden in the villa! The atmosphere on photos is not the same as in real life, it's like a movie 100 years ago! We were 16 people, we celebrated the wedding, and it was magic atmosphere that you want so much on that days). All guests were comfortably placed, each with its own room with an unique interior! Louisa helped us to solve all the queries related to the organization of the celebration! Thank you so much!!! We are very grateful to Louisa for such attentiveness! She is amazing!)) We will definitely try to come again more than once!) Thank you!
---
Excellent séjour chez Luisa qui est vraiment extra. Luisa est accueillante, disponible, réactive , efficace, donne des renseignements pertinents, aidante pour réaliser les démarches utiles avant et pendant notre séjour. Nous avons vraiment beaucoup apprécié ce magnifique jardin et cette villa atypique, charmante, authentique et très jolie. Nous aurions aimé y rester plus longtemps pour profitez de cet endroit magique et très soigné. Encore un grand merci de la part de tout notre groupe à Luisa. Petits plus : les plats du restaurant le plus proche (2 mn à pieds) ont un bon rapport qualité prix , les magasins (supérette, boulangerie) à 2 mn à pieds sont accueillants et très pratiques.
---
I can define myself a very kind, polite and helpful girl! If you decide to book one of my properties I will help you and assist you before and during your stay. Please contact me if you want to make your holiday, event or wedding special!
言語:
English、Français、Italiano