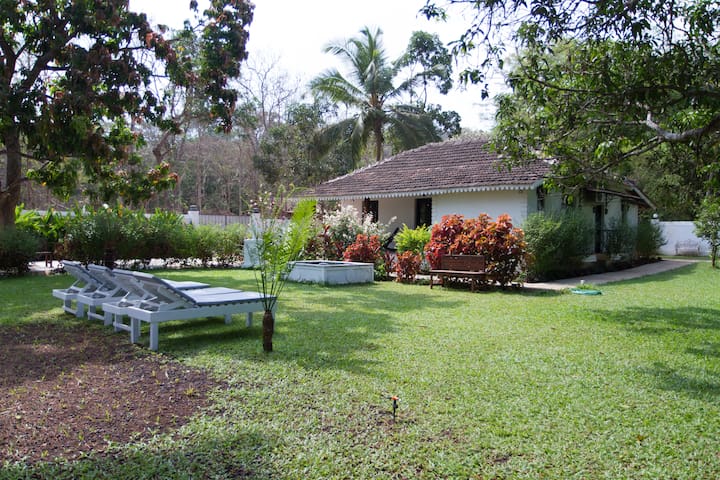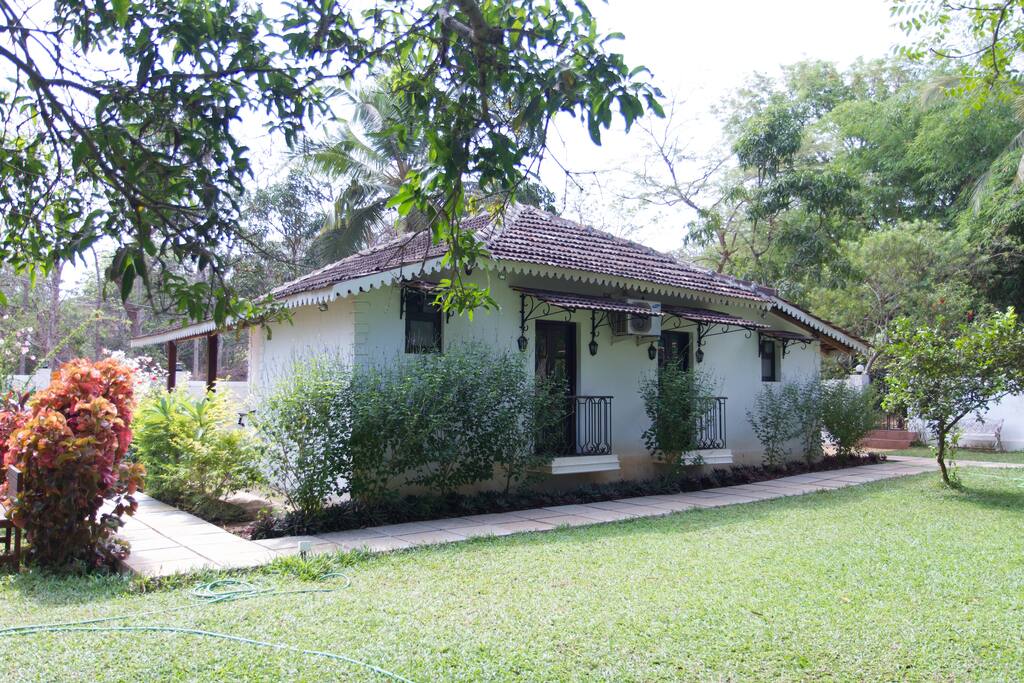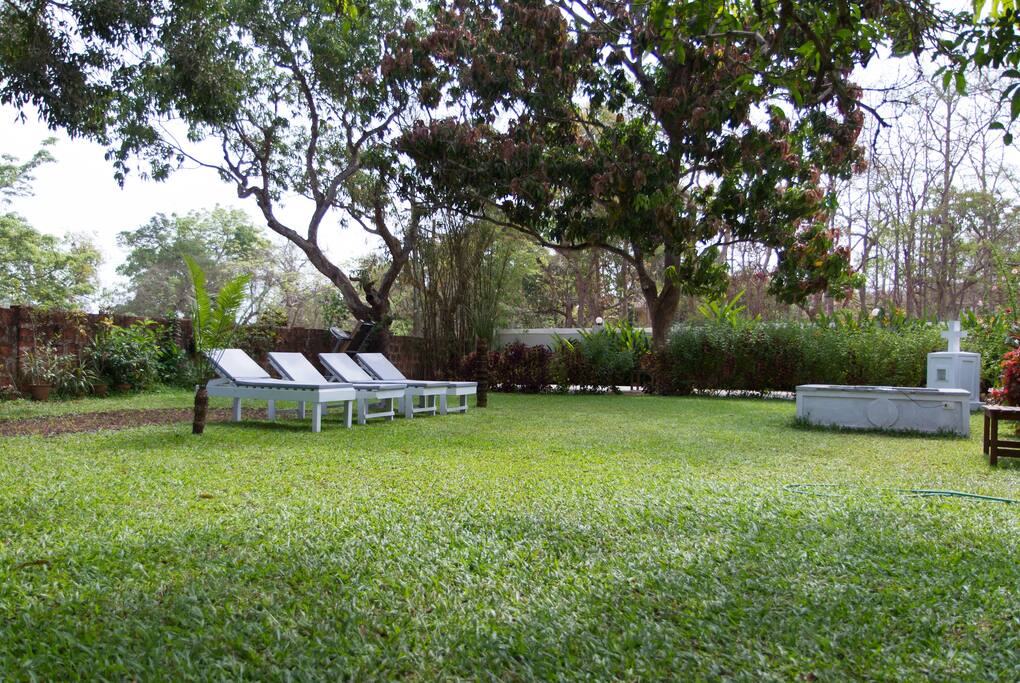 My place is good for couples, solo adventurers, business travellers, families (with kids), big groups, and furry friends (pets).
We're conveniently located close to the touristy zones of North Goa with beaches and plenty of options for shopping, wining & dining, clubbing, sightseeing and other fun pursuits.
We're also close to the quieter parts of Goa where you can chill out, enjoy scenic vistas, lounge around or explore historical and cultural venues.
スペース
The D'Gamas luxe homestay is located at the only crossroads in Assagao, in the sunny state of Goa, which is along the western coast in the southern part of India.
Meticulous attention to detail has gone into taking care of all the finer points of what guests could possibly dream of in a homestay.
This elegant cottage is built on a plot of land that measures 2200 square metres, and shares the space with the D'Gama family's ancestral home, which was built in 1904.
Spread over 1000 square metres, the homestay has 2 bedrooms. The master bedroom has a king-sized double bed, en suite (attached) bathroom, and a writing desk, French windows leading onto two little-balconies overlooking the garden.
The second bedroom is smaller rightfully to be called a half bedroom which doesn't have an attached bathroom. it has a queen size double bed that comfortably sleeps 2 adults. also be advised that the bed touches the wall on one side. please refer to the pics.
There is a large living room and a fully equipped kitchen. The living room has large French windows that open out on to the lawns, letting in ample light and allowing for perfect cross ventilation. A blend of traditional and modern architecture, the homestay is surrounded by lawns, where you can relax on wrought iron garden furniture or chill out on the Portuguese-style veranda.
ゲストの立入り範囲
You have the whole homestay to explore, along with the lawns outside, the garden and also the outdoor whirlpool tub. The Portuguese-style veranda is a lovely vantage point from where you can see the entire property while chilling in the shade, maybe with a beer or one of our complimentary Kindles in hand.
ゲストとの交流
We, the hosts, live next door and are always available. Our caretakers Filomena and Mangar will help in cleaning up the villa and gardens . Of course I am available at anytime through phone or email.
その他の特記事項
PLEASE BE ADVISED TO UNDERSTAND THE BEDROOM LAYOUTS AS ONLY ONE BEDROOM HAS AN ATTACHED BATHROOM.
ALSO WE DO NOT PROVIDE BREAKFAST.
EVEN THOUGH ITS SHOWS AS A HOT TUB, ITS ACTUALLY A WHIRLPOOL TUB WHICH DOESN'T HAVE HEATING.
We offer several complimentary services and amenities such as unlimited access to e-books on Kindles, high speed WiFi, Tata Sky HD on a flat screen TV, 10-seater outdoor whirlpool tub, outdoor mini gym with a treadmill, workout bench and weights, a kitchen with AquaGuard water purifier, three-burner cooking range, a fridge, microwave, toaster, electric kettle, cooking pots and pans, as well as crockery, cutlery and glassware.
For road trippers, a DIY car wash station and air filling station, daily housekeeping services, toiletries like shampoo, conditioner, body lotion, bath soap and liquid hand wash.
Security elements like a safe deposit box in the master bedroom.
And most importantly, safety features like fire blanket and fire extinguisher.
Check-in/Check-out: Check in is at 1 pm and check out at 11 am. Kindly settle your payment on the first day of your stay.
SAFETY & SECURITY:
The areas outside the bungalow and surrounding it are under CCTV surveillance. This is for your safety & security. Please be mindful of what you do.
Personal belongings: The management is not responsible for any belongings lying around in the room if they get damaged or go missing during cleaning or otherwise.
Please use the safe deposit box available in the master bedroom. For assistance, please contact us.
A medical box is located in the kitchen. Please familiarise yourself with its location.
A fire blanket and fire extinguisher is located in the kitchen. Please familiarise yourself with its location and procedure for use.
Please make sure that the gas is switched off properly after every use. This is for your own safety.
The whirlpool tub is open from 9 am to 6 pm.
It is advisable to not use the whirlpool tub for more than 2 hrs.
Please be cautious while entering and exiting the whirlpool tub, and always use the safety measures that have been installed such as the grab rope around the whirlpool tub. We request you to be cautious and will even provide immediate assistance in case of an accident but we will not be liable for your carelessness.
Children below the age of 6 or below the height of 3 feet are NOT ALLOWED inside the whirlpool tub. Parental presence is compulsory when children are in, and the management will NOT be responsible for any mishaps/injuries.
Friends of guests: they are strictly not allowed in the bedrooms or to make use of them. This is for your own safety.
Please make sure all exit doors have been locked or latched from the inside. Management will not be responsible for any loss. Damage caused due to negligence will be charged to the customer.
Inside parking is available for homestay guests only, and you will be responsible for closing of the gate while entering and exiting the property.
Lost Key Charge: If the key to the room is lost, we charge INR 1500/-
HYGIENE & CLEANLINESS:
Cleaning will be done once between 9 am to 12 pm or 3pm to 5 pm. Please inform us what time you require this service and do leave the key with the management.
Strictly no smoking allowed in the room, there are plenty of areas to smoke comfortably, such as outside in the balcony, on the verandah or in the garden. Guests who ignore our request will be fined heavily. We have taken great pains to make the rooms beautiful and comfortable, so please accept our request to not smoke inside them.
We maintain a strict NO DRUGS policy on the premises.
DO NOT flush sanitary napkins/disposable diapers such as Pampers in the toilet. Please use the bins that have been provided.
Dental kits, shaving kit, vanity kit and shower caps, bathroom slippers, etc. all are available on request.
Do not dry clothes on the balconies, in the gallery or on the furniture. If you wish to dry anything, a clothes drying rack is provided please make use of it.
Being a pet friendly place, we accommodate your pet at an additional cost.
Although we are an exceptionally pet friendly homestay, pets are not allowed on any piece of furniture including the beds. Any damage done by the pets will be charged to you. Pet blankets and beds will be provided on request.
We also provide poop scoopers so please clean up after your pet. Use the designated bins provided for discreet disposal.
Pets are NOT ALLOWED in the whirlpool tub.
A shower is required before entering the whirlpool tub. Only swim wear or any Lycra clothing is allowed in the whirlpool Tub.
LINEN, TOWELS & LAUNDRY:
Linen and towels will be changed every three days as part of our efforts to conserve water and energy.
Do not throw linen or towels on the floor. Please use the laundry bag provided.
Don't wipe makeup, cosmetics or leave other permanent stains on the towels. We've provided tissues for cleaning up these things.
No eating in bed or while sitting on the bed.
We have provided excellent quality towels and linens for your comfort, and if you do soil or stain them despite our requests, you will be fined in order to pay for the dry cleaning. We're talking stains like make-up, food, and tattoo ink (temporary or permanent), etc. And if the stains are permanent, you will be charged for the cost of new linen or towels.
Foot-mats provided for the bathroom are for you to step on after a shower.
Please don't use them as doormats to wipe your muddy or sandy shoes when you come in from outside the homestay.
Basic laundry on site is provided at an additional cost of INR 300/- for a 4 kg load inclusive of drying (not ironing). Please hand in before 4 pm if you wish to receive it the next day. We are not responsible for any damage to your clothes.
AVOID WASTAGE OF PRECIOUS RESOURCES:
Electricity: Please switch off all appliances like the microwave oven, toaster, and electric kettle when not in use. The same goes for all the lights and fans, before exiting the room. Only UPS back up is available for the bedrooms and for basic fans and lights in case there is a power failure.
Water is a scarce and precious resource, and we are an eco-conscious property. Please DO NOT leave taps open, when not in use.
We've installed high pressure, rain showers for your enjoyment, please use them responsibly.
This is also why we say 'Strictly NO SMOKING inside or round the whirlpool tub. Violation of this rule will result in a fine of Rs.1000. This does not sit well with us as we are very conscious of our impact on the environment and request you to respect the same.
PLEASE PAY COMMON COURTESY:
Basic crockery, cutlery and tableware are provided, as also are all the cooking utensils. Please use them carefully so that they stay pretty and useful for the next guests. Any damage or breakage will be charged.
Tips for the staff: If you would like to tip the housekeeping staff please place the tip on the pillow so they know it is for them.
Please avoid littering in homestay or the garden spaces and use the appropriate bins instead.
Please avoid littering the beautiful state of Goa and please do not throw garbage on the road side or beaches. You may dispose of it in garbage bins around the state. If you are unable to locate a bin, please feel free to carry your disposables and bring it back to our homestay. We are happy to dispose of it for you, in a responsible manner.
FINES FOR DAMAGES: PLEASE NOTE THAT WE HAVE CLEARLY OUTLINED OUR REQUESTS IN WRITING. IF AFTER THIS WE FIND THAT THERE IS NON-COMPLIANCE, YOU WILL BE CHARGED FOR ANY DAMAGE YOU HAVE CAUSED TO THE PROPERTY AND ANYTHING ON IT.
Thank you for your understanding, have a great stay!
下記事項もご了承ください
ペットがいます - i have dogs on the property where i live which is next to the homestay, so if you are frighten of Dogs we request you to not book this property.
Hi, I'm Dean D'Gama and I'd like to share with you a little bit about myself. I returned to my Goan roots in 2002 with the intention of restoring my family home in Assagao village, Goa. Little did I know that this would be the beginning of a long journey, culminating in the realization of my long-harboured dreams.
I've got a Master's degree in Geology, and have spent more than a decade working in the lucrative but monotonous oil industry. But during all those years I really itched to start something of my own back home. Of course, I considered my family home as the best place to begin.
I'm also passionate about animals and my other venture is with Jessica Braganza and is called Hound Abode. It is a doggie homestay totally committed to customer satisfaction, transparency and most of all, happy pets.
I'm also intensely passionate about motorcycles and love riding my Harley Davidson Iron 883 all over the country. Served as a Goa chapter officer for the HOG (Harley Owners Group) has led me to meet people of different back grounds, many of them with interesting ideas.
I would love to welcome you to my luxe homestay, "The D'Gamas."
言語:
English、Hindi