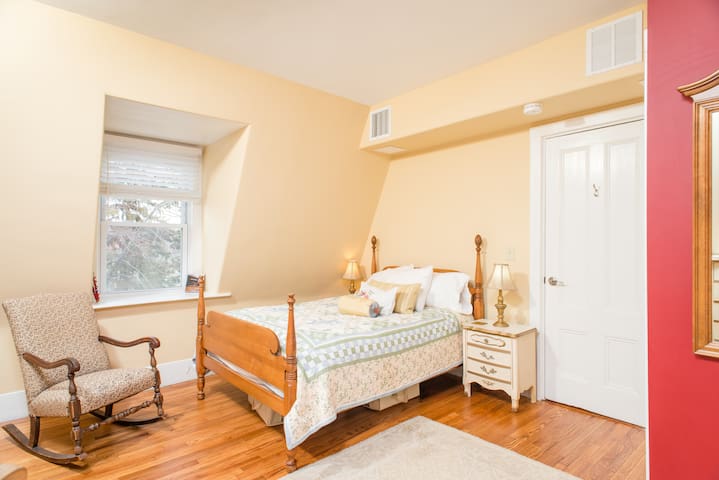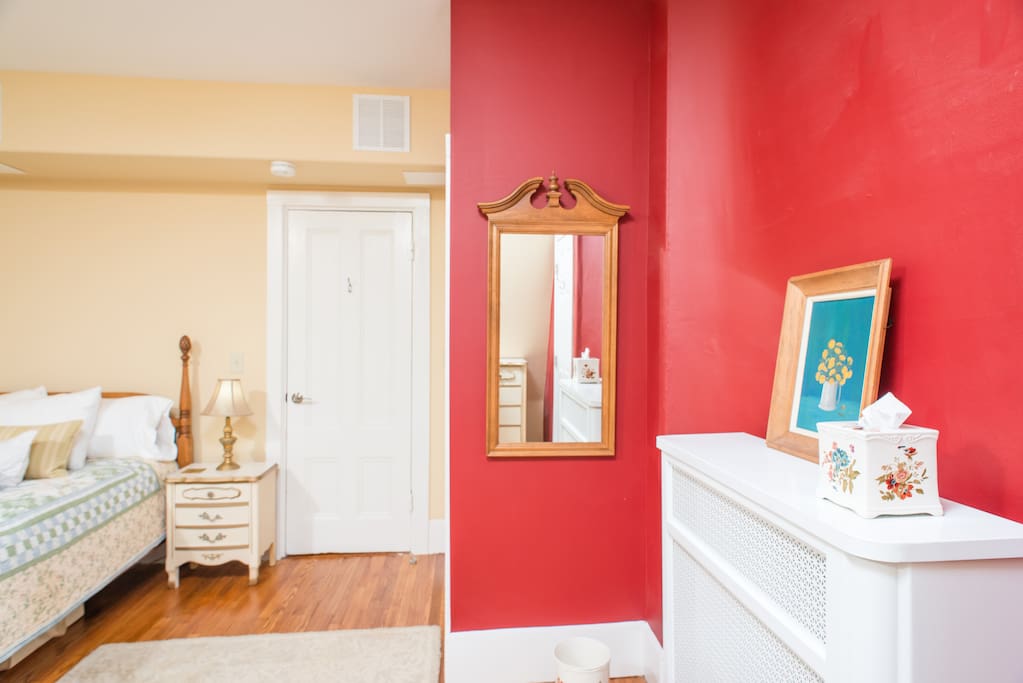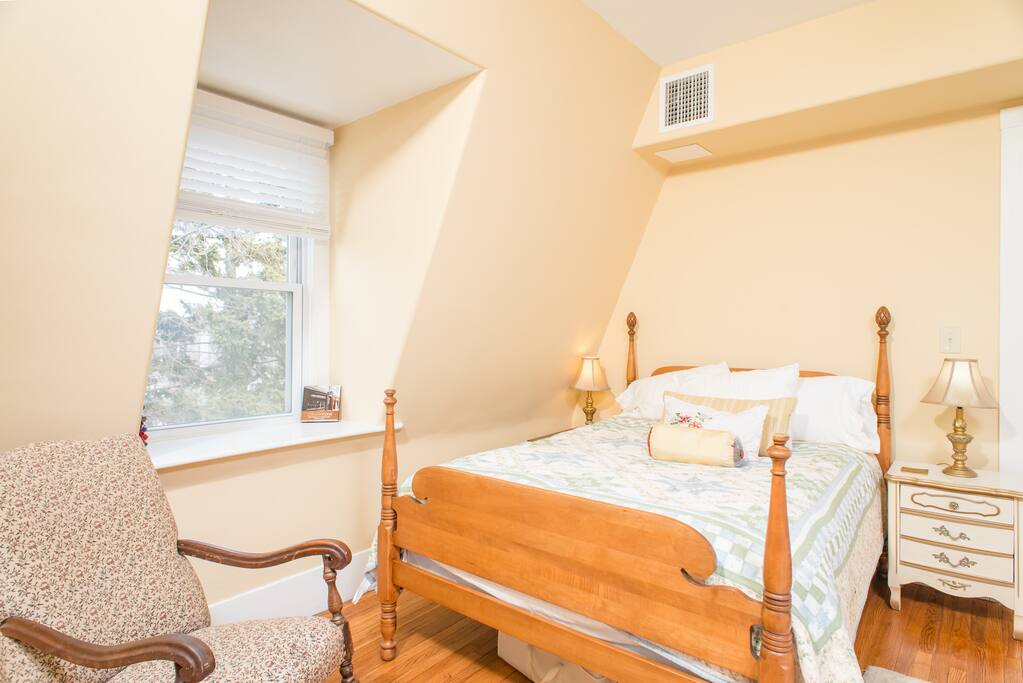 3階(No Elevator!)の客室で、共用バスルームがあります。コンバーチブルベッド付きのフルサイズベッドが備わります。セントラルAC、キッチン、ランドリー、オフストリート駐車場。列車まで徒歩10分。裏庭は自転車道とビーチに直接行きます。
Third floor (No Elevator!) room with shared bathrooms. This room has a full size bed with a convertible cot. Central AC, Kitchen, Laundry, off-street Parking. 10 minute walk to the train. Back yard goes directly to bike path and beach.
スペース
私たちは一度家族一人で占められていた(PHONE NUMBER HIDDEN)室に住んでいます!バーニーはここに住んでいます。私たちの4人の子供たちはここで育ちました。そして、小さな町のダイナミックな組み合わせが好きです。ビーチに住んでいて、街の中心から20分です。
We live in an 18 room 160 year old house that was once occupied by just one family! Barney has lived here all of his life, our 4 children grew up here, and we like the combination of a small town dynamic, living on the beach, and still be 20 minutes from the center of the city.
ゲストの立入り範囲
キッチンテーブル、オレンジジュース、英国マフィン、ヨーグルト、メアリーの自家製グラノーラなど、新鮮なフルーツをお楽しみください。バーニーは早朝においしいコーヒーを作るだけでなく、彼の代表的なマフィンの新鮮なバッチを作る! 1階には食事をするためのフルキッチン、屋外食事用のバックポーチ、ラウンジがあります。リラックスのための裏庭。洗濯室。 2階にあるベビーグランドピアノをお楽しみください。
Enjoy the fresh fruit in the bowl on the kitchen table, the orange juice, english muffins, yogurt, and Mary's homemade granola. Barney makes great coffee early in the morning, as well as a fresh batch of his signature muffins!
You will have access, on the first floor, to a full kitchen to make meals, Back Porch for Outdoor Meals, and Lounging. Back yard for relaxing. Laundry room. Baby Grand Piano on the second floor that you are welcome to play.
ゲストとの交流
私たちは周りにいるときにゲストと交流します。通常は夜です。ボストンとニューイングランドについての会話、指導。私たちは、お客様の訪問を歓迎し、容易にすることができます。私たちは必要に応じて周りにいても、少しでも周りにいても構いません。私たちが家にいないときに到着した場合、家にアクセスするための詳細な指示を行います。
We interact with guests when we are around, which is usually in the evenings. Conversation, guidance about Boston and New England. We are available to greet and facilitate our guests' visits; we can be around as much, or as little, as needed. We will provide detailed directions to access the house if guests arrive when we are not at home.
その他の特記事項
裏庭からドーチェスター湾とビーチに歩いて行くことができます。ハーバーウォークバイクの道がそこから始まり、何マイルも続く。朝またはいつでも新鮮なフルーツ、オレンジジュース、英国マフィン、ヨーグルトをお楽しみください。バーニーは午前中に素晴らしいコーヒーと彼の代表的なマフィンを作る!すべてのゲストは、調理や食事を楽しめるフルキッチンを利用できます。ピアノを弾いても構いません。私たちは家の音楽が大好き!
You can walk out of the back yard to Dorchester Bay and the beach. The harbor walk bike path starts there and goes on for miles. Enjoy the fresh fruit, orange juice, english muffins, and yogurts in the morning or anytime. Barney makes great coffee in the morning as well as his signature muffins! All guests have access to a full kitchen for cooking and/or enjoying meals. Feel free to play the piano; we love music in the house!
---
---
---
We have ample off-street parking but if you have a car let us know and we will be in touch with you about parking. Please be careful not to drive or walk in the driveway for 233 Savin Hill Avenue.
Check in time is 2 PM, check out time is 10 AM. Guests who arrive early can drop off their luggage after 10 AM. We are unable to accommodate arrivals earlier than 10 AM.
Guests who need to stay after the check out time are welcome to use the common area on the first floor for luggage storage.
NO SMOKING in the house or anywhere on the property.
No Pets.
下記事項もご了承ください
階段を登らないとたどり着けません - Top floor. Two flights of stairs.
---
---
---
The best place to stay in Boston!! I never used airbnb before but I did a great choice to use this site because I could find welcoming Carney family for my great experience to stay in Boston. I really loved the place and their hospitality was beyond my head! Hospitality: Barney served coffee and hand made tasty cup cakes in the morning and he politely told me the short-cut way to the station because the nearest station Savin Hill didn't connect the place I needed to go at that day. Place: the room is really tidy and clean. safety box, bath towels, refrigerator, pot, cups and dishes supplied the place around of Carney Family is really safe and good neighborhood. Loved the view of harbor from the window. Therefore, I highly recommend you to stay at Carney Family! I think you cannot find any other great place except this house:)
---
The house is a dream! The bed was very comfy and you have your own bathroom which was nice. They are close enough for a 10 minute walk to public transportation which is a must in Boston. I did not get a chance to meet the owners, but their caretaking son John was very helpful and friendly! Additionally, the location is very quiet and friendly. However, if you're not used to close-quarters driving and parking, then be forewarned. While there's plenty of parking space near the property, it can be challenging to arrive/leave if the rooms are all booked up with others who have their own vehicles.
---
Mary and Barney Carney live here in the Savin Hill neighborhood of Boston. As a family of 6, we've lived in this house for about 27 years, Robert, who's 19, Andrea, who's 31, and John and Grace who are 20 year old twins. are also here from time to time.

We're Bostonians and New Englanders from birth; we spend time here, in Provincetown and in Vermont. We don't have much spare time because Mary and Barney work full time, in higher education and computing. All four of our children have gone to the oldest school in the United States, Boston Latin School. We're all involved in community activities, mostly music - choirs, bands and the like, some politics and some church, and many other kinds of activities.

We live in what may be the most diverse square mile in Boston - people of every model and make. We've always had people living with us; we've sponsored refugees and had guests from around the world. There are lively discussions and debates about everything from quantum mechanics to driving habits, from living to dying, from rock climbing to meditation.
言語:
English、Español