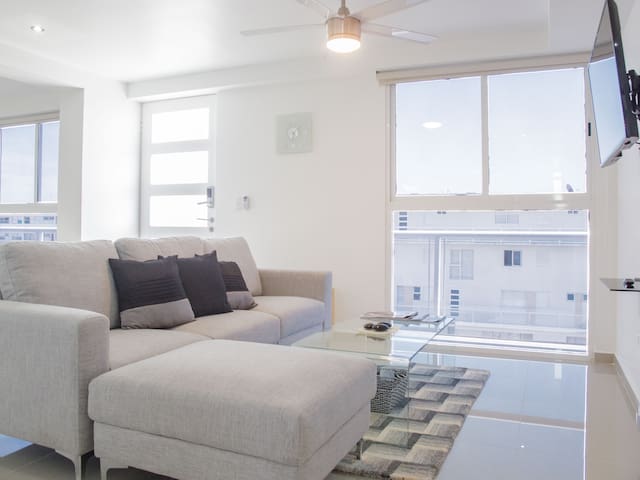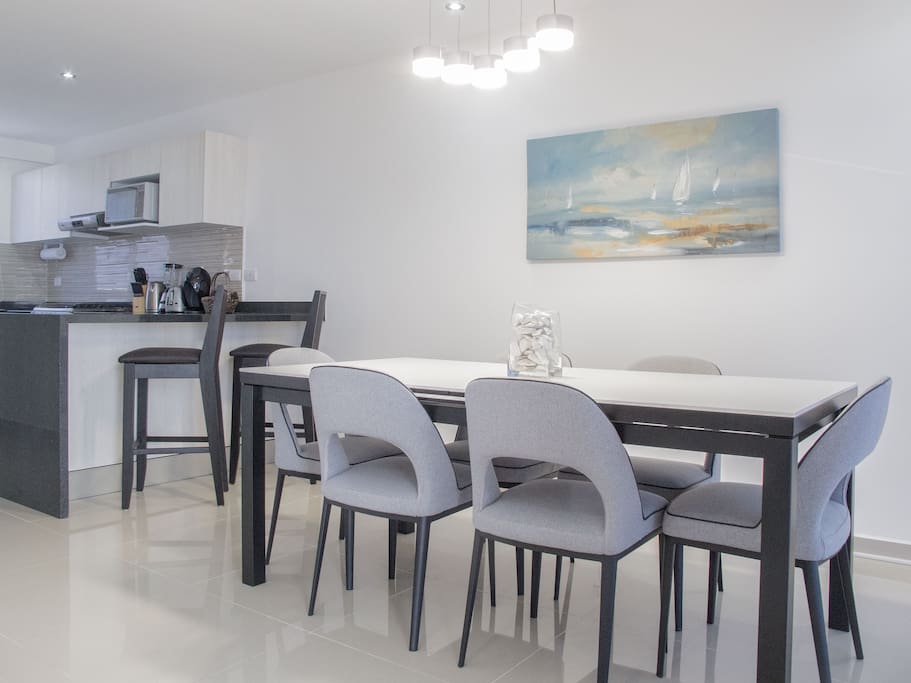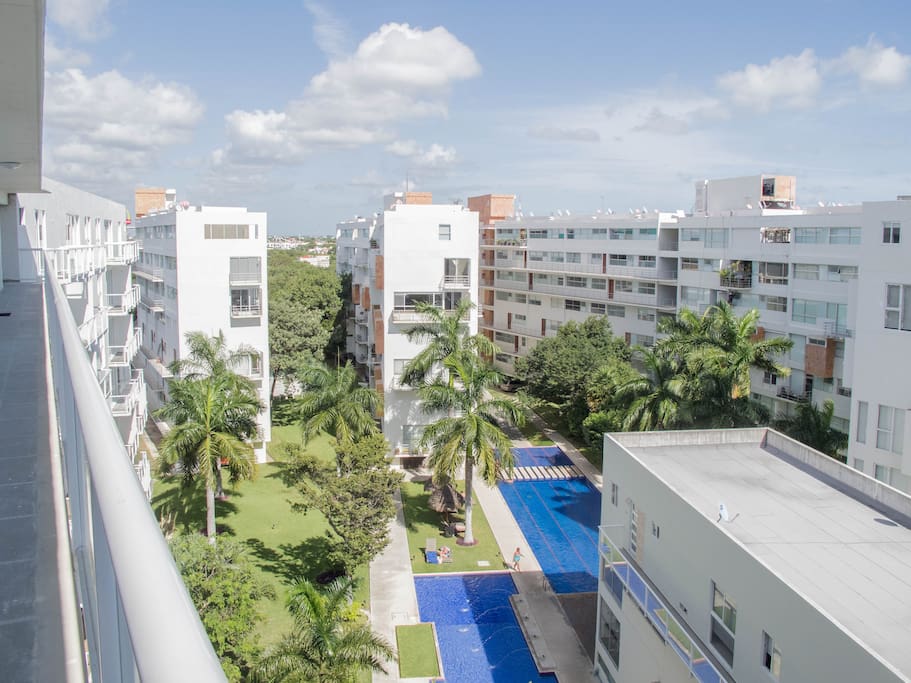 リスティングについて
This brand new condo is in one of Cancun's upscale residential neighborhoods. The area is walkable, near plenty of cafes, restaurants, shopping, parks, and hospitals. You'll love the central location, close to everything! Ten minutes by car to the nearest beach, 20 minutes to the center of the Hotel Zone. Great shopping and dining at a large, modern mall Plaza Las Americas, just 5 minutes away. Our place is suitable for couples, adventurers, small groups of adults, and business travelers.
スペース
Brand new fully equipped two-bedroom top floor condo with great views in an upscale location – close drive to beach, shopping, and other amenities. On site you can enjoy a nice pool, game room, gym, 24/7 security, private covered parking, Smart TVs , plus great views from the top floor!
Affordable and well designed
Come to Cancun and relax in our newly finished condo. We have added many touches to the place, with ceiling fans in every room, larger bathroom mirrors, tile, window tint and blackout blinds, and nicely designed and built furniture. The space feels clean, open, and modern, with brand new air conditioning units, washer and dryer, and other touches throughout.
Location
You will be located in one of the best neighborhoods in Cancun. This area has some great local businesses, cafes, and eateries, all within walking distance – the condo is close to major shopping centers, and yet is also in one of the quieter residential areas. The airport is only about 15 minutes south of the condo, while the beginning of the Hotel Zone is a short 10 minute drive north.
Transportation
Taxis are like ants here – they are everywhere!! They are also very economical. Even more economical is the bus system, which is quite easy to use and there are stops everywhere, one right around the corner from the complex (R27 to the Hotel Zone for about 60 cents) – we can help answer most questions you may have about local transportation. You will also be provided an access card along with two private covered parking spaces if you decide to rent a vehicle during your stay.

We have lived, traveled, and stayed all over the Caribbean, East Africa, Europe, the U.S., and Latin America, but fell in love with Cancun because of its beauty and being close enough to our home in the U.S. We hope that you find our home a great getaway and please let us know if there is anything we can do to make your accommodations as awesome as possible!
Este nuevisimo condominio de dos recamaras viene bien equipado, con lindas vistas y ubicado en un sitio de alto nivel -cerca de la playa, de compras, y otros entretenimientos. En el sitio se puede disfrutar una alberca buena, una sala de juegos, gimnasio, seguridad 24/7, estacionamiento cubierto y privado, Smart TVs con Netflix, y vistas muy lindas del ultimo piso!
  
Asequible y bien diseñado
Venga a Cancun y relaje en nuestro recién acabado condominio.  Hemos añadido varios detalles a nuestro lugar, con ventiladores de techo en cada cuarto, espejos mas grandes en los baños, azulejo, vidrio polarizado y cortinas persianas, y muebles de buen diseño y calidad. El espacio se siente limpio, abierto, moderno, con nuevos aires acondicionados, lavadora y secadora, y otros detalles en todo.
Ubicación
Estará ubicado en uno de los mejores vecindarios de Cancún. Esta zona tiene algunas buenas empresas locales, cafés y restaurantes, todos a poca distancia - el condominio está cerca de los principales centros comerciales, y sin embargo, también está en una de las zonas residenciales más tranquilas. El aeropuerto está a sólo 15 minutos al sur del condominio, mientras que el comienzo de la zona hotelera está a 10 minutos en coche al norte.
Transportación
Los taxis son como las hormigas aquí - están por todas partes !! También son muy económicos. Aún más económico es el sistema de autobuses, que es bastante fácil de usar y hay paradas en todas partes, una a la vuelta de la esquina del complejo (R27 a la zona hotelera por unos 11 o 13 pesos) - podemos responder a la mayoría de las preguntas que pueda tener acerca de transporte local. También se le proporcionará una tarjeta de acceso junto con dos lugares de estacionamiento cubiertas y privadas si decide alquilar un vehículo durante su estancia.

Hemos vivido, viajado y nos hemos quedado en todo el Caribe, África del Este, Europa, Estados Unidos y América Latina, pero nos enamoramos de Cancún por su belleza y estar lo suficientemente cerca de nuestra casa en los Estados Unidos. Esperamos que halle nuestra casa una buena escapada y por favor háganos saber si hay algo que podemos hacer para hacer su alojamiento tan impresionante como sea posible!
ゲストの立入り範囲
Guests will have access to the entire condo, along with all of the amenities of the neighborhood. A beautiful pool, a gym, a clubhouse available for rent, 2 covered parking spaces in the garage, and more.
Los huéspedes tendrán acceso a todo el condominio, junto con todas las comodidades de la vecindad. Una hermosa piscina, un gimnasio, una casa club disponible para reservar, 2 plazas de estacionamiento cubierto en el garaje, y más.
ゲストとの交流
As we do not live in Cancun, we've hired a property manager to help us provide the best possible customer service to our guests. Sandra is at your service, to ensure that you have an amazing stay in Cancun. You'll speak with her during the booking and planning of your trip. She'll be there to greet you when you arrive to check-in, and you can call, text, or email her throughout your stay with any questions you may have. +(PHONE NUMBER HIDDEN)
Please note that we try to be as responsive as possible - if we receive messages after 9:30 PM eastern U.S. time you may not receive a reply until the next morning.
その他の特記事項
Please note that this is not a resort or hotel - the security staff that work in the reception area are not a concierge service. Other than basic questions, if you need services of any kind please contact our property manager.
---
---
---
---
---
チェックイン時間は、09:00から22:00です。
Please note that this is not a resort or hotel - the security staff that work in the reception area are not a concierge service. Other than basic questions, if you need services of any kind please contact our property manager.
- Not suitable for children because of the height
- No parties in condo but you may reserve the club house - if we receive complaints regarding parties after hours we will not reimburse the security deposit
- Please remove shoes in the house
- Place gargabe in garbage room behind the club house
- Please treat our space with respect and kindness
- We thank you for not smoking in the unit
- WE HAVE A SECURITY CAMERA THAT COVERS THE ENTRYWAY/DOORWAY. WE RESPECTFULLY ASK THAT GUESTS DO NOT UNPLUG, MOVE OR TAMPER WITH IT. The camera could not be placed outside due to weather exposure and because it needs a power source.
-If you are unsure how to operate anythan item within the house, please ask.
- No apto para niños por la altura
- No estan permitidas las fiestas dentro del departamento, pero puede reservar la casa club - si recibimos quejas de fiestas fuera de las horas permitidas no se regresara su deposito
- Quitese los zapatos en la casa
- Coloque toda la basura en uno de los botes de basura
- Por favor, trata nuestro espacio con respeto y amabilidad
-TENEMOS UNA CÁMARA DE SEGURIDAD QUE CUBRE LA VÍA DE ENTRADA / PUERTA. NOSOTROS RESPETAMENTE SOLICITAMOS QUE LOS HUÉSPEDES NO LO DESCONECTAN O MUEVAN. La cámara no se pudo colocar fuera debido a la exposición al ambiente y porque necesita una fuente de electricidad.
Si no está seguro de cómo operar algo dentro de la casa, por favor haganos la pregunta.
---
厳格
宿泊の7日前までにキャンセルすると、宿泊料金の50%の返金を受けることができます。7日を切ってキャンセルすると返金不可となります。
---
---
El departamento es bonito y el espacio es cómodo. El área se ve tranquila y segura cerca de restaurantes y centros comerciales y como a 10 o 15 min de la playa en coche,dependiendo de cual playa puede ser más. El trato con los anfitriones fue muy amable lo cual agradezco. Pero ... la ultima noche nos dimos cuenta que hay una cámara en el área de sala comedor que no nos mencionaron. La sorpresa no fue agradable ,creo que teníamos derecho a saber antes de rentar. Entiendo que les interesa cuidar su propiedad pero para eso checan tu perfil antes de aceptarte como huésped. Por respeto a la privacidad de las personas la cámara debe estar afuera .
Gracias por la amable revisión - la información sobre la cámara de seguridad ya está incluida en la primera sección del manual de la casa, donde dice: "Tenga en cuenta que hemos instalado una cámara de seguridad dentro del condominio - la cámara sólo monitorea la puerta de entrada, pero en ningún otro lugar ". La camara tambien esta muy visible, pero si es importante que los huespedes estan enterados. No pudimos instalarlo fuera de la unidad debido a problemas con el clima y la adquisición de una fuente de energía. Hemos actualizado nuestro perfil para que los huéspedes puedan reconocerlo. Muchas gracias.
---
Amazing space. Exactly as described, and pictured. Fan in master bedroom didn't work, but all AC units did work very well! Blinds are fragile, but no serious issues reported. Rose & Jeremy are super speedy with responses. Would highly recommend for travelers looking to be away from the Hotel Zone. Felt very safe traveling to and from the flat during our stay. Security staff are helpful & very nice. Thanks for a lovely stay!
---
Rose and Jeremy's home was such a treat for us. We wanted a quiet retreat to ourselves that was clean, simple with a modern ambiance and that's exactly what we got. The condominiums were very secure with two security booths in the front that had security guards who walked the property and often checked in as they'd see us walking by. They were very helpful when we needed a bit more information as we left the home to explore the neighborhood. Tami, the contact person was very helpful, informative and friendly. She made it easy for us to get in contact with her at any time of our trip through text and even offered to give us a ride from the airport to the condominium and back (with the service charge), which was nice as we got a headstart to more information about Cancun, the neighborhood, and the condo. All in all we would recommend this place to anybody who's looking for a quiet saying and centrally located place to stay while in Cancun.
---
Hello fellow travelers! We are a well-traveled happy go lucky professional couple based in Bethesda Maryland. We have been blessed with the opportunity to visit all over but have many more places left to go! We are fluent in Spanish, English, Swahili, and Russian. We have recently opened up our new condo in Cancun as an Airbnb.
言語:
English、Español