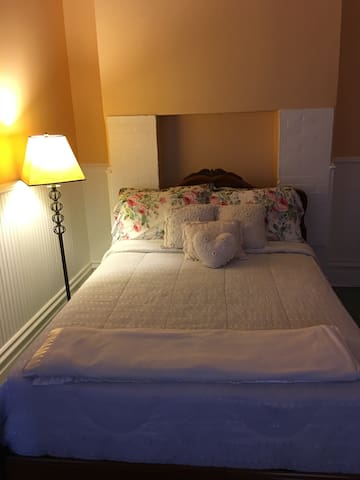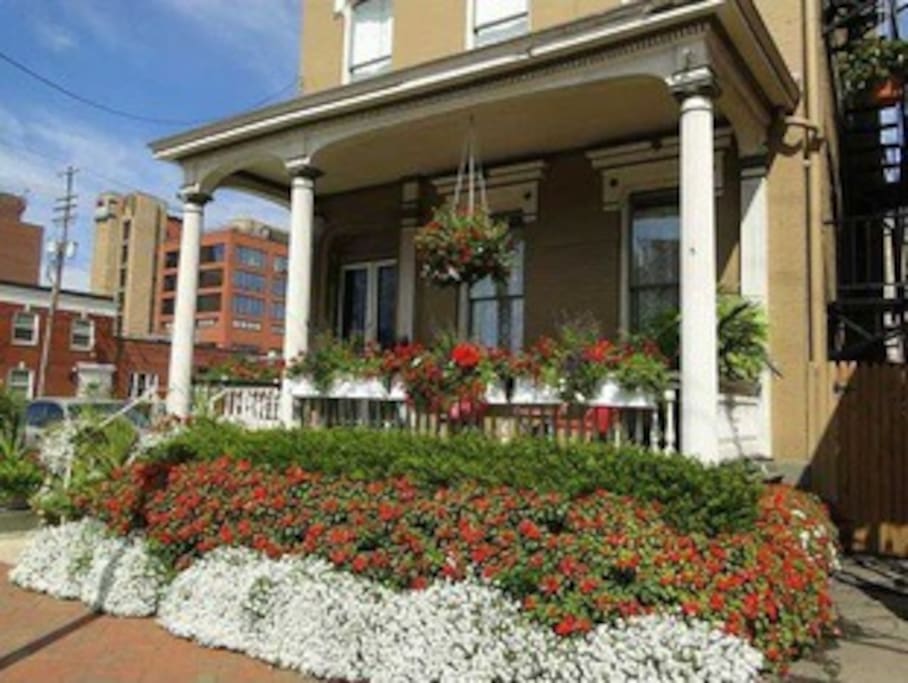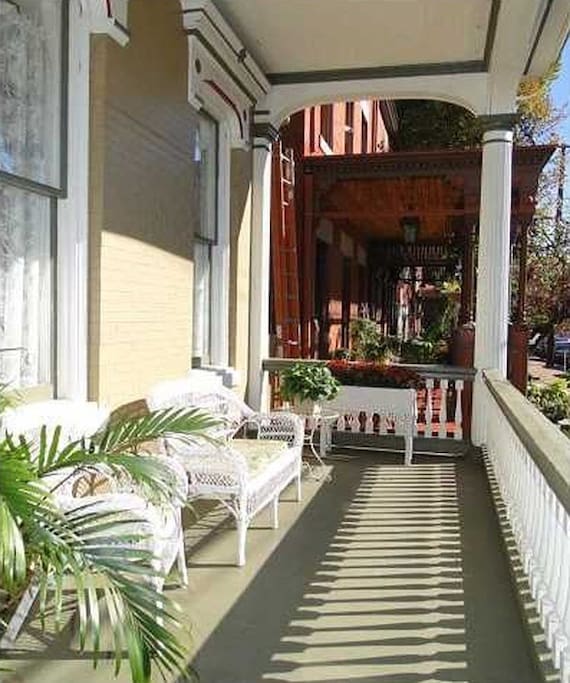 I HAVE 5 ROOMS
To see the other rooms, go to the bottom of "THE SPACE" section below. Each room is listed and the URL.
Copy the URL into your browser..
ROOM 1 is on the 1st floor of a Victorian, centrally located, blocks from Heinz Field, PNC park, Carnegie science center, Rivers Casino, Children's Museum, Aviary, Mattress Factory, and Andy Warhol museum. Within a mile from downtown, Convention Center, Strip District, Theater Area, Station Square and Market Square.
スペース
Stay in this beautiful Victorian mansion filled with antiques. Rooms fully furnished with comfortable, lush bedding and towels. I provide a continental breakfast every morning. The coffee starts brewing at 7:30am. If you want coffe sooner, just hit the start button, it's already prepared.
All rooms are very Clean, have the original hardwood floors, original crown molding, Wainscoting, some with fireplaces, some have original converted gas lamps.
Again, all the bedding and towels are provided. Just bring yourself, suitcase and toiletries. I even have those if you forget them (Toiletries).
I did run my house as a full service B&B with all the amenities of a full gourmet breakfast, daily room cleaning, nightly bed turn down (yes, the chocolate on your pillow) and a daily Happy Hour with wine, cheese and crackers.
It was too much work for a single person even with employees. I needed to be available 24/7 for my guests. They like to talk to the owners and get that "resident Pittsburgher knowledge" for all the non-tourist trap and secret places to go.
I stopped doing that for a couple years until I rediscovered Airbnb. It gave me the flexibility and time to myself. I still provide the best service to my guests, it's just that I don't have to spend as much time with every minute detail. The guest also receives the ambiance of a B&B without the extra services and price associated with it.
I find this is an advantage since I'm not just renting rooms in my home. It's a beautiful home that I originally designed for a B&B. Some of the listings on Airbnb, are just extra rooms people have in their homes, they use them to make additional revenue. That's fine. I feel I have a little more to offer since my home is designed for a B&B and I have that experience to provide the best experience for my guests.
The biggest advantage is my location. Location, location, location! I'm the closest Airbnb or Hotel to Heinz Field. I'm also centrally located to all areas and events in Pittsburgh. It's a great spot!
This room is located on the 1st floor, the only bedroom on this floor, in the back of the house and facing the courtyard. It is very quiet during the day and night.
A powder room is right next to this bedroom. There are some pros and cons with this room.
PROS
--------
Only bedroom on the first floor
Powder room right next to room (no shower)
In the back of the house, making it very quiet
Private since it's the only bedroom
Cost effective pricing, for the prime location
Easy access to outside
Steps to the rear courtyard
Closest room to second floor kitchen
Warm and cozy in winter. Cool and cozy in summer
Close to emergency exits

CONS
--------
No shower in the bathroom next to the room. You
may use the second or third floor bathrooms. The
Third floor bathroom is right above, up 2 levels
Using the stairs located next to the bedroom.
There are no doors with deadbolt or knob locks.
There is a hook lock on the one and only door in
The room that's attached to 2 swinging doors.
There are 2 doorways once you enter the room.
One goes up the back staircase to the kitchen
(in the kitchen is another staircase that goes to
One of the bathrooms the guests in this room
May use to shower. The other doorway goes to the
Laundry room. There are no doors on these
Doorways, only curtains. The rear first floor
Emergency exit is through the laundry room (good
Point)
The floors are not hardwood like the other bedrooms. The floors are linoleum.
Other guests don't go into this room, primarily because they don't know about it. Other than the parlor on the first floor, most guests spend their time outside my house in Pittsburgh. When they are there, it's 98% in their room, 1% in the bathroom and 1% in the kitchen getting coffee and snacks in the morning. There is no need for them to be in this area of the house. So the room is actually very private.
I had used my house as a B&B for 4 years, 2 years ago. I had many people stay in this room, one because it was very affordable and two, it was private, like having the entire first floor and easy access straight up to the kitchen for snacks.
I'm the only one that may need access to the laundry room through this room. However, unless you're staying in the room 24/7, it would not impact you.
ROOM 1
https://www.airbnb.com/rooms/15370037?s=51
ROOM 2
https://www.airbnb.com/rooms/183298?s=51
ROOM 3
https://www.airbnb.com/rooms/14157821?s=51
ROOM 4
https://www.airbnb.com/rooms/14304582?s=51
ROOM 5
https://www.airbnb.com/rooms/14572449?s=51
ゲストの立入り範囲
Guests will have full access to their room, the bathrooms (except rooms that have their own bathroom), second floor living and dining room, kitchen, front porch, rear courtyard and the Parlor on the first floor. Guests may relax in the beautiful parlor with soaring 20 foot ceilings. There is a bar that you may sit and have a glass of wine, beer or cocktail. I have all types of glasses. You may bring your own or ask for a specific beverage before you arrive, which I will purchase for you and have it available upon your arrival. The charge will be the price of the beverage, along with a minimal pickup fee. You may specify a particular brand name or generic ( light red wine, dark red wine, chardonnay, sparkling wine, rum, vodka, beer, etc.). I will purchase the best cost effective brand (not a bottom shelf brand but a popular mid range). If you prefer a microbrew, please specify Pale ale, Pilsner, IPA, stout, etc. I will have it chilled for you upon your arrival.
The frig is always supplied with bottled water and Ginger ale that you may help yourself, anytime.
Guests may use the refrigerator, stove and oven.
Guests agree to clean the area, wash, dry and put away any pots or pans used. Wash dishes, glasses, silverware, spatulas, etc. and place in dishwasher.
I provide a small continental breakfast in the morning. The coffee starts to brew at 7:30. There is also tea, juices and bottled water. I change each day with bagels, or cinnamon buns, or honey buns , or doughnuts, or yogurt. Sometimes there will be one or three of the options mentioned.
There is also a coffe shop across the street named "Lindo's" that will give you a 10% discount on breakfast or lunch, just let them know you're my guest.
ゲストとの交流
I live in the house but will only interact with guests if needed. I'm always available via phone (My phone number will be provided once you've checked in) or text.
My goal is to make your stay as comfortable as possible and make you feel like you're home.
I can be available or unavailable as you need me to be.
その他の特記事項
Please don't forget to rate your stay and provide comments. I hope to receive 5 stars. If for any reason you don't feel you've received a 5 star experience, please let me know why and how I may resolve your issues to make your stay more enjoyable before you leave.
Although this is a private residence and not a hotel whose only business is to provide lodging, that doesn't mean you shouldn't receive the same or better experience. I hope better!
My goal is to always provide a 5 star experience and environment.
I am just starting this Air B &B and know there will be areas of opportunity for improvement. That's why your feedback is crucial. Initially I may not have all the things I hope to implement but eventually will have everything I believe is needed. I will provide you with a list of "things to come" with an estimated time frame so that you know what may be new on your next visit with me.
Please remember if you book in the future, let me know and I will give all "Frequent Stayers " a 10% discount. Keep in mind that prices change and are variable depending on day, time of year and availability. I will take 10% off whatever price is displayed when you request to book.
Thank you,
Denise Alarcon
お支払をお守りするためにも、Airbnbのサイトやアプリ以外の場所では決して送金や連絡を行わないようご注意ください。
When you stay in an Airbnb, you're staying in someone's home. Here are some of the rules Denise requests.
_____________________________
• Check-in time is 3:00PM
• Check-out time 12:00PM
Children age 7 and above are OK for this listing. Too many stairs to provide a safe environment for small children.
No pets, assistant animals are always permitted.
No loud music or loud noise past 10pm
Request that shoes be removed. Slippers OK to wear in house.
Smoking allowed on front porch and back courtyard.
Other specific rules for the bathroom and kitchen are posted in those areas.
Private Parties on location allowed at time of booking upon request and at an additional fee. No more than 30 guests may be accommodated. Subject to availability. Hours 2:00pm - 10:00pm
Types of parties include:
1. Adult Birthdays
2. Baby Showers
3. Bridal Showers
4. Small Weddings
5. Company/department meetings
6. Going away parties
7. Anniversary party
most events or parties with groups as large as 30
I also provide private seances and psychic readings
for an additional fee.
Seance is $40 per person minimum 6 people
Tarot readings are $85 per person
下記事項もご了承ください
階段を登らないとたどり着けません - I have 1 room and powder room on first floor. All other rooms, bathrooms and kitchen are on floors 2-4. Only 1 room on the 4th floor.
騒音の可能性あり - I live close to the hospital and you may hear sirens from emergency vehicles going through the light. Also noise during stadium events. I live in city
ペットがいます - 2 cats. 1 senior and 1 baby. They mostly stay in my room when I have guests. They do not go in guest rooms. They're both friendly and loving.
敷地内に駐車場なし - Street parking in front of my house for certain hours. Free street parking no more than 3 blocks, usually only 300 yards.
I'm originally from Carnegie PA and moved to the San Francisco Bay Area when the Technology age was just starting to grow. My major was in Computer Science and I started as a 370 Assembler programmer at IBM in San Jose, CA, also well known (Still known) as the Silicon Valley .
I went into management while at IBM, and eventually left to seek other opportunities.
I worked at multiple companies, advanced through the ranks and became President /CEO of startups, small and large businesses over time. I also started my own what I called "One Stop technology shop". I mainly focused on providing technology to small business to increase productivity and lower costs into additionally growing their business.
After doing the above for 10 years,
I retired and came back to Pittsburgh and purchased a large Victorian house. Too large for myself and cat. I decided to try the Air B&B.
I look forward to meeting you and hope your stay will be enjoyable!
Sam (my cat and my new addition Kingdom, hope to see you soon! Sam is q charmer and loves everyone. Kingdom is still a baby and getting used to being around people but very sweet!
言語:
English