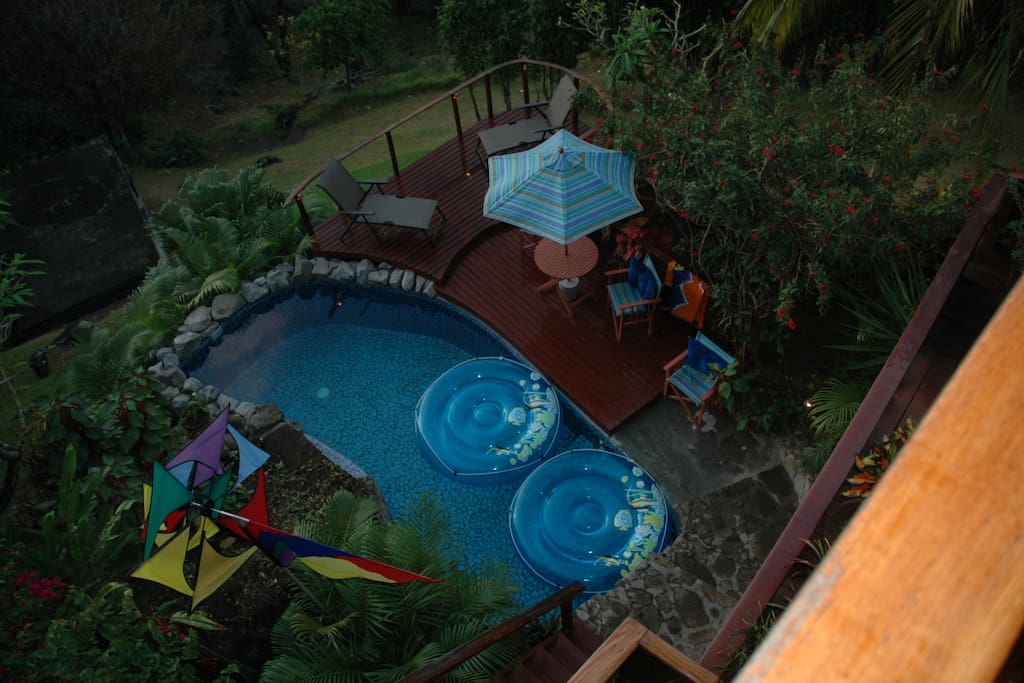 My place is close to Located on the Gros Piton . You'll love my place because of Open and beautiful. My place is good for couples and solo adventurers. This is a three sided Villa open to nature. It is the original design that Ladera Resort was constructed upon 10 years after our construction.
スペース
All rooms face the view of the Bay. We sit high on the Gros Piton so normally we have an nice breeze going thru the Villa. Nights are magical and with any luck you see the stars all night long.
At night the Villa does get dark and a flashlight is suggested.
We have wood floors which which when wet can get slippery.
Shoes are not needed inside of the Villa.
ゲストの立入り範囲
When you rent the Villa you are the only one staying at the Villa. Our price does change based upon the number of people who are staying.
ゲストとの交流
On your arrive, Mary will fix you a traditional St Lucian meal as our complements of coming to our Villa.
If you do not want to rent a vehicle, St Lucia drives on the left side of the road, inquire about being picked up at the airport by our staff and escorted to your destination in our SUV.
その他の特記事項
We do recommend bug spray if you get bitten. We are on the edge of the rain forest which attract insects. It also makes the yard beautiful.
At night we suggest that you put on bright lights away from your eating area to attract any flying bugs. This will make your dinner bug free.
- Prices for 2 guests, additional guests cost $25.00 per person per night
- Guest should self supply house with food
My boyfriend and I stayed here with our nine year old daughter for five nights. We stayed at the very beginning of June, which is not tourist season. We rented a car at the airport, so we were on our own regarding transportation. Our first stop was a grocery store near the airport, which I recommend stopping at for food/drinks, etc. Finding the house was a bit of an adventure, as the roads are not named. However, we were given a phone number for Pius before our trip and he was able to get us to the house. Once we arrived we were greeted by Mary and Pius who gave us a lovely tour of the home. The home and location are both absolutely stunning. Every room has a postcard view. After we settled in, we ate a delicious traditional meal which Mary had cooked. This was wonderful because we got to experience local cooking and we also didn't have to worry about dinner after a day of travel. The next day Pius rode with my boyfriend into the nearest town of Soufiere so we were familiar with the route. Over the course of the trip we stayed near the house. We enjoyed the volcano, a sunset cruise out of Soufiere, the Botanical Gardens, Sugar Beach and of course the pool located at the home. Some pointers/advice for other travelers: - The roads are rough in spots and quite steep. We were expecting this so we weren't surprised, but just mentally prepare yourself for that if your rent a car. - We traveled from the States and brought power adapters and converters, but there were plenty of compatable outlets in the home. No need to pack these items. - I live in Florida and get bit by every bug you could imagine. We packed plenty of bug spray, but didn't have to use it the entire time. I still recommend packing bug spray, but I was expecting itchy bites which none of us ended up getting.... don't get me wrong, we saw plenty of bugs, they just didn't bother us. - There are two powerful hairdryers in the house, so there is no need to use your packing space to bring one of your own. - I'm fairskined and did not need to use sunscreen. We spent most of our time under the shade of the vegetation, so I was almost as pale when I left as when I arrived. - We packed a few pool floats and a beach ball. If you have room I'd consider bringing floats if you plan on using the pool a lot. - Everywhere we went accepted US currency. If using cash, they do check to make sure the bills are not torn or overly worn. - You can eat at the resorts that are around (Sugar Beach, Ladera). Expect to spend about $50 US a person, which for us did not include alcoholic beverages. A burger is about $30 US. When you add...
---
Reluctant to write a review as we want to keep this magical haven ourselves!! Two couples and a toddler stayed four happy nights here and would've loved to stay longer. Maison Etoilles is utterly beautiful, situated with the most incredible views of the pitons. The beautiful location makes it very remote so hiring a car was a wise choice for us. However, if you aren't a confident driver Pius's services would come in handy. The house is spacious, beautifully decorated and well equipped. You really feel like you're living in a film set! It's open to the elements, so you really feel at one with nature and wake hearing the beautiful birds. With this comes a few bugs and visiting lizards. For most of us this just added to the experience! This was a truly memorable visit to St Lucia and one we hope to be able to repeat again. Mary and Pius made us feel more than welcome and tended to our needs while also giving us the privacy we were after.
---
Wow. Unbelievable villa, with an unbelievable view. We enjoyed our stay here tremendously. My fiance and I agreed it was like a treehouse for grown ups! Much preferable to the resort experience for both of us.
---