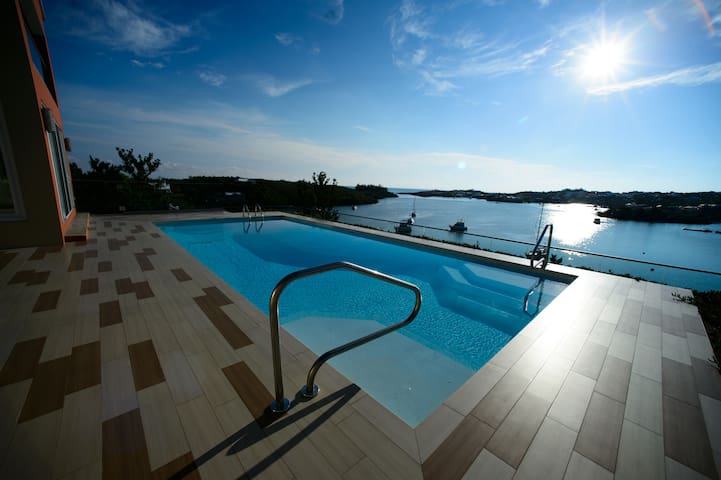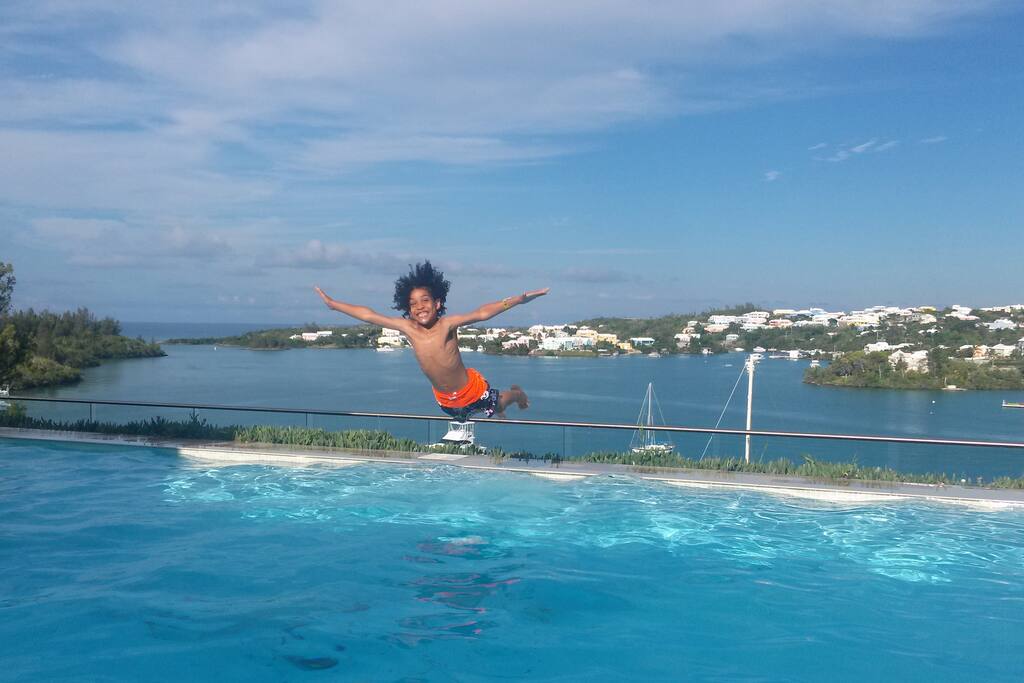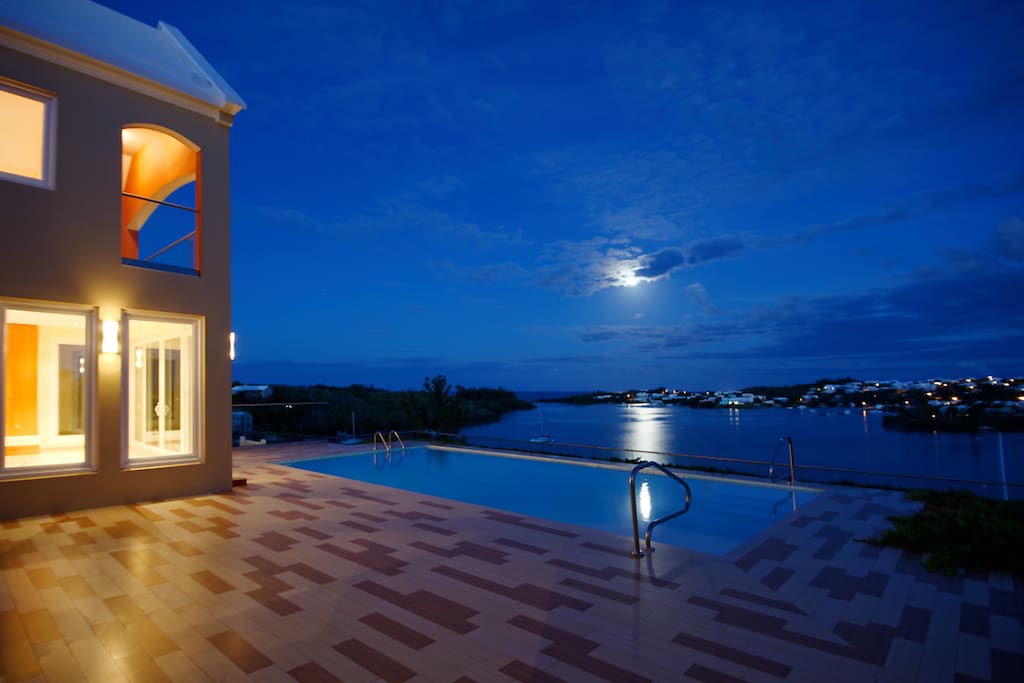 リスティングについて
Beautiful, modern and well appointed. This apartment is the ideal get away a quick hop, skip and jump from the East Coast.
N.B. *Due to high demand driven by the America's Cup from April to July, 2017, most hotels in Bermuda are either sold out or at peak pricing. If you're considering a Bermuda vacation during this time & wish to enjoy a premium vacation rental experience, please do not delay in booking your holiday. Book by the end of this month before rates rise or your dates disappear.*
スペース
This apartment overlooks one of Bermuda's most idyllic settings, just off The Narrows – a picturesque waterway between Smith Island and the mainland. Truly a sight to behold!
What makes this escape so special? This living space has been created specifically so it will be embraced as your home away from home.
Complete with a Zen garden, this apartment can be your refuge to help you recalibrate during your time away from 'the rat race' or be your recreational hub that will provide you with plenty of fun activities to enjoy while on vacation. All these elements blend together in unison to make this a place like none other.
And even better, you will be picked up at the airport by one of Bermuda's finest cab drivers and be welcomed to your holiday retreat so help ensure a smooth arrival.
ゲストの立入り範囲
Pool & deck area
Patio
Yard space
ゲストとの交流
As much or as little that is desired by the guests.
その他の特記事項
Travel from airport to your vacation home is included in the rate. Any deviations are highly discouraged and must be discussed in advance with the owner.
???Ask About???
* As a value added option an unlocked cell phone can be provided for your convenience. Bring your own SIM card or purchase a local SIM for an additional charge once here to avoid roaming charges.
*Other interests you may have, ranging from pre-stocking a few groceries or having a private chef to arranging professional massage services or holistic treatments.
*Special rates
---
---
---
---
Relax and enjoy everything that Bermuda has to offer!
There are a few things that will help make your stay even more pleasant:
- No smoking anywhere on the property.
- Please keep the living spaces tidy and clean, using the waste bins and hampers as required.
- Conserve on energy and water use.
- No running around the pool deck or diving
If you enjoyed yourself tell all your friends!
---
厳格
開始7日前までに解約すれば50%返金されます(サービス料も返金可)。
---
---
Mike was a great host and as others have said he has a beautiful view from his home. The house sits on a hill with a gorgeous view of an idyllic bay. We happened to stay just a short few days during the boat races, which was probably the busiest time the island has seen in quite a while. We therefore didn't have a lot of time to just chill at the house, which is its best feature. House is clean and modern. Small kitchen, with fridge, dishwasher, plates, cups, utensils, microwave and stove. Mike and pup are great hosts. Location is quiet and secluded But also somewhat far from island tourist attractions. Close to st George and it's quiet beaches as a reference point. Great breeze through the house, but only AC in one room, but probably not an issue for most of the summer. Just wish we had more time to properly explore the parts of the island that house is located. Scooter makes life easier to explore. Will stay with mike again next time we are on the island.
---
This apartment is oh so lovely. Mike's hospitality is unmatched and all of our needs were met. The apartment was clean and inviting. The view took our breath away and got us pumped for our Bermuda vacation!! The pool was a huge plus and inviting on hot days not spent at the beach or around town. A short walk to the bus stops on St. David's Road and Southside Road. It's also a quick trip to Clearwater Beach, which was very lovely in the late morning. One night we wanted to stay in so we took a short walk to get pizza and came home and watched a movie. You will not be disappointed if you book your stay with Mike.
---
Like most people in their right minds, I love Bermuda. We usually only get to experience the island while cruising so when my husband asked if I'd like to go for a week there, I would have had to be undermedicated to say no! I looked at hotels on the island and then found this hidden gem. I'm glad I did. Ah-may-ZING!!! A beautiful home with probably one of the most sweeping views in Bermuda. The pictures don't capture the beauty that welcomes you. The sunrises were worth waking up early for. Very comfortable and stylish accommodation with everything you need away from home. The apartment was perfect for us, we enjoyed having computer access, wifi as well as Netflix and Hulu. We rented a scooter to get us around and only used the bus once to spend the day in Hamilton. Most of our days were spent at the nearby Clearwater and Turtle Bay beach. The pool was perfect for relaxing at on those lovely Bermuda days with a refreshing breeze. You will be hard pressed to find a better area to escape to. Mike is a charming host. He made us feel very comfortable and at home. You will fall in love with his little Karma who is quite happy to share her backyard with you. Can't wait to go back! Cheers Mike!
---
Thank you Mike for being the best FIRST experience with Airbnb!!! Your hospitality and generosity was over the top!! We very much appreciated your constant communication while we planned our trip! Since it was our first time to Bermuda you made us feel at home and was able to help with planning our stay! Your home is beautiful and the view is breathtaking. The location is surrounded by the beautiful bay with a short walk to the dock. Mike made sure all of our needs were met during our trip, highlighting restaurants to dine at, venues to party and beaches to lay out. His home is welcoming and beautifully decorated with Bermuda charm! We thank you again for everything!!! Until NEXT TIME!!! Best Verai, Ni, Val and Yasmin
---
Incredible view from the unit. Communication was great and lots of information to see the area. It is not centrally located so transportation is needed. We rented mopeds and loved it . Moped company delivered right to the house and pick up which made it super easy. Getting out of any of the cities enabled us to see incredible stars at night. The views from the unit are spectacular. The unit was clean and everything worked well .
---
A fun loving traveller who understands the needs of those who want a carefree, memorable experience wherever they chose to venture.