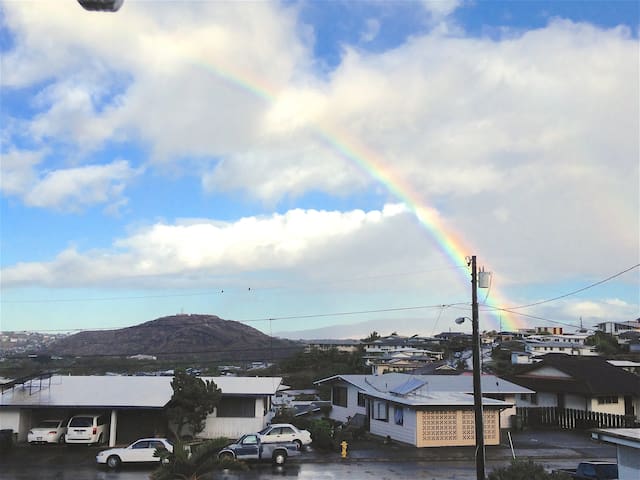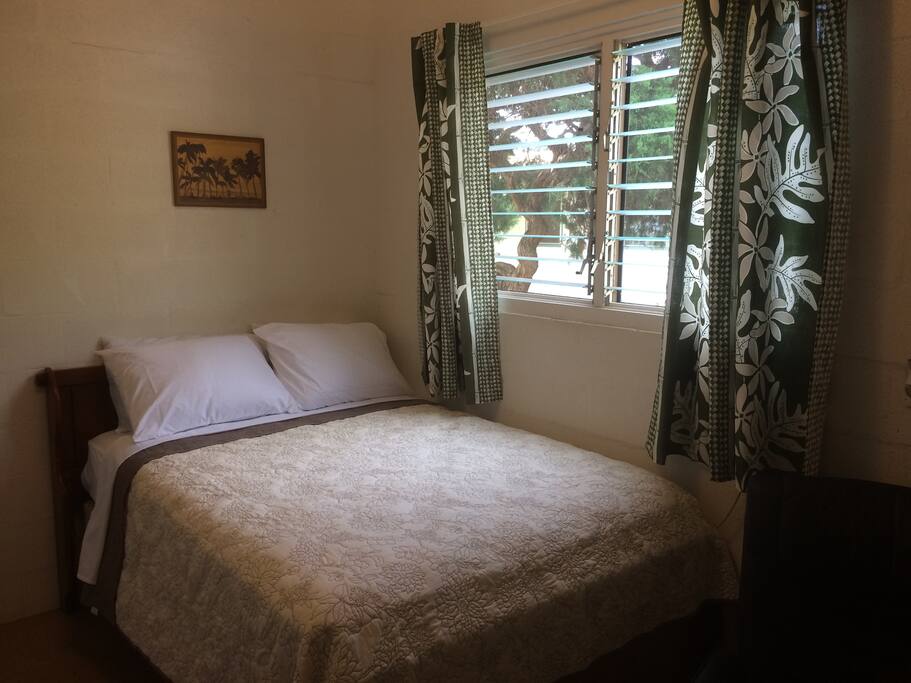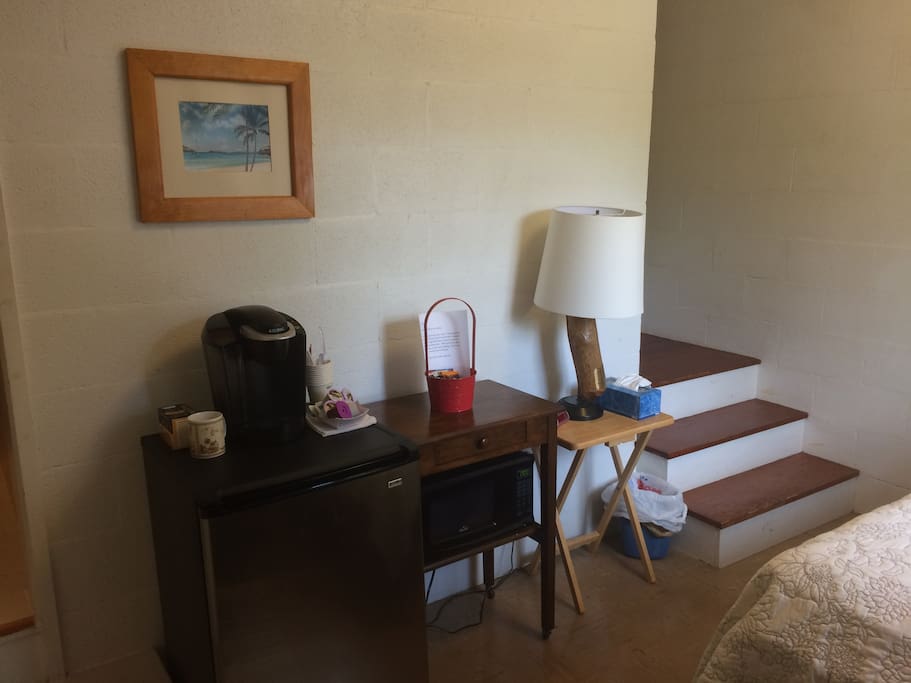 Tannen Garden Apartmentは、ホノルルの1ベッドルーム/ 1バスルームに非常に手頃な料金のホテルを提供しています。空港からわずか8分、ワイキキから18分の距離にあり、ハワイ旅行中に銀行を破棄せずに都会の便利さを満喫できます。 余分な時間があり、いつもハワイの滝を見たいと思っていましたが、あまりにも神経質になり、あなた自身で見つけることができない場合は、わずかな追加料金でどこにいるかを見せてください。
The Tannen Garden Apartment offers an extremely affordable 1 bedroom / 1 bath room in Honolulu without having to pay the expensive hotel prices. Located just 8 minutes from the airport and 18 minutes to Waikiki, you can have the convenience of a city stay during your Hawaii trip without breaking the bank!
If you have extra time and always wanted to see a Hawaiian waterfall, but are too nervous to venture out and find them on your own, let us show you where they are for a small extra fee.
スペース
これは3ベッドルームの家の下の1ベッドルーム/ 1バスルームのアパートです。客室には、大人2名で宿泊可能なフルサイズベッドが備わります。バスルームにはフルシャワーが付いています。 あなたが自然に座るのが好きなら大きなバックヤードへのアクセス マンゴーツリー、タンジェリンツリー、シトラスツリー 静かな近所 液晶テレビ&無料のWiFi Moanalua庭園は家から歩いています 家の近くでトレイルを走る アジアフードコート(Moanalua 99)2分 Safeway&Longsドラッグストア5分ドライブ 多くのプロとビジネスの旅行者は、空港、トリプラー病院、ダウンタウンに近接しているので、私たちのアパートで言うことを選んでいます。ワイキキの忙しい交通の喧騒から離れた居心地の良い近所に帰ることができます。あなたは旅行の間に滞在するより手頃で楽しい場所を見つけることはありません!
This is a one bedroom / one bathroom apartment on the lower level of a 3 bedroom home. The room has a full size bed that can easily accomodate 2 adults.  Bathroom has a full shower.
Access to large backyard if you like to sit in nature
Mango Tree, Tangerine tree, and Citrus Tree
Quiet neighborhood 
LCD TV & free WiFi
Moanalua gardens walking distance from home
Running trail near home
Asian Food Court (Moanalua 99) 2 minutes away
Safeway & Longs drugstore 5 minute drive
Many professional and business travelers choose to say in our apartment due to its proximity to the airport, Tripler hospital, and downtown while being able to come home to a relaxing neighborhood away from the busy traffic of Waikiki.  You won't find a more affordable and enjoyable place to stay during your trip!
ゲストの立入り範囲
完成したガレージから使用する正面玄関以外の別個の外装エントリーがないため、技術的には家全体にアクセスできます。しかし、問題があり、アパート管理者に話す必要がある場合にのみ、家の主要部分に来るようにしてください。あなたはバックラナイにあるランドリー施設にアクセスできます。あなたは家の側面の階段を上ってバックドアを通って入ることでそれらに行くことができます。
You will technically have access to the entire home as we don't have a separate private exterior entry other than the main entrance you will use through our finished garage. However, we ask that you only come up to the main part of the house if you have issues and need to speak to the apartment management. You will have access to the laundry facilities that are located on the back lanai. You can get to them by going up the stairs on the side of the house and enter through the back door.
ゲストとの交流
タネン・ガーデン・アパートの管理者は、家の中の2階で暮らしており、必要があればご利用いただけます。追加のボーナスとして、私たちはオアフ島周辺の数多くのハイキングの場所や滝に行ってきました。また、あなたが選んだ観光地にお勧めすることもできます。少額の手数料で、ハワイへの愛をあなたの旅行で共有することができます!
The managers of Tannen Garden Apartment live upstairs in the main part of the house and will be available if you have any needs. As an added bonus, we have been to numerous hiking locations and waterfalls around Oahu and can also recommend or take you to tourist locations of your choice. For a small fee, we are happy to share our love of Hawaii with you on your trip!
その他の特記事項
私たちは、滝や他のカスタムツアーの場所へのハイキングツアーを案内するために100ドルの料金を請求します。
We charge a fee of $100 to take you on any guided hiking tours to waterfalls or other custom tour locations.
- Hawaii GET License #: GE-(PHONE NUMBER HIDDEN)
- Hawaii TAT License #: TA-(PHONE NUMBER HIDDEN)
- Reservation Policy Check in time: 2:00pm. Check out time: 11:00am
- 1. The property is furnished and includes: 1 bed, twin sheet, flat sheet, comforter, 2 pillows w/ pillow cases, 1 dresser, 1 TV, small table, lamp, alarm clock, garbage can, 2 extra blankets, 2 bath towels, 3 hand towels, 1 wash rag.
- 2. Maximum Occupancy: The maximum number of guests is limited to 2 persons.
- 3. Minimum Stay: This property requires a 1 night minimum stay. Longer minimum stays may be required during holiday periods. If a rental is aken for less than 1 day, the guest will be charged the 1-night rate.
- 4. Access: Guest shall allow Lessor access to the property for purposes of repair and inspection. Lessor shall exercise this right of access in a reasonable manner.
- 5. Rental Rate and Fees:
- a. Deposit: A fully refundable deposit of $50.00 is due at the time of booking. The deposit is for security and shall be refunded within 14 days of the Checkout Date provided no deductions are made due to: i. damage to the property or furnishings; ii. dirt or other mess requiring excessive cleaning; or iii. any other cost incurred by Homeowner due to Guest's stay.
- b. Rental Rate: 50% of payment (including the following fees) is due at time of booking and remaining 50% of payment is due in full within 15 days of the Check-in Date:
- • Nightly rates subject to seasonal and weekend variance. Weekend is considered a Friday or Saturday night.
- •$50 NON-refundable cleaning fee
- •Service fee (if applicable). Example = Airbnb service fee
- •4.5% Hawaii GET (general excise tax)
- •9.25% Hawaii TAT (transient accommodations tax)
- c. Insurance: We encourage all renters to purchase traveler insurance.
- d. Smoking is allowed OUTSIDE ONLY. No smoking in the apartment under any circumstances.
- e. People other than those in the Guest party (2 max) may not stay overnight in the property. Any other person in the property is the sole responsibility of Guest. Guests are not allowed to exceed occupancy limit agreed to above.
- f. Guests should not create excessive noise at a level that disturbs neighbors; Code-enforced neighborhood quiet hours are from 10:00pm - 8:00am. No parties or events allowed.
- g. Home is privately owned; the lessor is not responsible for any accidents, injuries, or illness that occurs while on the premises or its facilities. The lessor is not responsible for the loss of personal belongings or valuables of the guest. By accepting this reservation, it is agreed that all guests are expressly assuming the risk of any harm arising from their use of the premises or others whom they invite to use the premise.
- h. Keep the property and all furnishing in good order.
- i. Pets are NOT allowed.
- j. Parking: Parking is limited to 1 vehicle. Please park on the left side of driveway as we park our cars on the right side.
- k. Housekeeping: There is no daily housekeeping service. While linens and bath towels are included in the unit, daily maid service is not included in the rental rate. We suggest you bring beach towels, however, we can loan you some beach towels if you ask. We do not permit bath towels or linens to be taken from the units.
- l. Garbage: If you need to take out the trash, please go through the garage door and walk down the driveway. The trash bins are located on the left side of the driveway. •gray bin = trash •green bin = yard waste •blue bin = recyclables (glass, plastic, cans)
- m. Common Areas: You may use the laundry machines located on back lanai of main house. You can access this by going up the stairs on the left hand side of the house and entering from the back door. Please remember to take your personal belongings after leaving the common areas.
- n. Storms: If there is a storm or hurricane, no refunds will be given unless: •The state or local authorities order mandatory evacuations in a "Tropical storm/Hurricane Warning area" and/or •A "mandatory evacuation order has been given for the Tropical Storm/Hurricane Warning" area of residence of a vacationing guest. •The day that the authorities order a mandatory evacuation order in a "Tropical Storm/Hurrican Warning," area, we will refund(URL HIDDEN) - Any unused portion of rent from a guest currently registered(URL HIDDEN) - Any unused portion of rent from a guest that is scheduled to arrive, and wants to shorten the stay, to come in after the Hurrican Warning is lifted; an(URL HIDDEN) -Any advance rents collected or deposited for a reservation that is scheduled to arrive during the "Hurricane Warning" period.
- Cancellation Policy If Guest wishes to cancel his/her reservation, the booking payment will be refunded as follows:
- •50% if cancelled 30 days or more prior to the Check-in date
- •25% if cancelled 14-29 days prior to the Check-in date
- •0% if cancelled 1-14 days prior to the Check-in date
- 1) Cleaning fees are always refunded if the guest did not check in.
- 2) The Airbnb or other travel website booking service fee is non-refundable.
- 3) Accommodation fees (the total nightly rate you're charged) are refundable in certain circumstances as outlined below.
- 4) If there is a complaint from either party, notice must be given to Wix Hotels or Lessor within 24 hours of check-in.
- 5) A reservation is officially canceled when: •Airbnb: the guest clicks the cancellation button on the cancellation confirmation page, which they can find in Dashboard > Your Trips > Change or Cancel.
- 6) Cancellation policies may be superseded by the Guest Refund Policy, extenuating circumstances, or cancellations by travel websites such as Airbnb (if used) for any other reason permitted under the Terms of Service. Please review these exceptions.
- 7) Applicable taxes will be retained and remitted.
- Clarifications:
- For a 50% refund of accommodation fees, cancellation must be made 30 days or more prior to listing's local check in time (or 3:00 PM if not specified) on the day of check in, otherwise a reduced refund is given as described below. If guest arrives and decides to leave early, the nights not spent are not refunded. For example, if check-in is on 15 September, cancel by 16 August before check in time for 50% refund.
- For a 25% refund of accommodation fees, cancellation must be made 14-29 days or more prior to listing's local check in time (or 3:00 PM if not specified) on the day of check in, otherwise no refund. If the guest cancels less than 14 days in advance, the nights not spent are not refunded. If guest arrives and decides to leave early, the nights not spent are not refunded. For example, if check-in is on 15 September, cancel by 1 September before check in time.