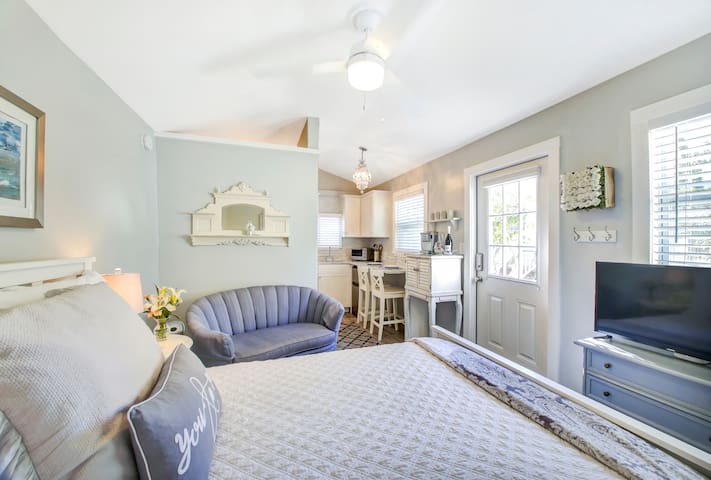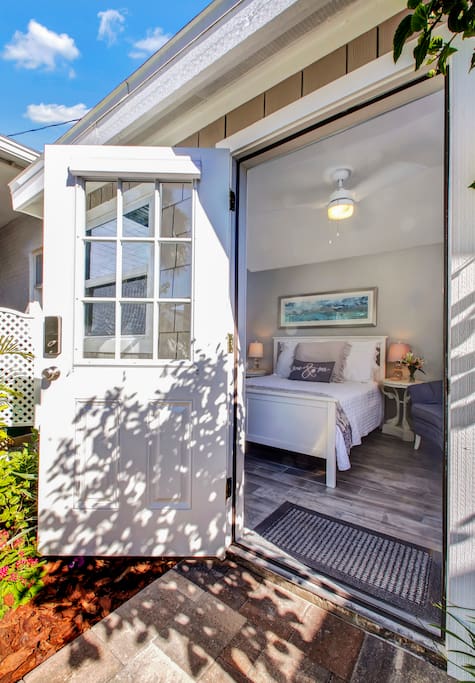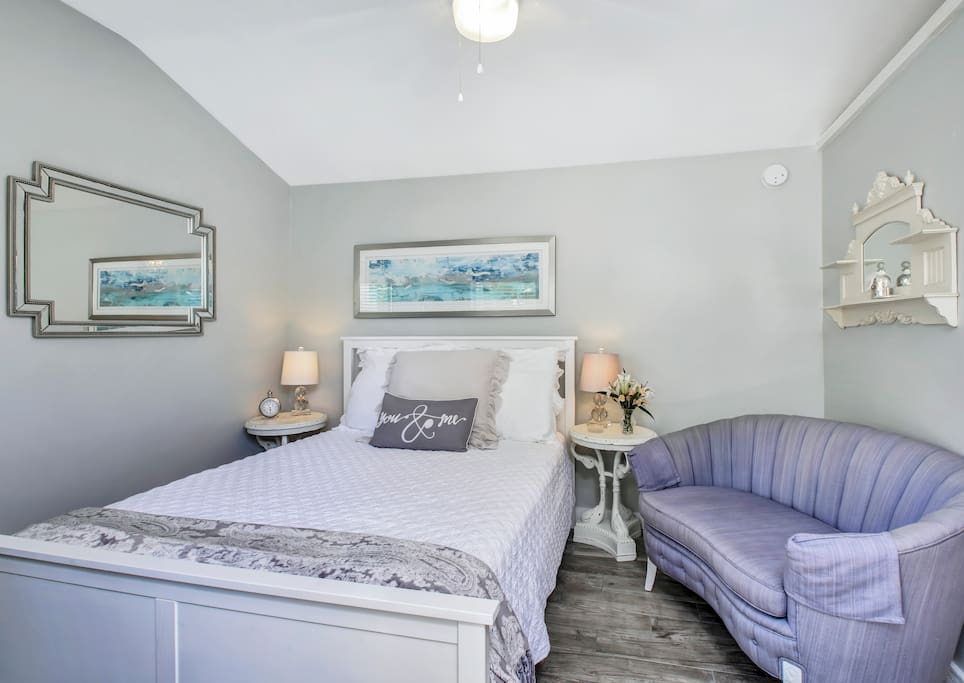 Small Space Living! NEW Studio Apt Steps to Beach!
Brand new listing! Amazing little Studio in Shabby Chic style with modern touches. Perfect for couples, newlyweds or solo travelers looking for some time away. Queen bed/full bath/kitchen w/mini fridge & counter seating for two/microwave/toaster oven/coffee bar/closet/Internet/flat screen TV, all inside this amazing little place. Shared amenities include treehouse deck w/gulf views/BBQ/laundry. Located in N. Beach area w/in easy walking distance to restaurants/bars/shopping/Pier/Marina. Parking.
---
---
---
---
Maximum two people in this unit at any time - strictly enforced! No smoking allowed inside the studio.
---
---
---
---
This place was perfect for our long weekend getaway to the beach! The studio was absolutely adorable and very clean. It had everything we needed. The beach was just steps out our front door, and we were also walking distance to all of the restaurants and shops! Andrea and Rob were great hosts! We can't wait to visit again in the future!
---
Andrea and Rob were awesome! They were willing to help and were very friendly. Great space with a great location. Very homey, but very clean and modern!! It is very small, but great to come back to for small periods of time and to sleep. You will be very close with your partner if your travel with someone!
---
The best of all world's! Your accommodations are so clean and well maintained you feel as if you are the first to stay. Kitchenette equipped so well we could make breakfast, or put together snacks or sandwiches. Frig is under-counter, but totally took care of soft drinks, eggs, cheese, dips we wanted on hand. Outdoor seating to relax, and the beach a short walk away. Noodles and beach chairs right there to use! Everything...shopping, dining... a pleasant walk away. Exploring Dunedin, Tarpon Springs a short drive away. Total relaxation the order for the day and the beach so close you can make it the center a large part of the day. Thoughtful placement outside of water to clean off the sand make multiple trips to the beach easy!
---
This place was lovely!! I love everything about it, Andrea provided everything we needed from household things to beach things. Me and my husband really enjoyed it and the beach was right there. We had no need to use the car, because the location was so perfect that we could just walk through the city. I HIGHLY recommend this nice studio.! It was perfect and I can't wait for my next stay there. Awesome host!
---
We had a wonderful time staying in this beautiful and cozy cottage and We loved being so close to the beach! Everything was super clean and as soon as we walked in, my husband said "this looks like you" so needless to say I LOVED the chic styling. If you haven't experienced the 4th of July fireworks in Clearwater Beach, I highly recommend doing so at least once in your lifetime. We stayed on the beach all day, watched the sunset then watched the fireworks and it was truly the most amazing thing we've ever seen! The night before we left, I accidentally knocked the towel bar out of the wall while getting out of the shower, I let Andrea know first thing the next morning and her husband met us outside to let us know that it was no problem and he would take care of it. We really appreciated how understanding they both were! Thank you Andrea and we will definitely be back!
---
Rob & I both grew up in California. I'm from the small coastal town of Santa Cruz. Rob grew up in Southern California in a town called Whittier. We met at an Anaheim Angels baseball game, eventually got married, moved to Atlanta & raised two kids. Before we knew it the kids were grown, flew the nest & we decided to leave the corporate world and live in Clearwater full time. We are restoring another Old Florida home and are excited to manage & host these wonderful properties to visitors from all over the country.