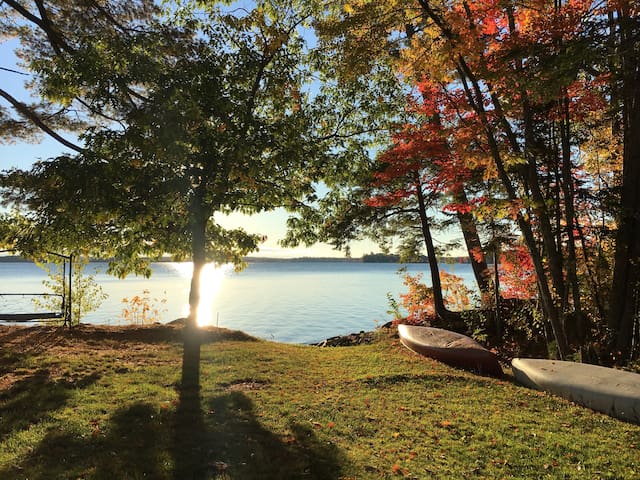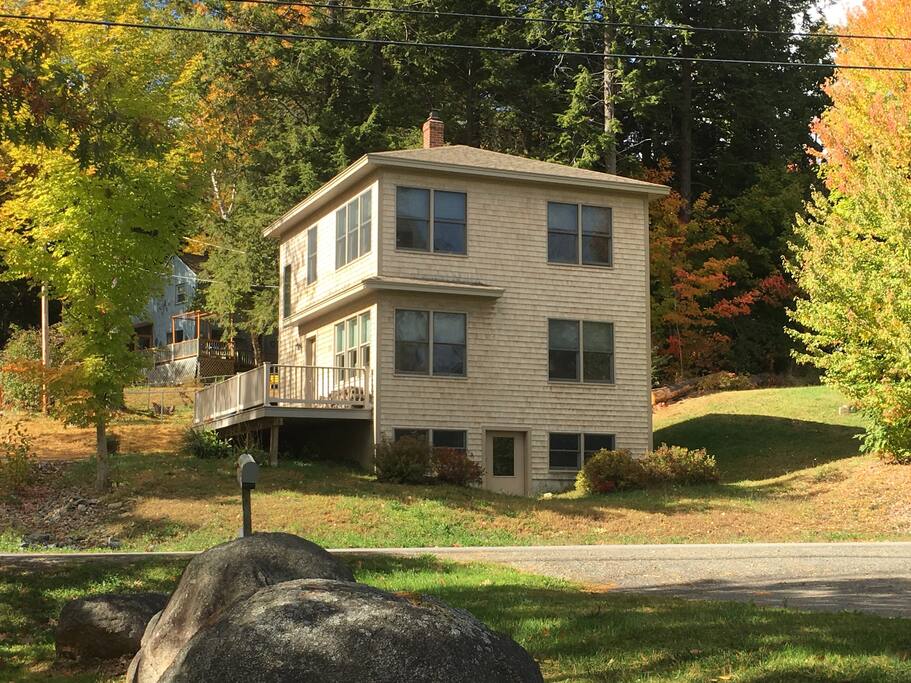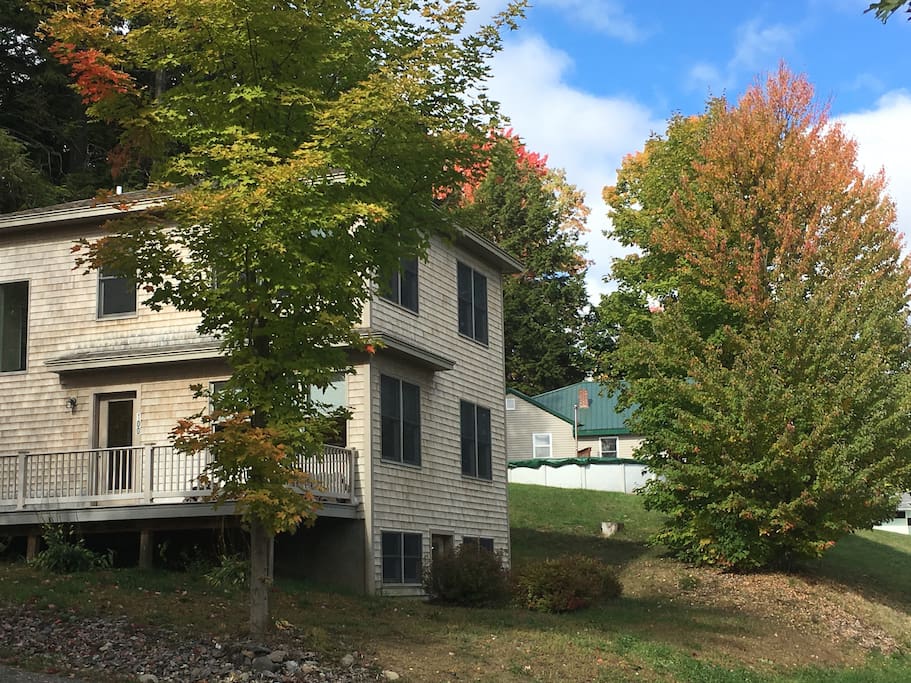 This serene 4 season lake house is on beautiful Pushaw Lake, just 10 minutes from downtown Bangor, the hub of central and northern Maine, and 15 minutes from the University of Maine at Orono. Spectacular leaf peeping opportunities in the Fall! Enjoy the quiet and tranquility of Maine along with access to great food, sightseeing, and a jump off point for many Maine tourist attractions. This upcoming fall enjoy cool breezes, beautiful days & wonderful Maine colors!
スペース
This newly constructed and cozy two bedroom home was designed to take in Pushaw lake views with maximum sunlight! The open and spacious floor plan and radiant heating provides a wonderful vacation experience. There is lake access for both winter and summer sporting or for simple lakeside dreaming and an evening serenade by our resident loon family. The house is within 10-15 minutes of Bangor for shopping, dining, and entertainment, and within an hour of a variety of Maine coastal towns for your sightseeing pleasure. We are also within 15 minutes of the University of Maine in the quiet college town of Orono. We love this part of the country, as undoubtedly will you!
ゲストの立入り範囲
Guests have access to the lake and ample parking. Roads are plowed in the winter with a number of both summer and year round residents on the landing.
ゲストとの交流
Emilia is your gracious host, and will be readily available for any questions you might have about the house, property, and services.
その他の特記事項
- IMPORTANT! For those with pet allergies, although we don't allow pets, there have at times been dogs and cats in the house. We do our best to keep the house clean of dog and cat fur.
- Airbnb deducts a service fee for their overhead, and The State of Maine collect a 9% occupancy tax, both of which are auto-"magically" added to your bill.
In order to make sure that you have a comfortable stay at our home, we've put together the following set of "house rules."
1. Smoking is NOT allowed in the house. IMPORTANT: If you smoke in the house you will forfeit the security deposit. Also please do not leave cigarette/cigar butts or anything else smoking related on the property.
2. Pets are NOT allowed. If you have a service animal please contact us before arriving.
3. Parties or events are NOT allowed. This is a quiet neighborhood with a number of working residents.
4. You must let us know of any guests that stay overnight in the property. During the day, any guests on the property are your sole and complete responsibility.
5. Please keep the property and all furnishings in good order.
6. Please only use appliances for their intended uses.
7. Please do not park on the right of way from the main road to the house driveway. This is also a right of way for other residents up the hill. Park only in the house driveway in front of the deck steps on the side of the house, or out on the main road (of course in a way that does not block traffic.)
8. Housekeeping: There is no daily housekeeping service. Sheets, towels, and toiletries (shampoo, conditioner, soap) are provided. We encourage guests to bring their own beach towels.
10. Water and Septic: The house is on a well and septic system. Please DO NOT FLUSH anything other than toilet paper. Please also do Not flush feminine products.
11. Weather: Unfortunately no refunds will be given for storms or inclement weather. The summer months in Maine are usually comfortable and lovely, spring and fall beautiful, brisk, and chilly, and winter, well, winter is winter. As they say up here, "If you don't like the weather report, wait an hour, and tune in again." With that said, we encourage guests to pack for all weather conditions.
12. Insurance: We encourage all renters to purchase traveler insurance.
Indemnity Clause: The Renter covenants with the Homeowner to indemnify the Homeowner in respect of all liabilities, fines, suits, claims, demands and actions of any kind for which the Homeowner may become liable by reason of breach or nonperformance by the Renter of any covenant, agreement or proviso of this Lease, or reason of an act or default by the Renter or member of his or her family, household or guests. This indemnity shall, where the breach, nonperformance, damage to property, personal injury or death occurs during the term of this Lease, survive termination of this.
最低2泊
2017年12月09日 - 2017年12月10日は最低1泊
Everything you could want in an Airbnb! Emilia/Larry/Leslie were in contact with us right away. They are friendly and helpful. The property is just as described. Very private and secluded but convenient to activities and restaurants by car. Kitchen was very well stocked so you can easily eat in. We had a very nice stay and definitely would visit again!
---
Larry and Leslie pay attention to detail and are always available to give helpful hints. You can't go wrong staying at their wonderful spot in Glenburn. Their manager Emilia is the perfect hostess.
---
We had a wonderful stay at Larry and Leslie's place for the Memorial Day weekend. Checking in was easy and upon arrival the house was clean and well appointed with everything we needed. The area is very quiet and relaxing. Being only 15 minutes from Bangor it was perfect for our concert at Darlings. We enjoyed cooking dinner in the kitchen one night and walking down to the lake. Orono was about 20 minutes away and had a great brewery and pizza restaurant. We visited Fort Knox and the observatory also the Cole land transportation museum which are both excellent. I would recommend this stay for anyone looking for a relaxing weekend away.
---
The place is very clean, homey and comfortable. The view from the deck and windows facing the lake is beautiful and relaxing. We really enjoyed our stay!
---
I had a wonderful visit here with my wife, one-year-old daughter and mother-in-law during the height of the Maine Winter. The setting is amazing--Pushaw Lake is a beautiful backdrop that you can't help but enjoy. We spent time out on the frozen lake introducing our daughter to the joys of making snow sculptures, and of course eating fresh snow. There was a major storm while we were there and the house was a total refuge--it was warm, comfortable and quiet our entire stay. The kitchen/dining/living space has tons of light and we spent lots of time there reading, drinking hot cider, and playing with our daughter. Also, the radiant floor heating feels very luxurious when it's cold outside. Bangor and Orono are close by so there were plenty of nice restaurants to keep us busy and well fed. We saw lots of live local music and weren't left wanting for anything entertainment-wise. As far as the hosts go, Larry and Leslie made everything incredibly easy for us--there were clear instructions for how to use everything in the house. It was clean (even clean enough for my mother-in-law who is notoriously picky!) and there is nice artwork throughout which was a nice touch. The internet and TV worked smoothly which came in handy the day we were snowed in. In short, we had a great stay at 100 Luckey's Landing. The lake setting is stunning, and even though we were there in the Winter, I'm sure the Summer is equally as special, if not more so. I encourage anyone who wants to experience Maine to stay here and soak up all the area has to offer.
---
Larry and Leslie were great hosts and made sure that our late arrival went smoothly. They stayed in contact and took the time to compile a binder that included the extra details that any guest would need to feel comfortable around the house and around the area. The house is in great shape and well maintained with all the amenities. Pushaw Lake is across the street and with the house facing due east, the morning light was wonderful. Maine's night sky was also great to see thanks to their location with unobstructed views from the lake's shore. Acadia is an easy 55 mile drive as are the Maine Highlands with groceries, restaurants and Bangor airport just 10-15 minutes away. We look forward to heading there again!
---
We are Larry ( a recently retired Computer Science faculty member) & Leslie, (a singer, artist and free spirit ), We are musicians, enjoy all types of people, and love to have fun. We travel and use Airbnb, and also have an Airbnb home in Maine. We've made this home into what we trust is a comforting restful space for Airbnb travelers! It is a blessed space created for your enjoyment. :-)