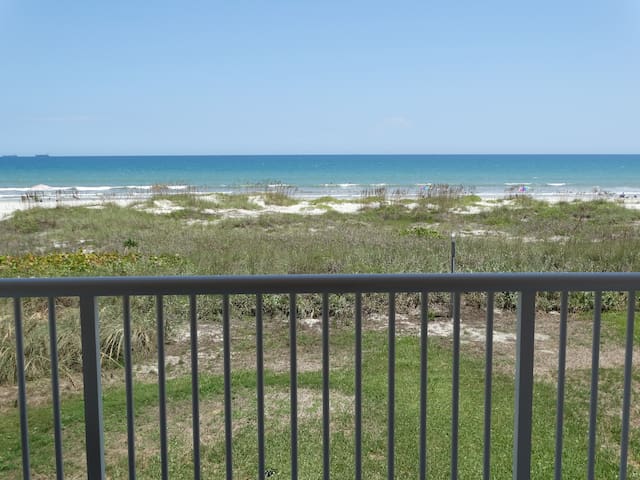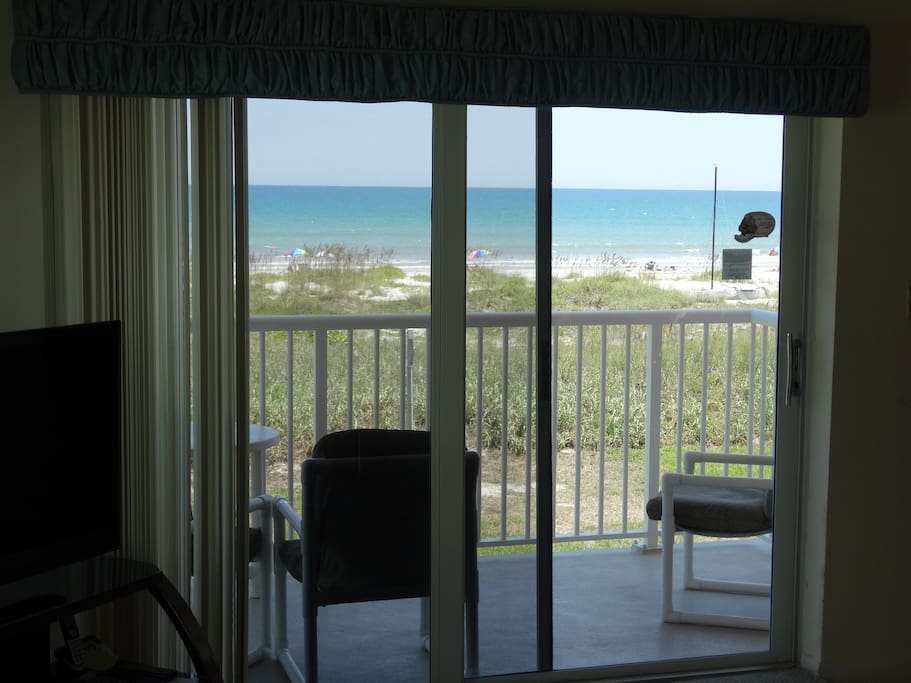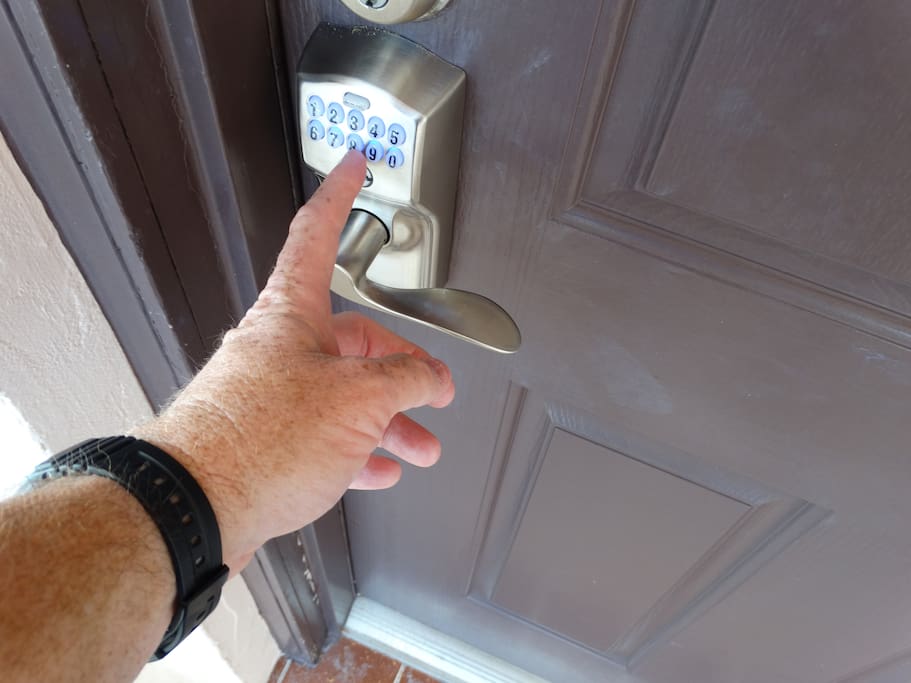 Stay in the MILLION DOLLAR VIEW Condo! Positioned PERFECTLY on a Corner for MAXIMUM Ocean Views! You are overlooking the beach and the beautiful warm blue surf of Cocoa Beach! Elevator, FREE Blazing fast Wifi, Garage parking, and MORE!
This will be your BEST vacation EVER! My place is good for couples, solo adventurers, business travelers, families (with kids), and big groups!
---
---
---
連絡は常にAirbnbを通して行いましょう
お支払をお守りするためにも、Airbnbのサイトやアプリ以外の場所では決して送金や連絡を行わないようご注意ください。
詳細はこちら
---
- Property: 35 Sunflower St #61, Cocoa Beach, FL 32931 DEPOSIT: $250.00 USD PER WEEK BOOKED - DUE ON VALID CREDIT CARD AT TIME OF BOOKING. DECLINED CREDIT CARDS WILL RESULT IN REJECTED BOOKING. BY CLICKING ACCEPT BELOW, AND ENTERING A VALID CREDIT CARD, YOU ARE AGREEING TO RENT FROM VACATIONCENTRALFLORIDA LLC. This is fantastic news about you coming to the Beach! Here is your SPANISH MAIN #61 CONFIRMATION and CONTRACT. Please print this out for your records. There is NO SMOKING in the Condo at any time. Once we receive your deposit, we will send you a receipt. Then, 30 days prior to your arrival your remaining balance is due, which we will charge at that time by using the credit card you have entered. We will send you a check-in email with full check-in instructions, directions, and wireless internet access password is in the Welcome Notebook in the Condo. Your check-in instructions will be sent once we receive your final balance at 30 days to arrival. Your condo can be seen at (URL HIDDEN) No need to bring any towels or bedding, hair dryers, etc, as all are provided. There is also Laundry INSIDE THE UNIT for you to use if needed. Shampoo is not provided. There is a PUBLIX grocery store within a half mile of the Condo. We have a local manager, Lee Harrington, who resides in Cocoa Beach. Her name and number is inside the unit. Lee will be available at all times should you need anything with regard to the Condo during your stay. You will LOVE it and will have a fabulous time at #66 and at beautiful Spanish Main right on the beach! The Beach is beautiful, the area is fantastic, and you can walk to amazing restaurants and nightlife in seconds. Thanks again, feel free to write or call me with any questions, and start preparing for a fabulous beach vacation! -Dave Dave & Patti Robinson ((PHONE NUMBER HIDDEN) (URL HIDDEN) (URL HIDDEN)This agreement is by and between Dan Monaco (Hereinafter referred to as "Owner") and Guest including Guest's family listed above (Hereinafter referred to as "Guest"). 1.) PETS. Our units are kept completely free of dander and any other animal allergens. There are to be NO pets in the unit or on the balcony/lanai by Guest at any time. Any Pets found in any unit by building management will incur an immediate $500 Animal Clean and De-Allergenize fee, and guest will face immediate eviction by authorities with no refund of any monies paid. 2.) SMOKING. There is to be NO SMOKING in the unit or on the balcony/lanai by Guest at any time. Any smoking smell found in any room will incur a $500 deep clean fee, and guest will face immediate eviction by authorities. 3.) UTILITIES. Owner is responsible for the payment of all utilities and services during Guests stay, including electric, cable TV, Local, and Long Distance USA and Canada Phone calls. Overseas, out of the country, and any Toll calls or charges made (including calls to 411 connect, information, etc) which appear on the phone bill are NOT included and will be charged to guests account, credit card on file will be charged the balance. Air Conditioning operates at 75 Degrees Fahrenheit (22 Celsius); Air Conditioning Unit will Freeze and Fail if thermostat is set BELOW 75 degrees Fahrenheit or windows or doors are open when the air conditioning unit is operating regardless of thermostat temperature. Guest will be responsible for service call and repair fees if unit fails due to freezing. Heat operates at 68 Degrees Fahrenheit (23 Celsius). Hot water tanks set at 120 degrees max to prevent burns and scalding. We advise operation at 103 to 108 degrees Fahrenheit. Any tampering with, or resetting/clearing memories or disconnecting modems, thermostats, routers, or other equipment will incur a $200 reprogram fee. 4.) CONDO RULES. Guest agrees to abide by all Condominium Association Rules and VacationCentralFlorida LLC policies with regard to all aspects of entry, accommodation, behavior, and rental of the unit. Policies are subject to change at the discretion of VacationCentralFlorida LLC. Maximum Overnight Occupancy for Unit #61 is FOUR (4) persons. 5.) ORDINANCES AND STATUTES. Guest will comply with this agreement, all statutes, ordinances, and requirements of all (Cape Canaveral) municipal, state and federal authorities now in force, or which may later be in force, regarding the use of the premises, including, but not limited to, the use or sale of illicit drugs. Maximum Overnight Occupancy is limited to 4 Guests. Failure to abide by any local, municipal, state, federal authority or ordinance, including occupancy limit, NO PETS Policy, or any part of this agreement, will result in guests immediate eviction by authorities with no return of deposit or payments. Any fines, charges, levies, or assessments by authorities or Condo Association or owner as a result of guest activity or behavior are the sole responsibility of guest. 6.) ASSIGNMENT, SUBLETTING, CLOSURES. Guest will not assign this agreement or sublet any portion of the premises. Guest listed above must be the occupying party. On occasion, the HOA will close, limit, or otherwise make some amenities unavailable for use within the property. Owner has no control over HOA closure policies or dates affected, and offers no compensation for any closure or maintenance decisions made by the HOA to restrict guest usage or cause inconvenience with regard to any part of the property. 7.) MINIMUM AGE TO RENT. Guest must be 25 years of age to rent this property. There is no minimum age required of Guests accompanying children. 8.) MAINTENANCE, DAMAGE, ARTICLES, AND REPAIR. Guest acknowledges that, unless the Owner is notified immediately upon occupancy, the premises including the furniture, furnishings, appliances, linens, towels, silverware, dishes, cooking utensils, etc. and all other parts and equipment of the rental are in good working order and repair. Any damage occurring to any appliance during Guests stay caused by improper operation or Negligence on the part of Guest will be repaired or replaced at Guests expense (examples: Guest placing clothing with sand, or other damaging material etc into the washer/dryer, operating AC with windows or doors open, resetting internet connection modem/router settings, freezing up AC unit, overrunning water, breaking plumbing or electrical equipment or outlets, clogging drains, toilets, etc). Guest will keep the premises in a clean and sanitary condition, and will immediately notify Owner of any damage to the premises or its contents, or any inoperable equipment or appliances. Any inoperable equipment during guests stay or prior to guests stay will be repaired as soon as practical, local conditions allowing, and no compensation for such will be paid to guest. Guests will check out with the premises in as good condition as received upon check in. Guest is responsible for lost or stolen articles. $39.99 shipping fee required to return ship an item left behind by guest, in the event it is found. Owner reserves the right to collect payment for damages or replacement from Guests credit card if such damage or loss occurs during guest stay. 9.) ENTRY AND INSPECTION. Owner or owners agent(s) will have the right to enter the premises during guests stay in case of emergency, to make necessary or agreed repairs, decorations, alterations, improvements, supply necessary or agreed services, or for any other reason deemed necessary by owner. Entry may be made only during normal business hours. Upon checkout, the premises will be inspected and any missing furnishings, equipment, appliances, supplies, or damage to the unit and any such missing equipment or damage will be the responsibility of the Guest. 10.) LIABILITY, NON DISCLOSURE, DISPARAGEMENT AND RELEASE. Guest and Guests party agree that as a result of their stay, prior to, during and following their stay, VacationCentralFlorida LLC, Unit Owner(s) and website will not be liable for any damage, injury, or death to Guest, or any other person(s), or loss or damage of any property, occurring on or in the premises, in or around any pool(s), in any common area, or while in transit to/from the premises. This includes, but is not limited to any loss, damage, injury or death as a result of act of God, declared or undeclared act of war, terrorist attack, act of nature, criminal or mischievous activity, accident, guest medical condition known or unknown, contact with or while in, or on, a motor vehicle, bicycle, wheelchair, scooter, or other means of transportation, other guest, employees and contractors, while operating, or the failure of, any related or unrelated equipment or property, guests contact with plant, animal, insect, reptile, allergen, mold, bacteria, fungi, virus, chemical, gas, fire, liquid, pathogen, person, or any other thing or environment which may cause Guest or Guests party any damage, injury, suffering, loss, or death. Owner is not responsible for any existing or unknown Guest health condition and accepts no responsibility for such. In addition, for valuable consideration, the receipt and sufficiency of which are hereby acknowledged, Guest does hereby remise, release, and forever discharge VacationCentralFlorida LLC, website, websites owner, agents and assigns, Vac(URL HIDDEN) and Vacatio(URL HIDDEN) any owner(s) of any website(s) indirectly or directly promoting units(s), unit(s) owners ("Owner"), Owner's agents, servants, successors, heirs, executors, administrators and personal representatives, of and from all, and all manner of, actions, causes of action, suits, proceedings, debts, dues, judgments, damages, claims, and demands whatsoever in law or equity, which Guest ever had, now has, will have in the course of their stay or in the future, or which Guest's agents, heirs, executors, administrators or personal representatives hereafter can, shall, or may have for or by reason of any matter, cause, or thing whatsoever, past, present, or future. Guest and Guests parties, families, and Guest retained third party agents agree they will not disclose, publish, publicize, or disseminate, or cause to be disclosed, published, publicized or disseminated, any information relating to the contents of this agreement or Guests stay. Guest, their parties, families, and/or third party agents agree that before, during, after, or following termination of this agreement, that they will make no statement, written or oral, about VacationCentralFlorida LLC, any of its employees, contractors, units, websites, company practices, or details regarding current, future or past stays and opinions of such, unless specifically approved in writing by VacationCentralFlorida LLC. It is agreed and accepted that Owner is under no obligation to respond to any third party agent retained by Guest. 11.) DEPOSIT. The deposit returned with this agreement will secure the performance of Guests obligations. Owner may, but will not be obligated to, apply all portions of said deposit on account of Guests obligations. If Guest credit card charge for payment is declined, this booking is immediately forfeited and no refund will be given. Any additional fees owed by guest per this agreement will be collected by credit card charge prior to, during or following guests stay. 12.) CANCELLATION. Guests staying two weeks or less may cancel prior to 60 days to arrival for any reason and deposit will be 100% returned minus applicable fees. It is necessary to notify Owner as soon as possible. If two week or less Guest cancels from 60 to 0 days of scheduled arrival, attempts will be made to re-rent canceling Guests accommodation. If unit rents at canceling Guests rate, canceling Guests full payments minus applicable fees will be refunded. If unit re-rental requires a discounted rate, canceling Guest will receive what the unit rents for (the discounted rate) and does not receive the difference. If the unit does NOT re-rent if canceled inside 60 days, canceling Guest forfeits all payments. For stays longer than two weeks, cancellation requirement threshold increases from 60 days to 120 days to arrival date. Discounted rates are published. Check-in day threshold applies to all contiguous dates within a cancelled booking. Movement between units or rescheduling of dates is considered cancellation of original booking. If unit becomes uninhabitable prior to guests arrival or during stay, Owner may choose to relocate guest into a unit of equal or better accommodation, or fully refund Guest for unused nights and cancel the agreement. All traveling groups booking simultaneously or individually that are booked for the purpose of simultaneous group multi-unit occupation (i.e. Sports Teams, Reunions, etc) require payment in full at time of booking, and cancellation date threshold as outlined above becomes 365 days required for re-rental notice effective immediately at time of booking and full payment. 13.) CHECK IN, CHECK OUT AND KEY RETURN. Guest agrees to arrive AFTER 4PM on day of Check in. Arrival before 4PM incurs an immediate $150 EARLY CHECK IN FEE. Guest agrees to vacate rented premises no later than 10AM on Check Out Day and to return the keys/transmitters for garage, etc immediately to their holder inside the Condo. Guest will pay $150 per lost garage transmitter. Unauthorized Check out AFTER 10AM on Check out Day will result in forcible eviction by authorities plus $150 late check out fee. 14.) WAIVER. Failure of Owner to enforce any provisions of this Agreement will not be deemed a waiver. 15.) ENTIRE AGREEMENT. The foregoing constitutes the entire agreement between the parties. Please sign electronically below. In the event of an Act of God, (e.g. fire, mandatory evacuation due to hurricane) You will be issued a refund for the day(s) that you are required to evacuate. VacationCentralFlorida LLC 5044 Tildens Grove Blvd, Windermere FL 34786 I (we) agree maintain the property in the same condition in which it was found. I (we) agree to replace or pay for losses, breakage or damage should such occur, and to abide by all parts of the above agreement.
---
---
最低7泊
2017年10月09日 - 2017年12月22日は最低2泊
---
Welcome! 2018 will be our 14th year that My wife Patti and I have been renting all of our Vacation Homes! It all started when we thought that Condos and Hotels were TOO EXPENSIVE for families to enjoy, so we wanted to do something about it. We bought our first Condo, set the prices low (we were not trying to make a killing) and people loved it as a concept. Well, it grew from there. Now we own, manage, and rent our many vacation homes, renting to over 2,500 Happy Guest families just like you every year at two great Florida locations: Cocoa Beach, and right outside the Main Gate at Walt Disney World! It keeps us very busy and we love it. The best part is helping our guests have a fabulous stay while in Florida without charging them an arm and a leg as they say. We want you to have a fantastic time in any of our wonderful and Gorgeous Vacation Homes.

About us: We grew up in the Midwest - Columbus Ohio, and Naperville, Illinois. We made the move down to Sunny Orlando to be closer to (and manage) our Vacation Homes. We live here now, running all of our properties from right here locally, it is a family business. We pride ourselves (since we live local), on taking great care of our vacation homes, and doing the same for our guests. We are your guaranteed source for area information!

Important Difference with us: Every one of our Vacation Homes is fully legal, Licensed and registered as a true Vacation Rental - we are State of Florida and County of Brevard and Osceola Licensed, so there are no rookie host "surprises", you can relax and focus on just having a GREAT Vacation and making great memories! If you are looking for the real thing, you have found it! Come experience the best, you won't forget it or regret it! Serving Happy Guests Since 2005.

-Dave and Patti Robinson, Vacation Central Florida