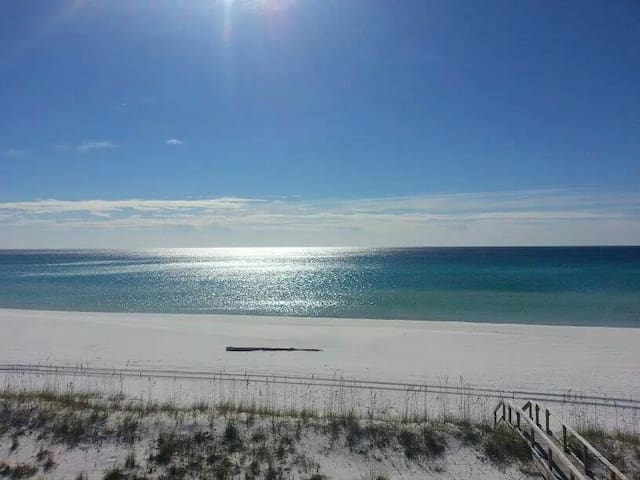 Beach across Street! Gulf Views! 2Bd/2 Bth on prestigious and private Holiday Isle in Destin, FL. Sleeps 6 4 adults in 2 bedrooms, kiddos have the living room pullout sofas. 28 foot Boat slip included /dock access on north side of property for your fishing pleasure, water taxi! Bring your Boat for fun or rent jetskii, kayak, Yolo board! Secured Wifi for our corporate relocations and guests trying to get away but need to check in with emails!
スペース
Across the street from the Beach, views of the water from most rooms, and 28 foot boat slip is included with dock access and fish cleaning station. We offer a pet friendly condo/ villa. Home Owners Association restricts pets under 35 pounds & no puppies under 6 months of age. We have other properties that may be more pet friendly for larger dogs. Enjoy our beach villa located on the 2nd floor with vaulted ceilings. Which means the quiet of no one above you and the metal roof with rain makes this a restful stay! Also, Holiday Isle is a prestigious private subdivision...you will feel safe, pampered, and surrounded by multmillion dollar homes and their guestsWe provide 3 large bags of ice for summer guests. It is stocked inside frig on your arrival. No early arrivals during summer season unless (Maybe) we can manage schedules with guests departing, have advanced notice, while accommodate with houskeeping's busy summer season schedule. It is mosy definite in the off season (seasonal rates). We do our best to take care of our Employees and Guests do come first, within reasonable parameters. We have glowing reviews! And, we ask you send your requests to me directly or call maintenance directly - their number is posted on the frig for you with urgent items, etc. Thanks so much for your consideration of our home recently upgraded with new beds, flat screens throughout and black out curtains! Enjoy our hard work for your relaxing Views, home away from home, and exciting new restaurants and beach access down 3 houses to the right! Directly across the street! &, Please do not forget to walk past our million dollar neighbors home, wave and say Hi to them!! We are in the deep South and Hospitality still lives on!! Thanks, Suzette
ゲストの立入り範囲
Beach access across the street is three houses to the right (west). We provide beach gate code on arrival with door entry code.
ゲストとの交流
Emails, cell (texts) after hours. Calls Monday through Friday 9am to 5pm. Maintenance contact number and my number is posted onsite for any Emergencies / after hours. Emergencies on Sundays - maintenance charges double. Which means, please keep it to plumbing or electrical ( Air conditioning) urgent requests till Monday morning.
その他の特記事項
If under 25 years of age, we require an additional (refundable $200-$400 depending on ages) deposit, additional cleaning charge will be added $35, and approval by mgmt is necessary. If under 21 you are not able to rent unless military or approval. Fees will apply for younger adults via (SENSITIVE CONTENTS HIDDEN). I will invoice you to your cell number after initial payment if that helps. (Total to be agreed upon may be $235 -$435 - depending on underage occupants). Families are not included in this increase in amounts, only spring breakers and/or young adults.
追加人数の料金 ¥1169 / 泊 (4名を超えると1名様増毎に加算)
お支払をお守りするためにも、Airbnbのサイトやアプリ以外の場所では決して送金や連絡を行わないようご注意ください。
共用スペース
シングルベッド1、ソファーベッド1、ソファ1個
Have Fun and Enjoy your View of the Water. Pets are only allowed if under 35 pounds at this location. However, we have another property which is more pet friendly as an option for you. Smoking allowed on balconies if using an ashtray, then clean up after use/ your stay. No cigarette butts left behind, thanks. Your access to the Beach directly across the street is our gated access past multi million dollar (three) houses to the right (west). Beach walkway access walk down east 4 lots, then left or south at red flashing stop sign is
gate code for beach c16 at Morena st.  Fyi Gulf shore dr., Beach access Morena St.&Gulf shore dr. go three houses to the right, then beach access is on the left.
Maximum number or guests is 6 ( including children.) Pets are extra fee per night and are acceptable if under 35 pounds due to Homeowners association regulations and upon approval. Additional fees are incurred with pets per night $10/night plus pet cleaning $50 ( depending on length of stay we can adjust for our longer stays). With approval and typically not in summer or march spring season, Early check in is $45 before 4pm. Late checkout may be approved,if not, $100 fee may be kept due to housekeeping tight peak season schedule. Please park on south side of building located within view of your location and do not block mailboxes- thanks.
Boat dock use with boat requires insurance declaration page on file with our onsite dock master. Boat trailer parking is offsite, email for options. Trash taken out , especially on departure. Towels hung on towel racks to dry, Not On Furniture or outside balcony railings. Courteous noise ordinance is 10pm , for quiet with our friendly neighbors. We have been in business for over 18 years in Florida and never had an issue before...we like to keep it that way! This makes you and our employees enjoy their stay and work much better.
If under 25 years of age, we require an additional Refundable deposit $250-$400 depending on age below 25 years plus additional cleaning charge will be invoiced see below. Approval by mgmt is necessary. If under 21 you are not able to rent unless military or prior approval. This will apply for younger adults via (SENSITIVE CONTENTS HIDDEN) invoicing. I will invoice you to your cell number or email after initial payment if that helps younger adults for a 2 payment plan. (Total to be agreed upon will be extra cleaning $175 instead of $139 - depending on underage occupants). Families are Not included in this additional extra pricing, only spring breakers or young adults under 25 years. Maximum occupancy is 6 for this condo across the street from the beach! Rates are seasonal and for 4 guests standard.
We have many returns so we look forward to having you back again! House rules/ agreement must be signed at arrival or emailed prior. Please use the mobile app for additional information.
RENTAL AGREEMENT Destin Sands
Check in dates on AIRBNB… at 4:30 pm, Check out 10am.
****Upon receiving your deposit, Copy of Drivers License ( 1st time guests required & can be taken by phone and texted), if using the boat slip ( hoa requires a current insurance card copy) a signed and dated copy of the Rental Agreement, then a rental confirmation will be emailed to you.***
Once we receive full payment for your reservation, we will email you directions to the unit and the lock code to access the condominium.
HOUSEKEEPING
When you arrive, the home will be clean and set up with linens and as a courtesy we have included the following list of supplies to accommodate you.
Bath Towels, hand towels, wash clothes, paper towels, dishwasher soap, hand soap, toilet paper.
Pets allowed only at Destin Sands upon approval and under 35 pounds due to homeowners association regulations. Guests who bring pets need carrier for pet to not be alone without supervision. There is an extra daily fee ( monthly rate is discounted for you) keep our home comfortable and healthy for the next guest.
This is a non-smoking home. You are permitted to smoke outdoors on the balcony. Butts are to be disposed of properly and not left anywhere on the property. Any violation of the smoking police will incur a fine and if additional cleaning is necessary to remove smoke odors from the home and/or linens, costs will be subtracted form you deposit. Please close balcony door so smoke nor humidity does Not come into our beach home.
Keep the doors closed to keep bugs and moisture/sea or salt air out of home, electronics, and dry-wall. This keeps our home healthy and prevents rust, mold, and mildew which provides your comfortable home away from home.
CHECK-IN & CHECK-OUT, Reservation dates on book it now or emails stated.
Check-in time is no earlier than 4:30 PM; we will accommodate your early check – in providing we do Not have a guest checking out the same day earlier.
Check-out time is 10:00 AM. We will need to have time to clean the unit prior to the next check in. If you need additional time please call to make sure we do not have anyone else checking in that day or the next morning as we will need time to clean the unit. If you do not call and end up staying longer you will be charged a one (1) additional night's stay. Early check in or check out fee will apply plus tax.
CHECK-OUT PROCEDURES
Prior to check-out, please sign our guest book.
All dishes should be put in dishwasher and dishwasher turned on.
Beds may be left unmade and sheets and pillowcases left on. We Prefer you strip the beds of just sheets and pillowcases ( no bedspread unless they have gotten dirty ) then start in hot water and soap in the washer the day of departure.
Towels put in laundry room or hung to dry in 1/2 bath on hooks behind extra bathroom door to keep from mildewing. We recommend washing these in hot water and soap the night before departure so they can be thrown in the dryer for housekeeping to finish folding. This keeps our linen service costs down.
Make sure trash is picked up and put in trash can. We will dispose of trash bags (should you be staying for an extended period of time ( over 2 days), you will need to take trash out to dumpster on-site which is north of community between building 2 and 3, your stay is in building 4). This keeps our Florida Home pest free.
We will not be responsible for personal items left behind, lost or stolen. We will try to accommodate request for items left behind provided you pay for mailing of items sent, which may be taken from damage deposit.
ADDITIONAL TERMS
You must be 25 years of age to rent this home and provide proof of age. (guests under 25 with approval and $500 deposit required.)
The home has a maximum occupancy of 6 guests. Rates are for 4 guests and seasonal. Winter Rates are 2 guests and seasonal. Renters who exceed the occupancy limit and falsify occupancy information at time of reservation are subject to eviction and deposit surrendering. Please let us know if you have an infant that does not require regular sleeping accommodations, we will consider an extra little one. We provide a pack n play and booster high chair with small amount of toys and books for the kids! Standard rates are 4 adults.
Beach bikes are provided and tucked away in laundry room if not needed. They have locks which need to be used if an excursion. Savings for you $60/ week for 2 adult beach bikes, we offer as a courtesy for staying with us! The bikes can not be left outside in rain to prevent rust from salt air, also.
House parties are strictly prohibited and grounds for immediate eviction.
Illegal substances are strictly prohibited and grounds for immediate eviction.
Any exceptions to the rules and regulations as written here, must be approved in writing in advance.
Force Majeure, there may be circumstances beyond our control and contemplation, in which the property might not be available for you booking. Examples of these include (but are not limited to) destruction of or severe damage to the property. In the event of Force Majeure, we will do our best to help you make alternative arrangements. Should we not be able to secure another location we will gladly refund all monies paid. This will be the full extent of our liability to you in such circumstances, and we will not be responsible for any other costs connected with any such cancellation, what so ever arising.
I HAVE READ AND UNDERSTAND THE RULES AND REGULATIONS. I CERTIFY THAT I AM AT LEAST 25 YEARS OF AGE AND THAT I WILL BE HELD RESPONSIBLE FOR THE CARE OF THIS PROPERTY BEING RENTED UNDER MY NAME. I ACCEPT FULL RESPONSIBILITY FOR DAMAGES OR EXTRA CLEANING CHARGES, SHOULD THEY BE DISCOVERED DURING OR AFTER DEPARTURE.
Destin Sands 705 Gulf Shore Dr., Unit 402, Destin, FL 32541
Print Name:
Print Address:
City(URL HIDDEN)State(URL HIDDEN) Zip:
Best Cell or contact #/ Ipad address when traveling:
SS #
Car Models and tag #'s if not renting a car to be on-site:
2 car spaces available below unit on south side of building, please do not park in front of mailboxes.
Your Best contact email address during stay if bringing a smartphone,laptop, or tablet(URL HIDDEN)wireless is privately Secured at our home.
pet fee is $15/ night
Thanks for your payment through AirBNB ( AirBNB pays booking fees with credit cards so please disregard this fee below, pet fee waived as a last minute special.
$250 if over 25 years of age, (If under 25 years ($500, $250 will be invoiced via (SENSITIVE CONTENTS HIDDEN) and returned via (SENSITIVE CONTENTS HIDDEN))) Deposit secures your reservation, is fully refundable and has a small 4% transaction fee with credit card payments on (URL HIDDEN) ( $10.00 estimate). $250 deposit will be refunded within 25-30 days after departure. Items can be paid with check or money order to avoid 4% transaction fees. $250 Deposit secures your reservation, is fully refundable, doubles as a damage deposit, and has a small 4% transaction fee with use of a credit card on (URL HIDDEN) With Air BNB deposit is returned after departure.
Thank you for your payment and deposit
Your Reservation is confirmed. Please contact Suzette Smith, if you need to cancel ASAP (requires a 15% rebooking fee for emergencies, etc.) or have any questions.
Signature: ________________________________________
Date: ________________________
(URL HIDDEN)Attention: Suzette Smith
Email (EMAIL HIDDEN) (SENSITIVE CONTENTS HIDDEN) charges 4% on credit cards and needs to be added to payments. Or,
Call or text for account information in making payment for extension of stay if possible, or immediate confirmation.
Or, Mail payment and overnight packages accepted at PO Box, to the following address:
S. Suzette Smit(URL HIDDEN)PO Box 9162, Miramar Beach, FL 32550
Cell (PHONE NUMBER HIDDEN) (VIEW)
Fax number upon request
Please remember this is someone's vacation home; please treat it as if it were you own.
We welcome you and hope you enjoy your stay. We appreciate your comments.
Please contact me if you have any problems or concerns. I will give you the Best service and take care of your vacation needs.

Security/Damage Deposit
A security deposit of $250.00 is required to hold your reservation. A personal check or money order is fine. Please only one check for the rent and one for deposits, or one for both. Once the deposit, copy of driver's license and signed rental agreement is received, your dates are officially reserved. Full payment of your stay must be received 60 days prior to arrival (some exceptions may apply).
upon your arrival, the $250.00 deposit converts to a damage deposit. If the following provisions are met,
Your deposit is refunded just days of your departure.
No damage is done to the property or its contents.
No linens or household items are missing.
Homeowners regulations are posted in the master. Please do not hesitate to ask questions.
No late checkouts unless approved/please contact manager if you like to check out late $39 fee plus tax = $45.
House has not been smoked in (may smoke on balcony only and not litter below).
No extra guest staying in the unit.
No drinking parties or loud music.
Payment. Sea star (URL HIDDEN)
We accept payment by deposit into bank account, personal check, money order, or (SENSITIVE CONTENTS HIDDEN) - give my email address.
Payment in full must be received before entry codes are sent.
Call, text, or email me when payment has been made so I can mark the calendar immediately and send entry & wifi secured codes with your payment clearing.
CANCELLATIONS. Rebooking or cancellation fee is 15%.... unless Hurricane evacuation.
During Summer season, If you cancel more than 60 days before check-in your security deposit will be returned.
If you cancel less than 60 days before check-in, you may forfeit your deposit.
If you cancel or reschedule we will refund your payment for lodging only if unit books the dates that you cancel. I will assist in rebooking for you since situations may arise with a rebooking fee of 15%. There will be no refunds for any reason during summer season unless I can book it for your scheduled dates. This is due to peak season demand, housekeeping and maintenance scheduling, & reservations tightly adhered to for guests check in and check out. During slow season we need 60 days in advance to do our best to rebook your stay if you cancel. You will receive your full deposit if there is a mandatory Hurricane evacuation or prorate money back on days lost if involuntary evacuation during stay. I hope you enjoy your stay and return with us.
Thanks for your business, S Suzette Smith
Sea Star Leasing and Management LLC
We provide more details printed on the frig and inside the guest book for your stay to be most Enjoyable!
We moved to Florida 18 years ago. We had rentals as a hobby, then realized our 3rd generation family's expertise could be more helpful to others than we realized! So, our hobby on the weekends became our business. We enjoy hospitality to be shared, keeping our employees busy with work to provide for their families, and want to hear about our Guests/Customers Enjoying our peaceful and cozy home across from the Beach! Please do not forget to sign our guest book so we can keep you up to date on or emails, however you prefer! Thanks and we hope you enjoy staying with us - which means we will expect your return, too! Our goal for you is to have rest or excitement for your stay...your goal is to find which you want that day! We keep a "concierge" book with locals restaurants, bars, and adventures so you can either plan ahead or see what your family wants to do together. And, for your beach days, bring a book, but we keep kids play toys and chairs and umbrellas for those sand building or keeping your toes in the Sand!
言語:
English