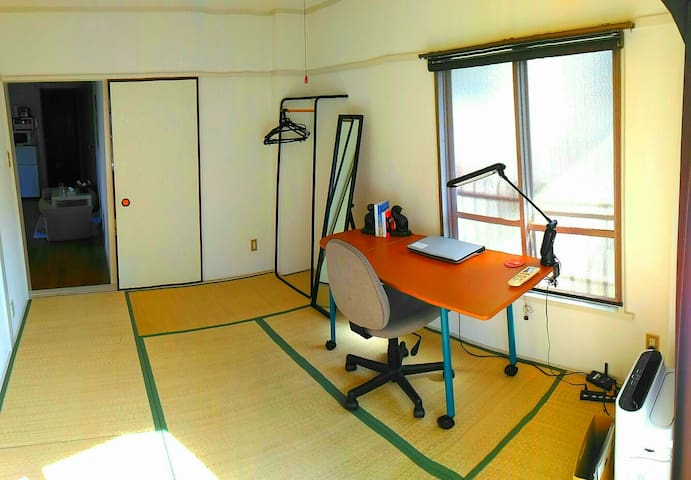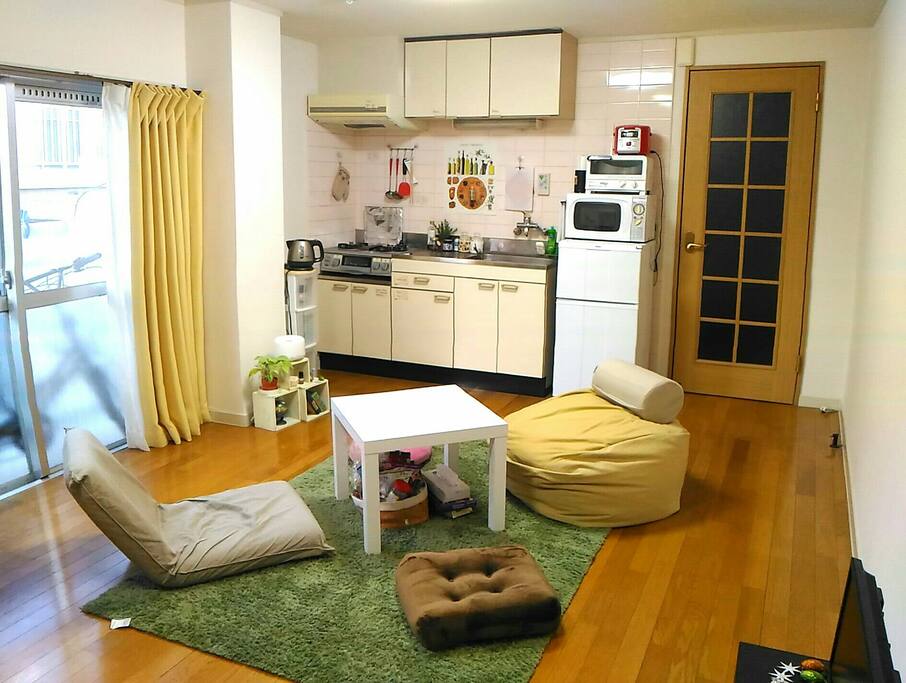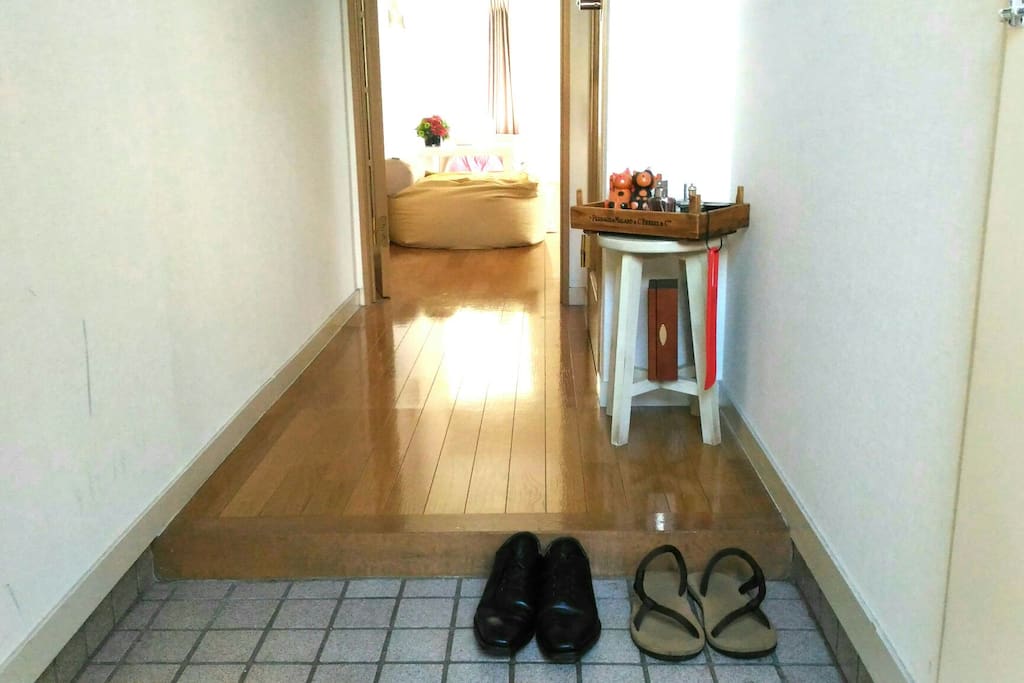 リスティングについて
[About Me]
I speak fluent English and German.
So feel free to ask me anything about your stay!;)
[Area]
"Nakameguro" has many shops & restaurants along a river, yet very quiet & safe.
It's a home for many celebrities and embassies.
The best place to live in Tokyo!
[Room]
1 shared dining & 2 private rooms
[Access]
Shibuya: 10min by train / bike, 30min by walk
Roppongi: 15min by train
Tokyo Station: 25min by train
Haneda Airport: 45min by train
Narita Airport: 90min by train
スペース
[Rooms]
- 1 dining room w/ kitchen (share) 16.5 m2
- 1 guest room (private) 8.8 m2
- 1 host room (private) 6.2 m2
- 1 bath room w/ shower & bathtub
- 1 toilet room
ゲストの立入り範囲
[Guest room]
- Japanese traditional style: "Tatami" (straw knitting floor) has very relaxing scent, and we Japanese feel at home when we feel it.
- Balcony
- Dell PC
- Hanger
- Mirror
- 6 Outlets
- Air conditioner
- Air cleaner
- Kleenex
- Umbrella
[Dining Room]
- Spacious & relaxing
- Always have fun with friends!
- Sofa
- TV
- Wii
- Mini drone
- VR box for smartphones
[Bathroom]
- Laundry & Detergent
- Hair dryer
- Toothbrush
- Razor
- Comb
- Shampoo
- Body soap
- Facial soap
[Kitchen]
- Oven
- Refridgerator
- Microwave
- Toaster
- Tableware
- Glass
- Plates
- Kitchenware
- Pan & Pot
- Cereal
- Rice
- Oil, and other seasonings
[Ride]
- Bike
- Car (it's free to get on my ride! If you want to drive by yourself, you have to rent it with a mobile application "Anyca" for the insurance. \5,400/d)
ゲストとの交流
[Communication]
- I usually get back home around 7-8 o'clock on weekdays, then we can hang out to get some food and drinks together!
- Weekend plans vary time to time, but you are always welcome to ask me to take you somewhere interesting.
- I've got a car, so I can take you to the suburb too!
- Sometimes, I invite my friends to my house, so you can join our fun meet-ups! (I will always tell you in advance when my friends come to make sure if it is ok for you.)
その他の特記事項
[Attention]
- Guestroom does NOT have a lock, though I strongly promise I keep your privacy. Thank you for your understanding.
---
---
---
---
チェックイン時間は、12:00から23:00です。
---
普通
開始5日前までに解約すれば全額返金されます(サービス料も返金可)。
---
---
First : Ken was an amazing host. He helped for the accommodations, obviously, but also for places to discover, grab a meal, visit... He can give you great advices and you won't see time passing when talking about the Japanese way of life and culture. He started with amazing indications to find his appartment, and for the all week I stayed with him he was always kind and genuinely helpful. Second : The place is clean, really convenient, and has everything you'll need to live during your stay there. Three : The area... that's just the cherry on the cake. NakaMeguro is amazing ! And I didn't get there during the cherry blossom... You have plenty of really cool places, cafe, bar, restaurant, small fashion shops. It's really lovely, quiet, and you are so close to the sub station, you can get to everywhere quite easily. (URL HIDDEN) (URL HIDDEN) (URL HIDDEN) (URL HIDDEN) (URL HIDDEN) (URL HIDDEN) (URL HIDDEN) Premièrement : Ken est un super hôte ! Il m'a vraiment aidé pour le logement, bien sûr, mais m'a surtout donné des bons plans pour les endroits à découvrir, les bons coins où manger, les visites... Il peut donner de super conseils et vous ne verrez pas le temps passer à parler avec lui de la vie à la japonaise et de la culture du pays. Il a commencé en mettant la barre haut, avec de super indications pour venir de l'aéroport à l'appartement, et pendant toute la semaine où j'ai été là-bas il a continué sur sa lancé en étant toujours super sympa et aidant. Deuxièmement : L'appart est super clean, vraiment pratique et équipé pour tout ce dont on peut avoir besoin pour un séjour à Tokyo. Troisièmement : Le quartier... C'est juste la cerise sur le gateau. NakaMeguro c'est génial ! Et je n'y ai même pas été pendant la floraison des cerisiers. Il y a des tonnes d'endroits cools, des cafés, des restaurants, des petits bars, des petits magasins géniaux... C'est super calme et en même temps ultra près de la station de métro, donc vous pouvez bouger assez rapidement de partout.
---
First time using Airbnb and it was a perfect booking. Ken was always there to help with giving advice on places to go / food to eat. The room was clean and had all the amenities one could need and looked just like the pictures. Ken sometimes brought over his friends which was awesome to meet new people and talk about their experiences. If i am ever around Tokyo again i would choose Ken's place! Thank for hosting me!
---
Nakameguro was a perfect location! It's very close to the train station, which allows you to get anywhere you need. The neighborhood is in a quiet residential area, but just a few stops away from Shibuya & Roppongi for some night life. The river also has some nice views & plenty of shops for you to check out as well. Ken invited me out to dinner my second night there - I got to learn more about the area and culture. He was a great host and responded to any inquiries very quickly. His house is VERY spacious compared to the majority of apartments around the area as well as it is suited for a family.
---
Amazing! The location was perfect for getting to anywhere, the room was a great size, WiFi was excellent, quiet apartment/neighborhood, great balcony off my room, easy to do laundry, there was a work table for my work, Ken was always so nice, and I even got to practice my Japanese with his friends one evening. I stayed for 30 days, and I hope to be able to stay again when I come back. Just wonderful!
---
Ken's place has more than just the basics for a proper staying, it also is around many good places for food, which Ken is kind enough to provide you a map when you arrive. Ken as a host is a top tier one. Very kind, willing to help with any doubts and also wanting to spend time with the guest, I highly recommend his host company as is one of respect, kindness and fun. You won't regret choosing this place, for the good location, good room and excellent hosting.
---
Ken is a wonderful host , in fact he is the only best! There is no doubt about it! :) That's why I highly recommend him! He was always very kind and friendly , and willing to help me out getting to know more about the area, Tokyo and Japan in general and for that I am very thankful! I really enjoyed talking with him about so many different things! His English skills and communication skills are perfect! The area is very beautiful , peaceful and has a very positive and quiet atmosphere in its environment! I personally really loved walking near the Meguro river anytime during my stay there, I even went jogging many times, it was amazing! :) The area is very close to Nakameguro station and has also lots of different types of shops for clothing, souvenirs and many more, including restaurants so you can taste the best variety of different delicious Japanese food! His place is very tidy, clean and very comfortable to live in! If I ever come back to Japan I will always choose Ken's place! :) xx Thank you kindly very much Ken! xx
---
Thanks for looking at my page!

I lived in Seattle U.S. for a year, and in Hamburg Germany for 2 months.
So I speak both English and German.

I have hosted many people, and love to tell what to see & how to get around in Japan.
So feel free to ask me anything about your stay!

I love to backpack around the world, so would love to share our travel stories together!
I've been to Thailand, Cambodia, Burma, Vietnam, Laos, Phillipines, Taiwan, China, Korea, Australia, Maldives, Tahiti, Germany, Austria, Hungary, Poland, UK, US, Mexico, Costa Rica, Jamaica, Cuba, Dominican Rep, Ecuador.

My favorite things are...
- hiking
- jogging
- bouldering
- hammock yoga
- driving
- jazz, classic, and other music
- coffee
- rahmen

I work for a web cloud service company near my house.
9-18 o'clock weekdays.

I'm trying to start social business in the future.
I'm pretty target oriented, and like to do things that bring more peace to the world :)