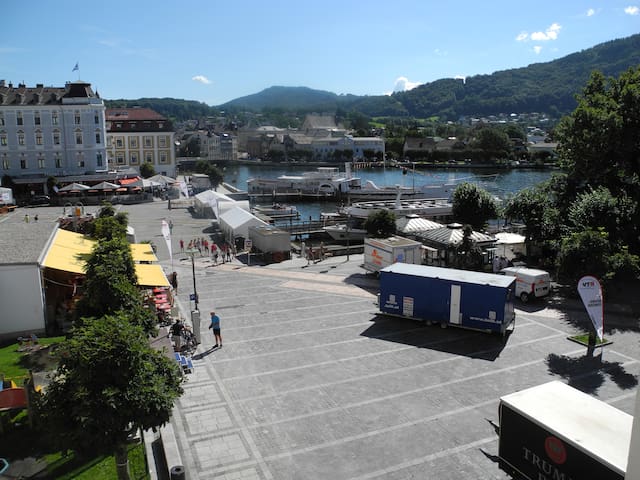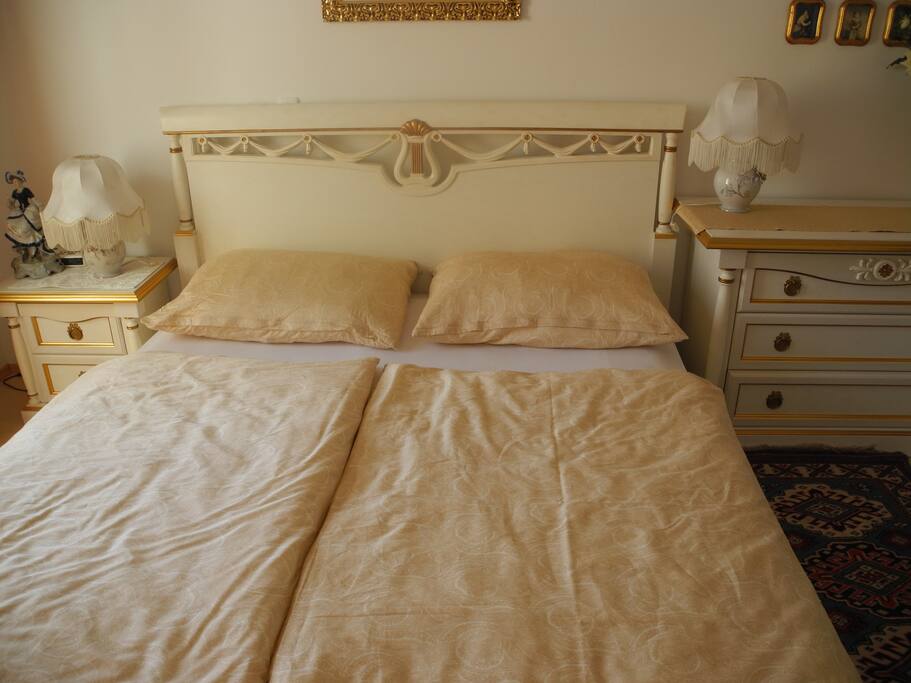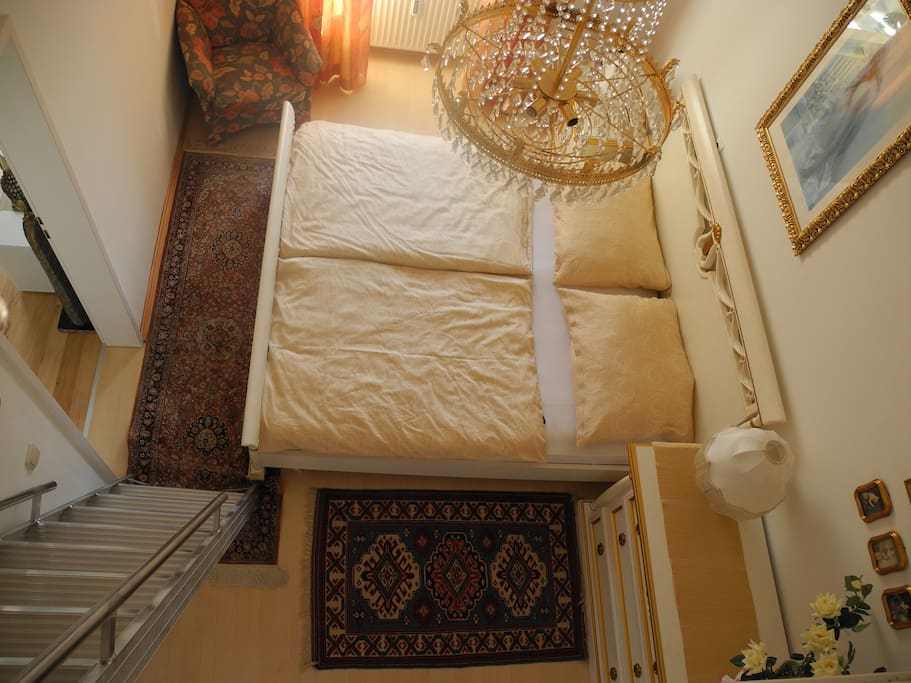 "small and cosy" with a fantastic view over the "Traunsee" in the city center of Gmunden. It is located on the 1st floor (formerly "Hotel Austria). Shops, Cafés, cinema, theater, restaurants next door.
A great location for summer and winter activities in and around Gmunden.
The "Grünberg" funicular an the "Castle Ort" is reached by feet.
スペース
The flat offers a livingroom with TV and a extendable couch for 2 persons, a separate bedroom with a doublebed (180cm) and a gallery with a bed (140cm), - bathroom with shower/toilet and washing maschine, good equiped kitchen and a dining table and a coffee maker (Nespresso).
ゲストとの交流
We are always available via Airbnb, if you have any questions.
その他の特記事項
Below is the Segafredo, where it can often be more lively on the weekends and possibly some music.
Absolutely loved staying in Sabrina's apartment! It was my fathers first visit to Austria and he was so happy staying in Gmunden. He wants to go back soon! Sabrina was very good at communicating, always checking in on us and the apartment was clean and plenty of room for all of us! Thank you Sabrina for making our time so memorable. We can't wait to come back!
---
If you haven't been to Gmunden in Upper Austria, you'd better be sure you get to heaven when you're gone because I believe these two places are the one and the same! Located at the northern end of Traunsee, Gmunden is the most beautiful place I have seen in the 35 years I have been traveling internationally. That's why my wife and I keep coming back. Sabrina's apartment is roomy and all about the best location anyone could want to spend time walking, riding the lake boats, and dare I forget eating? The city is host to many wonderful and outrageously affordable restaurants. Traunsee is Austria's premier "sailing lake" so sit in front of Sabrina's building for an hour or all day long if you wish. And shame on you if you don't have a camera handy so you can bring photos home to prove this place really is a touch of heaven.
---
Wir waren für 4 Übernachtungen bei Sabrina und es hat uns sehr gut gefallen. Die zentrale Lage ist perfekt, um die Umgebung zu erkunden. Das Zimmer war sauber und der Check-In verlief reibungslos. Zudem war der Kontakt sehr nett. Wir hatten eine tolle Zeit und würden auf jeden Fall wiederkommen!
---
Die Wohnung liegt zentral mit Blick auf den See und ist komplett (URL HIDDEN) war alles vorhanden auch Wasser im Kühlschrank und viele Lebensmittel. Sogar Kekse und Obst zum Empfang hatte Sabrina bereitgestellt. Der Supermarkt ist nur fünf Minuten entfernt und die Konditorei Grellinger mit den phantastischen Kuchen nur sieben Minuten.Da Sabrina wo anders wohnt hatten wir nur telefonischen Kontakt , aber jede Frage wurde sofort beantwortet und gelöst. Wir haben uns sehr wohlgefühlt und kommen sicher wieder.
---
Gmunden is a beautiful town and the apartment is located in the center of everything there. From the apartment windows, you can look out over the main square and also see part of the lake. It's a busy part of town and this creates both advantages and disadvantages depending on what you're looking for. We stayed in the apartment from July 22nd to August 3rd. I'll present the pros and cons of our stay below. Pros: Let me start by saying that Sabrina was an excellent host. She kept in contact with me before our arrival and made sure everything was explained to us when we arrived. She also checked in with us during our stay via text. We arrived just before 6pm on a Saturday, unaware that the local grocery store (SPAR) closed at 6pm and wasn't open on Sundays (cultural lesson one for us spoiled Americans). Sabrina had been kind enough to get in a few groceries for us - with cheese, sausages, bread, bottled water, etc. I think there were even a few beers! Our group consisted of my wife and me, along with our two teenage children. There was a sofa bed in the living room, a good sized bed in the (only) bedroom, and a reasonably-sized bed in the loft area (located in the same bedroom). The bathroom is separated from the bedroom by a sliding glass door, so only semi-private in terms of visibility and noise. The bathroom also has a washer, squeezed in next to the toilet. The water was nice and hot when you needed it and -equally important - freezingly cold when you wanted (the coldest shower I've ever taken in my life!). The kitchen is small, but very functional. My wife LOVED the Nespresso machine for her morning coffee. The fridge is pretty small too, but wasn't really an issue with easy access to the grocery. We experienced a few cold/rainy days while there and discovered that the radiators cannot be turned on during the summer, but there was a hairdryer available for drying out a few items of clothing. There's also a clothes-rack under the bed that can be used for drying clothes. The apartment is within the Hotel Austria, which doesn't seem to function as a hotel any longer, but has an elderly couple that are sometimes behind the desk in the lobby (never really figured out how it all fit together). They eyed us a bit suspiciously for the first few days, but I think they had warmed up to us by the end of our two week stay :) The hotel has an elevator, but the apartment is on the first floor and it was nicer to take the stairs - the "hotel" has a large, elegant, chandelier and is well kept. We only saw three other people there during our two week stay, the rest of the time it felt like we had the building to ourself it was so quiet inside. You need a...
---
I LOVE TRAVELLING. I work in a travel agency in Austria & I love my job.

---DISOVER THE WORLD---

言語:
Deutsch、English