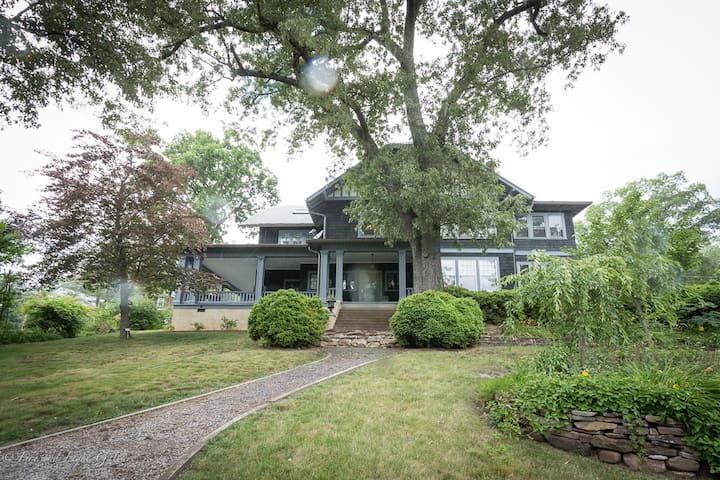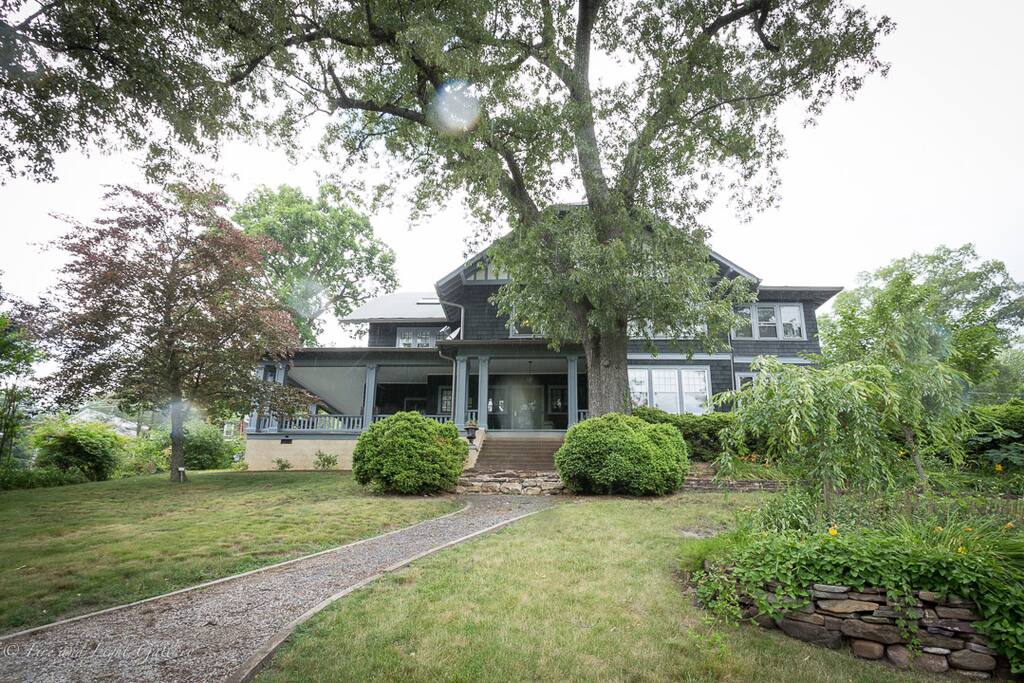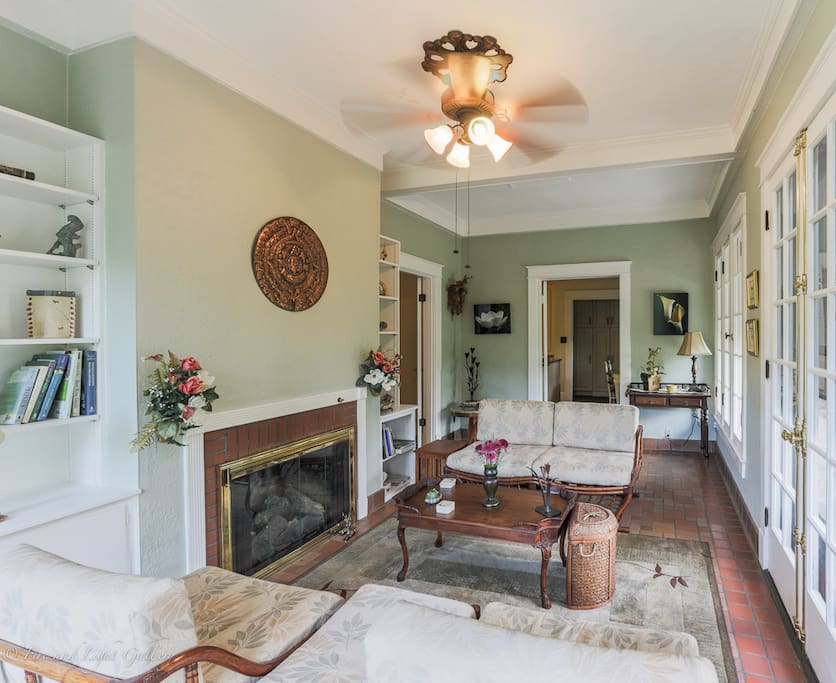 Ridgely is great for weekend getaways or extended stay, family reunions, small weddings, extended business travelers, outdoor enthusiasts. AmenIties include coffee, tea, cereal, milk and sugar. Are gas grill. Spacious family room with big-screen tv and DVD player. Guests will enjoy Clifton Forge arts district including the newly renovated Historic Masonic Theatre and Clifton Forge School of the Arts. Home includes Ridgely Historic Gardens with 5 terraces, two stone ponds and a waterfall.
スペース
The rooms are all large. Dining room will easily accommodate 12 people. Library adjacent to kitchen suitable for quiet reading time. Chair lift on back stairs provides access to bedroom level for those with difficulty with stairs. Large front porch is great for viewing the mountains and enjoying the afternoon breezes. The large garden gives a sense of seclusion within the small town of Clifton Forge.
ゲストの立入り範囲
Guests will have access to the entire home and the gardens.
ゲストとの交流
We live less than one mile from Ridgely, so generally are available to answer questions.
その他の特記事項
Ridgely is in the Town of Clifton Forge and less than 1 mile from the newly renovated Historic Masonic Theatre, Masonic Amphitheatre, Clifton Forge School of the Arts, the Alleghany Highlands Arts & Crafts Center and the C&O Railway Heritage Museum. We have several restaurants in Town, including a French Restaurant (Cafe Michel), a family-friendly pub (Jack Mason's Tavern) and 2 sandwich shops (The Club Car and 42 Deli). All are in walking distance from Ridgely!!
---
---
---
---
- The home and gardens are suitable for small weddings, wedding showers, birthday parties, etc. Owner requests advance notice of such events.
---
---
---
This house was by far the best rental I have ever stayed in! The owners met us to check in and you can tell they care and love the house so much. First off, the house is beautiful and very comfortable. The owners were more than accommodating and stocked the house with paper products, trash bags, dishwashing liquid, laundry detergent, hand soap, coffee and even milk and juice! First time ever I didnt have to bring my own "stuff." The house is huge and had plenty of room for my sisters, spouses and our children. The kitchen is a gourmet kitchen and we enjoyed making a big family breakfast each morning. The attic is super comfy with multiple recliners and a big screen TV. Clifton Forge is a quaint little town and the house is within walking distance to a few shops and restaurants. We had a fabulous time. If you are thinking about this place, book it! you wont regret it.
---
This place is awesome. You are situated on 2 acres, have a wonderful house which is so spacious, you can't go wrong. We had 6 ladies playing in a golf tournament. We each had our own room and shared baths. Everything was great. I can tell you that this house will never be the same. We kept getting lost walking around this house. We tried to use every room but could't make it happen. The beds are wonderful and the master bath is to die for. If you are ever in the area, this house is a must! The owners are spot on and will help in any way.
---
Ridgely was perfect for our small family reunion of 8 people! Clifton Forge was about half way between family members so it was convenient and the price was very reasonable. The house was built in 1903... charming and spacious enough for everyone to find their niche. We enjoyed touring a brewery & winery one day and hiked & swam in beautiful Douthat State Park another day. One night we had dinner at Cafe Michel which was a great experience. I know that each of our family members will cherish fond memories of our stay at Ridgely House and the lovely historic gardens for years to come!
---
This was a beautiful venue for our wedding. Our guests were astonished by the beauty of the gardens and the marvelous view of the mountains. We were able to provide our family and friends with a gorgeous and get relaxing setting to share our special day with us. The hosts went out of their way to make our day and the event a truly special day. Both the house and the gardens are perfect backdrops for any special event.
---
Ridgley Gardens is awesome in every way, so much so that you will not want to leave! This stately home is immaculately clean, beautifully and lovingly decorated and the gardens are incredible! This home is great for a family gathering and most welcoming in every way! Right in the heart of the Alleghany mountains with many great photo opportunities and things to see and do. A most delightful experience with a must visit again!
---
The home is warm and welcoming with plenty of quiet spaces to get away. The sleeping arrangements were very comfortable; we all enjoyed great sleep. The outdoor spaces were very enjoyable with a large back patio in the garden and a beautiful front porch. The large family room was great for evening movie watching. Our hosts were warm and welcoming. They were very helpful giving us great info on the home itself and its history as well as the town and activities surrounding it. Douthat State Park was beautiful! Enjoyed our time! Thank you!
---
Retired and very involved with non-profits in our Town, including especially The Historic Masonic Theatre, the Alleghany Highlands Arts and Crafts Center, the Clifton Forge Woman's Club, etc. I have served on the Clifton Forge Town Council for eight years.