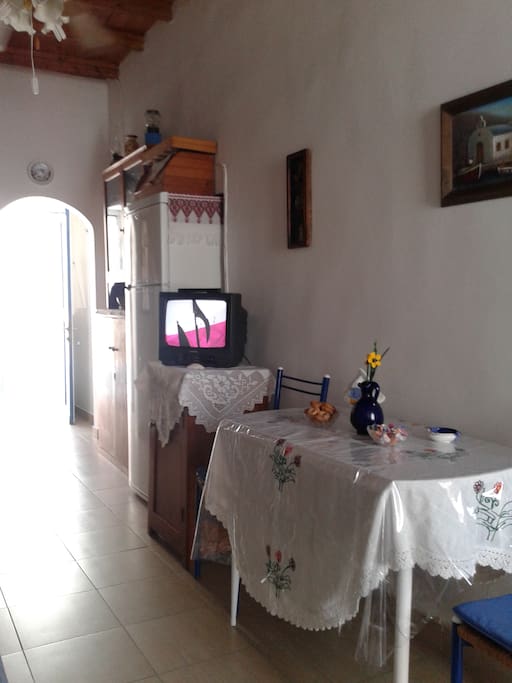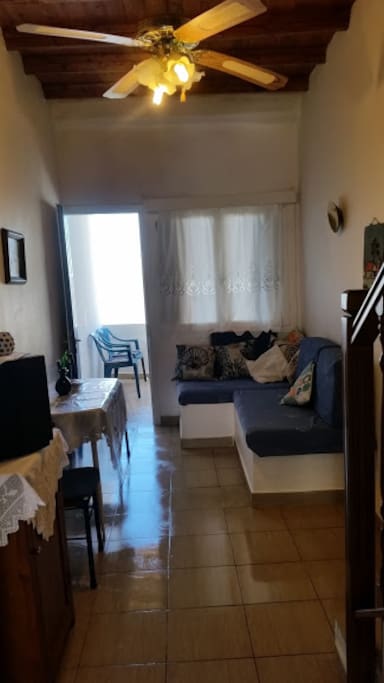 Ο χώρος μου είναι εξω απο το καστρο στο Χωριο της Κιμωλου, 1 χιλ.απο το λιμανι. Ειναι κατάλληλος για ζευγάρια, ταξιδιώτες που αγαπουν την ησυχια, περιπατητες και οικογένειες (με παιδιά). Ειναι παραδοσιακο διπατο σπιτι 50μ. Εχει 3 βεραντες οι δυο βλεπουν σε θαλασσα. Ειναι αυτονομο, με πληρως εξοπλισμενη κουζινα, καφετιερα, μεγαλο ψυγειο. Η Κιμωλος ειναι ένα νησι που ενδείκνυται για ηρεμια και ρελαξ. Εχει ηπια νυκτερινή ζωή, εστιατόρια χωρους που παίζουν ανετα τα παιδια και μαγευτικες παραλιες.
スペース
Our house Located in the village of Kimolos 1000 m from the port (I ' ll come and get you) and the bus station is about 200m away
It is a traditional house only 10m out of the Castle.
It has two levels. Τhe down floor is 25 square meters. Entering the house is the front porch you see the Castle of Kimolos. The entrance has a small fully equipped kitchen big refrigerator, tv, washing machine, french coffe machine and a comfortable sofa. It comes out in the back little veranda that you can see the sea (that with the yellow table).
The up floor 25 m2 connected with an internal staircase and intended the toilet with shower. It has one bedroom with double bed who has access to the upper verandah that you can see all the sea, ideal for night of couple, (this is a bit dangerous for children because it is very high from the street, but you can lock the door. In the middle has another double bed (no privet)
Its very cool because its wall has 70cm width, but there is an air codition
Our village is small and all walking distance.
その他の特記事項
(URL HIDDEN) KIMOLOS FORTUNE HOUSE
video clip with the house and Kimolos in you tube
Επισκεφτήκαμε το νησί με την σύζυγό μου και το 1 έτους κοριτσάκι μας τέλη Σεπτέμβρη. Το σπίτι στο οποίο μείναμε ήταν ακριβώς αυτό που θέλαμε, δηλαδή ένα μέρος που θα μας βάλει στην "ζωή" του χωριού, Πρόκειται για έναν σπίτι σε ένα πολύ γραφικό σοκάκι στο κέντρο του χωριού, αλλά όχι τόσο ώστε να ενοχλεί. Ένα λαϊκό σπίτι με όλη την σοφία χρόνων ώστε να λειτουργεί άψογα αξιοποιώντας κάθε χώρο. Δεν μας έλειψε τίποτα αφού πρόκειται για ένα κανονικό, όχι τουριστικό, πλήρως εξοπλισμένο σπίτι. Μία καλή αποτοξίνωση από όλη την κακή και ημιτελή ντιζαϊνιά που υπάρχει παντού. Διαθέτει μία μικρή βορεινή αυλή στην είσοδο, και δυο βεράντες, μία σε κάθε επίπεδο που βλέπουν θάλασσα (λιμάνι & Πολύαιγος). Οι πληροφορίες που μας έδωσε η κ. Ξένια ήταν ακριβώς αυτό που συναντήσαμε κατά την διαμονή μας. Επίσης θα θέλαμε να ευχαριστήσουμε του οικοδέσποινα μας για την ευγένεια, κατανόηση και διακριτικότητα που έδειξε.
---
Xenia is really a great host! She is kind, helpful and she made very good cookies. The house is perfect for a family: it is very small but you have all you need for your stay during a summer holidays. There is enough water for good shower, 3 really beautiful terraces. The only think I didn't understandin the description is that to enter in the double room with window you must get in the other room without window. We liked to stay there. It is so near to the Castro ant to the shops and pub, but very silence too.
---
Ξενια'ς place is a wonderful traditional house in the center of chorio of Kimolos,meters away from shops and restaurants.We really enjoyed our stay here,felt comfortable and found it very (URL HIDDEN) has beautiful sea view which we enjoyed from the two lovely balconies/verandas.Ξενια and her husband are lovely people and were extremely helpful.They picked us up from the port,helped us with our luggages and Ξενια even cleaned the house and changed our towels and sheets during our stay,which we much appreciated.She even brought us delicious homemade food and figs!We had a real taste of Greek hospitality!!Thank you so much Ξενια and we will definitely like to come back and stay here again.
---
We had a wonderful time in Kimolos! Xenia's house was very goodliving, with a great view from the balcony. It is very well located, in the city, close to restaurants and bars and with beach and the port at only 10 min by foot Xenia is so kind, she came to take us at the ferry and got us back despite it was very early.
---