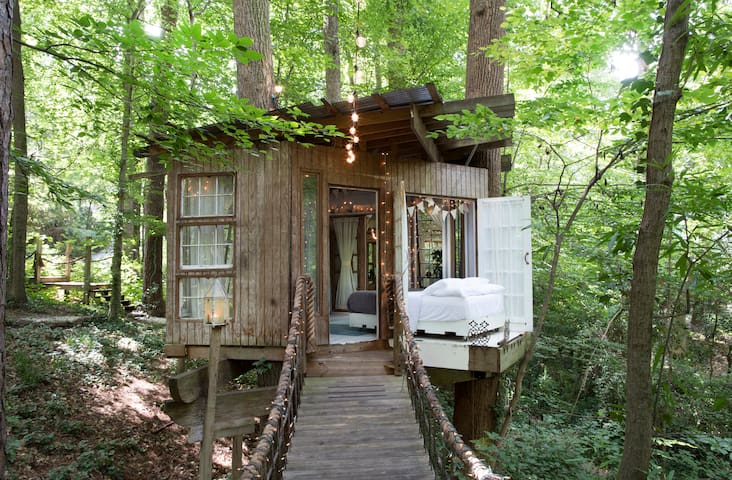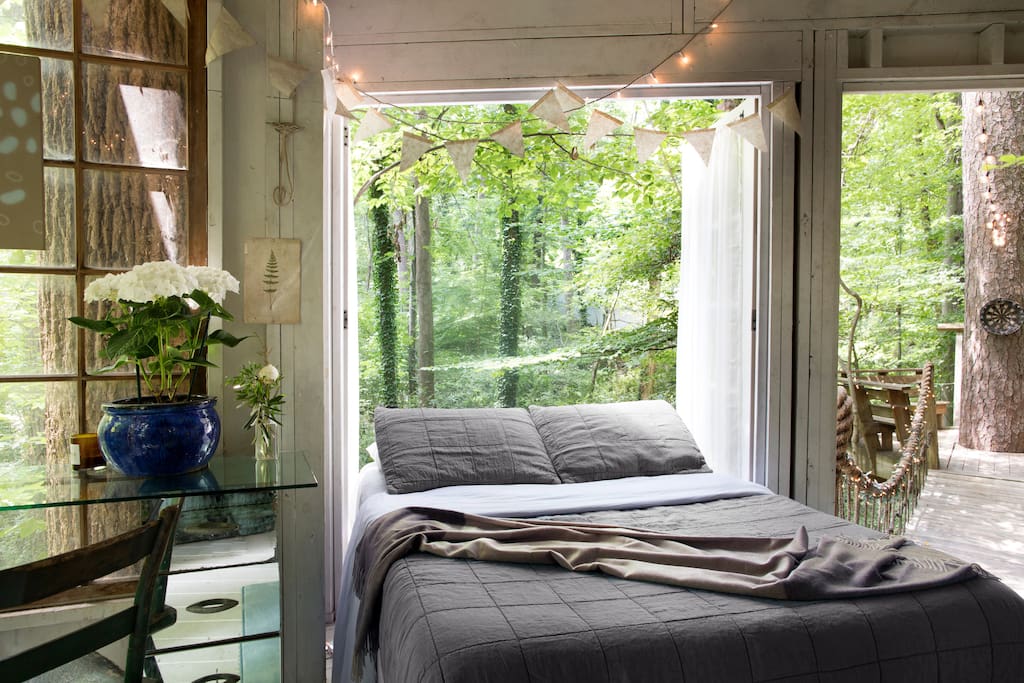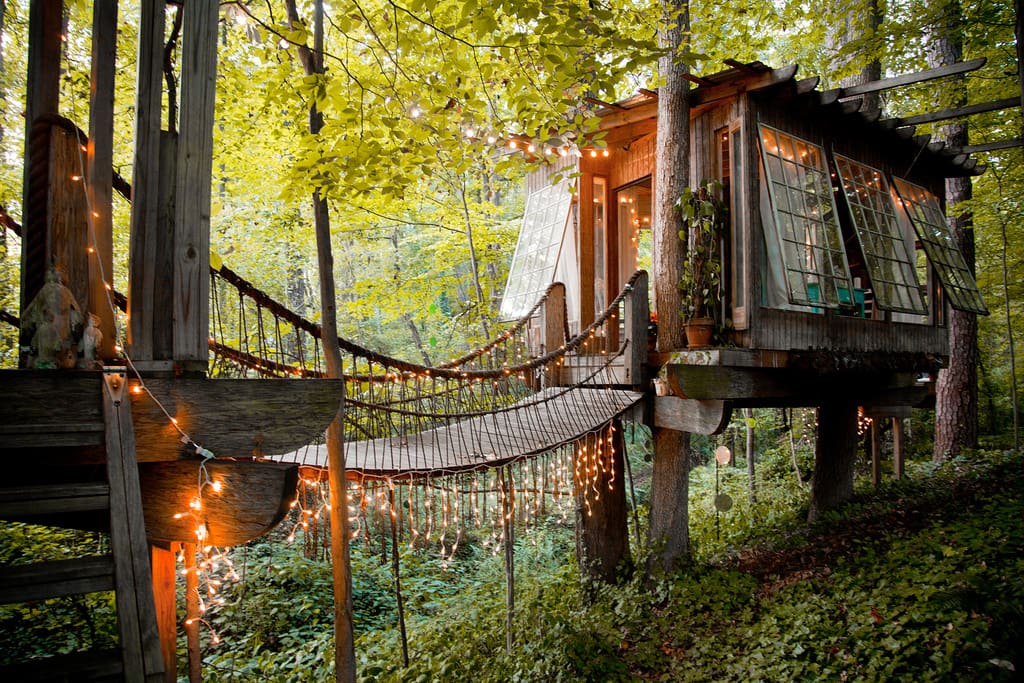 AIRBNB'S #1 "MOST WISHED-FOR LISTING WORLDWIDE!"
*Additional 2018 dates will be released March 1st at noon - preference to those that have the treehouse on their wish list.
Suite of three beautifully furnished rooms set among the trees. Just minutes from downtown, this secluded property is an urban retreat like no other. The treehouse provides an intimate, simple and restful retreat for 2 people. The treehouse is the subject of innumerable articles, blogs, Treehouse Masters and Today Show.
スペース
私たちは、エアブンブの「世界で最も欲しい物件の1位」と名づけられたことを光栄に思っています!ありがとうございました! 木の家には南の自然があります。優雅で静かで快適です。 アトランタの中心部に位置する中央に位置するツリーハウスは、隠された宝石です。今日のショー、「Treehouse Masters:Ultimate Treehouse IV」、Architectural Digest、Travel + Leisure、Harper's Bazaarなど数多くのテレビや雑誌の主題は、最もリラックスした、ロマンチックで、夢のようなユニークなあなたが一人滞在する場所。木々の中で眠りにつき、あなたの周りで歌う鳥たちに目を覚ますことよりも良いことがあります。 ツリーハウスは、マインド、ボディー、スピリットの3つの独立したエリアから構成され、それぞれがロープブリッジで接続されています。 3室の説明は以下の通りです。 マインド - シッティングルーム:アンティークの家具や工芸品、80年前の蝶の羽の窓、シベリアの虎の足の石膏、化石、ソファーと椅子、読書やおしゃべりが楽しめるバルコニーがあります。緑豊かな森のエーカー... 身体 - 寝室:寝る2.木々の中で最高のベッドよりも良いことは何ですか?スーパー快適ダブルベッドには、世界最高の寝具であるパラシュートが備わっています。これらの居心地の良いリネンは、100%ロングステイプルのエジプト綿とリネンで作られています。彼らはOeko-Tex認定を受けています。つまり、有害な化学物質や軟化合成剤は使用されていません。ツリーハウスであなたの最高の夜の眠りをここで過ごすよ!ベッドには車輪が装備されているので、部屋の中に入ることも、下の川を見下ろすプラットフォームに乗ることもできます。マットレスは涼しい夜のために暖かく、錫の屋根は雨の嵐を楽しませるものです。 スピリット - ハンモックデッキ:要素に開放され、厚い緑に没頭しているデッキは、165年の歴史を誇る南部のショートリーフパインツリーであり、ツリーハウススイートをサポートする7つの木のうち最大のものです。その客を見守る。 バスルームは私たちのプライベートな家の下水/下水にあります。ゲストは滞在中に排他的なアクセスを得ます。ツリーハウスとメインハウスは多くを共有し、お互いに歩いて30秒以内です。
We are honored to have been named Airbnb's "#1 most wish-listed property in the world"!!! Thank you!
The treehouse has a Southern nature - gracious, calming, and comfortable.
Centrally located within the heart of intown Atlanta, the treehouses are a hidden gem. The subject of TV and magazine features including the Today Show, "Treehouse Masters: Ultimate Treehouse IV", Architectural Digest, Travel + Leisure, Harper's Bazaar, and numerous others, they are often described as being the most relaxing, romantic, dreamy and unique place you'll ever stay. What could be better than falling asleep in the trees and waking up to birds singing around you--all within the city limits?
The treehouse consists of 3 separate areas - Mind, Body and Spirit - each connected by rope-bridges. Descriptions of the 3 rooms are below.
Mind - The Sitting Room: Antique furnishings and artifacts including 80 year old windows of pressed butterfly wings, a plaster cast of a Siberian Tiger paw, fossils, a couch and chairs, its a great place to read or talk and has a balcony overlooking an acre of lush woods...
Body - The Bedroom: Sleeps 2. What could be better than a great bed up in the trees? The super comfortable double bed is outfitted with the world's best bedding: Parachute. These cozy linens are made of 100% long-staple Egyptian cotton and pure Linen. They're Oeko-Tex certified, meaning no harmful chemicals or softening synthetics have been used. You'll have your best night's sleep ever here at the Treehouse! The bed is equipped with wheels so it can either be inside the room or rolled out onto a platform that overlooks the stream below. The mattress has a warmer for cool nights and the tin roof makes rain storms something to be enjoyed.
Spirit - The Hammock Deck: Open to the elements and immersed in thick greenery, the deck surrounds the spirited "Old Man", a 165 year old Southern Short-Leaf Pine tree--the largest of the 7 trees that support the treehouse suite and watch over its guests.
BATHROOM IS LOCATED IN THE BASEMENT/LOWER LEVEL OF OUR PRIVATE HOME. GUESTS WILL HAVE EXCLUSIVE ACCESS TO IT DURING THEIR STAY. The treehouses and main house share a lot and are within a 30 second walk to one another.
ゲストの立入り範囲
車道には無料駐車場があり、本館の下層階には完全専用の専用バスルームとシャワーが付いています。
Guests will have free parking in our driveway and exclusive access to the lower floor of the main house, including a full, private, indoor bathroom and shower.
ゲストとの交流
午前中に到着してコーヒーを持ってきてくれば、私たちはあなたのプライバシーを尊重し、あなたを一人残します。しかし、ツリーハウスと私たちの家はたくさん分かち合っているので、何か必要があればすぐに利用できます。
Other than showing you around when you arrive and bringing coffee in the morning, we'll completely respect your privacy and leave you alone. However, because the the treehouses and our home share a lot, we are readily available and close by if you need anything.
その他の特記事項
***あなたの滞在があなたの期待に応えていることを確認しています...リクエストをする際には、自分自身について、ツリーハウスへの興味を少し伝えてくださいあなたが完全なリストと家のルールを読んだことを示しています...ありがとう! ***ツリーハウスは要素に開放されています....暖かい天候のためのファンと、より涼しい夜のための優れたマットレス暖かいファンがあります...しかし、ベッドがプラットフォーム(と雨のためにロール)にロールアウトとしてエアコンや暖房はありません...
***PLEASE READ ENTIRE LISTING DESCRIPTION AND RULES BEFORE REQUESTING A RESERVATION.*** We want to make sure that your stay meets your expectations... When making a request, please tell us a little about yourselves, your interest in the treehouse and indicate that you have read the full listing and house rules... Thank you!
*** The treehouses are open to the elements.... There is a fan for warm weather and an excellent mattress warmer for cooler evenings... But as the bed roll out onto a platform (and rolls in for rain) there is no air conditioning or heat...
• While we love both, children under 16 and pets are not allowed to stay at the treehouses--or be present during events.
• When submitting an inquiry, please tell us a little about yourself and your interest in the treehouse. Also let us know that you have read the full description and understand the house rules and feel comfortable staying in a treehouse.
• Please keep in mind that the treehouses are meant as a quiet retreat for 1-2 people only. If you have ANYTHING else in mind, you must let us know ahead of time and get appropriate permission before booking. Photo shoots, events, ceremonies etc. are subject to additional fees, and are rarely approved. Prior to arrival, we must obtain the first and last names of each guest. No additional guests or visitors are allowed.
• If you are interested in using the treehouses for a photo shoot, you must give us explicit descriptions of your concept before booking as well as your location budget. Please be aware that photoshoots are subject to different rules and rates, and must be approved by us in advance.
• Guests will receive a house manual with a full list of property details, rules and local recommendations a week before arrival. We will also require each guest to sign a waiver prior to occupancy, which will be emailed before check-in. PLEASE LET US KNOW THE DAY BEFORE YOUR RESERVATION WHAT TIME YOU'LL BE ARRIVING....
• If using images from this site, please credit the appropriate photographers, as are noted in the individual image descriptions. Our (SENSITIVE CONTENTS HIDDEN) is @pbahouth and #treehouseatl
Thanks and we look forward to seeing you soon!
下記事項もご了承ください
階段を登らないとたどり着けません
ペットがいます
I work in the wine industry and my husband is an environmental activist and 3d photographer. He built the treehouses as an escape within the city and together, we've made it into a Vacation Home at home! We hoped to create a setting that was both secluded and quiet but also warm …
言語:
English