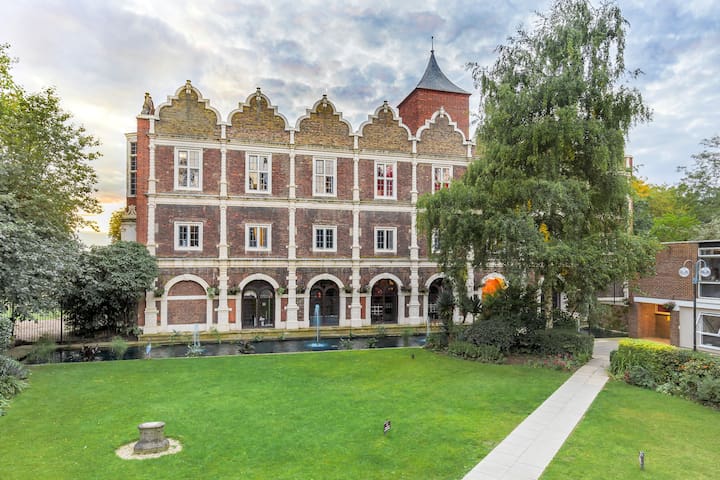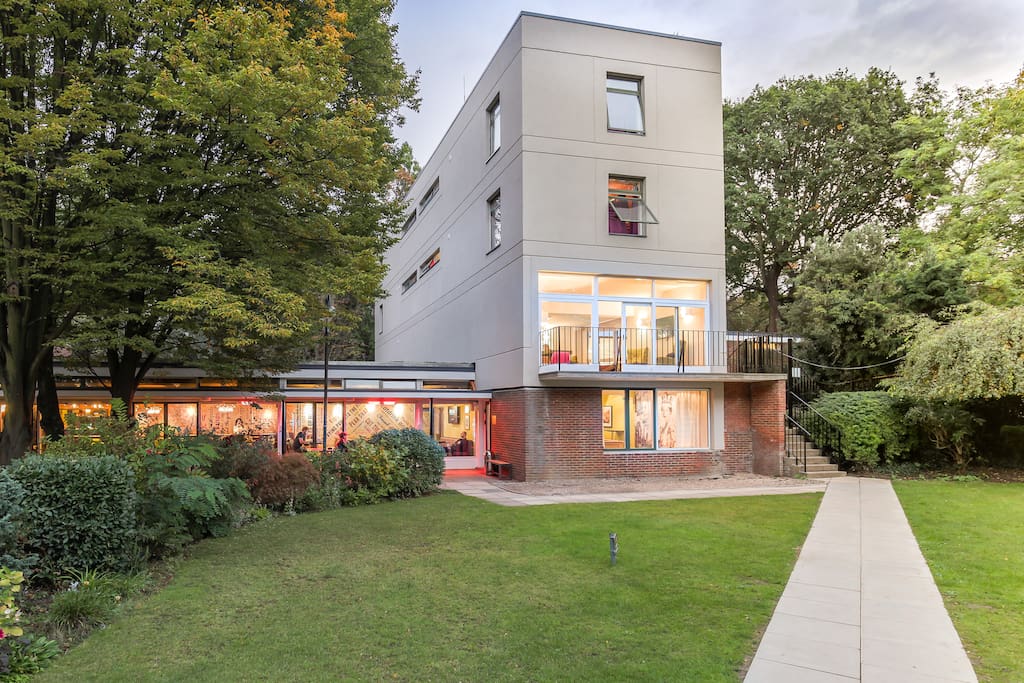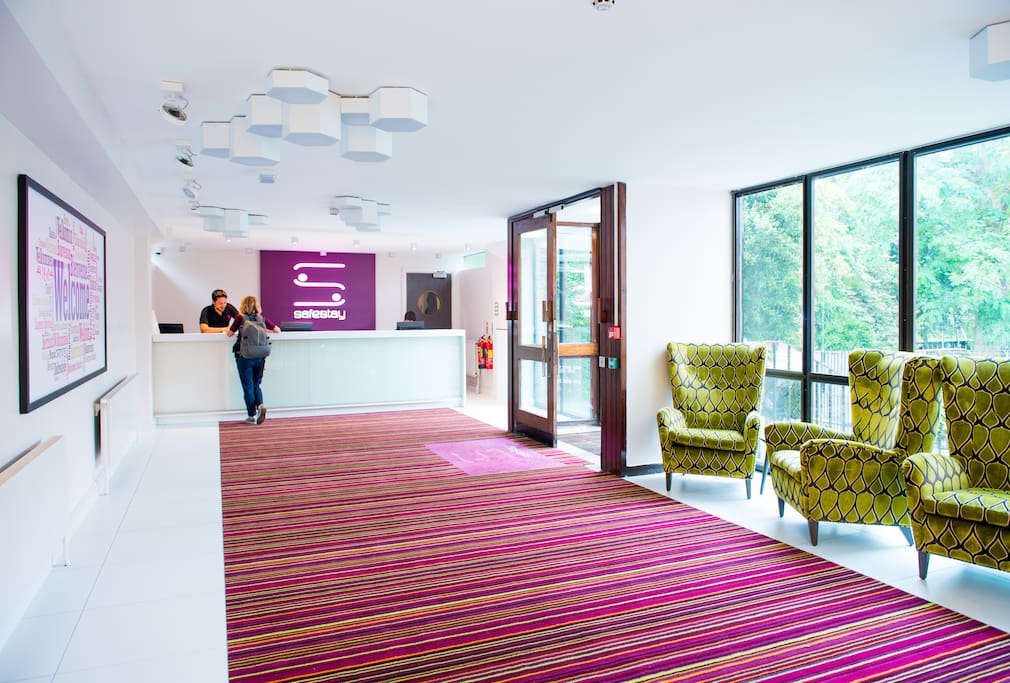 Safestay London Holland Parkは、ロンドン中心部の理想的な立地にあり、首都で最も有名な公園のひとつに位置しています。この素晴らしいホステルは、公園のオリジナルJacobean建物のEast Wingを含む3つの建物で構成され、私たちの中庭に囲まれています。
Safestay London Holland Park is ideally located in the heart of London, nestled within one of the capital's most prestigious parks. This stunning hostel consists of 3 buildings, including the East Wing of the park's original Jacobean building and surrounds our private courtyard garden.
スペース
Safestay London Holland Parkは、ウェスト・ロンドンの最も有名な公園の真ん中に位置する美しいグレード1の建物の中にあり、オランダ・パークとハイストリート・ケンジントン・チューブ駅から徒歩ですぐです。お手頃な料金の客室とスタイリッシュなソーシャルスペース、24時間対応のフロント、全館での無料Wi-Fiをお楽しみください。幅広いサイズの専用バスルームと標準の寮では、予算ごとにベッドがあります。 すべてのベッドリネンが含まれています。ドミトリーでは、Safestay独自の二段ベッドのブランドには、パーソナルナイトライト、プラグソケット、USBポート(プライバシーカーテンに囲まれています)が備わっています。各ベッドにはロッカーがあり、荷物や貴重品を簡単に保管できます。 美しいソーシャルスペースには、コンチネンタルブレックファーストを提供するカフェエリア(1日を通して様々なスナックとドリンクを提供)、プールテーブルのあるゲームルーム、ラウンジルーム、中庭付きの広いプライベートガーデンがあります。ホステルには、コンピューターエリア、洗濯機、ATM、荷物預かり所が備わっています。 Safestayのフラッグシップホステルは広々として改装されています。すばらしいインテリアデザインのおかげで、忙しい一日の観光の後には癒すのに最適な場所です。
Safestay London Holland Park is set in a beautiful Grade I listed building situated in the middle of one of West London's most prestigious parks, a short walk from both Holland Park and High Street Kensington tube stations. You'll love the affordable accommodation and stylish social spaces, 24 hour reception and free Wi-Fi throughout. With en-suite and standard dormitories of a wide variety of sizes, there's a bed for every budget.
All bed linen is included. In the dormitories Safestay's own brand of bunk beds are fitted with a personal night-light as well as a plug socket and USB port, surrounded by privacy curtains, you'll have a comfortable night's sleep. There's a locker for each bed too, making it easy to store your luggage and valuables.
The beautiful social spaces include a café area serving continental breakfast with a variety of snacks and drinks on offer throughout the day, a games room with pool table, lounge room and large private garden with courtyard. The hostel also has a computer area, a laundry, ATM, and a luggage store for guests to use at their pleasure.
Safestay's flagship hostel has been extensively renovated and thanks to the stunning interior design it's the perfect place to chill out after a busy day sightseeing.
ゲストの立入り範囲
Safestay Holland Parkでは24時間利用できます。
At Safestay Holland Park you have 24 hour access to all facilities available.
ゲストとの交流
24時間受付があり、ご滞在中のご質問をお手伝いいたします。
There is a 24 hour Reception who will be able to help you with any queries throughout your stay.
---
---
---
チェックイン時間: 14:00~02:00 (next day)
- Check out is by 10am
- 24 hour access & reception
- 24 hour cancellation notice must be given
- A valid photo ID is required to check-in
- Guests must be 18+ years
- Guests under the age of 16 years are only permitted to stay in private rooms & must be accompanied by an adult over 18 years
- When booking for 10 people or more, different policies and additional supplements may apply. Please ensure to book the whole dormitory for your group. Any extra beds vacant in the room will be added to your room rate. All additional charges will be confirmed prior to arrival and must be settled before the group checks in. Also a £250.00 Security Deposit will be required for groups, by cash or credit card pre-authorisation.
- Bed linen is provided, towels can be hired or purchased
- Breakfast is available @ £4.00 per person on the day or £3.50 if pre-booked
- There is free Wi-Fi throughout the building
For bookings of 10 guests or more this will be classed as a Group booking and there are different terms & conditions which will apply and these will be sent to you. A security deposit of £250.00 will be required which is refundable on departure.
Group Bookings FAQ's
What is a group?
A group is at least 10 people or more travelling together.
Do you have an age restriction?
Safestay has no age limit. We accept all groups of all ages. Groups under 18yrs of age must be accompanied by a responsible adult (21yrs or older). Please be aware that you may be assigned a top bunk!
Can you guarantee that nobody else will be staying in our room?
When you book a group though our group department, we guarantee that nobody else will be staying in your room. All beds have lockers but require a padlock to secure them. Padlocks can be bought at reception.
Can we all be staying on the same floor?
We will do our best to accommodate you on the same floor. However it is not always possible due to the layout of our buildings and/or the room types you have chosen.
Please note there are three separate buildings at Holland Park and your group may be accommodated in separate buildings. Leader rooms may not be next to the dormitories.
Please be aware that there is a pond onsite. Please supervise your group at all times.
Will we have bathrooms in our rooms?
You will have a bathroom in your room only if you book an ensuite room. If you book a basic/standard room then you will have to use our communal bathrooms. We have 1 bathroom per 5 guests. This is very high standard for a London hostel. Bathrooms are located on every corridor on every floor.
What is included in the price?
Bed linen (sheets/pillow/duvet) and all taxes are included in prices we quote you.
Continental breakfast can be added at an additional cost of only £3.50 per person per day when pre-booked or £4.00 per person per day when booked at the hostel.
We offer a continental style buffet that includes quality ham, cheese, and a selection of breads, cereals, fruit and juices as well as tea and coffee. Breakfast is served daily between 07:00 and 09:00am
Please note we do not cater for special dietary requirements & our food may contain nuts.
Do you have a bar?
We don't have a license at the hostel and are therefore not permitted to sell alcohol. We do sell a selection of soft drinks and hot drinks.
Do you have a coach parking?
We don't have coach parking as the hostel is situated inside Holland Park. Unfortunately we don't organise coach parking.
For coach parking locations, please visit (URL HIDDEN)
You can drop off your guests on Kensington High Street, but please be aware that you will be parking on a main road and any charges incurred are not the responsibility of Safestay.
Do you request a deposit on arrival?
One group leader will be required to give a credit card or cash deposit upon arrival. If using a credit card, this needs to be the card holder. We will pre-authorise the card for £250.00.
Money will be deducted if:
- your group is found to be interfering with the fire alarm or smoking in the room
- your group causes damage to hostel property
This list is not conclusive.
What payment method do you accept?
You can pay by bank transfer, credit card or English bank cheque, please note that we only accept payments in Sterling Pounds.
What is your cancellation policy?
You can cancel your group up to 42 days prior arrival. However, note that the deposit paid is non-refundable. See terms & conditions for further details.
What is your amendment policy?
See terms & conditions.
How can we contact you?
For any you can contact us by phone on + ((PHONE NUMBER HIDDEN) or by (EMAIL HIDDEN)
---
---
---