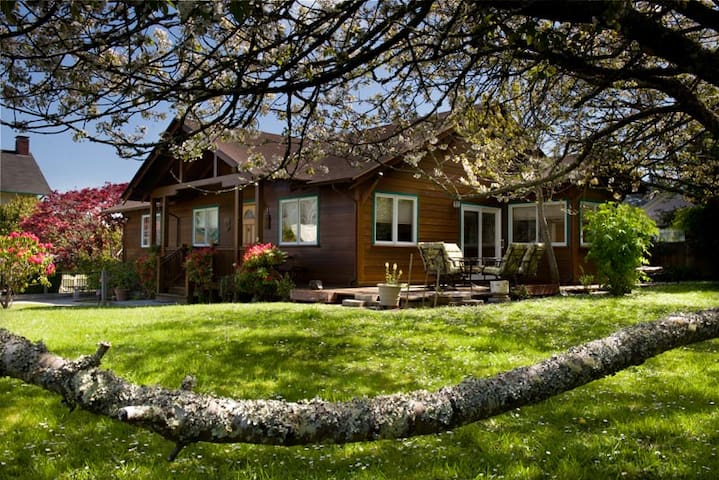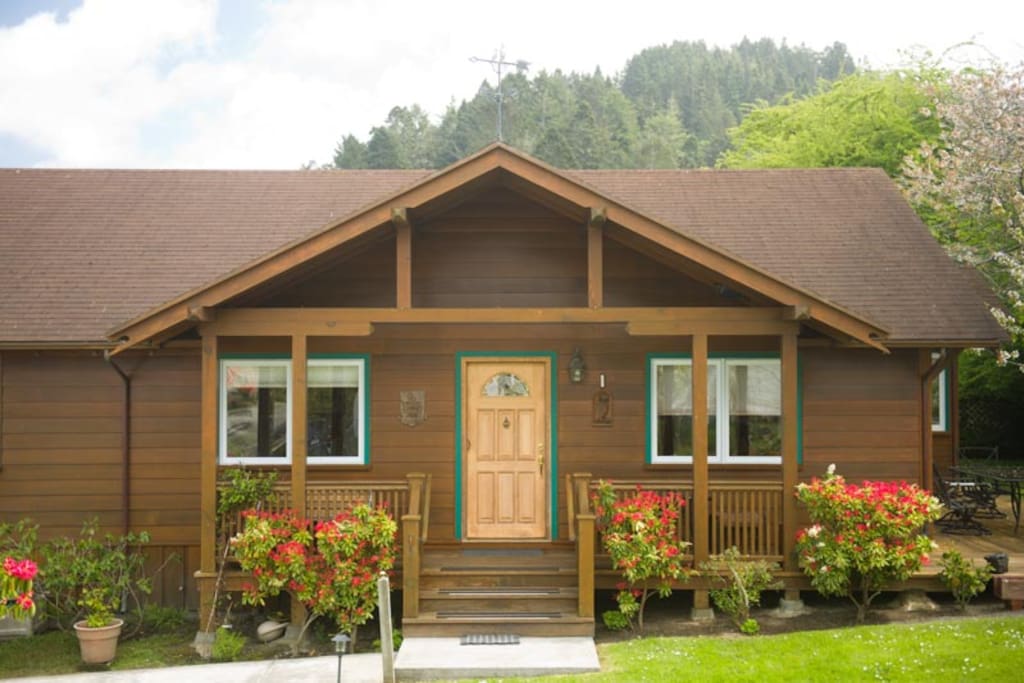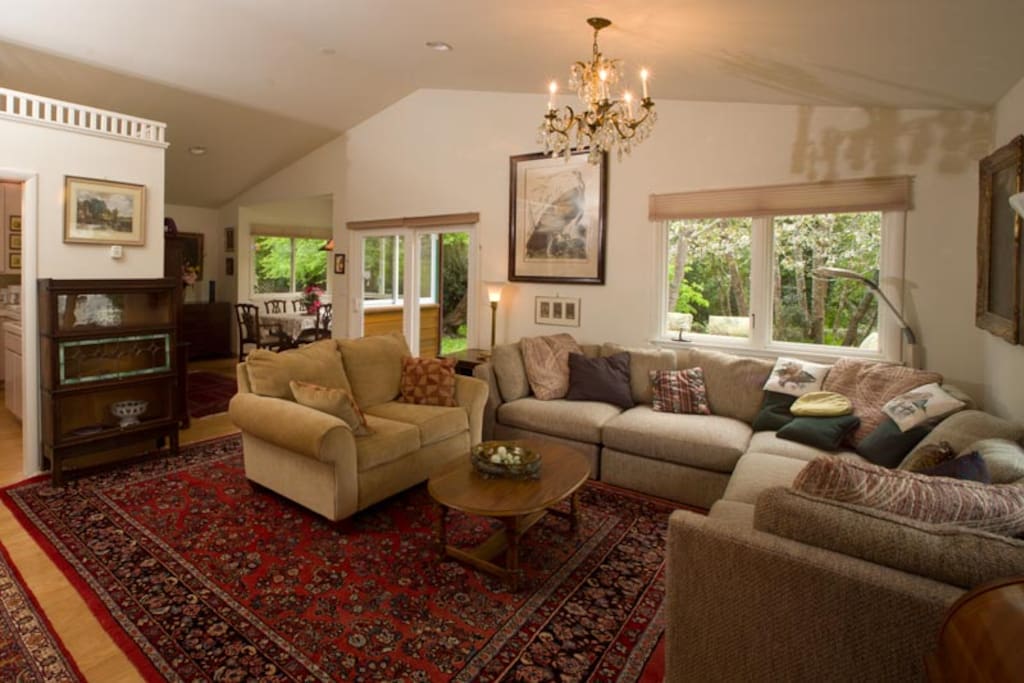 スペース
Welcome to our quiet, comfortable, redwood Craftsman style home. Situated on a beautifully landscaped half acre lot bordered by Francis Creek, it is just a block from the city park, downtown stores and restaurants.
Ferndale, California is a small, well preserved Victorian village, that is listed on the National Register. It is nestled in the Eel River Valley, close to the scenic and secluded beaches of the north coast, and easy driving distance to several redwood parks, as well as the scenic Avenue of the Giants.
Our home makes an excellent base to explore all that the redwood coast has to offer. At the end of your busy day you will enjoy relaxing in our peaceful, comfortable home.
ゲストの立入り範囲
Guests have access to the entire house and the large surrounding garden area and yard. The location is accessed by a long driveway, and has parking for two vehicles at the end of the driveway or on the parking pad.
---
Carlos & Marilyn were extremely knowledgeable about the local area and pointed us in the right direction, whether it be for food or a scenic drive. Hoping to get back to the area one day. It was beautiful, and the house is even better than the pictures!
---
It was my first time and staying at AirbnbThe best experience I had I felt like I was at home was clean and nice it was in town I was an incredible experience, me and my wife and our children truly enjoyed it . We will stay at that place again and again .Madeline and Carlos it was a great host and hostess they are wonderful people I'll recommend them 100% .
---
We arrived in Ferndale a bit earlier than the check in time. We called Marilyn and asked if we could check in an hour early or so. She was fine with that and it worked out great for us. Check in was smooth. We absolutely loved the house. It is truly amazing. It was much bigger than we anticipated, which was a a good thing. There is a nice den with a pull out couch that could easily be another bedroom. Since it had a nice desk I was able to do some work remotely, in peace, away from the rest of the house. The beds were so comfortable. We loved being able to sleep with the windows open, with the cool coastal air coming through. It was a great escape from the Valley heat. Everything about the house is great. The best part is the location. You literally walk around the corner and are right on main street. Ferndale is truly one of our favorite places. Shopping and multiple restaurants await just around the corner. We had a great time talking with Carlos and Marilyn during our stay. In turns out, Carlos and I had a lot in common. They were fun to be around and they ensured our stay at the Redwood Craftsman was second to none. I learned so much on this trip, about Ferndale, Carlos & Marilyn, and their history in Ferndale. We can't wait to go back to Ferndale, around this time next year. We just hope Carlos and Marilyn's place is available when we are ready to book again!
---
Everything about the house and amenities was perfect. The house is clean and beautiful with wood floors and oriental rugs throughout. They had very good instructions that answered any question we had. Carlos and Marilyn are available right next door or by telephone, and they were lovely hosts. We were visiting for a family wedding in Ferndale and the house was wonderful for family gatherings with a nice yard, barbecue, chairs and a wood burning ring. Everything in Ferndale is walking distance from the house, including the park with bocce ball courts! The Ferndale Market is a short walk to pick something up. This house and the hosts provided a great experience for our family.
I am so glad to hear that Mary and her family had a successful wedding and get together. The house is perfect for special occasions and family reunions (and this is a big family!), close to downtown but still secluded. If you are up early you can spot the deer who inhabit the edges. .
---
36 years ago we took a wrong turn off Highway 101 in norther California, and headed across Fernbridge. We have been in love with Ferndale ever since. We own a two-story Craftsman house, built in 1912, right across the yard from Francis Street Vacation Home. We owned antiquar…
言語:
Deutsch、English、Español