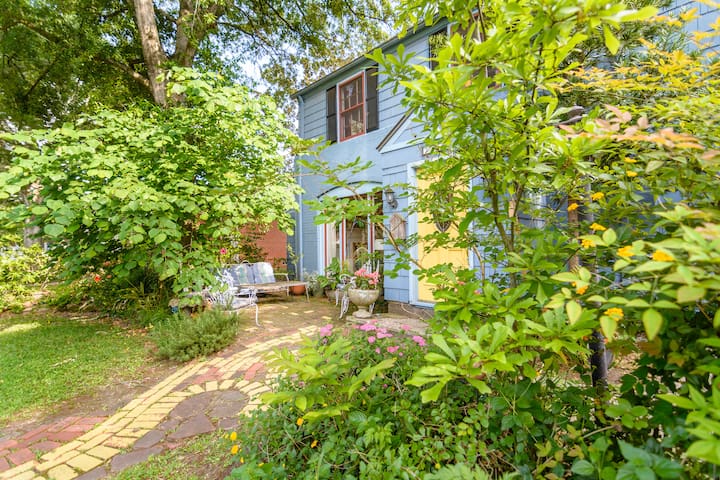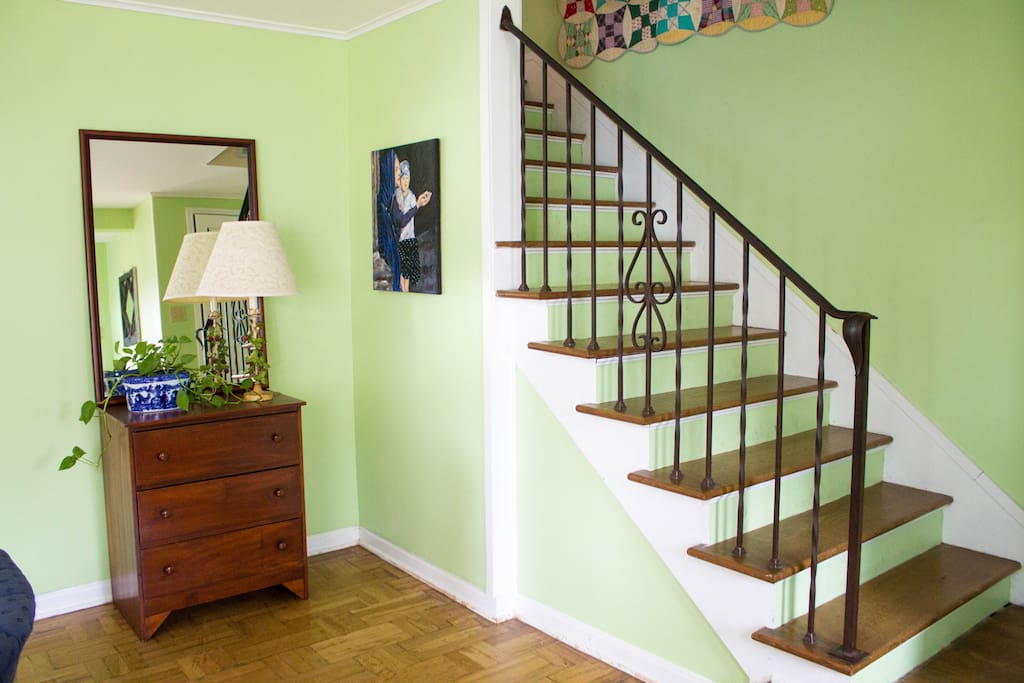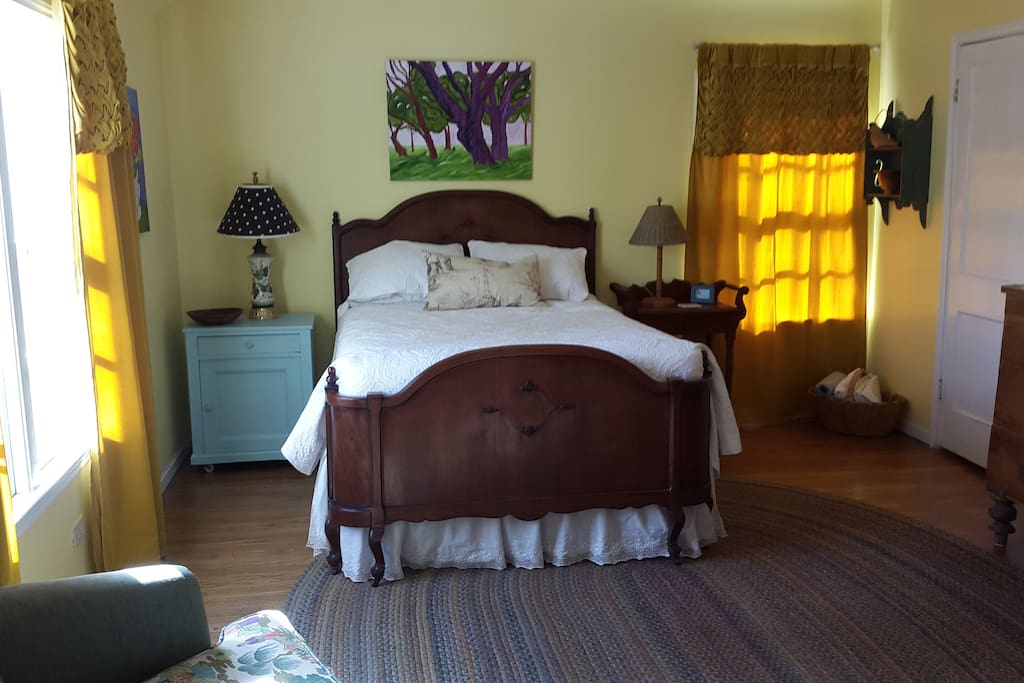 スペース
Our home is traditional eclectic and was featured as a house tour on Apartment Therapy. We have two available bedrooms, one downstairs and one upstairs, both with double beds. The two bathrooms are private.
Our home is welcoming and comfortable, not new and fancy -- for instance, the floors are a bit creaky in places. It's full of original art work and has a mural painted across the entire back of the house.
We have a dog. She's big, friendly, likes to give high fives, and stick her nose in your lap in case you forget to pet her. She basically barks twice a day - in the morning as kids and their pets are walking to school, and at the mailman in the afternoon.
Just because we have beer in the fridge doesn't mean it's breakfast juice. Please BYOB.
We live in a great location -- close to the Medical Center, Rice University, the Museum District, and Rice Village Shopping Center. We're within easy walking distance to Rice Village which offers a variety of shopping, cafes, restaurants, and pubs. We're also within walking distance to Rice U and the Med Center. We're a short bus ride to Reliant Center, home of the Texans and Houston Livestock Show and Rodeo, and can walk to the Metrorail for an easy ride downtown for theatre, opera, symphony, baseball, basketball, and soccer, and probably something else that I can't remember.
It's not accommodating for people with mobility issues.
お支払をお守りするためにも、Airbnbのサイトやアプリ以外の場所では決して送金や連絡を行わないようご注意ください。
Please:
1. Have fun.
2. Be courteous.
3. Be nice to Tilly the Wonder dog.
4. Use a coaster on wood surfaces.
5. BYOB
6. If you smoke, do it outside and properly dispose of cigarette butts.
7. Keep personal clutter out of the common areas.
8. No illegal activity.
9. No exercising in the living room in your underwear.
10. Unless you are a Hobbit, breakfast is only once a day.
11. Sleep BETWEEN the sheets.
12. Keep food and feminine hygiene products out of reach of Tilly.
I am an artist who writes.....or maybe a writer who paints.
I speak semi-fluent Spanglish.
I love volunteering -- but my absolute favorite volunteering of all time is taking Tilly the Wonder dog to Methodist Hospital for pet therapy with the patients.
One of the biggest blessings in my life was getting whooping cough, also known as the 100 day cough, because it allowed me undistracted time and opportunity to learn how to play the ukulele.
I've gone busking with said ukulele and earned enough money to buy a few really good craft beers plus tip.
Just a thought, but I think this whole airbnb enterprise should be called airbnBYOB.
I'm married to the Amazing Reese and we have four grown daughters who are all beautiful, kind, and smart.
Did I mention Tilly the Wonder dog? She's a stunning black standard poodle that we found at the Humane Society. She's the absolute best dog we've ever had.
Last thing -- I enjoy re-arranging furniture and honestly think that the furniture enjoys it, too. If, during your visit, you notice that your room isn't represented exactly like it was in the airbnb photographs, it's because the furniture and I decided a change was in order.