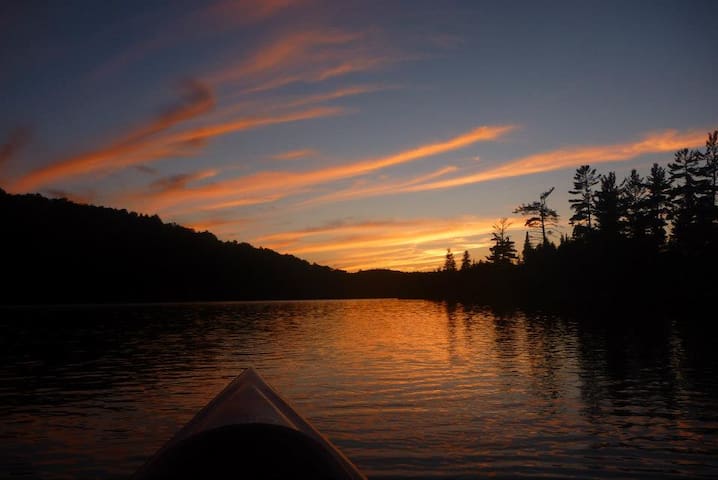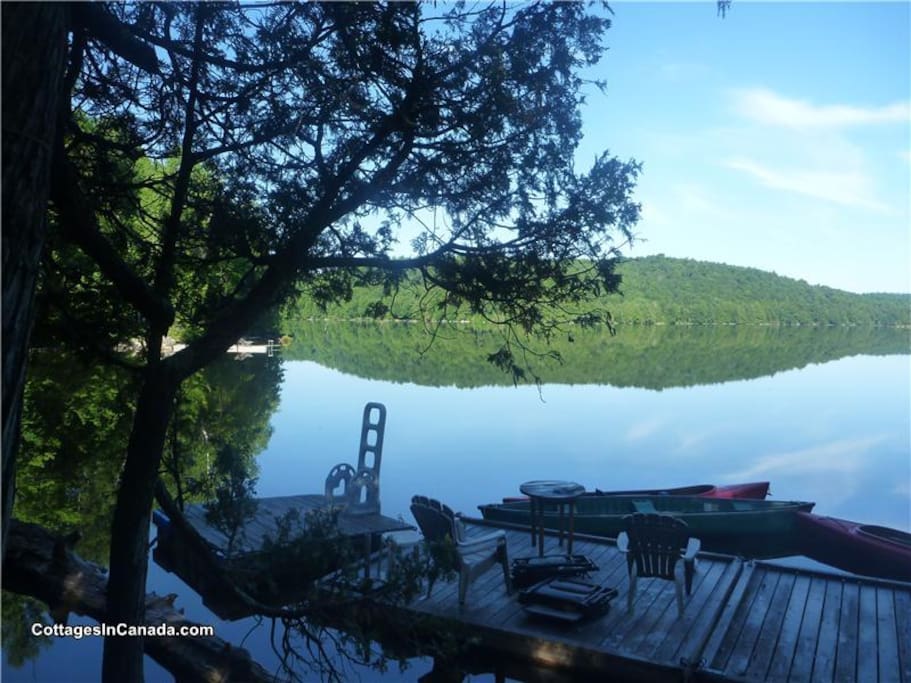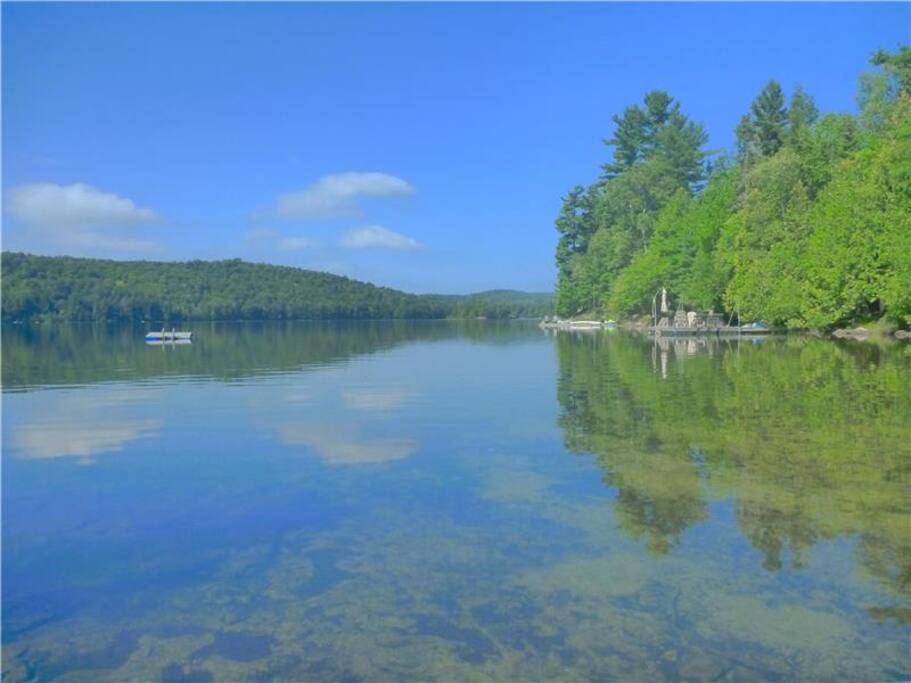 Come spend a rejuvenating holiday on our quiet & private lake near Val-des-Monts. We're just a 50 minute drive from downtown Ottawa.
This spectacular property sits at the bottom of a bay in stunningly beautiful lake - with western exposure, all day sunshine, beautiful sunsets and loon visits.
You'll love our place for the great hiking, mountain biking, kayaking and fabulous swimming in our pristine lake. Great for couples, corporate retreats, and families (with kids)!
スペース
This spectacular property sits at the bottom of a bay with western exposure, all day sunshine, beautiful sunsets and loon visits. Ruisseau St. Germain's babbling brook cuts through the property and is a source of great joy & delight for young and old (bring your water shoes for great long hikes along the creek and through beautiful forest).
The cottage has a timber-frame living room with wood burning fireplace, board games, satellite TV, stereo with iPod dock, library, and comfy furniture to relax in.
Around the cottage are paths and trails through forest, along St Germain creek which runs through the property, and to hidden lakes and waterfalls.
We have a sunny, well-appointed kitchen with butcher block island (5 stools) & large dining area (harvest table seats 12), with French doors opening out to screened porch.
We also have a finished basement with a home theatre, huge screen TV for gaming & watching DVDs, movies etc and a second fridge & freezer and two additional bedrooms
ゲストの立入り範囲
Guests have access to great hiking, mountain biking, kayaking (2 double kayaks and 1 canoe available) and fabulous swimming in pristine Lac St-Germain.
We have two docks on the property: one near the house which you must wade into the water from and one in the middle of the bay for diving off of.
You will sleep soundly in a spacious cottage. We have a 2nd floor master bedroom with balcony & king bed, a 2nd floor bedroom queen bed, and 3 main floor bedrooms - 2 bedrooms with queen beds & 1 with bunks and a twin bed. We also have extra bedrooms in the basement, and a stunning home theatre.
We have three bathrooms. Two bathrooms are on the main floor - one has a tub/shower and the other, by the front door, is a toilet/sink only. The second floor bathroom has a whirlpool tub and a steam shower. We also have a sunny outdoor shower around the front of the house which you are welcome to use!
We also have a breezy comfortable screened-in porch for easy living with dining tables (seating for 12 - two round tables of six), comfy chaise-lounge, easy chair, and sofa for lounging and laying about with views of the lake, babbling brook and back garden.
ゲストとの交流
We'll be online on our phones to help and answer any questions throughout your stay.
その他の特記事項
This is a very special place for us, and a quiet, remote lake, even though we are less than an hour from downtown Ottawa. Internet access is decent but is satellite/rural so speed is not the same as in the city and there are limits to large downloads of data. Cell coverage exists with all major providers but signal strength can be low.
Let me start by saying the cabin is excellent. It is huge with excellent lake access. Fully equipped outdoors w several boats and all the required gear. A brige over a nearbye stream provides a beautiful backdrop of rushing water, 2 bbqs, one propane and one charcoal. Tons of seating w 2 docks to use. Indoors you get 7 bedrooms, a modern kitchen with butcher block island, dishwasher, filtered drinking water and so on. Most used by us was a very large fully screened porch w seating for over a dozen people. Communication between us and the owner was excellent with specifics provided 36 hours prior to rental and when a power outage was caused by a brief overnight storm prior to our arrival we were contacted immediately. Fortunately power was restored prior to arrival. I would definitely rent here again. However the misleading ad for this country house left me concerned for other renters. The ad states clearly that one of the ammenities included is air conditioning. We passsed on several other lower priced locations because we NEEDED a/c. However this location is not airconditioned. We lucked out on weather and this was not an issue for this stay but i found this very midleading. Also it states there is wifi. While it wasnt working during our visit i was not concerned as we were getting away from this. But it was only pointed out 36 hours prior to arrival that this promised access was to be very restricted when provided. This restriction means you get basic internet/ email only. Considering the strict cancellation policy this info should be provided well in advace of the rental should full internet access be needed, again as promised. It even states that we need to plan to bring movies, ie for kids if we planned to use netflix but we are only told this 36 hours in advance dedpite reserving several weeks in advance. Its only because of these misleading promises that i give this 5+ star location 4 stars. Had it been 30 degrees out like it was 2 days before our arrival that would have net 3 stars had we not just cancelled and asked for a full refund.
---
The cottage was a great setting for our large family gathering. It is laid out well and was ample room for our 11 person group. The area is lovely and we were fortunate to be there with the fall colours in full swing. A bit too cool to use the screened in porch at this time of year, but what a beautiful summer space! We also appreciated all the games provided, child friendly space and use of the canoe and kayaks. One note is that it is a long trek for supplies so you will want to be fully stocked on your arrival.
---
A week at Hickory Wind met and, in many ways, exceeded our expectations. The cottage is large, well equipped, comfortable, spacious and good looking. Cottage and grounds are clean, maintained and well supplied. The location is relatively close to Ottawa and easily accessed. The hosts are courteous and easy to contact. The lake and surroundings are pretty and tranquil. All factors contributed to a pleasant and relaxing vacation. We look forward to a future stay.
---
I am a freelance writer and web designer/developer based in Toronto, Canada. I love to travel and eat!