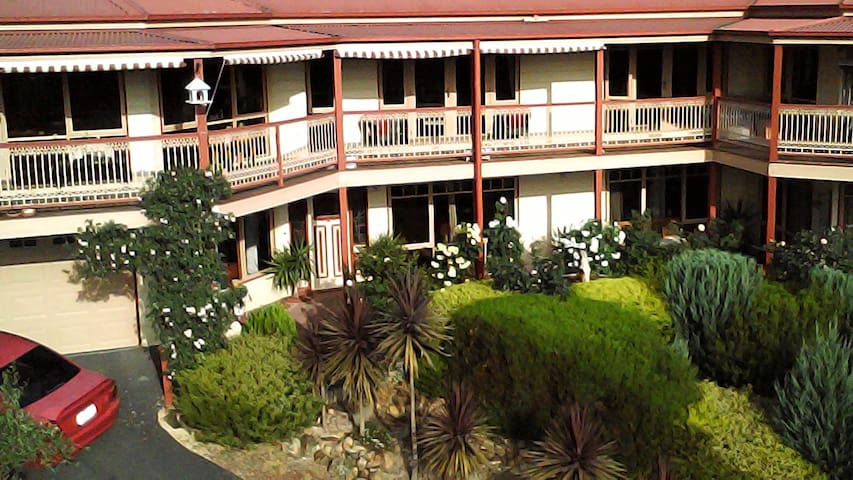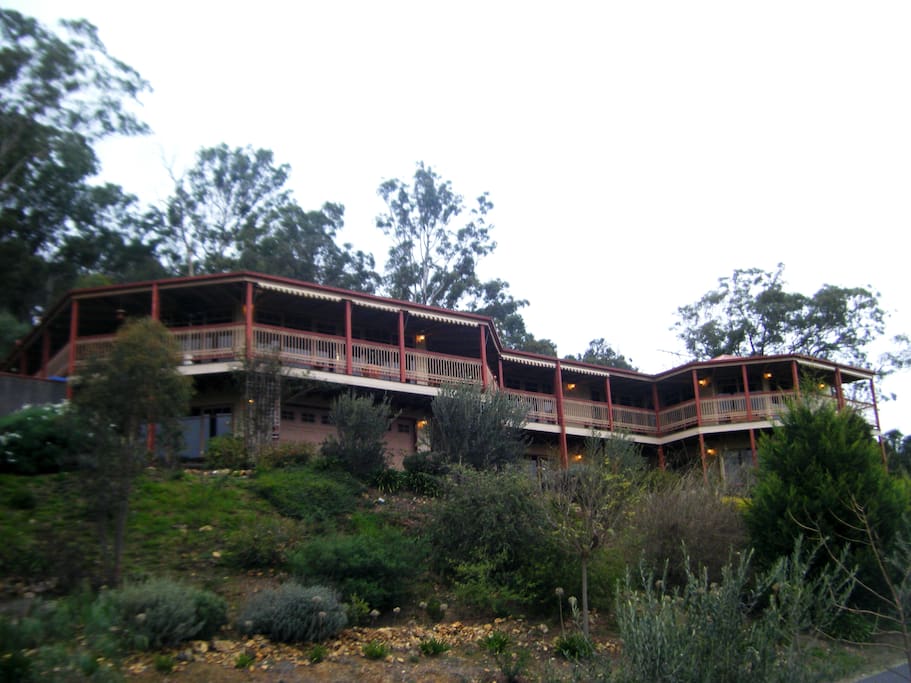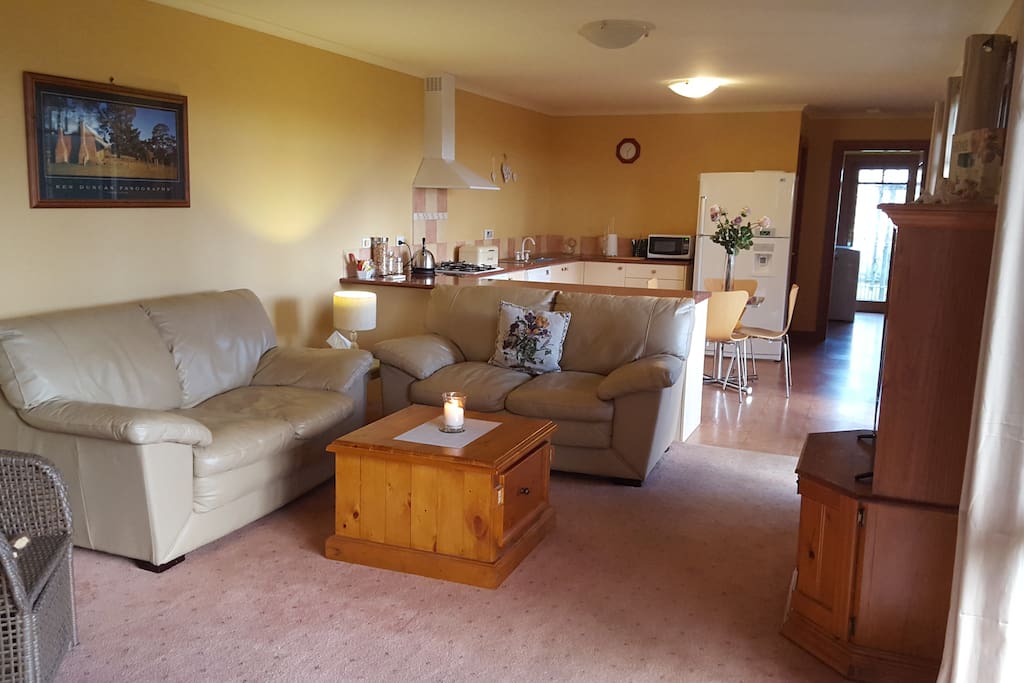 Self contained 2 bedroom unit, beautiful views of the Yarra Valley & the garden. The unit is situated under the main house (some call it a resort) & is nestled into the side of a hill well above the local housing estate & only minutes from Lilydale, shops & public transport. The kitchen has an electric fan forced oven, gas hotplate, microwave, dishwasher & large fridge as well as a laundry complete with a washing machine. You also have your own private courtyard. Breakfast included each morning
スペース
This is a self contained unit on the ground level of this large home and you have your own privacy and easy access to the unit. Large open plan kitchen lounge room including computer desk for business travellers.
ゲストの立入り範囲
You do have access to the pool, spa and your own private courtyard.
ゲストとの交流
Both Jody and Graeme are normally home so feel free to mix with us or enjoy your own privacy.
その他の特記事項
We would be delighted to have you stay with us and in our beautiful Yarra Valley. It's understandable if you haven't been out to to our region before. The treasure of places to visit out here has long been a secret, that has only just begun to be discovered even by we locals.
Well where do we start with recommendations.  It depends on your interests...
And are you interested in places to walk and enjoy nature, gardens, arts, wineries, coffee shops and cafes restaurants, animal sanctuaries, wineries. We have quite a lot of each.
My fav spots are HAANDORF chocolate shop in Montrose, followed by a visit to Olinda falls, then William Rickets Sanctuary, which has sculptures of aborigines carved from trees, then Sky High for a view of Melbourne and the bay.
THE next day I would visit the stunning Alowyn Gardens..probably Melbournes best kept secret of all, then back to lilydale , after a couple of wineries, (Yarrawood or Debortolis, Chandon or The stones, or Rochford Winery) to enjoy my 2 favourite coffee shops L'auberge French cafe and Gracious Grace which also has a lovely museum adjoining it. The musem has many  visiting exhibitions plus much local history featuring Dame Nelly Melba a world famous local Opera Singer . The reastaurant/cafe overlooks a quaint crochet field which is more than 100 years old and where Nelly frequently enjoyed a game. Also from the cafe you can see  beautiful Melba Park which has a delightful children's playground and a path to take a leisurely stroll . There is also another amazing playground at Montrose near Haandorf called Montrose Recreation Ground.
 Lilydale lake is absolutely beautiful to take a walk around or have a picnic/bbq at. The small hill that is a feature of the walking track gives you a view that is breathtaking at sunset. Whilst on the topic of sunsets, our verandah or gazebo are wonderful places to capture and enjoy striking colours and streaks across the skyline at dusk. And don't forget to enjoy our spa, from  which you capture a vast expanse of nature,  hills that partner with,  and overlook, clouds of fog and twinkling  lights. Or the sunset of course, depending upon the time of year and forecast.
If you love animals, there is a myriad of bird life in the area especially Rosellas and parrots, kookaburras,  eagles, cockatoo and you'll see them all on our property, in our forests and the bushland adjoining our walking tracks ( The Warburton Trail is only a few minutes from our front gate ..great for walks and bike rides) . Oh, and we have a pony that you can feed an apple or carrot to, and possums in our back yard. You can see all our native animals at the famous HEALESVILLE sanctuary but my favourite place to see kangaroos is in the wild. Heritage golf course is where I often take visitors to see them at dusk.
Well that is a start for you. If you let me know what you are interested in, I can stop talking about what I love, and focus on your interests. 
 To make your welcome a warm one please let us know the names of all your travelling companions, who will join you. We view all of our guests as treasures and knowing them by name and relationship is to us the first step.
Also to help with packing just want you to know we have beach towels and a hairdryer.
I will be in touch with you just before your visit to check on your dietary requirements for breakfast.
Really looking fwd to meeting you when you choose to stay with us. Warm Regards,
Jody and Graeme.
Happily married for 31yrs, with a grown family who no longer live at home. We live in the heart of the Yarra Valley which is one of Melbourne's major Tourist Meccas including Wineries, Coffee shops, Australian wildlife, bush walking through hills, hot Air Ballooning and only 40klm's from the heart of Melbourne. Extremely close to Rochford Winery and a day on the green. Our life motto is to make an inspiring difference in the lives of others and our hospitality matches that. We don't travel much because we have so much at our doorstep to enjoy. We love to share those experiences and knowledge with the many visitors we've had locally and from many countries all over the World.
About us: Great sense of humour, we love people but also love and respect space (our own and others).
Favourite food: we just love food, especially BBQ's Favourite place to visit: Jody; nature walks and the chocolate shop, Graeme; the footy and riding his Harley through the Yarra Valley.
Most important things in our lives: God and family.