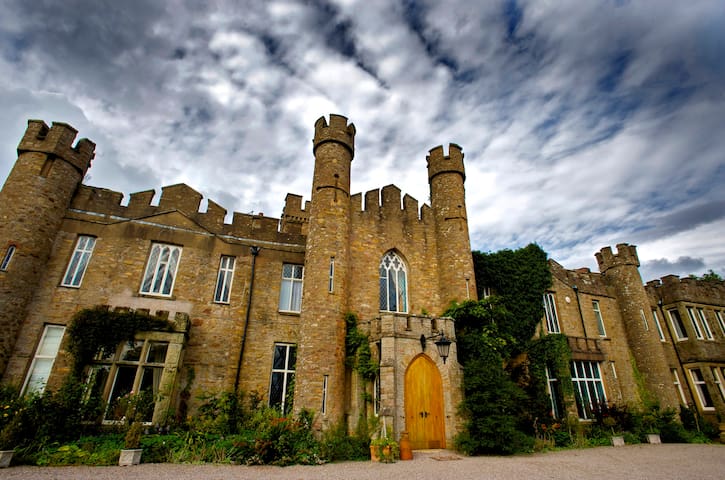 城の中にいてください。おいしい朝食が含まれた家に電話し、私たちの家族の家である素晴らしいリラックスした城が走る15のグランドルームからお選びください。タレット、チューダーパネル、ゴシック様式の窓、それはすべてここにあります。バーもあります。週末の夕食。私たちは自炊設備を備えていません。
Stay in a castle. Choose from 15 grand rooms to call home with delicious breakfast included and have the run of our fabulous relaxed castle, our family home. Turrets, tudor panelling, gothic windows, it's all here. There's a bar too. Dinner at weekends. We don't offer self catering facilities.
スペース
ほとんどの人に適した4つのポスター、ファミリールーム、ガーデンスイートがあります。最大30人まで収容可能な完全城を雇用したい場合は、https://www.airbnb.co.uk/rooms/9651657で他のリストを参照してください。 あなたは15の部屋の1つだけまたはいくつかの組み合わせを持つことができます。どのくらいのスペースが必要か、お住まいの人の数を教えてください。私たちはあなたが家に電話できるスペースを見つけるために全力を尽くします。 ビクトリア朝の紳士の愚かさとして1841年に建てられたこの城は、リラックスしてフレンドリーな雰囲気の本格的な家族の家です。田園地帯の15エーカーの敷地内にあり、城は車で一番訪れます。ヨークシャーデールズと湖水地方の両方の端にある、これは北部イングランドを探索するのに最適な場所です。 城にはゴシック様式の窓、城壁、タレット、ステンドグラス、オーク材のパネルがあります。あなたは、一日、一週間、またはあなたが好きな限り、王、女王、王子またはプリンセスになることができます。 いくつかの寝室には4つのポスター、ロールトップバス、暖炉があり、すべて美しく、面白く暖かいです。 滞在に含まれる朝食は巨大で、遅く、夕食は追加料金で提供することができます。私たちは自炊施設を提供していません。お子様用の追加のお部屋と特別なお子様用の夕食を用意しています。 排他的な使用は30人のための包括的な価格でご利用いただけます、私たちの他のリストを参照してください '完全に城の中でケータリング滞在' https://www.airbnb.co.uk/rooms/9651657
We've got four posters, family rooms, garden suites - accommodation to suit most people. If you'd like to hire the whole castle fully catered for up to 30 people PLEASE SEE OUR OTHER LISTING at https://www.airbnb.co.uk/rooms/9651657.
You can have just one of fifteen rooms or a combination of several. Tell us how much space you need, how many of you there are and we'll do our best to find a space that you can call home.
Built in 1841 as a Victorian gentlemen's folly, this castle is now a real family home with a relaxed and friendly atmosphere. Set in 15 acres of grounds in a rural setting the castle is best visited with a car. On the edge of both the Yorkshire Dales and the Lake District, this is a great place to explore Northern England.
The castle has gothic windows, battlements, turrets, stained glass, oak panelling. You can be King, Queen, Prince or Princess for a day, a week or as long as you like.
Some bedrooms have four posters, roll top baths, fireplaces - all are beautiful, interesting and warm.
Breakfast, which is included in your stay is huge and late and evening meals can be provided for an additional cost. We DO NOT offer self catering facilities. Children are well catered for, with additional rooms and special children's suppers.
EXCLUSIVE USE IS AVAILABLE AT AN INCLUSIVE PRICE FOR 30 PEOPLE, PLEASE SEE OUR OTHER LISTING 'A fully catered stay in a castle' https://www.airbnb.co.uk/rooms/9651657
ゲストの立入り範囲
城のすべての公共エリアと15エーカーの土地にアクセスできます。タレット、塔、秘密の出入口、散歩道、散策の秘密の庭がある以外は、プライベートな生活空間ははっきりとマークされています。 あなたは他のゲストと一緒にここにいるでしょう - それはブティックホテルと偏心したカントリーハウスの贅沢な組み合わせと考えてください。
Access to all public areas of the castle & our 15 acres estate. Private living spaces as clearly marked, other than that you've got turrets, towers, secret doorways, rambling corridors and secret garden to explore.
You'll be here along with other house guests - think of it as an extravagant combination of boutique hotel and eccentric country house.
ゲストとの交流
私たちは敷地内に暮らしていて、親しみやすい小さな地元のスタッフと一緒に城を運営しています。 AirBnBが生まれる前に、私たちは1998年から城でゲストを迎えています! ハイシーズンには、家族や他のゲストと一緒に城を共有してくれるでしょう。居心地が良い、活気のある家族向きの家庭の一部です。静かな夜を選んでください。あなた自身! 私たちは自宅をゲストハウスとして運営しており、自炊施設は提供できませんのでご注意ください。
We live on site & run the castle with a small friendly local staff so there is always someone around. We have been hosting guests at the castle since 1998 - way before AirBnB was born!
In high season you'll share the castle with the family and other guests and you'll be part of a happy, lively family-orientated household with distinctly relaxed vibe but pick a quiet night out of season and you may get a whole castle to yourself!
Please note we run our home as a guest house and cannot offer self catering facilities.
その他の特記事項
Augill CastleはB&Bスタイルの小さな15ベッドルームのユニークな場所に位置していますが、従来のホテルと比べてB&Bや世界がはるかに離れています。私たちは自炊施設を提供することができません。 SimonとWendyは1997年にこの城を難破船として買ってきました。それ以来、AirBnBの前にもゲストを迎え入れてきました。訪問者がゲストとして到着し、友達として残しなさい。 城は英国の好きな国立公園の2つ - ヨークシャーデールズと湖水地方の間の栄えあるオープンな田園地帯にあります。 アウグストキャッスルはあなたが以前に滞在した場所とは異なり、
Augill Castle is run as a small 15 bedroom unique place to stay in a B&B style but itvs much more than a B&B and a world away from a conventional hotel. We are unable to offer self catering faculties.
Simon and Wendy bought the castle as a wreck in 1997 and have been hosting guests since then - way before AirBnB was even thought of - always with the single aim of providing a place for others to call home in the hope that visitors arrive as guests and leave as friends.
The castle is in glorious open countryside between two of Britain's favourite national parks - The Yorkshire Dales and The Lake District.
Augill Castle has been described as unlike anywhere you have ever stayed before.
追加人数の料金 ¥9422 / 泊 (1名を超えると1名様増毎に加算)
お支払をお守りするためにも、Airbnbのサイトやアプリ以外の場所では決して送金や連絡を行わないようご注意ください。
A very relaxed place : kick off your shoes by the front door without causing a scandal! All we ask of our guests is that they enjoy the space and freedom we provide with consideration for fellow guests.
Please note we cannot allow guests to use our kitchen for their own cooking.
The castle started life as a Victorian gentleman's folly built in 1841. It is our home with our children Oliver & Emily, (plus Maisie the Cocker Spaniel, chickens, goats and pigs galore). We run it as a quirky, quietly groovy sort of place to stay - not a hotel, not a B&B but something entirely different. We have a separate website for the castle which is easily found.

We began hosting back in 1998 as a way to pay for the renovation of this beautiful building.

It's a real family home which welcomes guests to stay for a night or two, have supper or dinner, party or even get married. A seriously relaxed place - no false formality, but a place where you can kick off your shoes by the front door without causing a scandal!

It is an old building with small doorways and corridors but all ground floor guest areas are disabled friendly and there are two ground floor bedrooms - one with full wheelchair access.

Our rates quoted on this site are per room per night for bed & breakfast for two people and are a starting point. We also have a listing for hiring the whole castle. All our rooms are very different and individually priced so you may find the rate changes if you request specific rooms or dates. Extra beds, dinner, wine, drinks etc are all charged in addition.