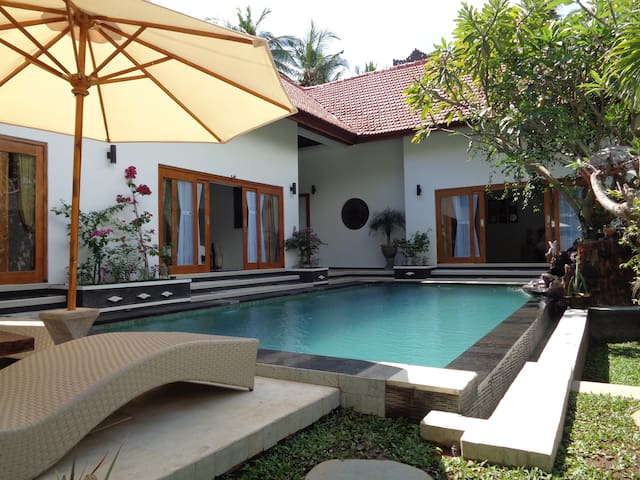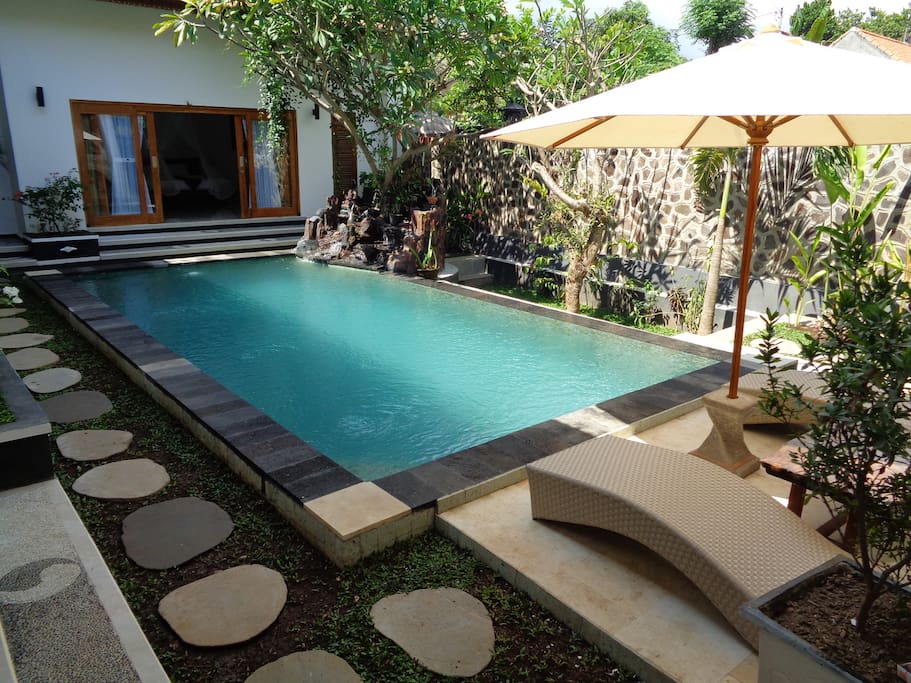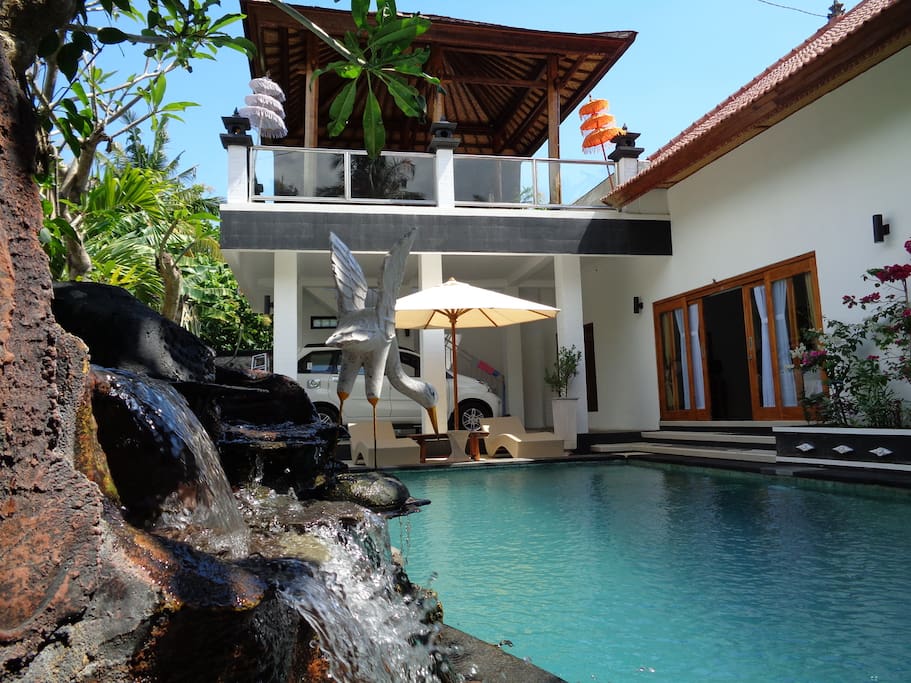 Yin Yang Villaは、静かなバリの近所にあり、多くの屋内と屋外スペース、プライベートプールを備えています。ゲストは、ヴィラの中のDaoist Qigong MeditationとMartial Artsのプライベートクラスを受講することができます。
Yin Yang Villa is located in a quiet Balinese neighbourhood, offers gusts plenty of indoor and open space areas plus a private pool. Guests have the opportunity to take private classes in Daoist Qigong Meditation and Martial Arts inside the villa.
スペース
Yin Yang VillaはKalibukbukの静かな隣に位置し、Lovinaビーチのレストランやバーから徒歩20分です。ヴィラには、独立したバスルーム、リビングルーム、キッチン、オープン屋上テラス、スイミングプール付きのトロピカルガーデンを備えた3つのベッドルームがあります。すべてのベッドルームにはエアコンがあり、小型冷蔵庫と飲料水ディスペンサーが備わっています。
Yin Yang Villa is located in a quiet neighbour hood in Kalibukbuk, a 20 minutes foot walk away from the restaurants and bars of Lovina Beach. The Villa offers guests three bedrooms, all with separate bathrooms, a living room, kitchen, open roof terrace and a tropical garden with swimming pool. All bed rooms have air conditioners and are equipped with a small refrigerator and a drinking water dispenser.
ゲストの立入り範囲
Guests may use the entire property during their stay.
ゲストとの交流
すべてのゲストは異なっており、滞在のためのニーズと期待があります。したがって、我々は個別にオプションのサービスをゲストに提供しています: - 朝食(1名あたり1泊あたり5ドル:3種類の朝食の中から選択) - ヴィラでの旗功と武道のプライベートクラス(太極拳、バグアザン、扶養拳、副人忍術、2時間の練習で15ドル)
Every guest is different and has his/her own needs and expectations for the stay. Therefore, we offer individually optional services to our guest:
- Breakfast (5 $ per night per person: choice of three types of breakfasts)
- Private Classes in Qi Gong and Martial Arts at the villa (Tai Chi Chuan, Baguazhang, Hsing Yi Chuan, Bujinkan Ninjutsu; 15 $ per person for 2 hours practice)
その他の特記事項
ロビナは徒歩でわずか20分歩いていますが、モーターサイクルや車をレンタルしてその地域を探索することをお勧めします。
Even though Lovina is just a 20 minutes foot walk away, we recommend to rent motor cycles or a car to explore the area.
We do not allow excessive parties at the Villa. Smoking inside rooms with AC is prohibited
Bit of a difficult location. Rooms are lovely. Bathrooms are exaggerated large. We missed a place to sit outside for dinner. We moved the table out ourselves. You deff need transport(scooter) to get to shops, resto's etc...also we wouldnt recommend Made as driver. All in all ok place to stay.
---
This villa is located in a quiet village setting with friendly neighbours. If you are looking at staying here you do really need transport as it is about a 30 minute walk to Lovina Beach. This was not a issue for us as we had our own scooter and car. The villa has MASSIVE bedrooms and bathrooms. The court yard ie. pool area was really nice and private. The villa is equipped with an adequate kitchen but it is probably the weakest aspect of the villa. Contrary to previous reviews regarding wi-fi issues, during our stay a new modern and internet connection was installled and is more then adequate for most applications including video and audio streaming. If the total power usage to the Villa was stretched, the over load switched would trip out and would require resetting. This was a constant issue during our stay. We would be in two minds as to wether we would stay here again.
---
Puta's villa is everything you see in the pictures and more. The overall feel of the villa is amazing and the facilities are top spec. The pool is clean and well maintained and the roof terrace is a fantastic late afternoon sun trap! Made was there to greet us and showed us around the villa ensuring we were settled in. The location is very secluded and without our driver we would have struggled to get into town in the evening due to the dark track. Perhaps a torch is an essential packing item if you stop here.
---
If you are looking for somewhere, relaxing and in the heart of Bali life, I highly recommend you stay here if you are a family of 4+ or 3 couples. So much space and much bigger than the pictures suggest. The location is good, you can walk to Lovina in 20 Mins or arrange a lift with the restaurants or Made will drive you. Made can arrange anything you need and he will let you know the price, which we always found to be reasonable. I recommend you try the option to have Breakfast cooked for you, there are lots of options and all are delicious and very good value. The pool is the right size and during the 2 weeks we were there we often opted to just hang out at the villa and relax and go out for dinner in Lovina or nearby at our favourite restaurant The Buda Bakery/Restaurant (The head Chef/Owner used to chef at the Luxury 5* Damai Hotel).
---
Favorites: Balinese Dancing, Culture, Travelling
Favorite Movie: Inception
Favorite Music Artists: Adele
Favorite Proverbs and Life Mottos:
- Knowing others is wisdom, knowing yourself is Enlightenment (Lao Tzu)
- I hear and I forget. I see and I remember. I do and I understand (Confucius)
- Freedom is the freedom of those who think differently (Rosa Luxemburg)

言語:
Bahasa Indonesia、Deutsch、English