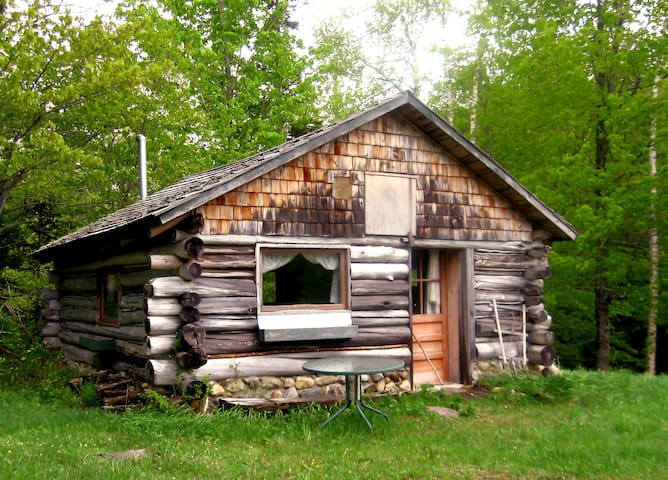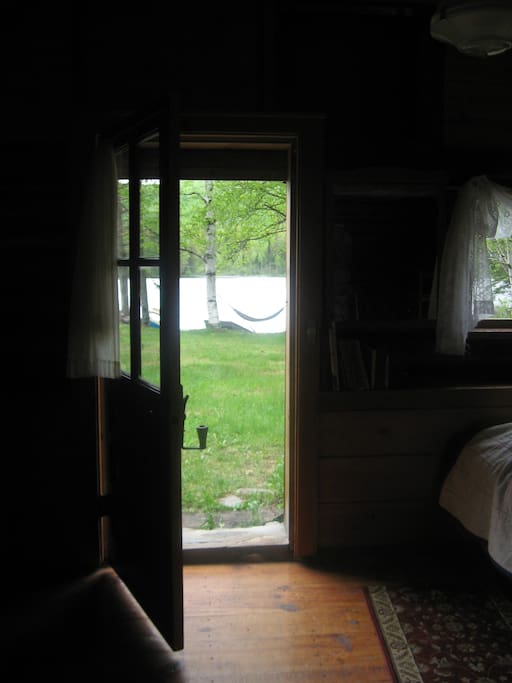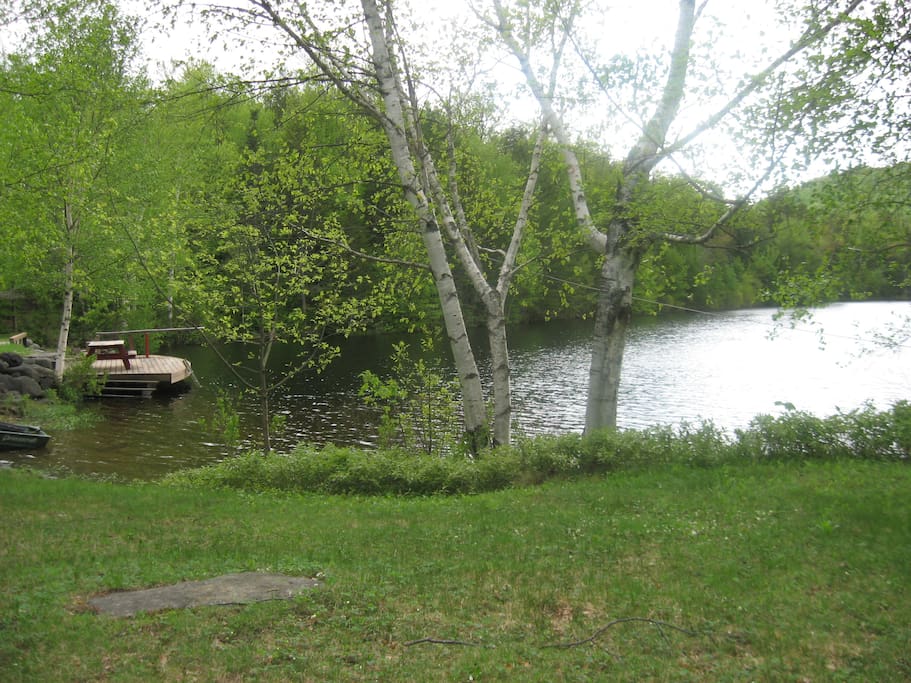 スペース
This rustic and simple one-room cabin was built around 1902 and was used as a fishing camp. We've taken it out of the deep woods and relocated it where it now overlooks the south side of our 12 acre pond. It is now outfitted with electricity, wood stove and there is ample kitchen and counter space with propane stove and double sink. As of this summer there is running drinking water in the cabin now and a hot water heater! A sweet little outdoor shower out back is for your pleasure as well.
The driveway is 2.6 miles long and is a maintained but sometimes pretty rugged dirt road. Four-wheel drive is not necessary in the summer time.
There is an outhouse about 125 ft or so from the cabin. Shower and flush toilets are available in my house, which is just down the lane (about 200ft away). There is also an outdoor shower behind the cabin now too!
The pond is great for swimming and boating. We have a flat bottomed row boat and canoe for you to use while you're here. An aqua-zip line is available for those with a sense of adventure. Please take note that we allow fly fishing only with barbless hooks.
A small market garden and greenhouse are in operation nearby and there are three other houses on our part of the mountain, all on our property. It is never very busy or loud, but there may, once in a while, be other people enjoying the pond, beach and boa
I do just want to mention that the cabin is deep in the woods up a mountain, and hosts all the wilds have to offer. You may have glimpses of moose and mouse, frogs and flies; by the nature of living here we play host to them all. In the interest of full disclosure, I want you to know so that you are aware that critters are here in our area and sometimes in our living spaces. Just about everyone has embraced them so far but some who have not ventured in the woods before have become surprised to see a mouse which made them uncomfortable to be around. Please be the judge on this for your own creature comfort!
WINTER IN THE CABIN
You will need to keep your own fire in the wood stove going to keep the cabin cozy. I can provide instruction if you are unfamiliar. Water is provided in two 4 gal jugs for washing up and will need to be heated on the stove or in the electric kettle. If you need more, you can refil the jugs in my house. Please think of staying here as a rustic, off-the-beaten path retreat. Winter driving experience on icy and snowy roads is a plus as the conditions and weather varies considerably! 4-wheel drive is a must in the winter.
This piece of Earth is a beautiful place for people to relax and play, and that is why I'd like to share this space with you. Come for a weekend, or come for a while.
ゲストの立入り範囲
Guests have unlimited access to our 12 acre pond and may use our canoes, kayaks, diving board, aqua zipline and rope swing. All at their own risk and enjoyment! Taking the the hiking trail to the ledge overlook is awesome too.
Guests may use the screened in porch in my house for a place to get out of the cabin and the rain.
ゲストとの交流
Guests will be greeted upon arrival and we are usually around somewhere on the land and are a phone call away. I have had guests who keep to themselves during their whole stay and others who have become fast friends through hanging out at campfires, hikes and dinner together.
---
---
Please, no drug use. You must respect the cabin, my house, the land and the other people who are here and it's very important that you drive very slowly up the windey single-lane driveway.
No fishing with barbed hooks. Fly fishing only.

下記事項もご了承ください
Dog(s)、cat(s)、other pet(s) live in the house
---
Perfect rustic getaway! The cabin is comfortable and quaint, offering the basic needs and nothing more. The property is amazing, both quiet and beautiful. The hiking around the pond is easy but gorgeous. Hiking trails up the mountain are not far and offer beautiful views! Definitely a place for people who love camping and the outdoors. I would suggest an all wheel drive car for the mountain roads. Anna and Jim are both great to be around and were very accommodating to our needs. Just what we wanted for our mini honey moon!
---
Perfect place if you need to unplug. This was just what we needed during our honeymoon. Beautiful lake and view. We enjoyed using the row boat, kayaks, and jumping into the lake. Brook trout we're abundant and beautiful. Cabin is quaint, comfortable, tastefully decorated, and fully stocked with everything you'll need. Close to good hikes and other scenic stops in the area as well. Hosts were fantastic. Could not stress that enough. We would definitely stay here again should we find ourselves in the area once again.
---
Quiet, peace and tranquility is what you will find at Anna's Cabin. We found a place where we could unwind from regular daily life and enjoy nature at its best. Anna and her father were wonderful and checked in to make sure everything was as expected. The cabin was above our expectation in providing a comforting place to sit & read, cook a meal, and escape the little bit of rain we had. Anna provides all the tools you need to stay without the need to bring a lot of extras. Sitting outside next to the pond in front of the natural rock fire pit was amazing and incredibly peaceful. Anna is very honest in her description of the ride up the mountain - glad we brought our Subaru, but the ride up let us know how wonderful the place we were going would be. The perfect place to escape from it all!
---
I am a mother of a beautiful 9 year-old. After that, I am a pastry chef and I also operate a small market garden business and grow greens and vegetables in a glass greenhouse. I live in the house I was born, in the mountains of western Maine and plan to never leave. On the days …