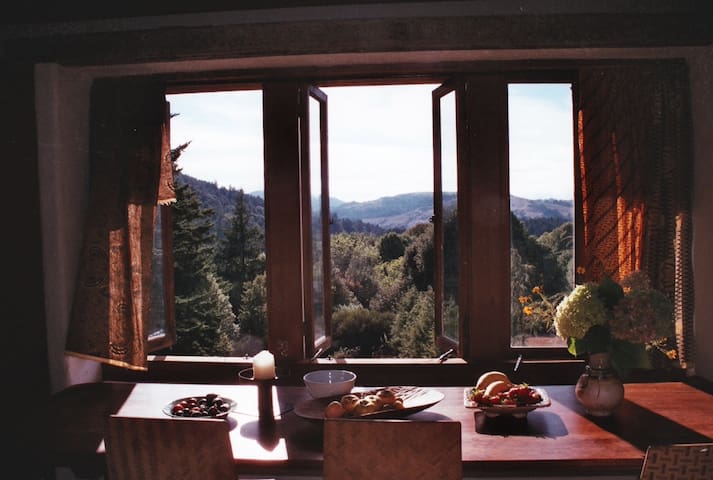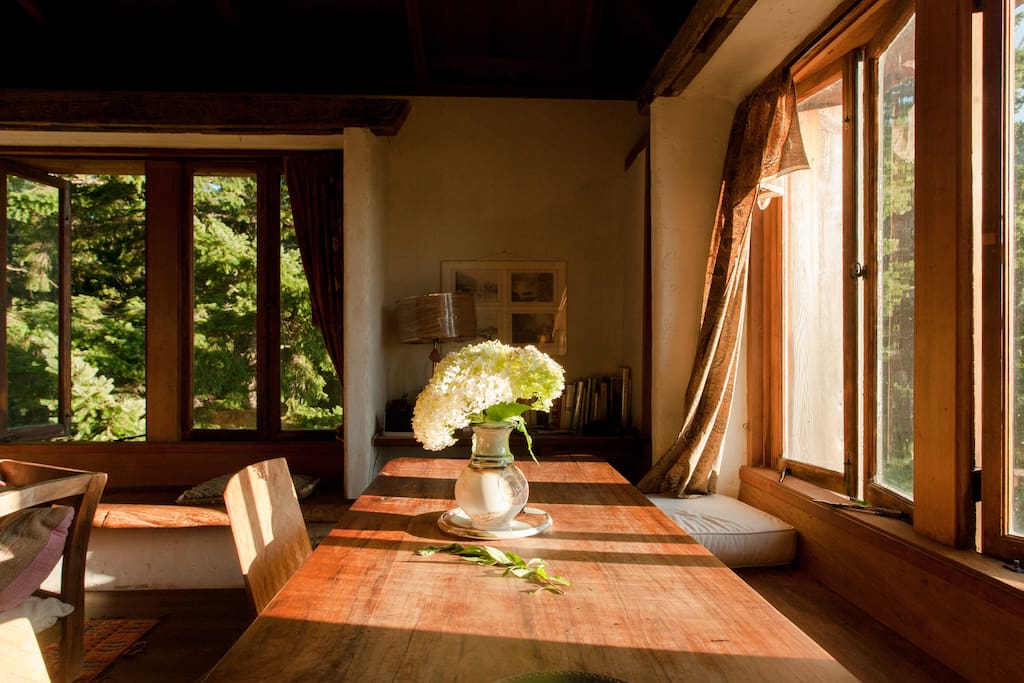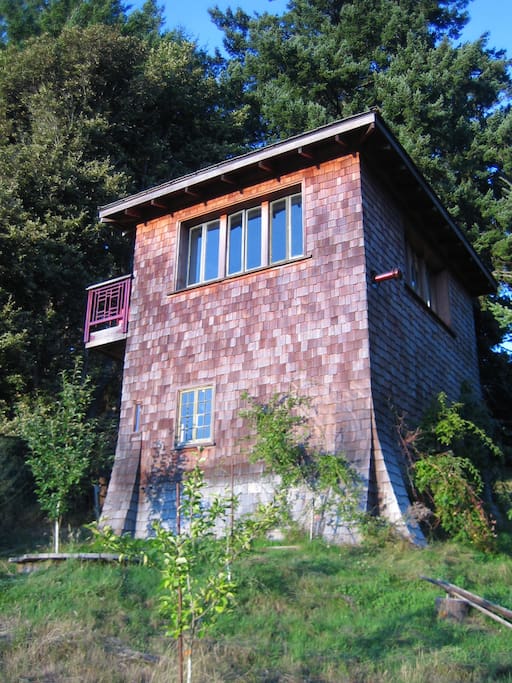 スペース
Hello, Please read all the way through this listing carefully before requesting to book. Thank you.
Perched on top of a secluded hilltop in the wilderness, the handcrafted redwood Tower is an adventurous and inspiring place to be. A 'box of light', the three sides of windows look out onto beautiful views. Romantic and peaceful, the Tower is a perfect couple's or artist's/writer's retreat.
Take a dip in the sparkling Mattole river just over the road below. Enjoy the spectacular bird-life. The wild Mattole Beach is just six miles away and makes for great hiking and beachcombing.
** IMPORTANT!** The Tower is accessed by a steep uphill trail of wooden dirt steps through Douglas Firs. The trail is a 520ft climb - a substantial 5-7 minute uphill hike. Light bags and backpacks rather than suitcases are strongly advised. This rental is not suitable for those who ought not be taking this kind of hike.
For night ascent/descent a flashlight is essential.
**Important Check-in info** The Tower is a property that needs a guide to show you up there initially. It is quite hidden, and you'll benefit from a quick orientation up there. Check-in before dark please.
The upper storey of the Tower has a Murphy bed (small double), which measures 4ft across and is 6.5 ft long from headboard to footboard. If you are quite tall it may not be comfortable due to the footboard. See pic.
This room also has a long comfortable sofa, Deco chairs, redwood window seats and a long cherrywood table.
The Tower is on two floors, connected by an outside staircase.
So *PLEASE NOTE* As the bathroom is on the lower floor you will need to go down the outside stairs to the bathroom.
Downstairs is the bathroom, shower and well-equipped kitchen in one open plan room. The kitchen area includes a Wedgewood stove. (There is also a copper sink upstairs for easy teeth-brushing etc). The spring water is excellent for drinking.
The lower storey also houses water tanks, wrapped in canvas painted by a local artist.
Relax beneath the stars in the outdoor in-ground copper bath tub, with plenty of space for two and a small surrounding deck for glasses of wine, or take a shower outside, looking out onto the hills.
Enjoy ceramicist Jim Danisch's sculptures punctuating the trail.
In collaboration with Petrolia's craftspeople the Tower was designed by my father, a writer and lover of art.
For groceries, the local Petrolia store has most basics (including a gas pump) but its provisions are non-organic so please bring your own special groceries if that's your desire. There are no bars or restaurants in Petrolia. qBear in mind that the Petrolia Store closes at 5.30pm, so be sure to bring groceries with you if you're arriving later than that, especially for that first night's dinner!
At the bottom of the hill is the main house, where I will be on hand to help out as best I can with any queries and extra conveniences. Details and directions upon booking.
To enable a real break and total relaxation, the Tower remains UNPLUGGED! NO WIFI! There is very limited cell service in Petrolia! But fear not, there is an old-fashioned landline available for your private use. Wifi is available on the porch of the community centre, a five minute drive away.
Petrolia is off the beaten track and lies at the end of a very winding, rugged road with potholes a-plenty. Ordinary cars can make it, but if you are hiring a car you will be better off hiring an all wheel or 4 wheel drive that is higher off the ground.
Be prepared for a real rural retreat. This is the wilderness, and there is a lot of wildlife around! The tower is right in the wilderness atop a hill, so be prepared to hear and see animals around.
Come to our small local farmer's market on Sunday mornings 10-1pm for breakfast and local products.
Please feel free to contact me with any questions. Thank you for your interest in The Lost Coast Tower!
ゲストの立入り範囲
Guests have exclusive access to the trail, the Tower and its surrounding meadow.
ゲストとの交流
I like to let guests enjoy the privacy on offer in the Tower and its surrounding meadow. However, I enjoy meeting guests and can be reached by phone and am happy to help make the visit as pleasant as I can with recommendations, tips, etc.
その他の特記事項
There are currently no restaurants and bars in Petrolia. The nearest place to eat out is a one-hour drive away over mountains. There is a small farmer's market on Sundays, 10-1pm, where you can get breakfast.
Thanks very much for taking note of these few tips and house rules!
No smoking
The Tower is non-smoking inside and also in the surrounding meadow and trail as it's a high fire risk area.
Strictly no candles, bbqs or open flames of any kind, thank you!
The Wedgewood Stove: The stove-top rings need lighting manually. The oven lights automatically.
Food storage
To avoid attracting critters please store dry food in the steel chest provided, and perishables in the fridge. Avoid leaving crumbs out too!
Trash
As there is no trash or recycling collection in Petrolia, guests are kindly asked to take all non-compostable trash away with you, including recyclable items such as glass, paper and plastic. There is a green food waste container by the trashcan for food waste/compost – you can leave this waste here.
Dishwasher
Please use - Works great! It's all set, just turn the dial to Normal Wash.
Wood care
Please use the placemats provided on the long dining table upstairs, and take care not to leave wet towels/dishrags or pools of water on the wooden countertops both upstairs and downstairs.
Long Table
Please do not attempt to move the long table upstairs. It becomes dislodged from its base and is hard to put back.
Poison Oak
There are patches of poison oak in the meadow surrounding the Tower. Please look out for it and avoid walking in the long grasses.
下記事項もご了承ください
階段を登らないとたどり着けません - 500 ft climb up steep dirt steps on the trail up to the Tower, followed by two flights of stairs up to the upper storey.
一部アメニティは最低限のものです (例: ネットが遅い) - There is no wifi available. The nearest wifi spot is on the porch of the community centre, a 5 minute drive away.
I came to Petrolia in 2011 from London to spend time with my father, who made his home here 25 years ago. This is now my home, and I love sharing the Tower's magic with guests.
言語:
Русский