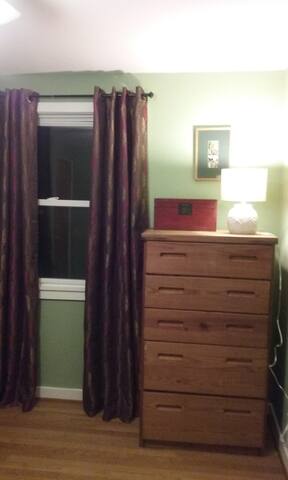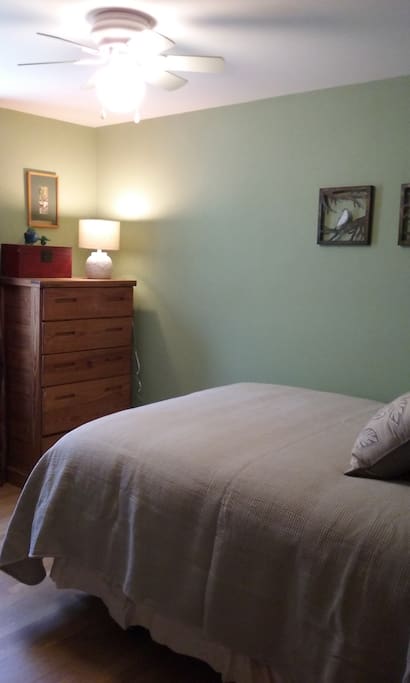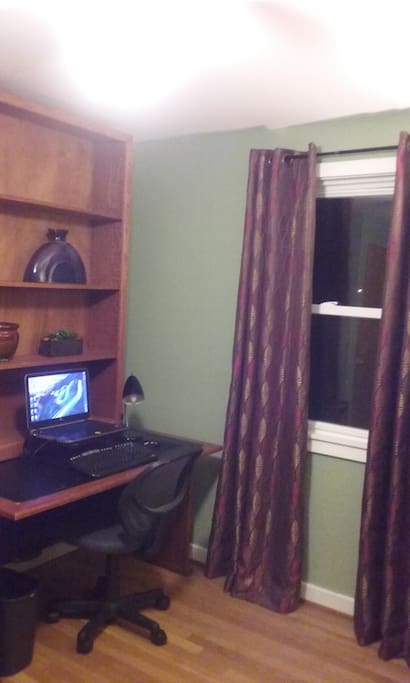 Very clean modest room with full bed, dresser and air conditioner. Shared 1 1/2 baths, laundry and kitchen. Central location great for day trips to Bar Harbor, Moosehead Lake, Camden, coastal harbors, great hiking. I've rented to traveling Nurses and welcome longer stays. 5.5 miles (16min) to EMMC.
スペース
This is Maine "we get snow" and "snow needs to be removed ". Snow removal from walkways and driveway begins at 7am if there has been a storm overnight . Guest will be asked to clear off their cars and move cars to the road while I snow blow . Guests move cars back in the drive when the drive is clear. There are shovels available for guests to use if they need to clear behind their car to leave earlier. The driveway is very very short, I recommend parking as close to the road as possible if you need to be out before I begin snow removal.
ゲストの立入り範囲
use of kitchen
dinning room
enjoy the back deck
use the grill
relax in the living room
---
I spend more than a month at Nadine's place while visiting the University of Maine (Orono) so I will write a longer review. I will start with some keywords: Description of Nadine as a host Welcoming, friendly, helpful, accommodating, positive, reliable, generous, punctual, caring, solution-oriented, pro-active, a good human being :) Description of the accommodation Clean, comfortable, warm and cozy, quiet, nicely decorated, affordable, very suitable for studying, easy to prepare your own meals Based on this enumeration, you can conclude that I was very happy with my living situation during this time. I didn't have a car, so I mostly went to the Uni by bus, which was OK. Nadine also often offered to drive me around for grocery shopping, to shorten the commute, etc., which was very, very helpful. She also found a free bike for me to use during my stay, which was awesome. Overall, with a bit of planning, getting around without a car was no big challenge. The house is very clean and nicely decorated. The kitchen is fully equipped and so I cooked most of my evening meals at home. It is quiet, so, whenever I had to, I could continue doing my university work in the evening or over the weekends. The mattress in my room was very comfortable, as well as the computer chair available in the room. Nadine was a great host, always very helpful with information about sight-seeing and things to do in the area. Not only did she give great tips, but she even drove me a few times to the Bangor City Forest (which btw is a great place for light hiking). She is a very positive person and it was great to get to know her and to live in her home. She is by far the best host I've ever had so I would definitely recommend her place to anyone interested to visit Bangor.
---
Nadine was my first experience with an AirBnB. A+++ all the way! We would return without hesitation. I would recommend her highly to my friends and to anyone looking to explore the Bangor area or simply need a resting place along their travels. Some specifics: The BED was incredibly comfortable!! (My sweetie and I are both very particular about this due to physical issues; the mattress was perfect for both of us.) Nadine keeps the house cool and the room features both a window air conditioner and ceiling fan, so we stayed cool and comfortable throughout an unseasonably warm heat wave in September. Coffee, toast and fruit awaited us in the mornings and we were encouraged to make ourselves at home. Nadine was a font of information, tips, lore and advice about the Bangor area and super-interesting to talk to. If we wanted to chat we could, but we always felt free to "do our own thing" as well. She did everything to ensure we were well and truly "at home"!
---
Nadene was very very nice and kind, helped us with whatever we needed and more. She let us use her house as it was ours, like use the laundry machine, the dryer, she set the coffee machine every night for the next morning and bought bread/bagels and fruits for us for breakfast. The house is very clean and quiet, the privet room is really good and have everything you need. Just pay attention that if you are coming to Acadia it is at least hour driving from Bangor. Nadene's house really close to big supermarket and gas station and even to a healthy food store with things for vegan food. She was very nice and make our stay interesting, funny and comfortable. Thank you Nadene!
---
I am a relaxed person, love conversation and meeting new people.