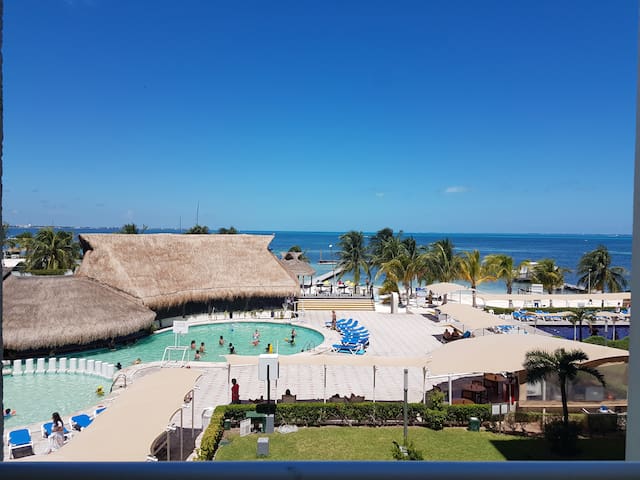 リスティングについて
Cozy, clean and well located studio with beautiful ocean view in Cancun Hotel Zone.
Enjoy your time by the beach and the amenities included: Access to the private beach with long chairs and hammocks, Pools, Jacuzzis & Gym.
The studio has two double-beds, a furnished kitchen, a complete bathroom, a balcony with its beautiful ocean view, TV, A/C and closet.
We can also provide you private transportation. Look up our profile to see all the apartments we offer by the beach!
スペース
Cozy, spacious and well located studio with a beautiful ocean view in Cancun Hotel Zone.
Enjoy your time by the beach and the amenities included: Access to the beach, 2 Pools, 2 Jacuzzis & Gym.
The studio has two double-beds, equipped kitchen, complete bathroom, balcony with ocean view, TV, A/C and closet.
ゲストの立入り範囲
Amenities in the place:
-Jacuzzi, Mini Golf, Gym
-2 Pools for adults and 1 for Kids
-Beach cots at the pool and by the beach
-Access to the restaurant, snack bar and bar of the place (additional cost)
We can also provide you private transportation for a special price:
$68 USD Round Trip (Airport-Hotel and Hotel-Airport)
$37 USD One way (Hotel-Airport)/(Airport-Hotel)
Please if you are interested in taking the transportation write us to arrange your pick up on time and day.
We also offer a local discount for the Day Pass from 9:00 am - 5:00 pm:
Lunch Buffet
Snacks at the pool
Alcoholic & Non-Alcoholic Drinks
Use of Beach Towels
If you are staying 7 or more days, we can do the cleaning of the studio at the middle of your stay. For your convenience, if you are staying 4-6 nights, we can provide you change towels the third or fourth day.
ゲストとの交流
Please read the Basic Info / House Guide so you can get my personal data and extra info about the place :)
その他の特記事項
Located at km 4.5 of the Hotel Zone inside hotel Aquamarina Beach, is a room that has access to all amenities this hotel offers, (restaurants and bar with an additional cost), you can also enjoy a delicious massage by the beach and have fun in the jet ski that are offered with accessible prices.
Across the street is the bus stop where you can get to the best night clubs of Cancun by 7 minutes (supermarket, mall, restaurants also), 10 minutes to downtown (Mercado 23, Las Palapas, Main Bus Terminal). There is a also a little supermarket, and 5 minutes walking from the place is a pharmacy, Starbucks and local food restaurant, and 10 minutes walking is the Ferry to Isla Mujeres & the Tour of Captain Hook.
The Bus Terminal is about 15 minutes by bus and it has departures to most places of Mexico, including Tulum, Playa del Carmen, Chichen Itza, Cancun Airport.
The place offers national and international drinks (happy hour), buffet, snack bar; or you can also buy your stuff in the little supermarket across the street -Oxxo- and do your meals in the room.
---
このリスティングには、出張者用の基本のアメニティが揃っています。
---
チェックイン: 15:00~02:00 (next day)
---
---
---
チェックイン時間は、15:00から02:00 (next day)です。
No smoking allowed inside the property
No drugs allowed
Please take care of the room, furnish and tools you find here (as well as the kitchen equipment we provide)
We appreciate your understanding and hope to have a pleasant stay.
---
厳格
開始7日前までに解約すれば50%返金されます(サービス料も返金可)。
---
---
Diana and Vincent are wonderful hosts!! I would highly, highly recommend staying here especially for the value! They are terrific at communication and are very flexible to adjust (I added another person to the room and needed early checkout). Overall they did a phenomenal job. If you're considering two options, pick this one hands down!
---
We had an amazing time staying with Diana. She was always willing to help us with whatever we needed and answer any questions that came up. The hotel pools, activities, and beaches are amazing. When we stayed at the resort it was very relaxing and fun. The staff are very helpful and answered all of our spur of the moment questions. The towel service that is offered is very worth it. They provide nice towels and it was great not having to worry about our own. The room was great and had everything we needed. We did use the shuttle service to get from the airport to the hotel and it was very convenient. It surprised me how easy it was to find our driver and get to the hotel. We were going to use it to get back to the airport, but they didn't get there on time and we were forced to take a taxi so we wouldn't miss our flight. I told Diana and she looked into it and said she'd refund the amount for our return trip. Overall a great experience. The only challenges we had came when we wanted to eat out and explore by ourselves. There isn't really anything within walking distance outside the hotel. Public transportation was inconvenient at times.
---
Super sweet, such amazing hosts very helpful with everything, excellent communication & hospitality. I wish we could have stayed longer. Condo/Apt. is cleaned extremely well. The kitchen & supplies above average. Being at a hotel, more amenities than expected. Would love to stay again in property of same host. The location in northern hotel zone is perfect for easy access to the central city area, more economical shopping. Easy access further into the hotel zone for other shopping & into the famous club district, if interested in that. All around great hosts, area, & location!
---