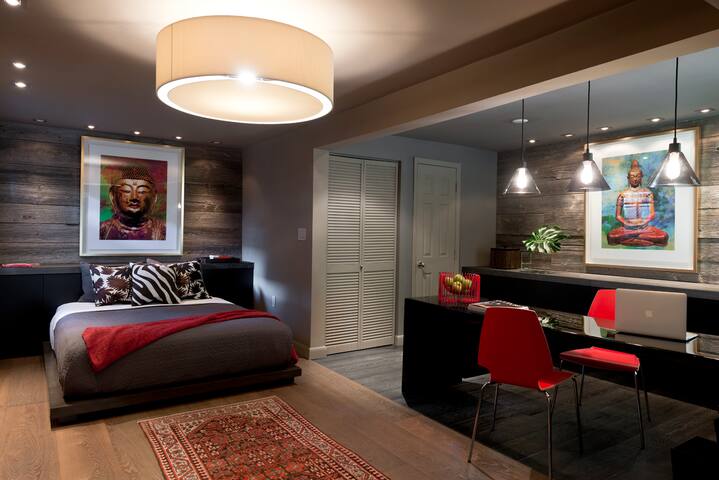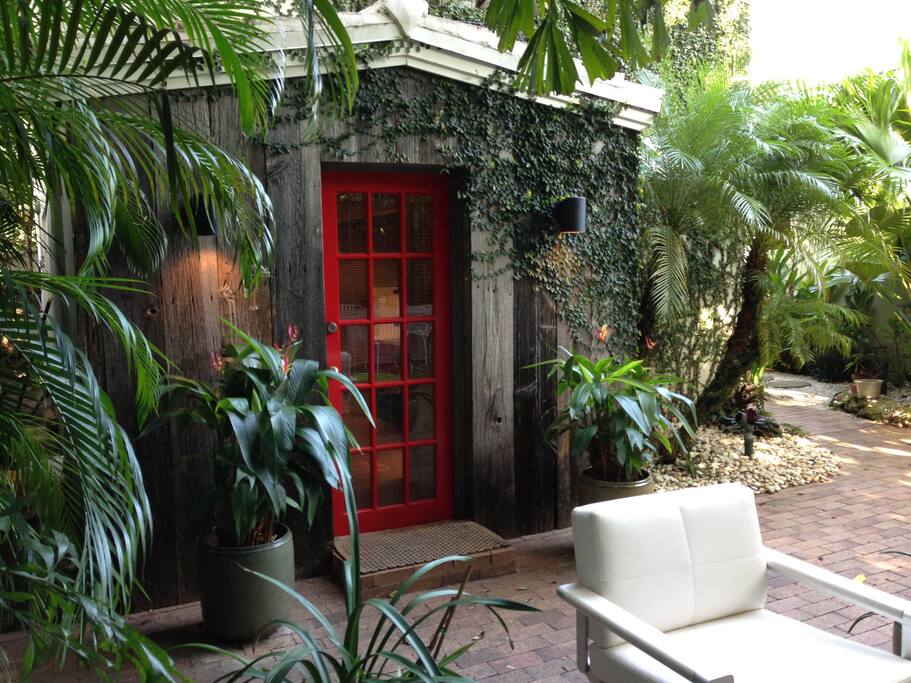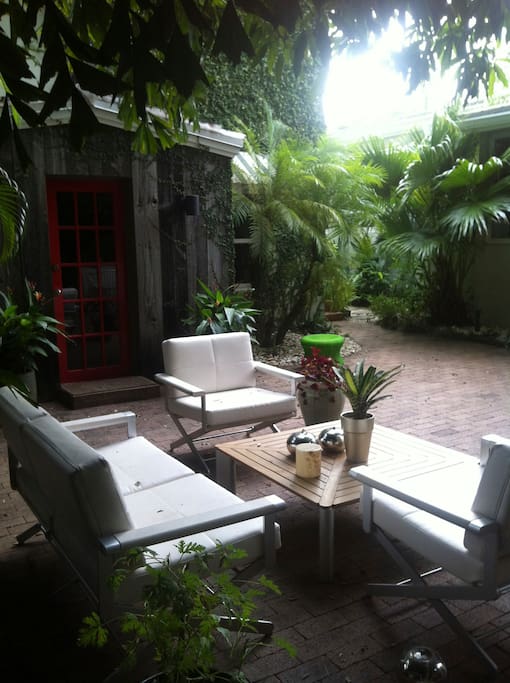 Great Location!!! Charming Suite, 400 Sq. Ft., detached building Garden Level, set among lush vegetation. Equipped with Wetbar, fridge, micro and Nespresso machine and pods (supplied); electric water kettle, utensils etc. New bathroom, closet, queen sized pillow top bed, comfortable desk area and WIFI of course! Beach towels, iron and board, hair dryer are all available upon request.
スペース
ガーデンスイートはマイアミのHistoric Morningside地区に位置しています。マイアミのアッパーイーストサイド/ MIMO地区内にあるビスケーンの回廊沿いに位置するモーンサイドサイドは、特権的な場所にあります。 Biscayne Bay沿いにあるBoulevardの東側に位置し、デザイン地区、ウィンウッド、ミッドタウンの中心部から2マイル以内です。サウスビーチとマイアミ空港から10-15分。 このエリアにはマイアミで最高のレストランがいくつかあります。マイケルの本物、ハリーのピッツェリア、デザイン区の食堂。 Soyka's、Sushi Siam、Blue Collar、Vagabondなどがあり、ビスケーン通りにはいくつか名を連ねています。多くのヴィンテージと委託店が大通り沿いにオープンし、LAのMelrose Boulevardを思い出させる興味深いショッピング体験をしています(ご予約の際は、お勧めのエリアガイドにアクセスできます)。 緑豊かな植物、マンゴーツリーの下にあるシッティングエリア、魅力的な屋外ダイニングエリアを見下ろすGarden Suiteへの専用エントランスがあります。アボカド、マンゴー、ライチ、グアバ、バナナ、その他の熱帯植物の美しい景観の敷地。洗練された内装のデザイナーズ家の一員。ガーデンスイートはもともとハイエンドの木製のショールームだったため、再生木材、インテリアの木製フローリングとパネル、カスタムキャビネット、家具と凹面照明で覆われた外観のファサードでした。アジアの倍音と洗練されたカラーパレットによる装飾は、豪華で心地よいリトリートを補完します。カスタムラッカー製の机/ダイニングテーブル。緑豊かなクイーンサイズベッド。ケーブルテレビ、AC、スペースヒーター、無料WIFIを完備しています。電子レンジ、冷蔵庫、ネスプレッソエスプレッソマシン、トースターオーブン付きのミニバー完備。食器セット、フルバーガラス器具、カトラリーなどがあります。ネスプレッソのコーヒーポッドとお茶をご用意しています。シャワーと掛け/収納用クローゼット付きのフルバスルーム。ビーチタオル、ヘアドライヤー、アイロン台(リクエスト制) ジョーンズやベイ沿いの散策に最適なモーニングサイドパークから数ブロックです。テニスコートは年中利用可能で、プール(季節限定)もあります。ゴルフコースは近くにあり、借りるクラブもあります。モーニングサイドパークにはカヤックとスタンドアップパドルボードがあり、公園は5ブロック先にあります。 車を借りることは、通常、マイアミで効率的に移動するための最良の選択肢です。 バスはBiscayne Southを北に向かって走っています。ルート3は、下記のリンクを参照してください。接続は、ビーチに渡ることができます。 (隠されたウェブサイト) 伝統的なタクシー、UBERとLyftは常に利用可能で、UBER's / Lyftのアプリを通じて家に持ち帰ることができます。 特別なご要望があれば教えてください。最善を尽くして対応いたします。 すぐに私たちを訪れることを願っています!
Garden Suite located in the Historic Morningside district of Miami. Within the Upper East Side/MIMO District of Miami, set along the Biscayne corridor, Morningside has a privileged location; situated on the east side of the Boulevard, along Biscayne Bay, it is less than 2 miles from the center of the Design District, Wynwood and Midtown; 10-15 minutes from South Beach and Miami airport.
The area has some of the best restaurants in Miami; Michael's Genuine, Harry's Pizzeria, Shokudo in the Design District. Soyka's, Sushi Siam, Blue Collar, The Vagabond, to name a few on the (Biscayne) boulevard. Many vintage and consignment shops have opened along the Boulevard making for an interesting shopping experience reminding us of LA's Melrose Boulevard (with a confirmed reservation you can access our area guide with recommendations).
There is a private entrance to the Garden Suite, which looks out to lush vegetation, sitting area under a mango tree and charming outdoor dining area. Beautifully landscaped property with avocado, mango, lychee, guava, bananas and other tropical plants. Part of Designer's home with tastefully done interiors. The Garden Suite was originally a high end wood showroom, hence the exterior facade clad in reclaimed wood, interior wood flooring and paneling, custom cabinetry and furniture and recessed lighting. The decor with Asian overtones and sophisticated color palette make up for a luxurious and cozy retreat. Custom lacquered desk/dining table; lush Queen sized bed; cable TV, AC, Space Heater and Free WIFI. Fully equipped Minibar with microwave, fridge, Nespresso espresso machine, toaster oven; set of dishes, full bar glassware and cutlery. Nespresso Coffee pods and tea selection provided. Full bath with shower and hanging/storage closet. Beach towels, hair dryer, iron with board available upon request.
We are a few blocks from Morningside Park perfect for jogging or a stroll along the bay. Tennis courts are available year round in the park along with a pool (seasonal). Golf courses are close by with clubs available to borrow. Morningside Park offers Kayaks and Stand Up Paddle boards for rent, the park is 5 blocks away.
Renting a car is usually the best option to move around efficiently in Miami.
Buses do run along Biscayne South to North, route 3, see link below, connection can be made to cross over to the Beach.
(website hidden)
Traditional taxis, UBER and Lyft are always available and can be called or booked through UBER's/Lyft's app for pick up at the house.
Let us know of any special request, we will do our best to accommodate.
Hope you come visit us soon!
ゲストの立入り範囲
屋外のパティオの座席とダイニングエリア、緑豊かな植生に囲まれたパティオ。
Outdoor patio sitting and dining area, patio surrounded by lush vegetation.
ゲストとの交流
常に質問やニーズに答えることができます。私のドア、テキスト、電話などをノックすることで到達することができます
Always available to answer any questions or needs. Can be reached by knocking on my door, text, phone etc.
その他の特記事項
ツリーハウス内または敷地内のどこからでも禁煙できます。
No smoking anywhere inside the Treehouse or in the property.
We do not discriminate, we are commited to treating our guests regardless of race, religion, national origin, disability, sex, gender identity, sexual orientation or age, with respect, and without judgment or bias.
We do expect all of our guests to uphold and follow our house rules;
- Absolutely no smoking or drugs inside Garden Suite or property.
- No loud, noisy, late night parties.
- No pets (but may make an exception here and there...just ask)
- Not suitable for children, but as above, may make an exception here and there...just ask
- Anyone that is not booked under the reservation is not authorized on property unless previously cleared with host.
- All doors and windows must be locked when you are not on property.
- Please be considerate and leave the cottage in the same condition as you received it.
- Please make sure that when you enter/leave the yard to always lock the gate.
I'm a designer, started in Fashion, moved on to Interiors - love designing, I guess anything that needs help... We've enjoyed living, that's with my husband Rober, in NYC, LA, Chicago (East, West and Third Coasts) before coming to sun filled Miami. We fell in love with Mornin…
言語:
English、Español、Italiano