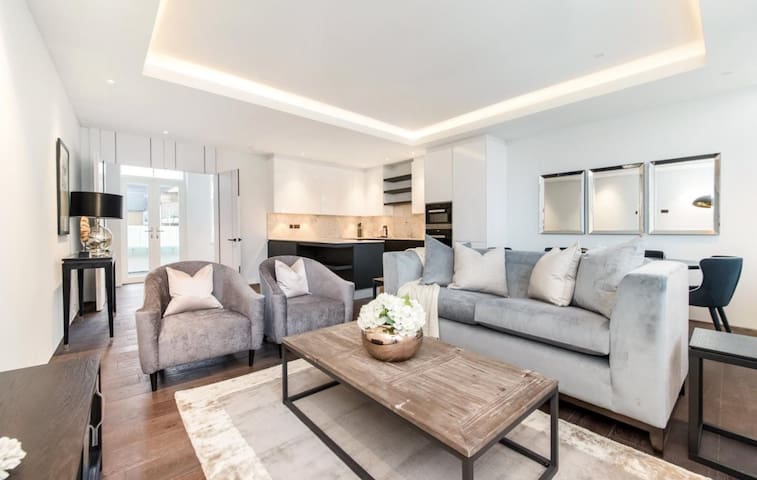 *****STUNNING CITY CENTRE APARTMENT*****
ロンドンのウォータールーにあるテラス付きの豪華なシティセンターのアパートメントに専用バスルーム付きの新しいダブルベッドルーム。 LONDON EYEとBIG BENのすぐそばです。予約照会は、3ベッドルームのアパートメントに1つのダブルベッドルームと専用バスルームがあります。
BRAND NEW double bedroom with private bathroom in a luxury city centre apartment with terrace in London Waterloo. Just a stone's throw away from LONDON EYE and BIG BEN! The booking enquiry is for one double bedroom with private bathroom in a three bedroom apartment.
スペース
ウォルトルーの最も待望の新開発のうちの1つで、すばらしい3ベッドルームアパートメント(共用共同エリア)に専用バスルーム付きの素晴らしい1ダブルベッドルーム。この後期ビクトリア様式の旧ホテルは、以前の壮大さに完全に改装されました。ここで完成されている作品は厳しい基準に基づいており、本当に完璧なホテルです。アパートは美しく整えられており、堅実な木製の床、花崗岩のワークトップ、偉大なビルトインの収納から利益を得ています。約1,483平方フィートの全アパートメントは、ダブルベッドルーム3室、バスルーム3室、フロント、オープンプランキッチン、エントランスホール、大きなテラスから構成されています。
Stunning 1 double bedroom with private bathroom in an incredible 3 bedroom apartment (shared communal areas) in one of Waterloo's most keenly awaited new developments. This late Victorian former hotel has been completely refurbished to its former grandeur - the work that is being completed here is to an exacting standard, creating a truly impeccable property. The apartment has been beautifully furnished and benefits from solid wood flooring, granite work tops and great built-in storage. The whole apartment, of approx 1,483 sq ft comprises: 3 double bedrooms, 3 bathrooms, reception, open plan kitchen, entrance hall and a large terrace.
---
---
Additional £30 fee for late check-in after 10pm.
The security deposit will be charged in case of lost of the key or if the key will not be returned.
The security deposit will be charged in case of breach of the non-smoking policy in the apartment.
No guests in the apartment, only people of the reservation.
No moving of furniture.
---
The apartment is in a great location and the amenities of the space are small but nice, especially the bathrooms. Only the bedroom and bathroom are private. With this being said, I have NEVER left an AirBnB reservation early, nor left a bad review before this incident. We were pleased with everything until we tried to go to sleep. There is no air filtered into the bedrooms, so we opened the windows, because it was so hot. However, the noise of the elevated train and and drunken patrons of the pub below were so loud that we couldn't sleep. After several hours, we sent a note to Ben to see if there would be a way to turn air into our rooms, and didn't receive a response. I went into shared space around 1:30AM, where I found a PhD student who said she had given up on sleeping for the reasons of noise vs. heat in the bedrooms. At about 3AM, a drunken brawl broke out at the pub below, so the police were called. At that point, we decided to check out the next morning, and communicated this to the owner. Ultimately, he refused to reimburse us for the second night.
Hello Justine, Thank you for your review-I appreciate the time you took on leaving your feedback. However, I feel this is not very fair and would like to get back to a few points. We had on that day 17 degrees in London, so it was not hot at all - I really don't understand why it was too hot for you in the room - maybe you turned on the heating? I have temperate control for all my rooms. Yes, you messaged me and it is not correct, that I didn't get back to you - I was at this time in New York which I communicated in advance and got back to you straight away on the next morning. The Pub opposite my apartment you are referring to, is legally not allowed to be opened after 1am and I think you would agree that it is out of my hands what people are doing in central London on the street. London is a metropole and if you want to stay central you won't find a place where it is absolutely quiet. You never cancelled your reservation and wanted to have a reimbursement - this is like departing in a hotel earlier without saying anything and coming back the next day to the reception and asking for money - I think it is common sense that you have to cancel your booking with me in order to claim anything. I didn't get unfortunately a chance to meet you in person, but you made your stay for myself very hard, you didn't understand the listing in the first place and I would not recommend you to any hosts here on Airbnb. Best regards, Ben
---
This spot is perfectly situated close to Waterloo and Westminster tube stops and in an adorable neighborhood. The flat is gorgeous, the room is comfortable but can get noisy due to the proximity of the tube/pub outside . The amenities are sparse but if you're not planning on spending much time in the flat, this is a great choice for you.
---
Ben is a great host with a beautiful apt. Location was perfect for experiencing London for the first time. Local pubs, coffee, and stores nearby; loved having Co-op grocery store right next door throughout the week. My wife in I biked to Westminster in minutes and loved it. With the tube 5 mins away we could reach anywhere within 2 stations. Kitchen and deck were serene, it was very relaxing
---