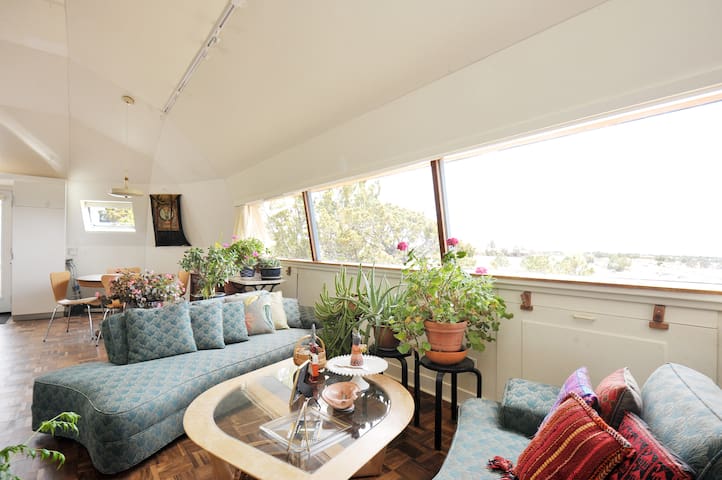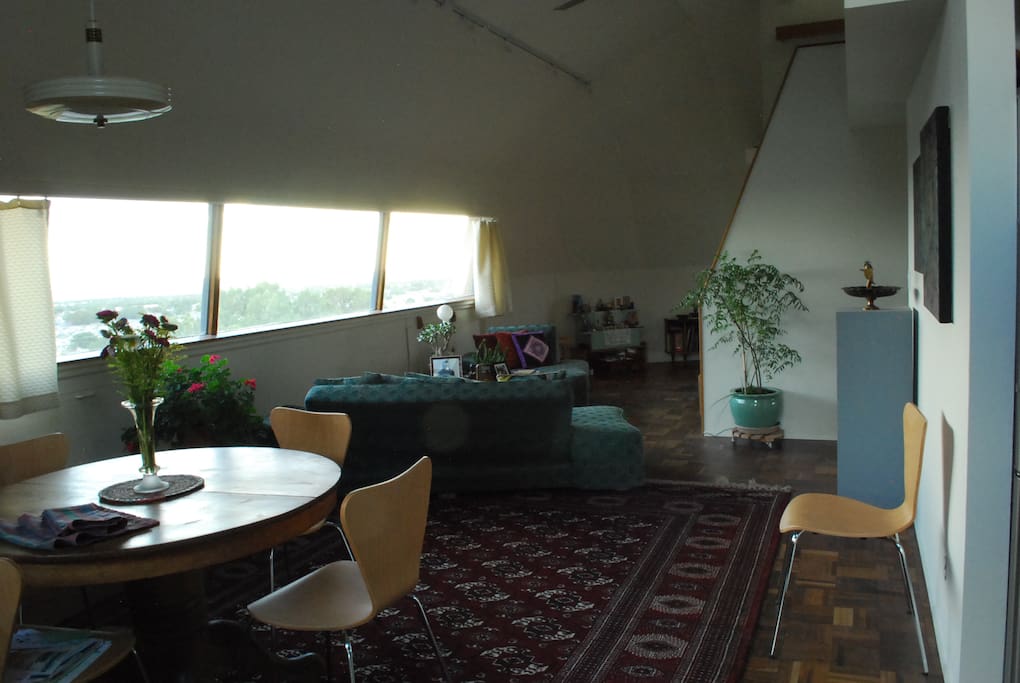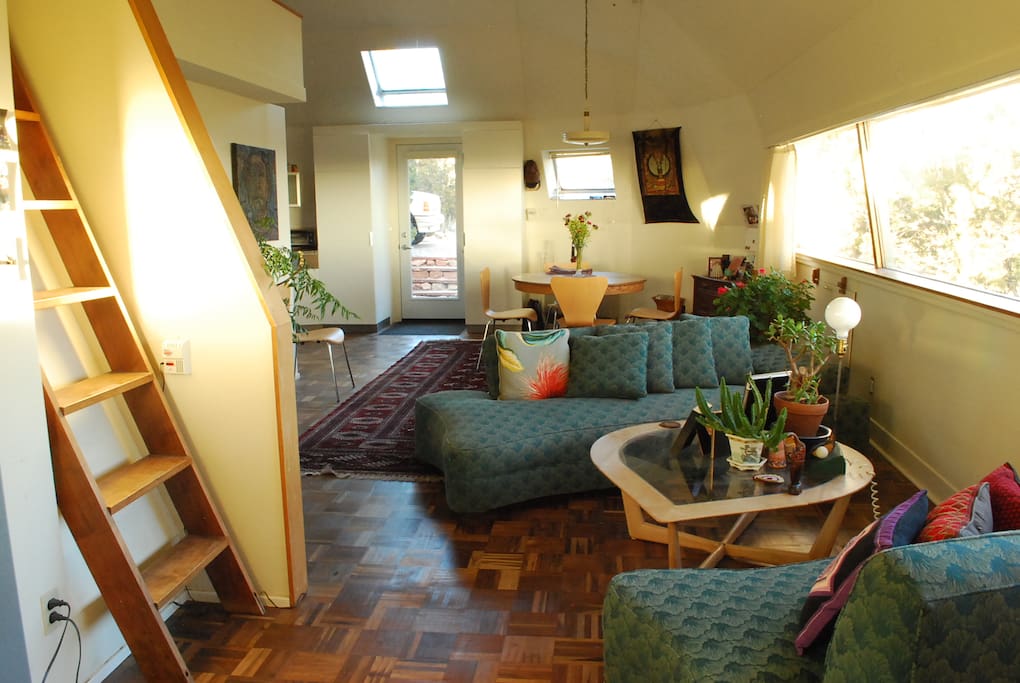 幻想的な360度の眺めとランニング/サイクリングの馬の道がある正面玄関からの測地線のドーム!サンタフェ:12分ドライブプラザ。静かな瞑想。 5エーカーの舗装された道路の終わり。すべての礼状。グルメ器具。
Geodesic dome with fantastic 360 degree views and running/biking horse trail just out the front door! In Santa Fe: 12 min driveto Plaza. Quiet contemplative. At the end of a paved road on 5 acres. All amenties. ew gourmet appliances.
スペース
高い砂漠の壮大な自然環境は、まだサンタフェのプラザと最高のレストラン、ギャラリー、お店の町に近い! 1階にはマスターベッドルームがあり、クイーンベッドと隣接するバスルームにはダブルシンクがあります。リビングエリアの緑のソファはシングルベッドに折り畳まれています。
Spectacular natural setting in the high desert yet close to Santa Fe's Plaza and best restaurants, galleries, shops town! There is a master bedroom on the ground floor with a queen bed and adjacent bath that has double sinks. The green sofa in the living area folds out into a single bed.
ゲストの立入り範囲
すべてのアメニティに加え、ハイキング、サイクリング、バックドアアウトトレイルを実行!サンタフェ周辺で最も人気のあるレストラン/カフェの3軒近くにあります。
All amenities plus hiking, biking, running trail out your back door! close to 3 of the most popular restaurants/cafes around Santa Fe!
ゲストとの交流
ご到着時と出発時にご到着時にお客様をお迎えします。町外にいた場合は、マネージャーコールと時折チェックインを行います。私たちがここにいると、私たちは交流し、あなたの滞在をできるだけ楽しくするのを助けてくれることを嬉しく思っています!
We will meet our guests on arrival and again on departure: if we are out of town we will have a manager call and check in occasionally. If we are here we are happy to interact and help make your stay as enjoyable as possible!
その他の特記事項
ハイキング/サイクリング/馬の試行は古い電車の軌道に沿って走りますが、電車はもう走っていません。それは非常にロマンチック/ノスタルジックです。そして、夕日は素晴らしいです!
The hiking/biking/horse trial runs along the old train tracks but the train no longer runs. it's very romantic/nostalgic. And the sunsets are amazing!
Just remodeled. New floors, new appliances etc. Please take good care.
I don't know quite how to articulate how wonderful this dome is and how wonderful the hosts are. My friend Lucas and I had the best vacation of our lives there. Our experience went way beyond the beautiful physical space and the spectacular setting - I don't know how to say this exactly, but there is a love and peace that can be felt there. I believe it has a lot to do with Jay and Geraldine, the hosts. Two of the most gracious and lovely people we have ever had the chance to meet. This trip will be very difficult to top and I have much gratitude towards Jay and Geraldine.
---
Beautiful and very comfortable house in a quiet and scenic setting just south of Santa Fe. Spectacular view and easy access to a well-maintained path that runs along an old rail line (perfect for walking/running). We appreciated being very close to the city (short drive) yet out in the country. Jay and Geraldine were helpful and very welcoming hosts.
---
We can't say enough about what a delightful place this is, and what wonderful hosts Jay and Geraldine are. They responded quickly to any questions we had, offered us really useful suggestions about where to eat and places to go around Santa Fe and were readily available if we needed them. (If you're lucky, you might even get a piece of Jay's home-made pecan pie.) The place itself is a real treasure and the location is all that and more. My partner and I felt instantly at home, and we loved the decor, the locale, and the sense of serenity and peace that permeates everything. We also loved chatting with Jay and Geraldine about their art, and couldn't wait for visiting relatives to see where we were staying. They made our stay in Santa Fe something really special; it was hard to leave!
---
How do I even begin to explain how amazing of an experience this was. Our host, Jay was so accommodating. From lists and suggestions of places to explore and eat to leaving fresh organic milk and coffee in the fridge for use when we first arrived. He was always available during our stay and was happy to suggests a gallery or spa to check out. Also, let's talk about the Geodome... one of the neatest places my wife and I have ever stayed at. It was so beautiful and sun filled. In the morning we loved to sit outside and enjoy some coffee and in the evening open up the vents to breath in the fresh juniper filled air. What a great experience... We may have to make a habit out of it :)
---