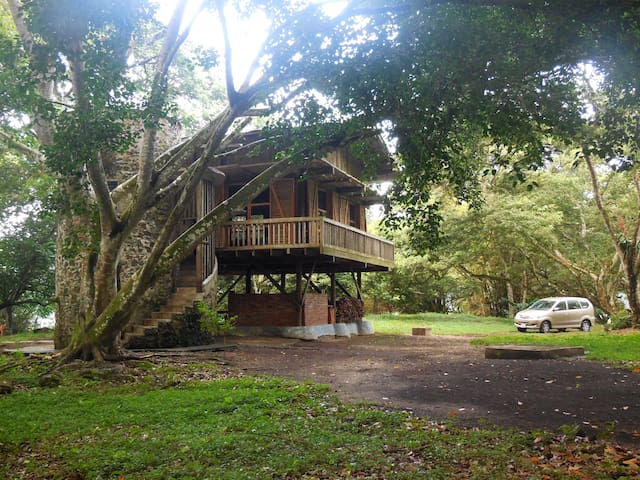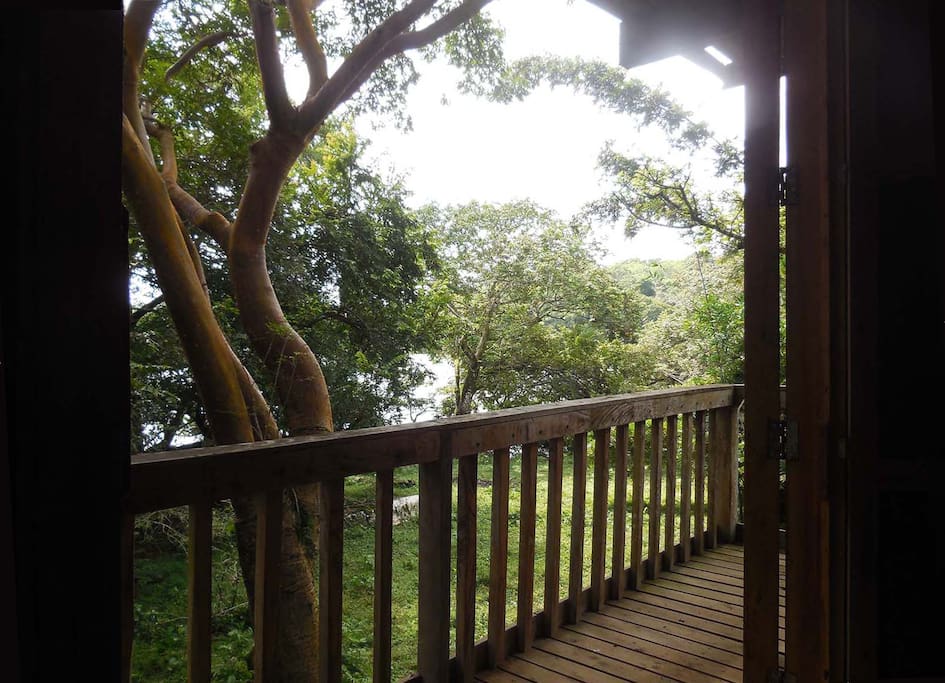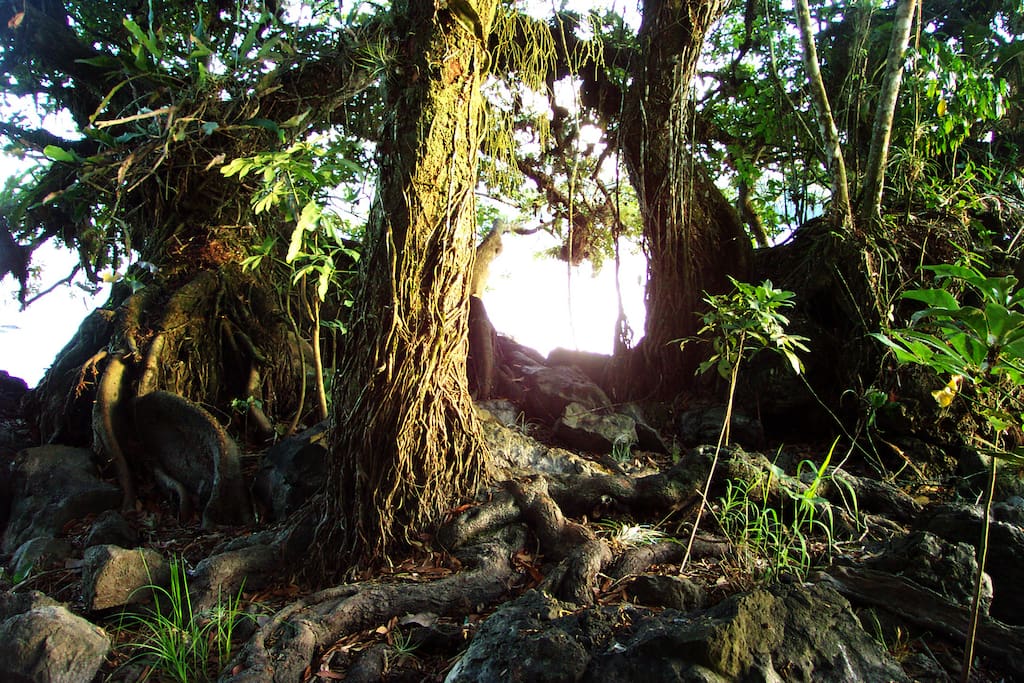 It's one of Mexico's most beautiful places, by the Catemaco lake in a tropical, lush surrounding. It's perfect for those seeking peace and a powerful connection with nature. You will have the house for yourself but there is a fee for one guest and a lower fee for each additional guest.
See our toxcatl page for more info.
スペース
You will be housed in a beautiful rustic wood and bamboo cabin where you can feel at ease in the midst of a breathtaking surrounding. There is electricity, water, a kitchen, a bathroom, a hot shower, bedding and the lake to swim in. It's the ideal place to read a book in a hammock, to swim in the lake, to bake yourself a pizza in our bread and pizza wood oven and to feel totally detached from what we believe is reality... There is no wi-fi connection. You are coming here to re-connect with nature.
You probably have common sense, but in case you surf in another dimension, as some people do, we ask you to clean-up after yourself and wash your dishes. Please don't get on the beds or the hammocks with your shoes on, don't use the pizza oven-platters to cook other things on them and in general take care of the equipment we have for you to use. Thank you.
ゲストの立入り範囲
You can roam all through our 3 hectars of this beautiful land, swim, fish if you bring your fishing gear or take a boat stroll on this beautiful lake with one of the many boat drivers offering their services. You can also ask a fisherman to bring you a freshly caught tilapia and bake it or BBQ it...
その他の特記事項
Although Mexico has been affected by serious mismanagement from above, you should not worry here, since the bad guys have no special interest in nature reserves, they basically quarrel among themselves...
追加人数の料金 ¥1735 / 泊 (1名を超えると1名様増毎に加算)
お支払をお守りするためにも、Airbnbのサイトやアプリ以外の場所では決して送金や連絡を行わないようご注意ください。
If you are coming to Toxcatl it is because you appreciate, enjoy and respect nature, and therefore you will have no problem following certain common-sense rules, such as putting off your fire after you've cooked your fish and the like. But since nature is so alive here, you must sharpen your senses as well, to protect yourself and your little neighbors. For instance, when you sit on a chair, make sure a wasp is not perched where your back will rest, or if you pick up a stone, turn it over with your shoe before you grab it, so you don't scare a possible neighbor who could be hiding underneath it...
El lugar es ideal para estar desconectado del mundo. No hay señal celular y lo único que se escucha son los ruidos de la naturaleza. Toda especie de bichos y diferentes aves. Para integrarse con la tierra y ser uno con la naturaleza. Estás en medio de la selva tropical. Puedes encontrar desde hormigas hasta hueva de lagarto. Consigue tus provisiones antes de llegar pues solo en coche te abastecerás de ellas. Un lugar muy relajante.
---
Waking up in the morning, when all the doors of the massive bedroom are open to the panorama of the lake and forest, as the sunrises, is simply beautiful. Living in the glade, with Don Jesus not far away, feels safe and secure. Don Jesus and his family were so kind. They gave us a piece of fruit from their tree, and took us out on the lake in one of the boats. There are fireflies at night, and a few metres away from the bank of the lake there is a small island, home to a colony of heron and other birds. Hours of entertainment, watching them go about their daily affairs! There are canoes and a small row boat for guests to use, and the lake is a beautiful place to explore. There are lava flows jutting out of the banks, and volcanoes in the distance. The place is alive birds all singing and squarking. We had an amazing massage from a freelance masseuse – it was heavenly!! It cost $300 pesos for a full body, 1 hour massage; the family organised it for us and she came to the cabin one afternoon. Cooking in the open-air kitchen is a joy, and brought back lots of happy childhood camping memories for me. The place is very well equiped, but be advised: you need to bring your own water from town. It is easy to get into town (collectivos run regularly from the main road – 10 peso) for supplies, and Catemaco itself is a charming place. There are nice coffee shops, and plenty of places to take a tour around the many surrounding sights. I fully recommend this place to everyone, especially those who need rest and healing, or just a bit of headspace. Any birdwatchers and general nature lovers out there….wow….this pace is going to knock your socks off!
I'm very glad you enjoyed it because it really is a magical place, a gift to humanity. I would say that those whose hearts are open to receive nature's gifts are the lucky ones. The good thing is that it's here and you can comeback to it. I am myself in a journey in outer space, if we may call it, but one day I will come back to Toxcatl, to the source...
---
Pasamos una relajante estancia en la cabaña de Martin y disfrutamos totalmente de la naturaleza. Recomiendo salir temprano en kayak para ver el amanecer desde el lago y disfrutarlo en soledad; en la temporada que fuimos (finales de mayo) se pueden observar enormes luciérnagas rodeando la cabaña; la playa está a 1h en transporte privado y el pueblo de Catemaco a sólo 10min. Definitivamente regresaremos, aunque advierto que este lugar no es para personas poco aventureras o no acostumbrada a los insectos: están por TODAS partes.
---
Hola, Toxcatl es una reserva ecológica que alberga diversas especies de animales, plantas/ árboles, es importante tomar conciencia , respetar, amar y cuidar de este lugar, para que siga existiendo tal y como es, todo en ello es mágico. Quedo profundamente agradecida por haber estado ahí, fue un deleite para mi olfato, la combinación de olores, como para mi vista contemplar la belleza, para mi ser, fue una inmensa paz que experimente ahí.
---
The experience with my girlfriend in Catemaco was absolutely amazing ! In the heart of the Jungle, this place really brings you back to the essential of life and living... It's not a 5 stars hotel but that's not the point of this place anyway ! You'll gonna get in touch with "Pachamama" (Mother Earth). This place would absolutely fits a big family, alot of spaces ! We really enjoyed the fact that we could use the small boat and kayaks when ever we wanted :) Sadly I didn't met Martin but Jesús and Philip were absolutely amazing host... We tasted really good pizzas from the oven Merci Philip ! Rémi 19/01/2017
---
Jesús, the guardian of this ecological reserve will set you up, will get you the oven going if you give him 50 pesos so he can get the wood and chop it. He'll tell you where to light your fire and you will be one with nature! He will be there to help you in case you need assistance. His house is not far, it is quite visible from the cabin, but you will have your privacy.
We are a family of 4, my wife Eugenia is a Yoga teacher, my children are teen-agers going to school and I am a painter, sculptor, father, husband and a nature lover who's come to this paradise since I was 6 years old. I consider it very special and would like to share it in this fashion with other nature lovers. Plus, with these earnings we able to afford Don Jesus' wages. He takes very good care of the place and we are very happy to give them support.
言語:
English、Español、Français、日本語