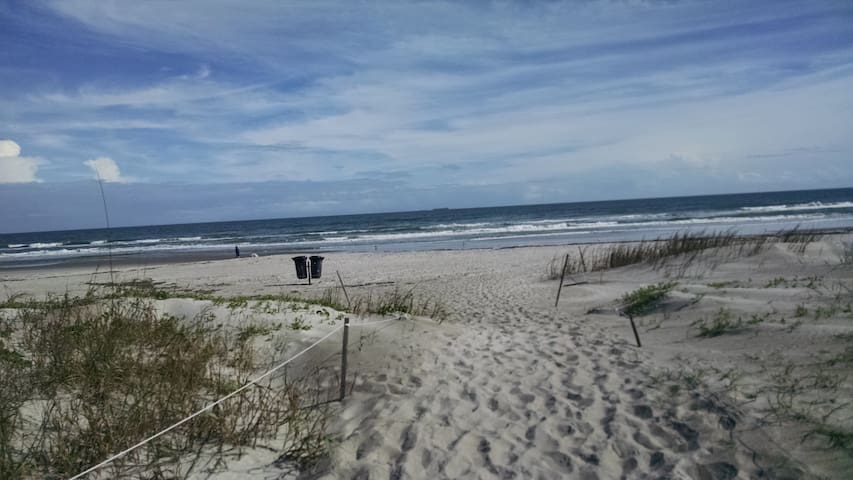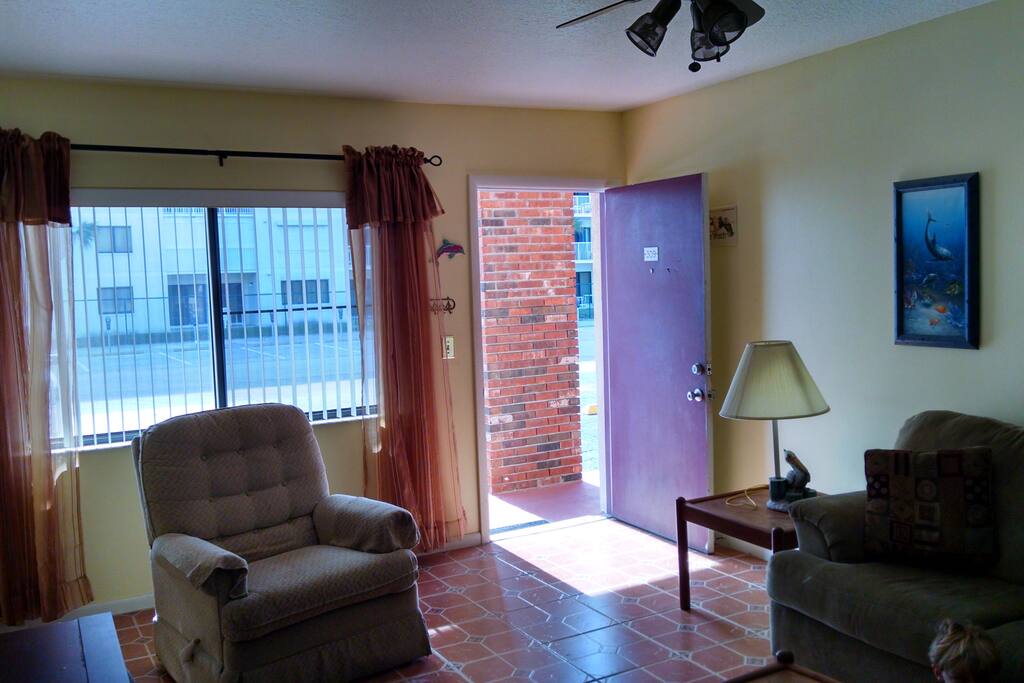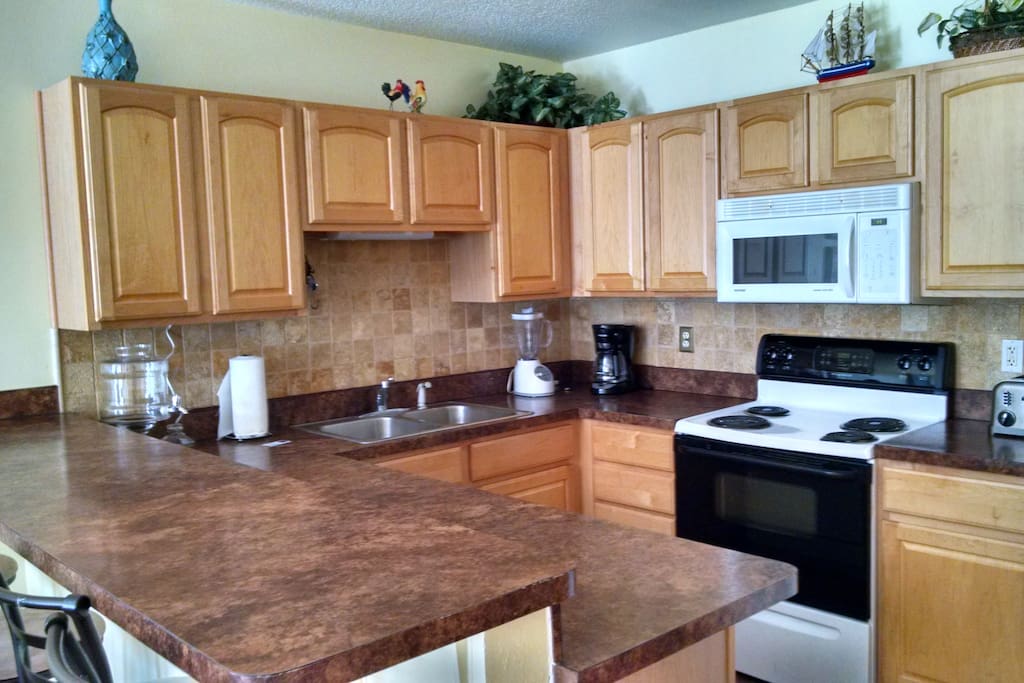 It is the quintessential beach front condo bldg, first floor, an hour's drive east of Orlando on the beautiful Space Coast, 2hrs to St Augustine and the oldest Fort in US. Whether you are planning a family beach vacation or romantic get away
スペース
Cocoa Beach, along Florida's Space Coast, makes for an out-of-this-world family vacation. Your group can ride some waves, check out the world-famous pier, marvel at Ron Jon's, the world's largest surf shop, hike through nature preserves, and explore mankind's greatest journey at the nearby Kennedy Space Center. NASA's launch headquarters is the only place on Earth where you can tour launch-pad areas, meet a veteran astronaut, see giant rockets, train in spaceflight simulators and – if your timing is just right – even view a launch. Don't miss Historic Cocoa Village, a revitalized, nostalgic riverside community with more than 50 shops, restaurants, galleries and artist studios. And remember this: Cocoa Beach is only an hour's drive east of Orlando, making it a great day trip for theme park visitors.
ゲストとの交流
we have a great onsite mgmt team who will make sure you have the best stay in our home.
その他の特記事項
1. Park Yourself by the Shore ~ You'll find one of the area's loveliest escapes at Lori Wilson Park. Besides a clean, wide beach, thick with golden-hued sand, the park boasts free parking. Remember to wander the nature trail while you're there. It winds into a maritime hammock lush with live oak, palmetto and greenery, and you'll feel like civilization is a world away.
2. Ride a Wave ~ Cocoa Beach is renowned for its calm, consistent waves. That, combined with the fact the water is shallow enough to simply wade out past the breakers, makes it an ideal place to learn to surf. You can take a lesson, rent a board, or bring your own.
3. Explore the Cocoa Beach Pier ~ This boardwalk stretches 800 feet over the Atlantic Ocean. Besides giving you a swell view of the beach, it's brimming with shops, restaurants and boutiques. Don't miss noshing on a juicy fish sandwich at the Atlantic Ocean Grille.
4. Discover Ron Jon Surf Shop ~ This iconic store is the world's largest surf shop, encompassing 52,000 square feet. Open 24 hours a day, it offers everything you could possibly need for the beach lifestyle, including bikinis, surf boards, clothing and sports gear. With its fish tanks, glass elevators and flowing waterfalls, it's worth discovering even if you don't feel like shopping.
5. Eat Outside ~ Fat Kahuna's Beach Side Grille boasts breezy outdoor seating and a gorgeous Ocean view. Or escape indoors, into a cool, air-conditioned paradise complete with soft background Hawaiian music, a wrap around bar and full screen television featuring non-stop surf footage. Shark tacos, anyone?
6. Have a Kayak Expedition ~ Enjoy a nature tour kayaking the Thousand Islands with Adventure Kayak or Fin Expeditions. You'll see manatee, dolphin, and many species of birds while paddling through tropical mangroves.
7. Fun in the Sun ~ Take your pick from leisurely or extreme adventures at 321 Kiteboarding and Watersports. They offer stand-up paddle board and kayak rentals as well as kitesurfing and surfing lessons.
8. Munch on Lunch ~ If you have time for a beach lunch, make it Coconuts on The Beach. The location, smack-dab on the Atlantic, is a ten. But the view isn't all Coconuts offers. Sink your teeth into a Fish Reuben, fish tacos, fish 'n chips, and make sure to try the sweet potato fries. Wash it down with an icy beach drink or a pina-colada smoothie.
9. Roll into Space ~ Space Coast Segway Tours invites you to experience the fun and adventure of riding a Segway through sunny Port Canaveral. You'll snag an up-close-and-personal look around Ron Jon Cape Caribe resort and explore areas by the Ocean and the Port. You may catch a full view of the cruise ships or even a manatee in the locks.
10. Conquer the Half Pipe ~ Cocoa Beach Skate Park is lovingly described by teens as 'sick.' The Park, a friendly, inexpensive haven for kids, boasts two deep bowls and a half pipe, in addition to a grassy area and bleachers where parents can relax.
---
---
when you check in with onsite mgnt they will cover all the rules. owner policy no smoking inside or there will be an additional cleaning fee. have fun take lots of pics.
---
Schlichtes Apartment direkt am Strand (30m). Das Apartment ist einfach aber völlig Ausreichend für einen netten Strandurlaub mit Kindern. In der nähe gibt es viele Ausflugsziele und bis nach Orlando sind es auch nur ca. 60 Min. mit dem Auto. Mit etwas glück kann man vom Strand sogar einen Raketenstart in Cape Canaveral beobachten. Nebenan gibt es ein Hotel mit einem netten Pool für Kinder. Ist eigentlich nur für Hotelgäste, aber das Tor ist meistens offen. :-)
---
Sorry this is a long one, and not good. It started off when Gary notified me that he had overbooked the unit and wanted us to stay in a different one for two nights and then switch, I agreed. However when we got there management didn't get the memo, said we weren't switching and if we did it would be double the cleaning fee. Gary did say he's take the extra fee, but they wanted us to be out of one by 9a.m. and not into the other until 1-3p.m. What were we suppose to do with our belonging for that time frame? Leave them on the sidewalk? Not good. Secondly it was trashy. There we BANDAIDS used as tape to hold wiring around the front door. Not soiled but equally ridiculous. The kitchen towels had soured and needed immediate rewashing as did almost all of the dishes. Whomever stayed before us left food stuck on them. Yum. I also didn't realize we would need to bring and/or purchase literally everything. No trash bags, no dish soap, no batteries in one of the remotes. Also note that over the week we found 3 giant roaches in the condo. Literally the biggest roaches I have ever seen. Management must not spray because there were quite a few on the sidewalk as well. Basically, know this unit is cheap in every sense of the word. We will never be back and would never recommend it to anyone. There are better places to choose from.
---